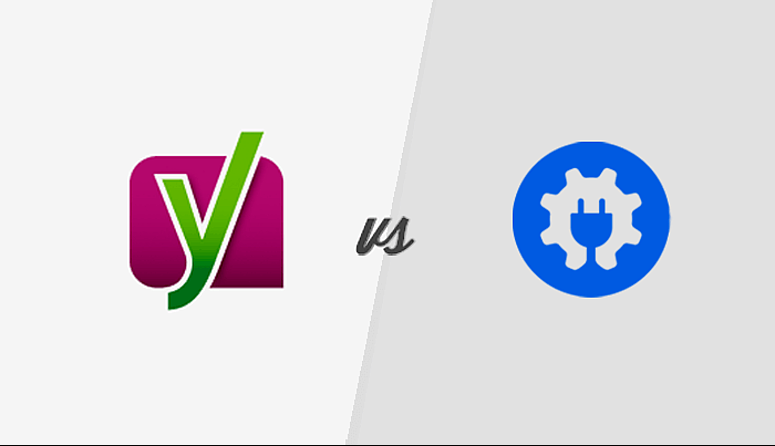 Are you in search of the best SEO plugins to use for your WordPress website? If so, you've likely narrowed down your options to two of the most popular plugins currently on the market: AIOSEO vs Yoast SEO.
When you create a website, it's crucial to choose the right tools that are going to boost your conversions and help you reach your marketing goals.
In this article, we're going to review AIOSEO with Yoast SEO side by side to determine which one is the better contender for your site.
But first, let's learn more about these plugins.
AIOSEO vs Yoast SEO: What Are They?
Both AIOSEO and Yoast SEO are powerful WordPress plugins that make it easy for both beginners and experts to optimize SEO on their websites.
Since it was founded in 2010, Yoast SEO has quickly gained popularity with WordPress users wanting to optimize their sites for search engines. It started out as WordPress SEO and was created by Joost de Valk.
AIOSEO was previously known as All in One SEO Pack from Semper Plugins. It was acquired by Syed Balkhi in 2020, and since then, it's attracted thousands of loyal users who rely on its features to succeed.
One of the best SEO audit tools, AIOSEO offers unique features like the SEO checklist and on-page analysis to optimize the content for WordPress sites.
Both plugins are excellent options for WordPress users who want to optimize their websites with ease. It's no wonder WordPress users might have difficulty choosing between the two since they're both popular and user-friendly options.
Unless you know each plugin's features, installation process, addons, and other information, you can't make the decision that's best for your business or blog. So we'll break down this AIOSEO vs Yoast comparison into 4 categories:
Let's get started.
Installation and Setup
When you create a website, you want to use a plugin that's easy to install and set up. A lot of WordPress website owners are new just want a simple, quick solution to get their content on search engines and drive traffic to their site.
If a plugin's installation and setup is a difficult process, a lot of WordPress users won't bother. Many are beginners seeking easy solutions with minimal steps.
Let's break down what installing and activating each plugin looks like.
Installation and Setup for Yoast SEO
To take advantage of Yoast's features, you first need to download and install the Yoast SEO plugin. If you don't know how to do this, check out our guide on how to install a WordPress plugin.
After it's installed and activated to your WordPress site, you can head over to SEO » General from your WordPress dashboard.

You'll see a box asking you to finish setting Yoast up with the configuration wizard. This is perfect for beginners who prefer a simple step-by-step setup that makes it easy to integrate the plugin with their website.

From here, you can answer each onboarding question so Yoast SEO can configure your site.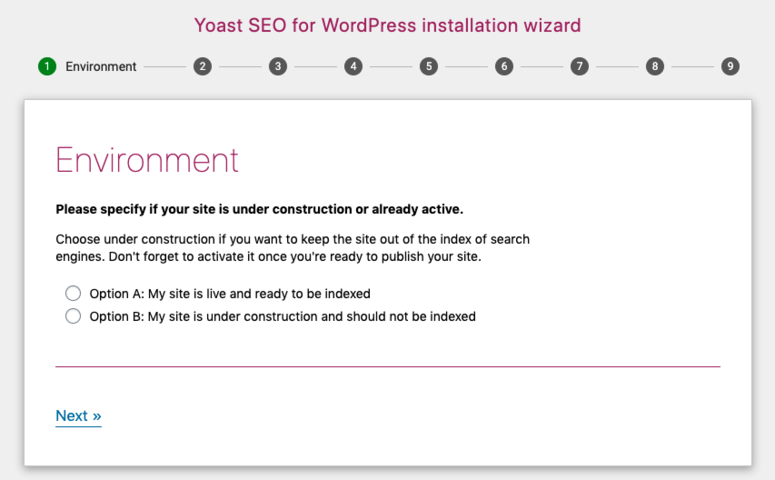 When you're finished answering all the questions, it'll redirect you to your WordPress dashboard and show that your settings are configured.

Yoast SEO divides its settings into tabs at the top of the page, so it's easy to access and make necessary changes.

The easy-to-use configuration wizard and simple settings layout make Yoast SEO a beginner-friendly plugin for all users. Even those who haven't previously installed plugins before can do so in minutes with Yoast.
Installation and Setup for AIOSEO
To take advantage of its features, you first need to download and install the AIOSEO plugin.
Once it's installed, you can head over to All in One SEO » General Settings:

AIOSEO also has a configuration wizard that makes it easy for users to set up their accounts and start optimizing their site's SEO without the help of an expert.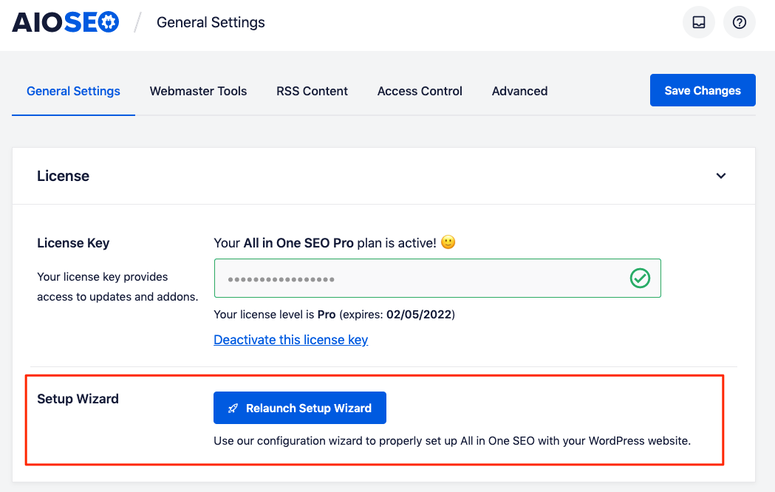 The wizard will take you step by step through the installation process. That way, it can start collecting your site's information and optimizing it for search. When you're done, it'll direct you back to your WordPress dashboard.
AIOSEO's settings are on a single page and divided into categories, so it's easy to choose what settings you want to change:

If you need additional assistance, you can click the question mark icon at the top right-hand corner:

This leads you to the plugin's FAQ with all different types of information and frequently asked questions: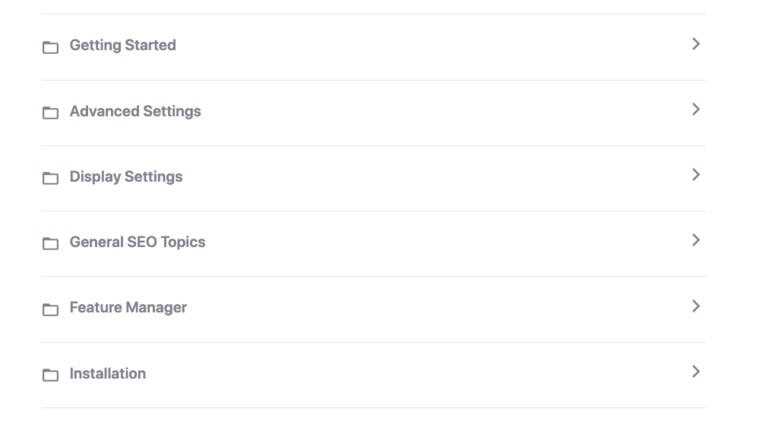 When you scroll down, you can see additional documentation and get Support from AIOSEO's team by submitting a ticket if you can't find a solution:

This ensures that all AIOSEO users receive the help they need to properly install and use the plugin and receive the utmost benefits.
Conclusion on the Best Installation and Setup
Both Yoast SEO and AIOSEO do a great job at assisting users through the installation process and making it easy to configure websites. They each come with a configuration wizard so beginners and experts can start using these tools on their sites.
When compared side by side, Yoast SEO makes receiving customer support a bit confusing. Its Support page is lengthy and may not sit well with users who want instant contact with the brand.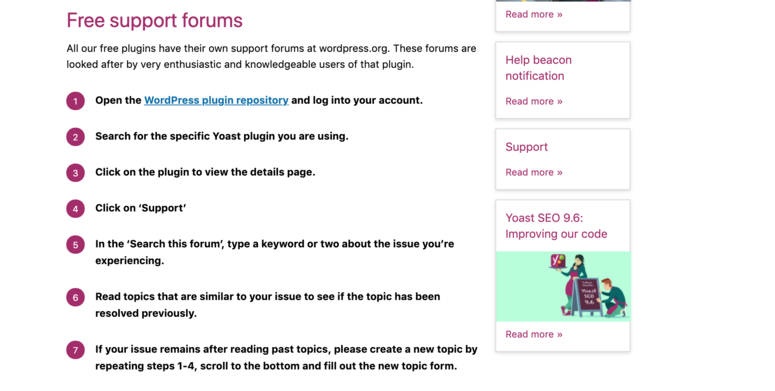 AIOSEO gets more points for its additional help, support, and information on the Settings page. It makes it simple for users to get the answers they need straight from their WordPress dashboard. AIOSEO also has a simple contact and support page that makes it easy to receive help and install on a website.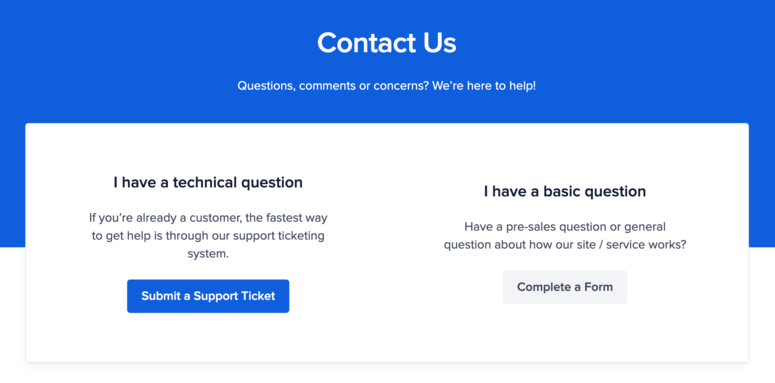 Winner: While both options are easy to install, we're confident AIOSEO comes out the winner. This is because they make it easier to contact their support team if you run into any trouble along the way.
Everyday SEO Tasks
To ensure that your site is optimized to the best of its ability, you need to make it an ongoing part of your marketing strategy. That means optimizing each page, post, and piece of content you add to your website to boost your SEO score and improve your rankings.
Let's take a closer look at how each plugin performs its day-to-day tasks on your WordPress website.
Everyday SEO Tasks for Yoast SEO
Yoast SEO has a metabox with a snippet preview, focus keyword field, and content analysis section underneath each page and post. When you're ready to publish, you can simply scroll down and add the necessary information, including SEO title, slug, permalink, and meta description.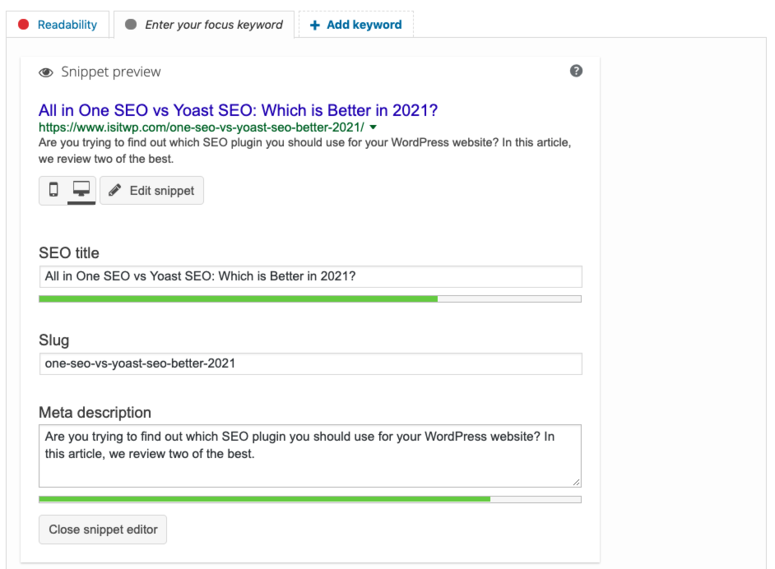 The snippet preview shows how your content will look in search engines so you know what users see. By default, Yoast SEO uses your post title as your SEO title and your excerpt as the description, so you don't have to manually fill out that information if you don't want to.
However, we recommend editing your information for the most accuracy.
When you enter the focus keyword, Yoast SEO analyzes your content for that specific keyword. You can view the analysis in the content analysis area where the plugin will make the appropriate suggestions to improve your SEO score and site rankings.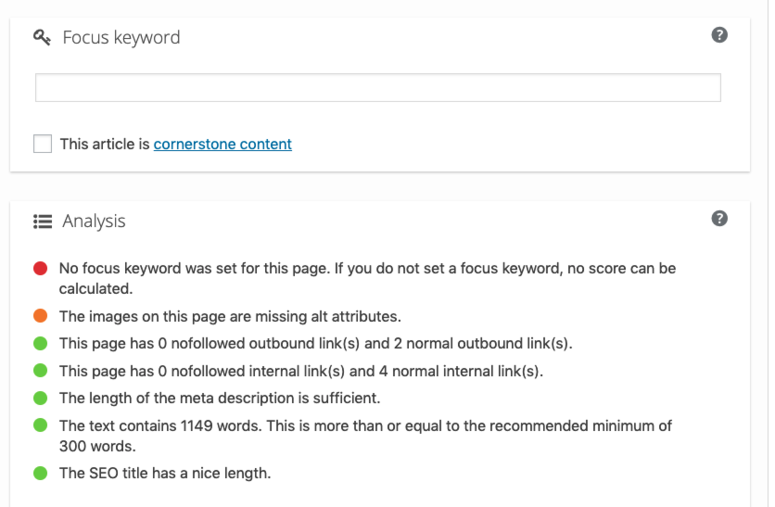 Clicking the social icon will make another box appear where you can edit your SEO for Facebook. Add an image, title, and description for the best results: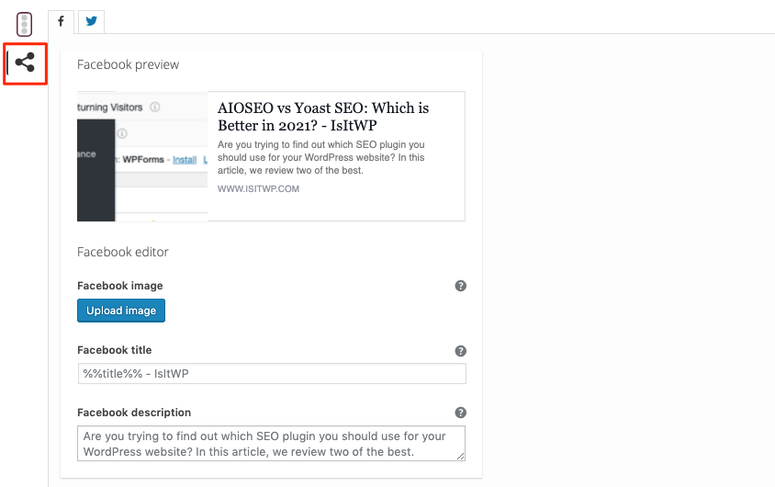 Everyday SEO Tasks for AIOSEO
Similar to Yoast SEO, AIOSEO also uses a snippet box at the bottom of a post or page to optimize for SEO. You can edit the title, description, preview, and more.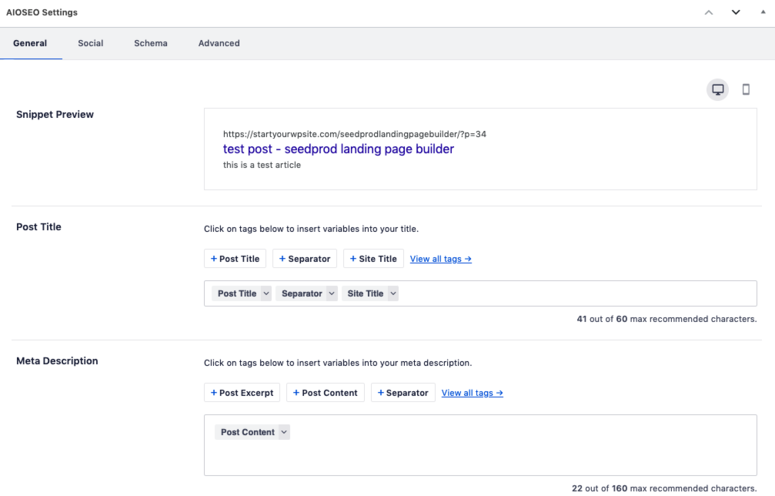 Scroll down and you can add focus keywords, additional keyphrases, and page analysis: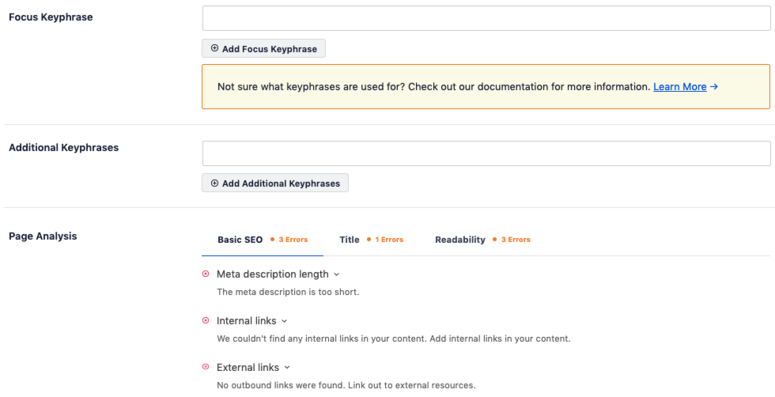 AIOSEO also comes with a social media feature so you can optimize your social posts for the best results. For Facebook or Twitter, add a title, description, video URL, image source, and tags by clicking on the social media icon: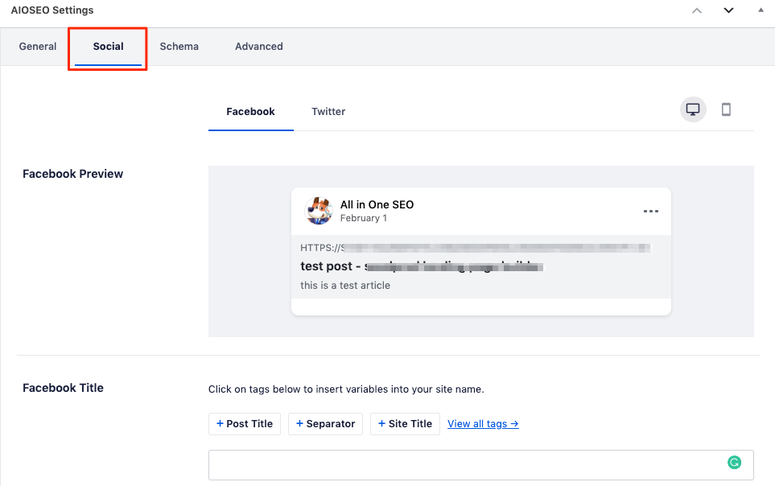 Clicking on the Advanced tab gives you the option to change your robots settings, canonical URL, and priority score: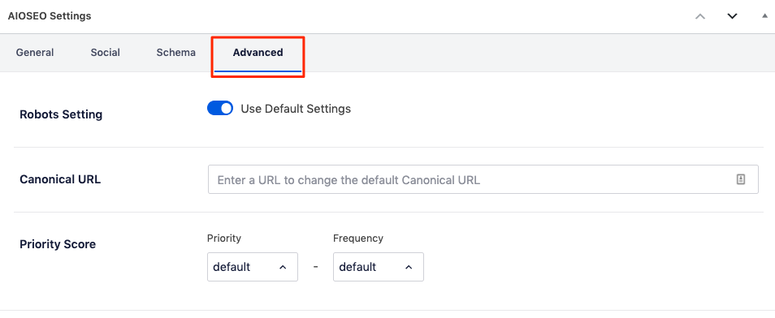 All of these features work toward helping your page or posts rank higher on search engines like Google.
Conclusion on the Best Plugin for Everyday SEO Tasks
Both plugins have basic and advanced features for everyday SEO tasks. They allow you to add all the important information you need to rank well on search engines and optimize your content.
However, Yoast SEO only lets you optimize content for 8 social platforms. Meanwhile, AIOSEO lets you optimize content for 11, making it more flexible and accommodating.
AIOSEO's preview snippet is beautiful as well as its interface in the WordPress dashboard.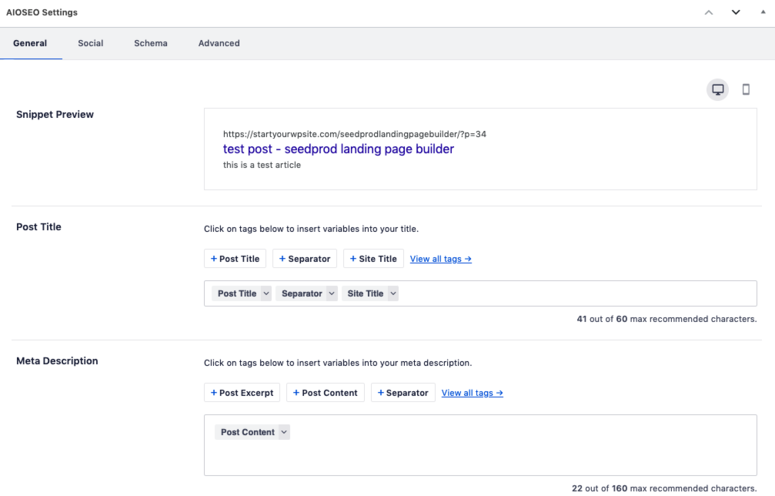 Yoast SEO has an older look and the preview snippet isn't as refined.
For these reasons, we believe AIOSEO is the better choice for everyday SEO tasks.
Winner: AIOSEO comes out ahead in this category.
Additional Tools and Features
You want to make sure that the additional tools and features that come with your plugin suit your needs so you can create relevant content. They exist so you don't have to download other plugins to fully optimize your site.
Both of these plugins come with extra features to give you a comprehensive solution for all your on-page SEO needs.
Let's break down the additional tools and features for Yoast SEO and AIOSEO.
Additional Tools and Features for Yoast SEO
Yoast SEO comes with several features to help you optimize your content, including:
Breadcrumb Navigation
Social Media Integration
XML Sitemaps
Robots.txt and .htaccess Editor
Open Graph Meta Tags
Import/Export SEO Data
Data Import from Google Webmaster Tools
Now let's see what additional tools and features are offered by AISEO.
Additional Tools and Features for AIOSEO
AIOSEO comes with powerful tools and features, including:
Breadcrumb Navigation
User Access Control
Social Media Integration
Bad Bot Blocker
File Editor
XML Sitemaps
Robots.txt
Import and Export SEO Data
Link Assistant
Performance Manager
Redirection Manager
Open Graph Meta Tags
Again, these features all work toward getting you higher rankings in the least amount of time.
Conclusion on the Best Tools and Features
When it comes to tools and features, both plugins offer nearly the same ones. But, AIOSEO offers a few SEO optimization features that Yoast lacks.
For example, AIOSEO's Link Assistant will automatically generate internal linking reports and find new linking opportunities for you.
AIOSEO also allows you to activate functionality manually, which gives you more control.
Winner: AIOSEO has all of the features you'd expect from an SEO plugin for WordPress. Plus, some powerful additional features.
Support and Pricing
For any plugin, it's important to provide stellar customer support, so you feel comfortable using the product and adding it to your website. Poor customer support leads to fewer conversions, sales, and customers.
It's also crucial to stick to your budget and choose the option that won't break the bank.
Both SEO plugins offer support for free users through WordPress forums. Their paid plans allow you to use support tickets for specific issues.
Let's see how AIOSEO and Yoast SEO stack up against each other when it comes to support and pricing plans.
Support and Pricing for Yoast SEO
Yoast SEO's free subscription plan doesn't offer customer support. As stated, free users can access support through forums from other users encountering the same problems. It's not ideal for those who don't purchase a plan but still want the same level of service as paying customers.
Yoast Premium costs $99/year (excluding VAT). You can also get their plugin subscription that includes 5 Yoast plugins, 24/7 customer support, and online courses.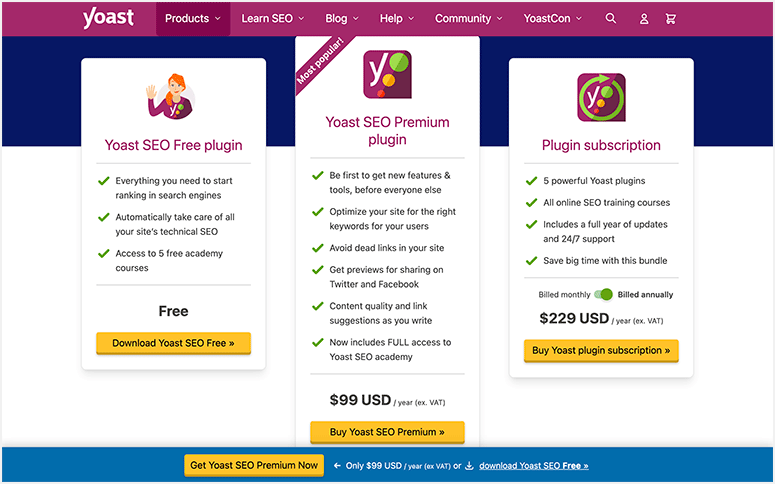 Support and Pricing for AIOSEO
The free version of AIOSEO only comes with forum support unless you purchase a paid plan.
When you purchase its Basic and Plus plans, you receive Standard Support. When you upgrade to Pro, you get Priority Support.
The Basic plan is $49.60/year, the Plus plan is $99.60/year, and the Pro plan is $199.60/year.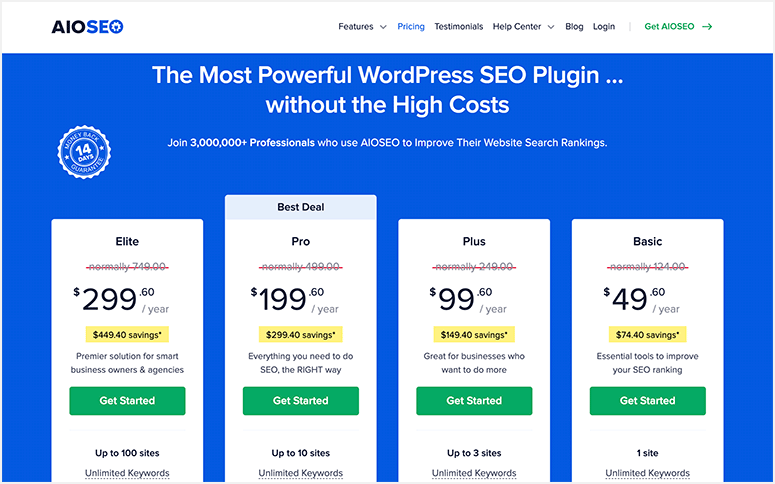 AIOSEO comes with advanced eCommerce SEO support for WooCommerce to optimize product pages, categories, and so much more. It also provides Local SEO so you can rank in your area on Google Maps and submit your business information to search engines.
Conclusion on the Best Support and Addons
Both plugins come with support when you purchase a plan. AIOSEO has the more affordable option for 1 website and has additional pricing models as you scale.
This gives you a better way to get started with your site's SEO and ensures you get the help you need while your business grows.
Winner: AIOSEO is the more affordable option (while offering more value for SEO). Plus, their support team has an excellent reputation for helping customers solve issues fast.
Our Final Verdict
Both AIOSEO and Yoast SEO have great qualities about them that make it easy to understand why they're the top-performing SEO plugins for WordPress. They both accomplish the goal of simplifying SEO for websites and ranking in search engines.
However, its pricing plan, powerful features, and support make AIOSEO the best SEO plugin for WordPress.
We use it on our website to optimize its performance and continue reaching our marketing goals. We recommend AIOSEO to anyone who wants a quick, simple, and easy solution to all their SEO needs.
We hope this review helps you make the best choice for your WordPress website. If you enjoyed it, feel free to check out our beginner's guide to WordPress SEO.
It's packed with all the information you need to get a headstart on the best SEO practices for your site.