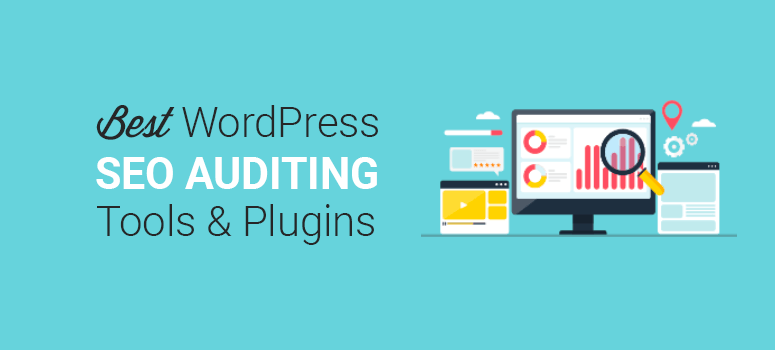 Are you looking for the best SEO audit tool to monitor and optimize your website rankings?
An SEO audit tool will automatically analyze your site's performance to find factors that are affecting your SEO rankings. This includes checking all the pages on your website which is very time-consuming otherwise.
But with the help of an SEO Audit Tool, you can easily scan your website for any issues and fix them in a few clicks.
We've reviewed and listed the best SEO audit tools that are available in the market so that you can find the one that's best for your site.
Before we dive into the list, let's be clear on why you need an SEO audit tool for your site.
Benefits of Using SEO Audit Tools?
Search engine optimization (SEO) is one of the main pillars of a successful website. Website owners must optimize their site for SEO to drive organic traffic and improve conversions.
However, there are many elements in SEO that impact how your site ranks in the search result pages. Some of them include the technical structure of your site, on-page, and off-page settings.
Also, search engines like Google are constantly improving their algorithms. So, it is very difficult to monitor all these aspects on your own.
Thankfully, you can use SEO audit tools to automate the process and keep your site up to date. Here are some of the advantages of using an SEO audit tool for your site:
Regularly check your website health and find any SEO issues
View your SEO reports and stats from your admin dashboard
Keyword and content planning tools help to create SEO optimized posts
Get notified about the new changes in the guidelines and algorithm
Optimize content so you can improve rankings for targeted keywords
Below, we've handpicked the best SEO audit tools based on what they have to offer and how affordable they are. Now, let's get right to the list!
Best SEO Audit Tools for Your Site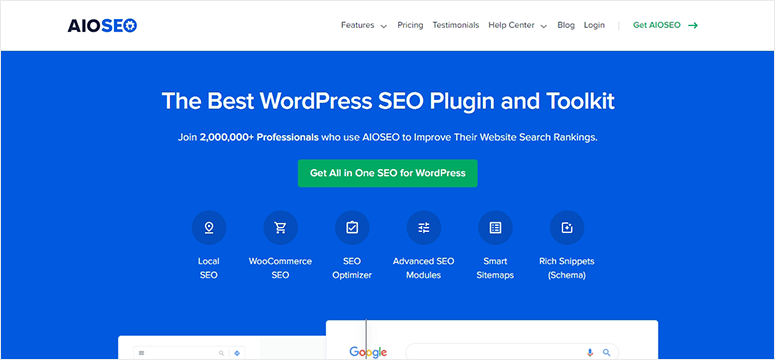 All in One SEO is the best SEO WordPress plugin that lets you optimize your website's overall SEO. It offers powerful SEO tools that help you rank your website on the top of search engine result pages.
The plugin is user-friendly which means even first-timers can learn how to audit their site without any trouble.
All In One SEO offers an SEO audit checklist feature that lets you analyze your whole website in a few seconds and auto-detects critical errors. It also gives you detailed instructions to fix these errors.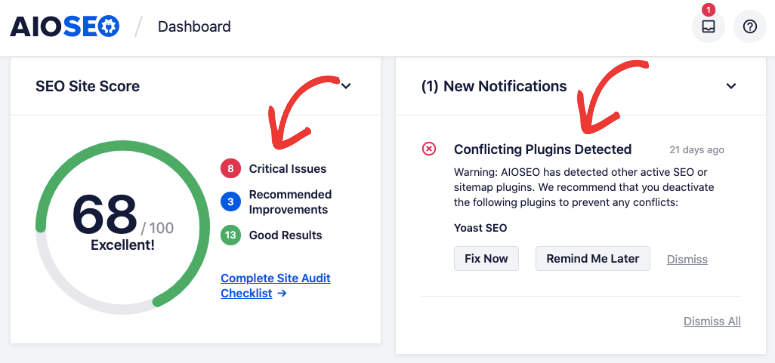 With this SEO audit tool, you can easily identify any SEO mistakes that harm your rankings and make improvements to boost your traffic.
Along with this, you get to optimize your keywords, meta descriptions, title tags, and other content with on-page analysis. It also lets you optimize your site for selling products with WooCommerce SEO features.
Plus, you can automatically generate sitemaps and submit them to search engines like Google and Bing for indexing.
Features:
Automated site auditing with SEO scores
Optimize content for local SEO and WooCommerce SEO
Control your RSS feed by adding custom text and links
Set custom SEO user roles so you can manage your SEO features 
Connect your website with webmaster tools of different search engines
Submit Google News sitemap and video SEO sitemap for your site
Generate internal link reports and find new linking opportunities
Make changes to the Robots.txt editor
Manage redirects and avoid 404 errors
Allows you to add rich snippets to drive more traffic with schema markup option 
Pricing: Starts at $49.50 per year.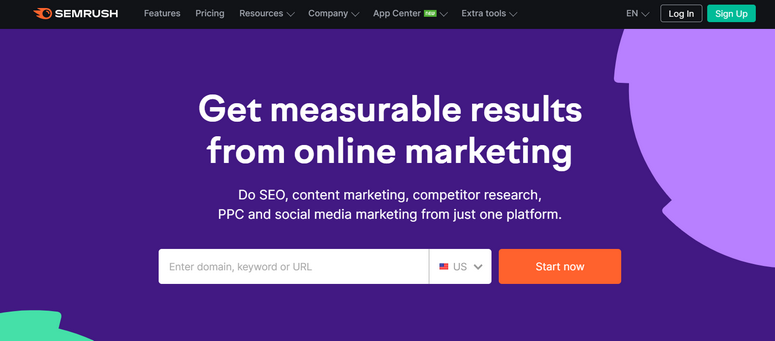 SEMRush is a popular digital marketing and site auditing tool that helps you analyze your site's performance. It lets you track your SEO rankings and the keywords for your site.
SEMRush offers a site audit tool that helps you analyze your website for SEO errors. You can create an SEO checklist and view detailed reports to improve your SEO rankings.
It also helps you know who your competitors are and what keywords they are ranking for. You can gain insights into your competitors' website traffic, marketing strategies, and social media performance with this tool.
Moreover, you can learn about the current market trends and understand your market position with market analysis tools. It lets you improve your marketing process and strategies.
Features:
Helps you find the right keywords for pay-per-click (PPC)
Keyword and content planning tools
On-page tool for optimizing your website content and editing them in real-time
Scan your site for 130 technical and SEO mistakes
Manage and audit your backlink profile
Control your social media posts with scheduling and ads management features.
Pricing: Starts at $99.95 per month (billed annually).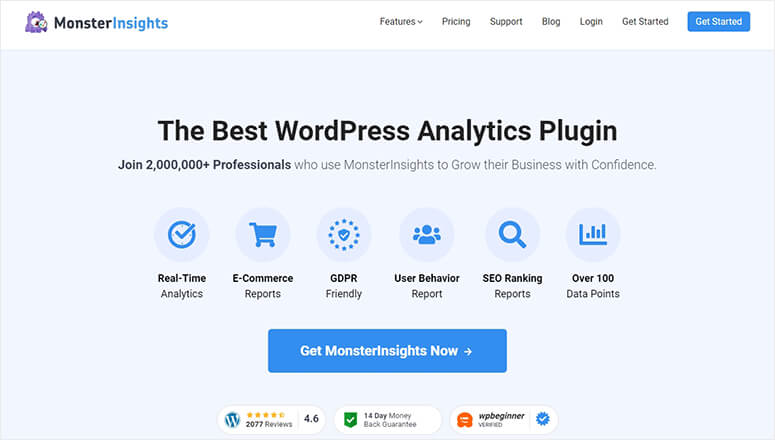 MonsterInsights is the best Google Analytics plugin for WordPress. It allows you to easily track the performance of your SEO campaigns and notifies you when there are issues.
This SEO audit tool helps you connect your site to Google Analytics in a few clicks without any coding. So, it is a beginner-friendly plugin that anyone can use to monitor their site.
MonsterInsights allows you to view all your Google Analytics reports right inside your WordPress dashboard. It lets you easily monitor your page views, top posts, traffic sources, and much more.
Besides this, you can enable the eCommerce tracking feature for your WordPress site. This helps you manage your conversion rate, transactions, revenue, and more data for your online store.
To optimize your site for SEO, you can use the Headline Analyzer tool that helps you write headlines that increase click rates. You can also integrate with SEO plugins and track your traffic for the focus keyword.
Features:
Track campaigns, affiliate links, download files, and forms
Supports WooCommerce analytics for your online store
Integrates with WordPress forms plugins for form conversion tracking
View Google Analytics reports and stats from your WordPress dashboard
Analyze your audience with detailed insights about age, gender, browser, and more
Pricing: Starts at $99.50 per year.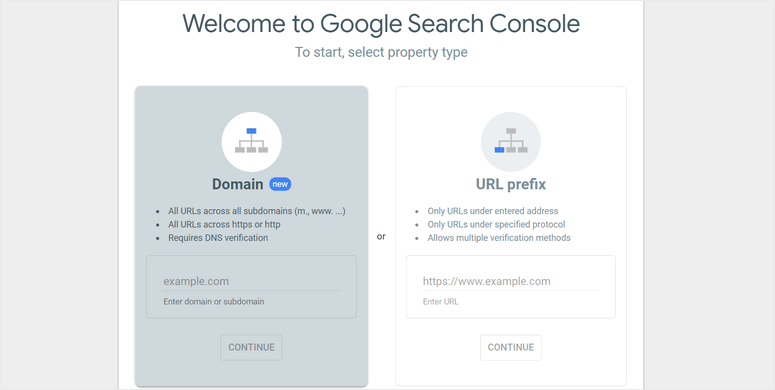 Google Search Console ( previously known as Google Search Console) is a free tool offered by Google. Anyone can use this to track their site's performance, learn about mistakes they are making and fix issues.
Most importantly, it lets you check whether your site has violated any guidelines for Google and incurred any penalties.
If you are a beginner and want a free solution for auditing your site, Google Search Console is the right tool for you. It helps you analyze the keywords your site is ranking for through the search queries.
With this, you can understand how your site interacts with Google. You can also find out which pages in your site are not indexed by Google and how to fix it. The downside here is that Google's interface is advanced and can be difficult to navigate so beginners may find it hard to get the insights they need.
Features:
Get insights about the organic traffic of your site with impressions, CTR, and position
See error messages and warnings about indexing errors for your site
Submit a sitemap directly to Google
Compare how many pages in your website are indexed by Google after the last site crawl
Pricing: Free.
Get Google Search Console Now!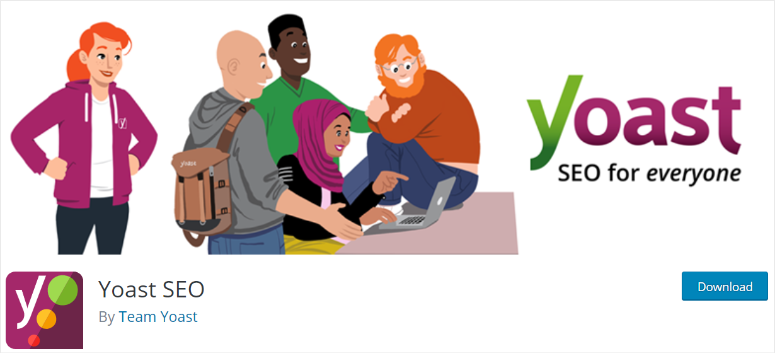 Yoast SEO is another popular WordPress SEO plugin that helps you optimize the content on your site for better rankings. It helps you improve your content and other on-page SEO settings in a simple interface.
With its readability feature, you can check how easy or difficult it is for users to read your post. You can also add focus keywords and other related keywords to optimize your content. This helps if you want your post to rank better on search engine results.
Also, the plugin lets you set categories, schema, and taxonomies for all your posts and pages for your WordPress site. Not only does this help you stay organized, it's great for getting your posts to appear in rich snippets.
Features:
Optimize your content with the on-page audit tool
Create sitemaps with 1 click
Preview the search result snippet of your posts
Get suggestions for internal linking
Optimize for keywords to rank better
Pricing: $87 per year.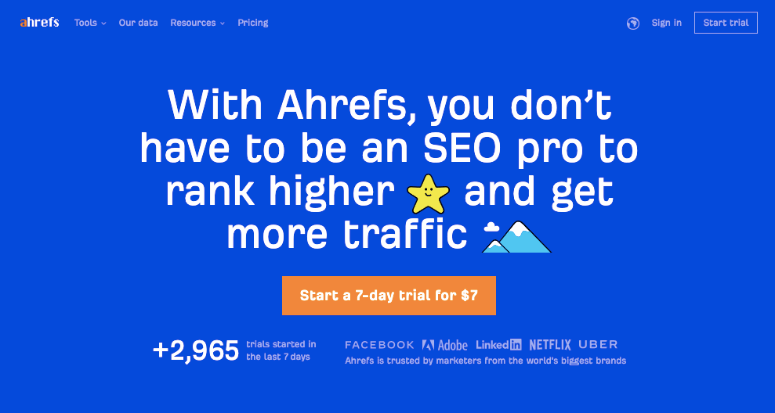 Ahrefs is a great SEO audit tool you can use to analyze and improve the performance of your site's SEO. It lets you research the keywords for your content and track their performance on search engines.
Ahrefs offers reporting and statistics that show different charts, graphs, and data. This helps you evaluate your site's organic keywords, referring domain, and more.
Also, you can analyze the content gap between you and your competitors. This tool allows you to track your competitors' keyword rankings so you can plan your content better.
Features:
Identify the top-performing content with the content explorer
Analyze and track the position of your site rankings in the search results
Monitor and build backlink profile
Track which keywords your competitors are ranking for
Pricing: Starts at $99 per month.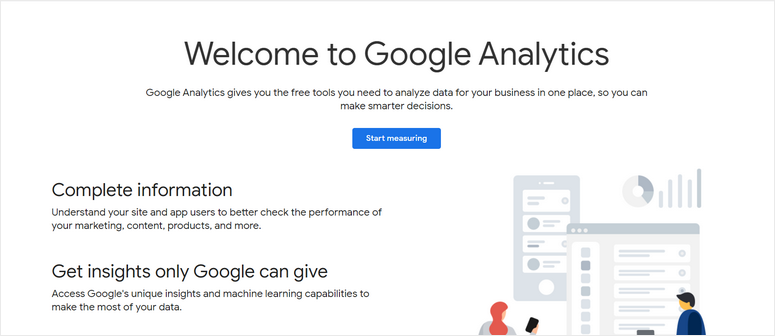 Google Analytics is a great option for analyzing your website performance. While Search Console shows you how each page and post performs, Analytics gives you deeper insights into the performance of your entire website.
You can track your website traffic, real-time users, geographic location, and much more. It even shows you eCommerce data to see how your site performs in terms of sales and conversions.
Google Analytics has a dedicated section called Insights where it shows you problems on your site. It details the issue along with suggestions on how to fix it.
Also, with audience reports, you can get insights into your website visitors and users. This helps you optimize your content for your readers so you'll be in a better position to boost conversions.
There is one downside to this tool though. Setting it up can be complicated and requires a fair amount of technical skill. If you want an easy way out, you'll want to install the MonsterInsights plugin. It has an easy setup wizard that lets you connect your website to Google Analytics in just a few clicks.
You'll get all the data you need from Google Analytics right inside your WordPress dashboard.
Features:
Track how your campaigns are performing
Measure your website traffic and conversions
View data and stats about your audience with reports
Analyze data from Google Search Console
Pricing: Free.
Which SEO Audit Tool to Choose?
We recommend using an SEO plugin alongside an analytics tool to optimize your site and track its performance. Both of these tools go hand in hand while auditing your site's SEO performance.
All In One SEO is the best SEO tool for your WordPress site. As the name suggests, it offers all the necessary features that help you analyze your site's performance and SEO rankings. You can even optimize every page and post before you publish it.
For analytics and insights into your site's performance, you can use the MonsterInsights plugin. It lets you easily connect to Google Analytics and simplifies complex data into reports that are easy to understand. The plugin is packed with features that help you track your website SEO and conversions.
If you want features like in-depth analysis and SEO research, you can also sign up for SEMRush. This tool will help you gain more insights on website traffic, find topics and keywords, and stay ahead of your competition in the market.
That's all we have for you today! We hope this article helped you find the best SEO audit tools for your site.
For your next steps, you can check out these resources:
These posts will help make your WordPress site more SEO friendly and optimize your content for better rankings.