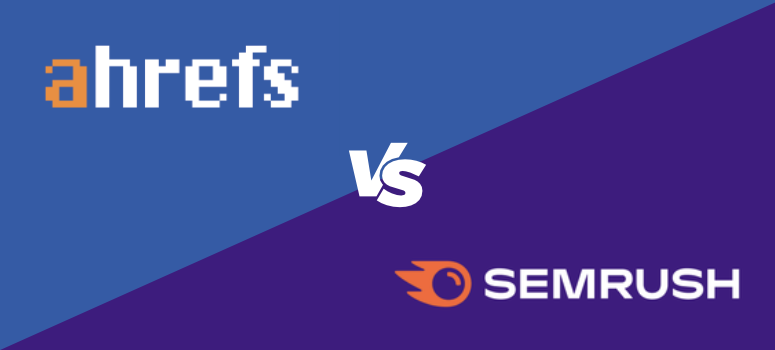 Looking for an SEO tool that will help you rank on search engines, grow your traffic, and beat the competition?
Ahrefs and SEMrush are the top SEO tools on the market, and both come with awesome features. So how do you know which is better for your business?
In this post, we'll examine Ahrefs and SEMrush to find their highlights and drawbacks so that you can pick the one that's the best for your website.
What Is SEMrush?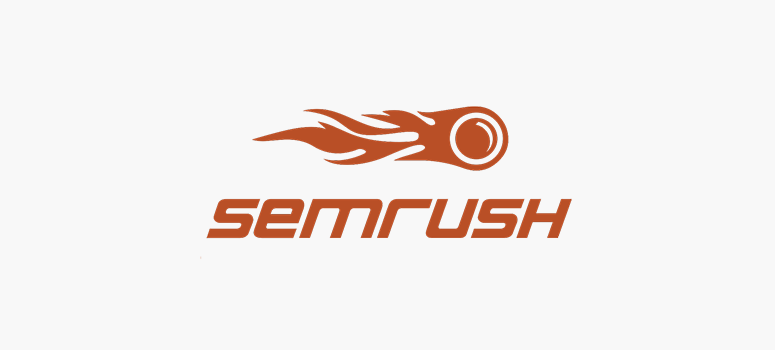 SEMrush is the most popular SEO tool that helps grow your organic traffic. Co-founder Oleg Shchgolev first launched SEOquake in 2006. And this served as an inspiration to create a more complex SEO tool with his partner Dmitri Melnikov. And thus, SEMrush was born.
Today, SEMrush has over 2 million users across the globe and is loved for its keyword research tools.
What Is Ahrefs?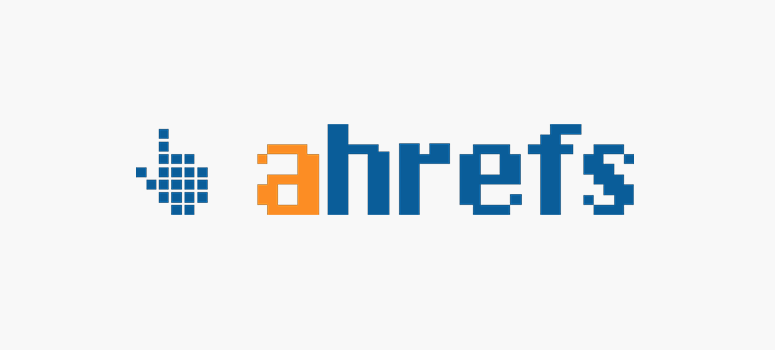 Ahrefs was created by Dmitry Gerasimenko and entered the market in 2011. It gained popularity as the best backlink analysis tool.
At the time, backlink analysis was stagnant and Ahrefs disrupted the market, giving existing SEO tools a run for their money.
Today, Ahrefs' crawlers process up to 8 billion pages a day for its backlink database. It has also expanded its features to become a more comprehensive SEO tool pitting itself against gigantic SEO tools like SEMrush.
Comparing Features of Ahrefs vs SEMrush
Ahrefs and SEMrush are titans in the SEO market, and they both have proven track records in rapidly improving SEO for millions of sites.
Over the years, we've used each tool and can give you a detailed review of both. We've picked the key features these plugins have to offer and compared them side by side to see which one is best for you.
With that in mind, let's begin our comparison. Here's what we'll be covering.
Let's get started.
1. Keyword Research
SEMrush was always known for its incredible keyword research tools. It generates keywords fast and shows you which keywords are getting the best ROI (Return on Investment) for your competitors.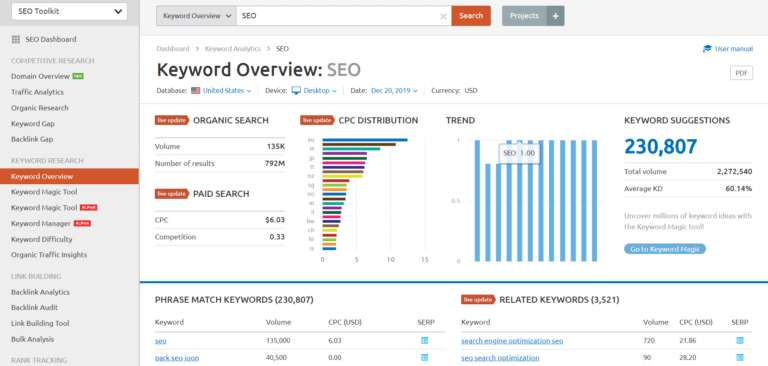 It also pulls data from Google PPC (pay-per-click). This means if you have Google Ads campaigns, SEMrush will analyze the search volume, level of interest over the past year, and CPC (cost-per-click) for these campaign keywords.
In comparison to Ahrefs, SEMrush generates way more keywords. That said, Ahrefs has built-in filters to remove unwanted keywords. So even though it gives you fewer options, it gives you the most valuable ones.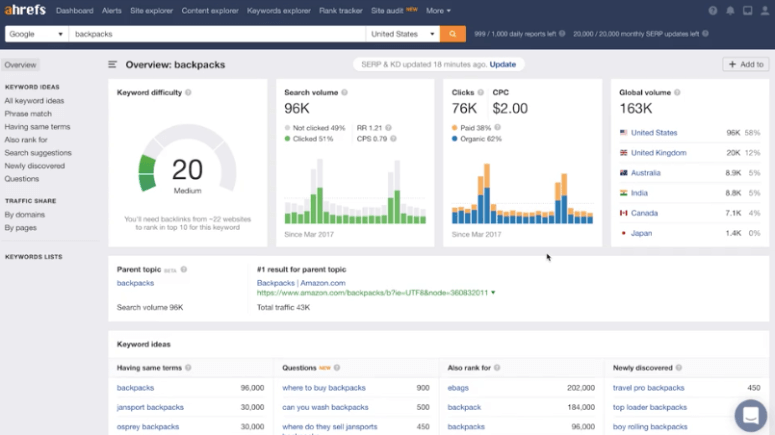 Ahrefs also breaks down the keywords list into categories like 'phrase match' and 'newly discovered,' which is a really cool feature to have.
When it comes to keyword research, we think both tools are great.
But if you're specifically interested in a tool for keyword research, SEMrush is your best bet.
2. Backlink Analysis
Link building is an essential part of a good SEO strategy. Backlink analysis helps you find link building opportunities, and also lets you find bad links to distance yourself from.
You can also see which pages have gained the highest authority for internal linking purposes.
When it comes to backlink analysis, Ahrefs is definitely the name that comes to mind.
Ahrefs started as a link index and was known as the best backlinking tool for the longest time. It has one of the most powerful backlink checkers. And it gives you an interactive view to monitor the growth or decline of your backlink profiles.
On the Ahrefs dashboard, you can view your recent and historical backlinks, as well as your referring domains.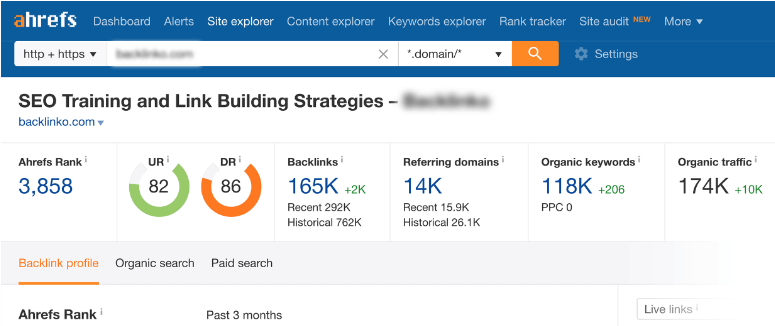 You also get a detailed backlinks report that shows you every page linking to your target keyword. It lets you filter the results to dive deeper into your backlink analysis.
But SEMrush also offers a solid backlink analysis.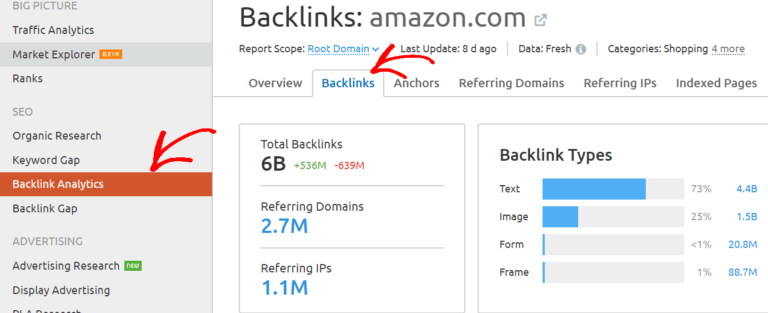 With SEMrush, you can view your backlink analytics and identify backlink gaps. It also segments the types of backlinks into text, images, forms, and frames.
Overall, we think Ahrefs is the clear winner when it comes to backlink analysis.
3. Site Audit
Both Ahrefs and SEMrush let you audit the technical SEO aspects of your site. You can find and fix issues on your site to improve your Google rankings.
Here's what SEMrush has to offer.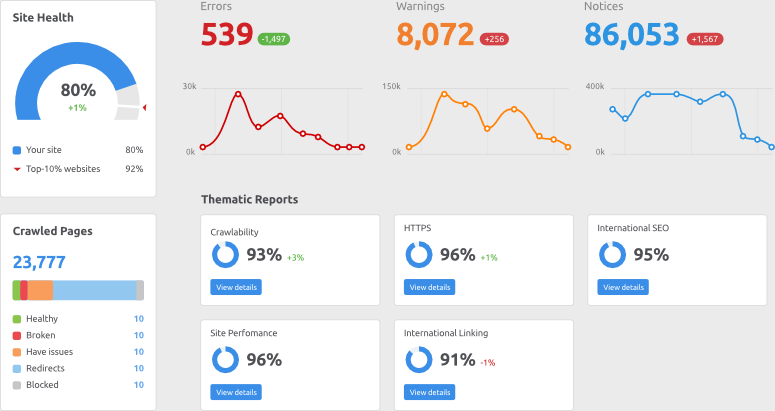 It scans your site for over 130 technical and SEO mistakes and then categorizes the issues it finds. You'll see errors, warnings, and notices so you can prioritize what needs fixing.
You can check your crawl budget, performance and speed, and interlinking issues as well.
Ahrefs, on the other hand, gives you enough information to perform basic site audits and identify glaring technical errors.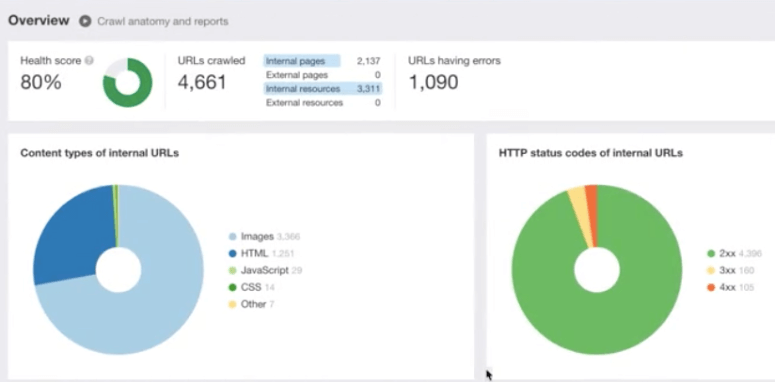 A few things that Ahrefs lets you audit includes your site's performance, HTML tags, social tags, and incoming and outgoing links.
What we really love is that Ahrefs gives you tips and guidance on how to fix the errors it detects. So you know exactly what to do to fix it fast.
In our opinion, both tools give you great insight to fix major technical issues and improve your site's SEO.
4. Rank Tracking
One of the most essential features you need in SEO is a rank tracker. It lets you monitor your page rankings in Google. This basically shows you whether SEO efforts are succeeding, stagnating, or failing.
SEMrush's Rank Tracking tool comes as part of the SEMrush SEO Toolkit. It lets you watch the progress and changes of your page ranks on a daily basis. You can track page position (including keyword positions). It then compiles the results in presentable reports that are easy to understand.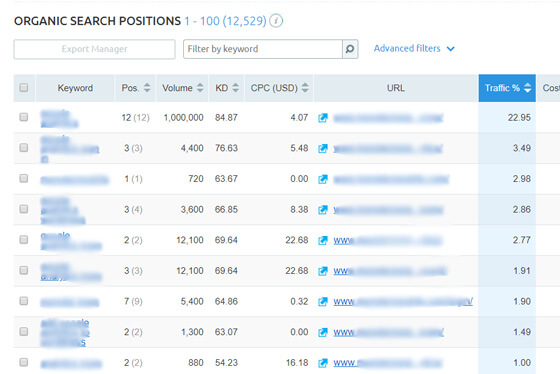 Ahrefs also has very similar rank tracking features. You can monitor your rankings over time and compare them to your competition. You can see what percentage of clicks are coming from organic traffic, plus your average position and traffic.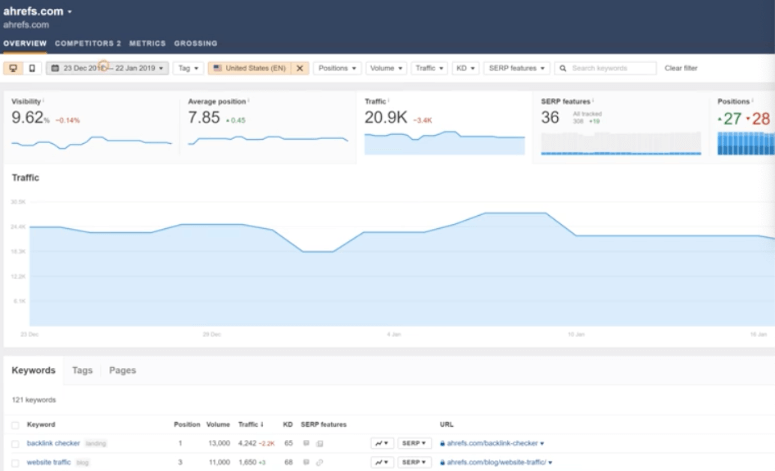 You can monitor your Google rankings on desktop as well as mobile. And it's super easy to use. You just need to enter or import a list of keywords and tell Ahrefs who your competitors are. Then Ahrefs will do the rest for you.
You can also set up rank tracking reports to be sent straight to your inbox regularly. This makes it convenient as you don't have to open the tool to analyze your page rankings. You can access the reports in an email instead.
Both tools perform well here, but Ahrefs will give you a slight advantage.
5. Competitor Analysis
SEMrush gives you deep insights into your competitor's traffic strategy and trends. It analyzes traffic from all channels – organic, paid, referral, social, and direct.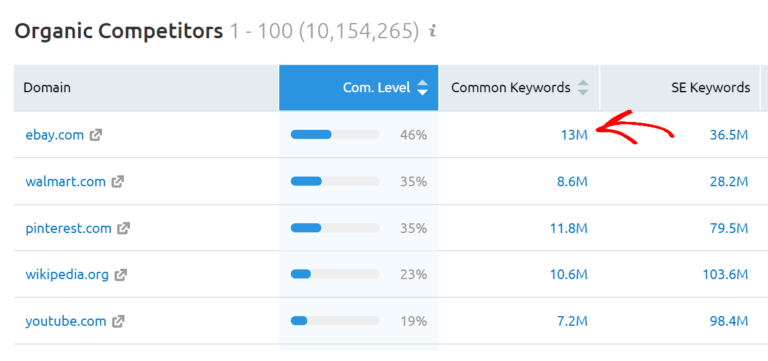 It also shows you which domains you are competing with to rank in Google. You can even see who your competitor's competitors are.
Added to that, you can identify target keywords, topics, and backlinks you've overlooked but that your competitors are using. This helps you uncover new keyword opportunities to outrank the competition.
SEMrush even lets you monitor your competition's social media activities to improve your own strategy.
Ahrefs also has a robust competitor analysis tool. You can find content and keyword gaps that you've missed.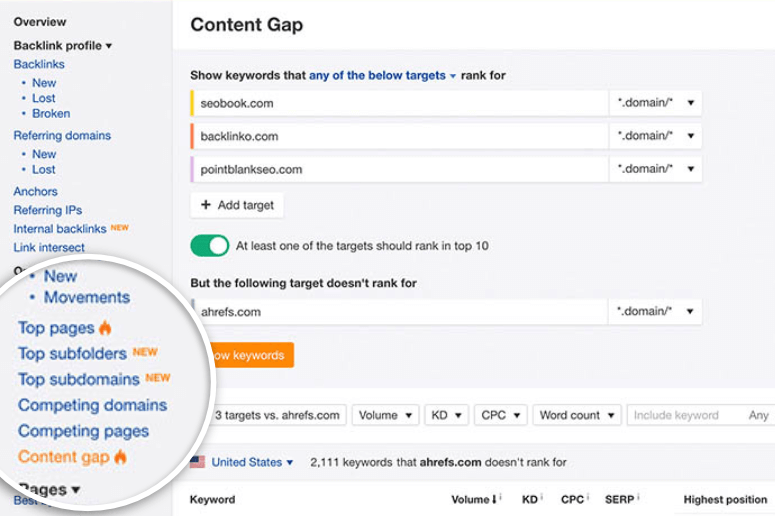 It also lets you check competing domains and pages to identify new opportunities. This really helps improve your SEO strategy and drive traffic to your site.
SEMrush is hands down the lead competitor research tool. It collects all the data you need to take your SEO strategy further than your competitor.
What Makes SEMrush Unique?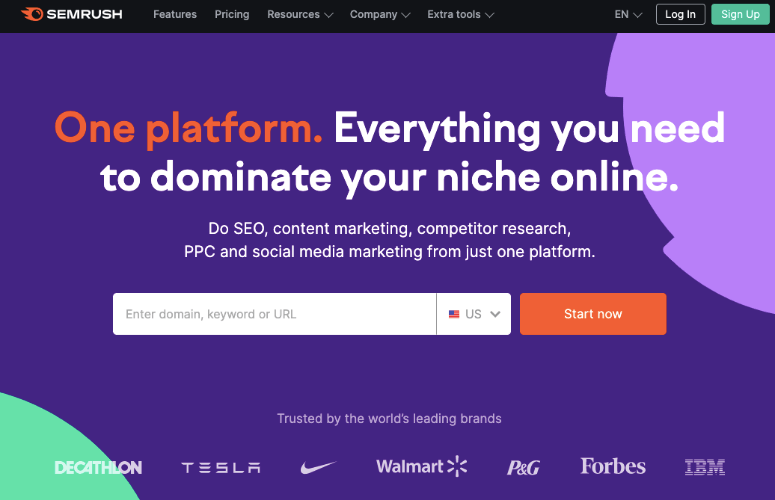 SEMrush has a way better tool for PPC advertising. It gives you a competitive PPC analysis that shows you competitor keyword bids, their ad copies, and how much they spend on average.
Plus, it shows you a CPC map with an average CPC based on states.
It also has social media scheduling tools to post to all major platforms like Facebook, Instagram, Twitter, YouTube, and Pinterest.
SEMrush also comes with cool content marketing features like brand monitoring, content auditing, and post tracking. These tools let you optimize your posts and readability.
What Makes Ahrefs Unique?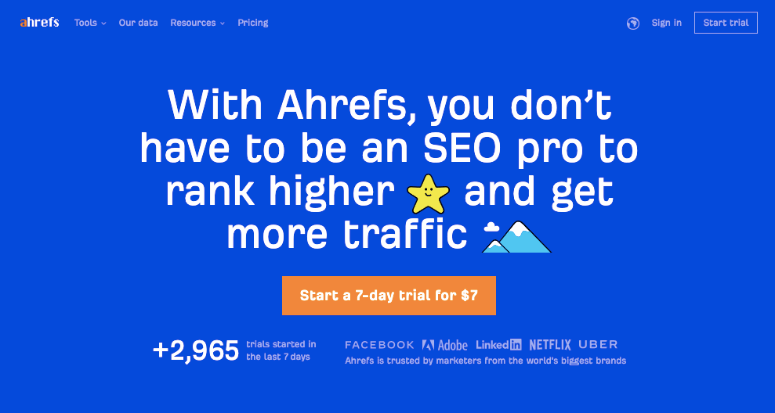 First off, Ahrefs has the largest backlink index and is by far the most accurate when it comes to backlink analysis.
Next, it lets you see traffic estimations for the top search results which other tools don't do. This means you can see how much monthly traffic you could get for a given keyword.
You can also see the ranking history of keywords on pages. This gives you insights into how a page performs over time.
Comparing Ahrefs vs SEMrush Pricing Plans
Both SEO tools offer competitive pricing models. Let's start with Ahrefs.
If you want to check out the Ahrefs tool before you invest in it, there's a trial plan. This grants you access to Ahrefs for 7 days and costs $7.
Aside from that, Ahrefs has 4 plans to suit all types of businesses.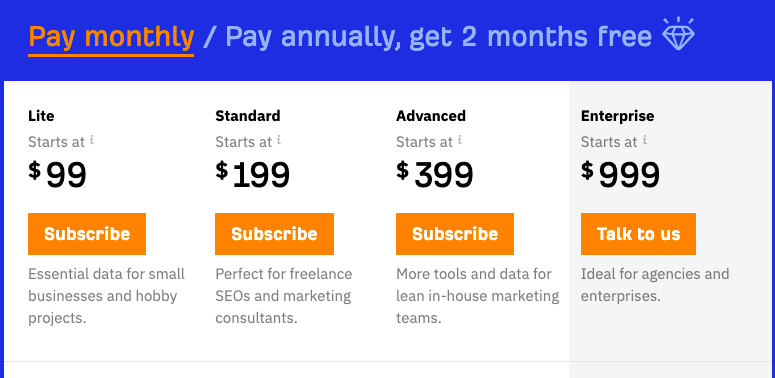 Lite: Costs $99 per month and gives you access to 1 user
Standard: Costs $199 per month for 1 user
Advanced: Costs $399 per month for 3 users
Agency: Costs $999 per month for 5 users
SEMrush has 3 standard pricing plans. However, if you're a large business and need a custom plan, you can contact their support team.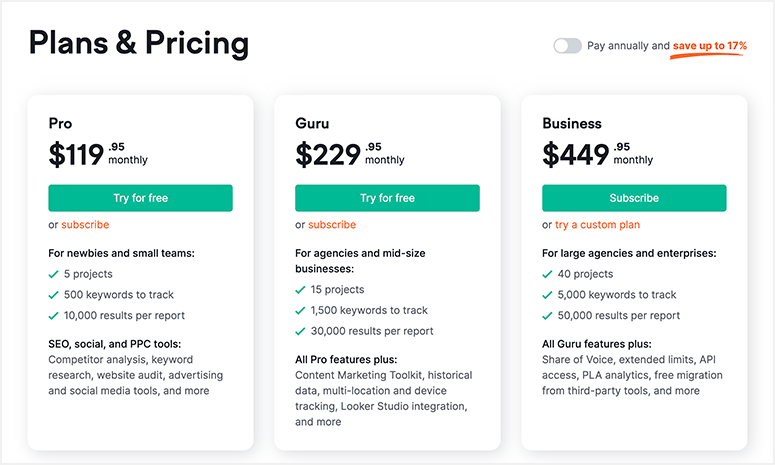 Pro: Costs $119.95 per month and is designed for freelances, startups, and inhouse marketers.
Guru: Costs $229.95 per month and is designed for small businesses and growing marketing agencies.
Business: Costs $499.95 per month and is more suitable for agencies, eCommerce stores, and larger businesses.
SEMrush doesn't have a trial period but they do have a 7-day refund policy. Having said that, SEMrush has agreed to offer IsItWP users a 30-day trial period.
Claim your SEMrush 30-day trial here!
SEMrush does cost slightly more than Ahrefs. If you feel the price is steep, you can get a discount on both platforms if you bill annually.
Our Verdict: Ahrefs vs SEMrush – Which One Should You Choose?
After our deep dive into both tools, we can confidently tell you that SEMrush is the most powerful SEO tool.
It has a lot more features and acts as a complete SEO solution for your business.
Having said that, here's what you need to keep in mind.
SEMrush is great for businesses who want an all-in-one SEO solution. It will cover SEO, SEM, social media, and content marketing.
Ahrefs is great for smaller businesses, freelancers, and SEO professionals who want valuable data to improve their SEO. Ahrefs gives you what you need, no extras. It's easier to use so it's ideal for those who are starting out.
And with that, you should have all the information you need to make a choice between Ahrefs vs SEMrush. We hope this article has helped you select the right SEO tool for your site.
Once you have your SEO solution in place, you'll need a good analytics solution to track your site's performance.
And you may also want to check out the best lead generation plugins to convert your traffic into subscribers and customers.