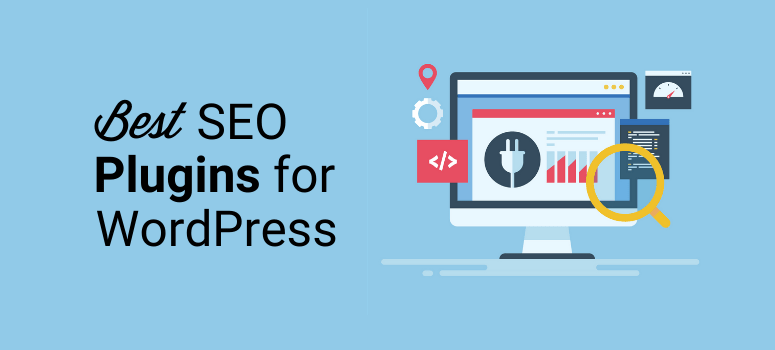 Are you looking for the best SEO plugins for WordPress, but not sure which ones to choose?
Search engine optimization (SEO) is one of the strongest strategies in marketing for driving organic content and bringing in new leads. But it's also more difficult than ever to rank–especially if you're just starting.
So how can you get your WordPress content ranking when you don't have a full team of content writers or the budget to hire a consultant?
This is where SEO plugins come in handy. Because with the right tools at your side, it's like having an entire SEO department working to get your site ranked.
That's why, today, we're going to cover the best SEO plugins that you can start using right now. First, though, let's get more clear on why you still need to go "all-in" on SEO.
What Is SEO (& Do You Still Need It)?
SEO is the process of creating posts, pages, or relevant content to get your site ranked on search engines like Google. That way, when people type out a question, your website will appear as the perfect answer.
And the benefits of SEO are hard to ignore:
Consistent: As your site authority grows, it becomes easier to rank. This leads to a consistent stream of traffic that regularly visits your site.
Affordable: Creating content to rank doesn't cost anything but time. This can make it a more suitable option for small businesses than paid ads.
Long-lasting: While you can eventually drop in rankings, the effects of SEO can last for months (or years). If you maintain your content, you'll have a longterm and sustainable marketing plan ready to go.
The problem is that SEO has evolved a lot over the last 10 years, and popular search engines like Google are constantly refining their algorithms.
As the positive effects of SEO became clearer, larger companies began doubling down. This leaves many small businesses wondering how they can compete. After all, if you have a small team, can you really produce enough quality content to compete "with the big guys?"
You'll find the answer to that question reassuring: Yes, of course you can!
Well, let's make that response more accurate: Yes, with the right tools, of course you can.
That's why we're now going to turn our attention to the best SEO plugins that you can start using to get your site ranked.
Ready to see the list? Let's dive in!
The Best SEO Plugins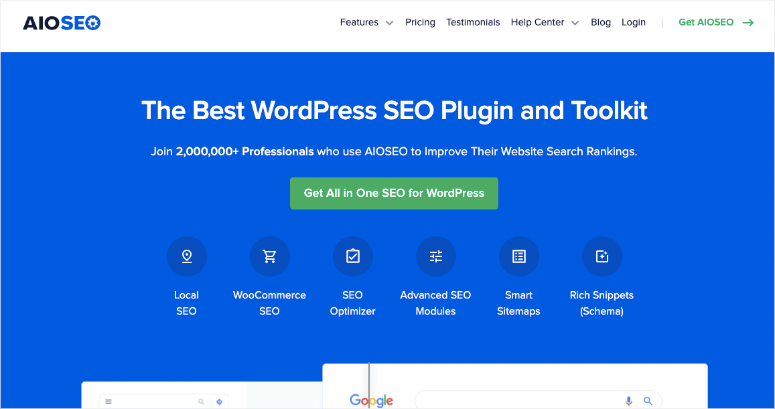 All in One SEO (AIOSEO) is hands down the best SEO plugin for WordPress. It comes loaded with powerful features out-of-the-box to get you ranking.
With AIOSEO, you can kick things off with a helpful setup wizard that helps you find the best SEO settings for your business. Then you'll get an actionable checklist to help you optimize your on-page content.
AIOSEO helps beginners with SEO through features like:
Smart meta tag generator
On-page checklist
Rich snippet schema markup
XML sitemaps
Internal linking suggestions
Headline analyzer
And much more…
But then it also has tons of features for more advanced SEO users, such as:
RSS feeds
Robot.txt editor
Local SEO
Google News sitemaps
Video SEO
Redirection management
And, again, much more
The bottom line is that AIOSEO simply can't be beat. In terms of features and pricing, this is without a doubt the best plugin for WordPress at your disposal.
Price: Paid plans begin at only $49.50/year.
Get started with AIOSEO today!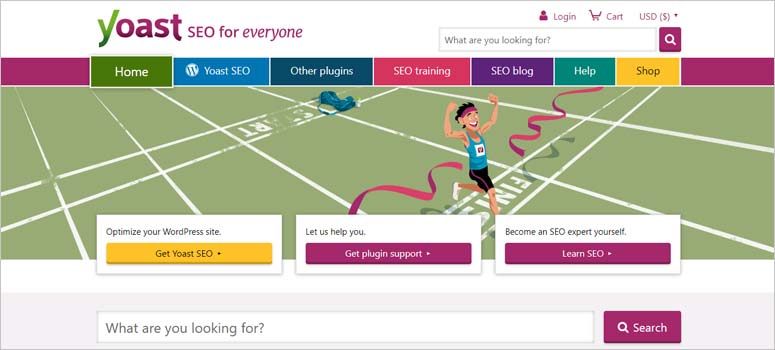 Yoast is one of the most popular SEO plugins for WordPress, and was the preferred choice before AIOSEO came on the scene. It's a very powerful plugin with loads of features to guide your SEO efforts.
Yoast SEO has everything you need for both technical and on-page SEO. For blog posts, once you enter your keyword, it will analyze the content to make sure it's ready to rank on Google.
Then you'll get a checklist so you can make changes to the content where needed.
On the technical side, you can use Yoast for:
XML sitemaps
Canonical URLs (to avoid duplicate content)
OpenGraph tags
Schema.org structured data
And much more
The downside to Yoast is that you can train yourself to take your eyes off the prize.
In other words, it can be easy to start writing to make Yoast happy rather than making Google happy, even though the 2 don't always agree.
So when you use a plugin like Yoast, you should still have a strong grasp of how search engines like Google rank. That way, you can more effectively take or leave Yoast's suggestions.
Price: Yoast has a free version that's pretty limited. Their Premium plan gives you 1 site for $89/year.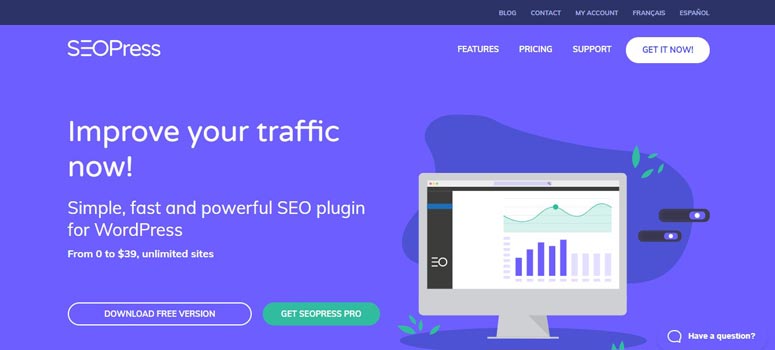 SEOPress is another SEO plugin that's gained some traction over the past few years. This is a freemium SEO plugin, which means they have a free and paid plan.
The free version is more extensive than other free SEO plugins like Yoast, but you'd likely want the paid plan to unlock all the features.
With SEOPress, you get everything you'd expect in an SEO plugin, such as:
Title and meta descriptions
XML and HTML sitemaps
Content analysis
Google Tag Manager
And more…
But, again, more advanced features like 404 monitoring, WooCommerce SEO, editing your robots.txt file, and so on are only found on the paid plan.
One of the downsides is that it's a fairly new plugin, which means it hasn't stood the test of time. Now, this may or may not be an issue (everyone needs to start somewhere), but it's worth mentioning.
New plugins run the risk of "surprise" problems, an overwhelmed support team, or innovating new features (as they're usually focused on keeping up with established competitors). That said, SEOPress appears to be holding its own as an excellent SEO plugin.
Price: Paid plans start at $39/year.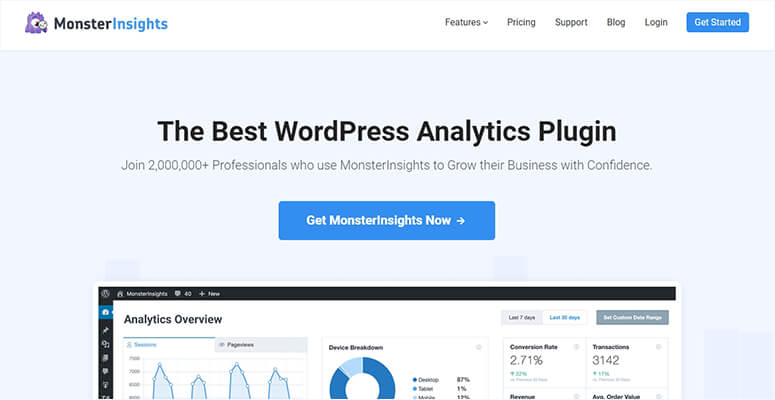 You likely know MonsterInsights as the best Google Analytics plugin for WordPress. So what is it doing on this list for SEO tools?
Because without the right data, SEO is non-existent.
The best way to improve rankings is to create and track key performance indicators (KPIs). That way, you can refine your SEO strategy and make sure you're constantly moving in the right direction.
This includes using MonsterInsights to track:
Pageviews
Unique user sessions
Popular content
Bounce rates
Outbound links
And much more…
These are a few of the basic examples of KPIs you can track to boost your SEO, but there are many others. The point is that MonsterInsights gives you all the power of Google Analytics directly from your WordPress dashboard.
And the best part is that it delivers the data in an easily digestible form. That way, you can make smarter, data-driven decisions to get better results fast.
Price: Paid plans start at only $99/year.
Get started with MonsterInsights today!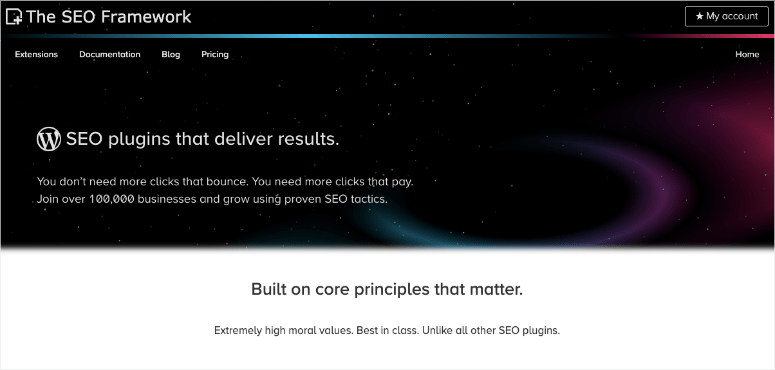 The SEO Framework is a free SEO plugin that makes things easy to get started. Many of the settings come preconfigured and will cover most of your bases. That said, the settings are easy to change.
That's because The SEO Framework has an easy-to-use interface that leaves out confusing technical jargon. Here are some of the features that come with this plugin:
Comes preconfigured
Optimizes metadata
Enables bread crumbs for Google
Makes social sharing easy
Checks for duplicate content
And much more…
One interesting thing about The SEO Framework is it focuses on the keyword topic rather than the keyword itself. This can be great for general SEO, but frustrating for more advanced marketing teams.
Price: The free version is fairly extensive. From there, the paid plans start at $84/year (though it's written as $7/month, billed yearly).
Check out The SEO Framework today!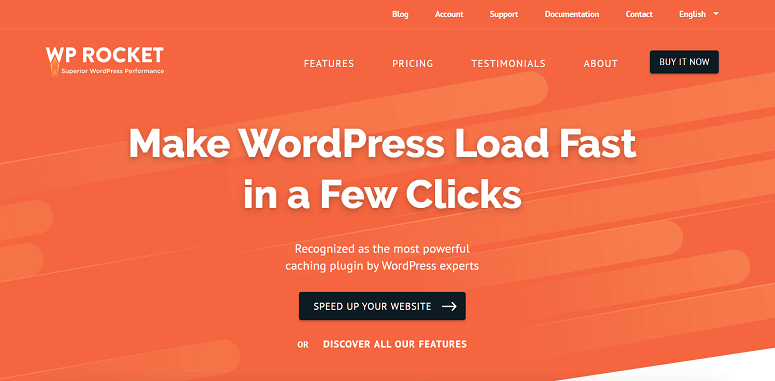 WP Rocket is one of the best tools for WordPress SEO that you can use. While it doesn't track your on-page content or technical SEO, it covers another important factor: site speed.
WP Rocket is a caching plugin that will drastically increase your site speed. Here are some of the advantages of WP Rocket:
Minimal configuration
Page caching
Cache preloading
Static file compression
Images on request
All of these benefits work to making your site lightning fast. Not only does this improve user experience (which keeps people on your site longer), but it also makes Google very happy.
As a result of having a faster site, you can expect strong rankings in the search results.
Price: Paid plans start at only $49/year.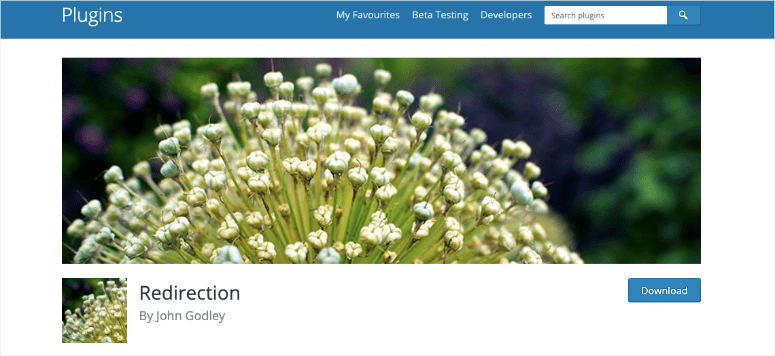 Redirection is a niche SEO plugin that focuses on link redirects. This is an important but often overlooked aspect of SEO.
The idea behind this plugin is simple: manage your 301 redirects, keep track of 404 errors, and maintain all the confusing loose ends that redirects can bring.
You can even manage redirects based on certain conditions, such as:
User login status
3rd-party referrers
Cookies
HTTP headers
IP address
Server
And much more…
And the best part is that this is a totally free SEO plugin. The only downside of that, as you might expect, is support can be lacking.
Whenever you have a free plugin with no premium version, support is usually the first thing to suffer.
That said, Redirection is a free SEO plugin that you can start using to manage redirect links today.
Price: Free.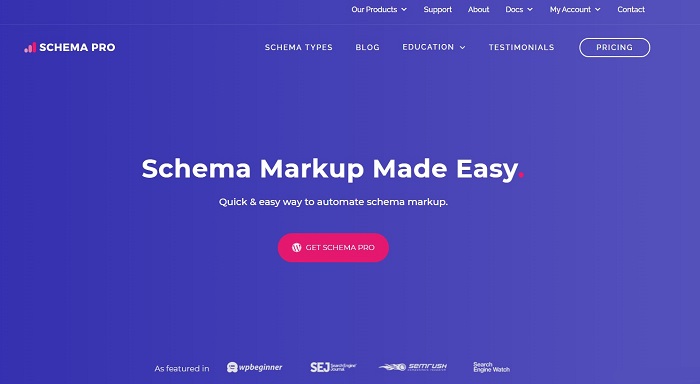 Schema Pro is an SEO plugin that specializes in creating structured data to make your site more readable to search engines like Google.
As they say on their own site, search engine algorithms can have difficulty understanding every aspect of your website. Schema Pro makes it much easier.
Schema Pro supports the following schema types:
Reviews
Local Business
Articles
Services
Ecommerce products
Courses
Recipes
And much more…
If you're serious about getting your site ranked, then using a schema markup plugin like Schema Pro is an absolute must.
Price: Paid plans at $55/year or $174 for lifetime access.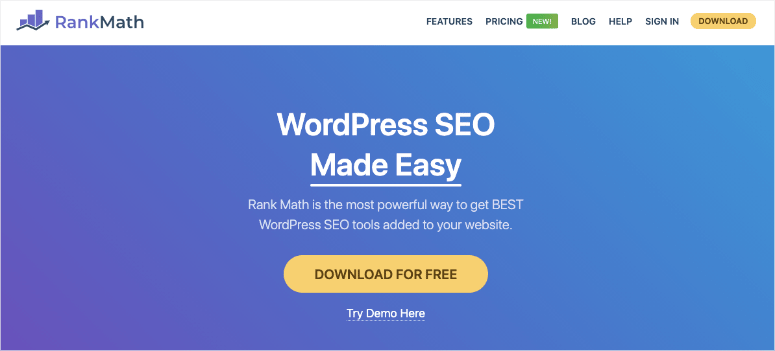 Rank Math is one of the more popular SEO plugins on this list. It comes loaded with helpful features, such as:
Installation Wizard
Easy-to-follow user interface
Built-in SEO analytics module
Google Analytics integration
Rank tracker
And much more
One of the downsides of Rank Math is that there have been some user reports of the program conflicting with other plugins. That said, this is totally unique to your WordPress site and is most likely a non-issue.
Price: Pricing starts at $59/year.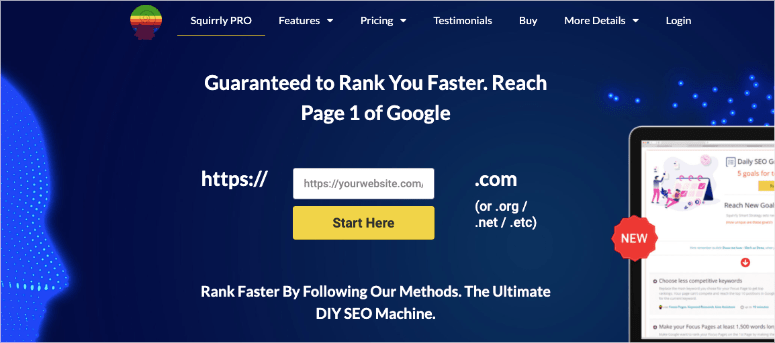 Squirrly has an SEO plugin that promises to get your content on page 1 of Google within 1 week. If this sounds too good to be true, that's because it likely is.
In order to do so, your site needs to follow 11 conditions outlined here, which includes going through their 2-week training program.
That said, this can still be an excellent option if you're trying to improve your rankings on Google. Squirrly has tons of useful features, such as:
Daily SEO goals
Focus pages
Keyword research
Live SEO writing assistant
Site Audits
And much more…
The downside is that no plugin is the SEO silver bullet they claim to be, and it may take you much longer to get on page 1 of Google regardless of the tool you use. But if you lower your expectations and increase your SEO efforts, you're bound to get there soon enough.
Another disadvantage is the pricing. It's much more expensive annually than many other plugins on this list.
Price: Pricing starts at $20/month.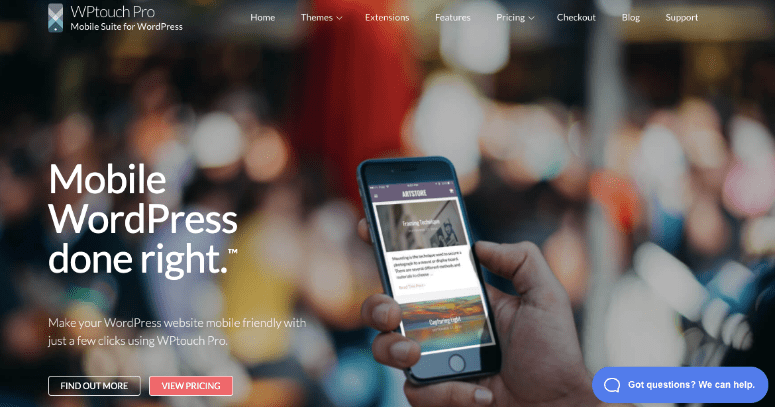 WPTouch is an excellent SEO plugin to help with your site's mobile performance. It takes your WordPress site and makes it easy to customize for mobile devices.
This is a huge factor to consider when working on your site's SEO. Here are some of the features you'll have access to with WPTouch:
Super responsive layouts
Setup wizard for fast installation
Increased site speed for mobile
Seamless integrations
And much more…
All of these things lead to strong SEO and higher rankings with Google. The only downside is that this SEO plugin focuses exclusively on mobile.
That means you'll need other tools to work on your desktop version's SEO and content. That said, mobile SEO is certainly something you can't afford to ignore.
Price: Paid plans start at $79/year.
Get started with WPTouch today!

And that's it! We hope you enjoyed this post. If you did, you might want to check out these helpful posts on the best SEO keyword research tools available and the best SEO audit tools.
These posts will help you find the best tools to drive loads of organic traffic and analyze your site's SEO performance.