Are you looking for a translation plugin for your WordPress website? When you build a website, you want people from all over the world to visit it and be able to read and understand the content. By simply providing your content in more than one language, you can increase the amount of traffic your site gets and open your content up to a wider audience. So, if you want your website to be multilingual, you'll need a translation plugin.
In this TranslatePress review, we'll share with you the features, functionalities, pricing, pros and cons, and more, to help you determine if it's the best translation plugin for your needs.
About TranslatePress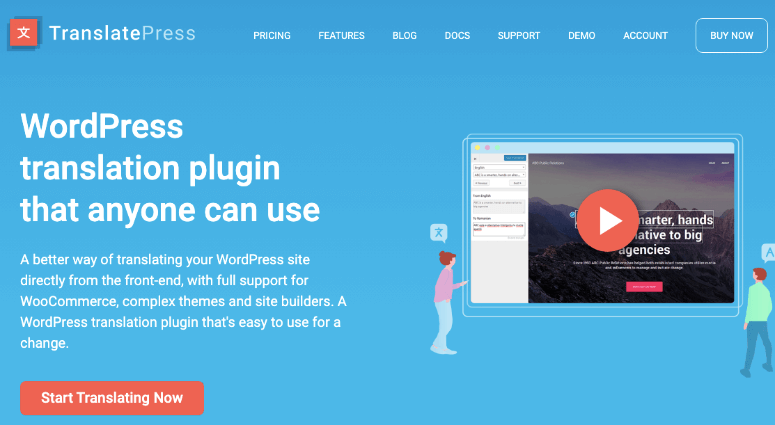 TranslatePress is a WordPress translation plugin that's easy for anyone to use. What makes TranslatePress different from other translation plugins is that it allows you to translate posts and pages directly from the frontend of your website. This means that you can see what you're translating in real-time.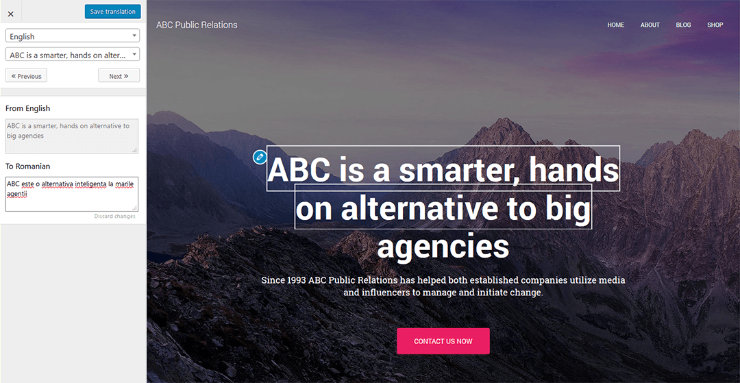 The TranslatePress interface lets you easily translate any of the written content that you see on the page including posts, pages, meta data, plugins, and even your WordPress theme.
TranslatePress also offers Google Translate API integration which allows you to accelerate the translation process, if the manual translation is not for you or is too time-consuming. If any of Google's AI-powered translations are incorrect, you can go in and manually fix them.
Aside from being easy-to-use, TranslatePress is loaded with a number of awesome features including:
Multiple Languages – Support for 221 languages.
SEO Pack – SEO support for page slug, page title, description, and more to give you a boost in local search rankings.
Automatic User Language Detection – When a user first visits your website they be redirected to their preferred language based on their browser settings or IP address.
Translator Accounts – Create translator accounts and assign the role to any user on your site. This user can translate your content without having access to your full admin area, in order to keep your website secure.
Navigation Based on Language – Configure your website navigation menu for different languages.
TranslatePress Review: Getting Started with TranslatePress
Getting started with TranslatePress is super easy. But before you start translating your site, you'll want to configure the settings first. After purchasing and installing TranslatePress, simply hover over the Translate Site button at the top of the WordPress dashboard, then click on Settings.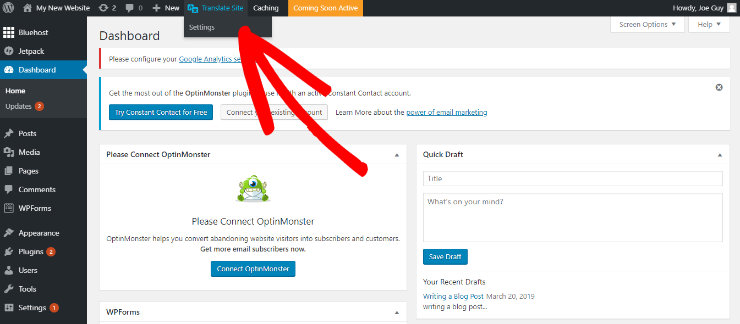 In the General settings area, you can set your default language and select all the languages you want to make your website available in. To add a language, go to the All Languages section and click the arrow next to "Choose…" to open the dropdown menu. From the list, choose the language you want.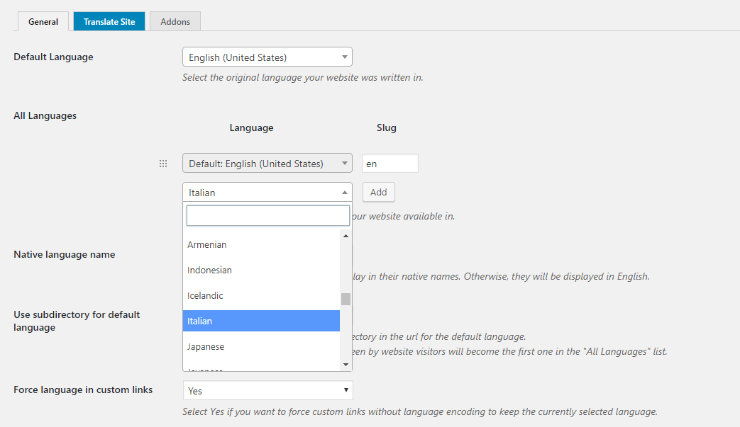 Once you've selected the language you want, click the Add button.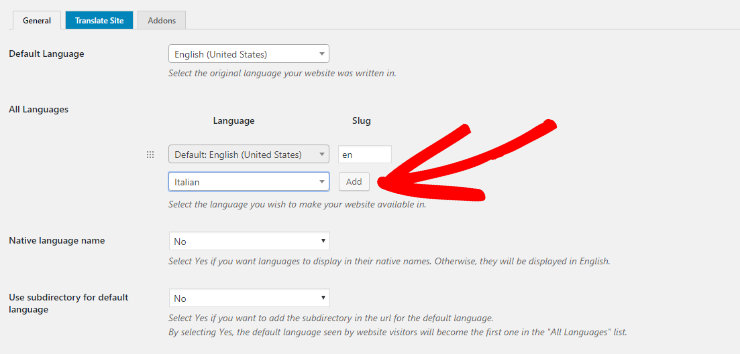 Repeat the process again to add as many languages as you want.
In the general settings area you can also choose whether you want languages to display in their native names or in English, enable and disable Google Translate, add a language switcher to any page or menu, and more.
When you've got the settings how you want them, don't forget to click the Save Changes button.
Now you're ready to start translating your website. To start translating your site, click the Translate Site tab in the settings area.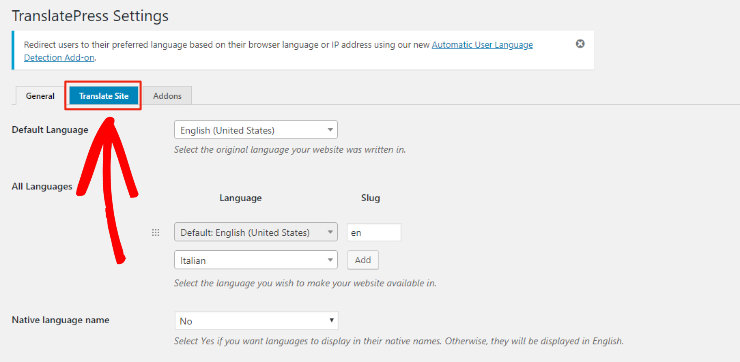 After clicking the button, you'll be redirected to the TranslatePress visual editor. The visual editor is straightforward and easy-to-use even for complete beginners.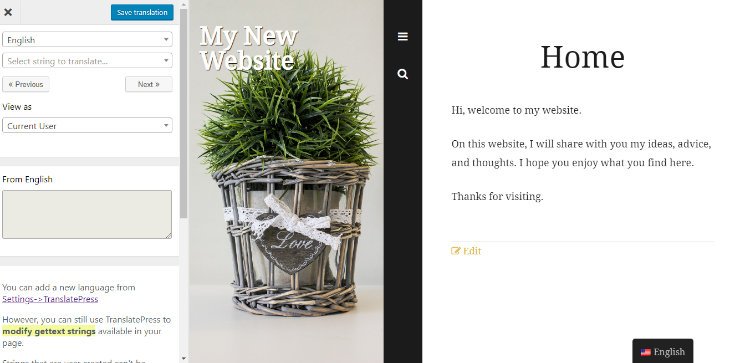 To start translating your content, all you have to do is choose the string of text you want to translate from the dropdown menu, manually enter in the translation, and press the Save Translation button at the top of the screen.
You can simply hover any string, and click the edit button that appears on the left and translate your string in the left translation interface. This makes everything more visual as opposed to searching the drop-down.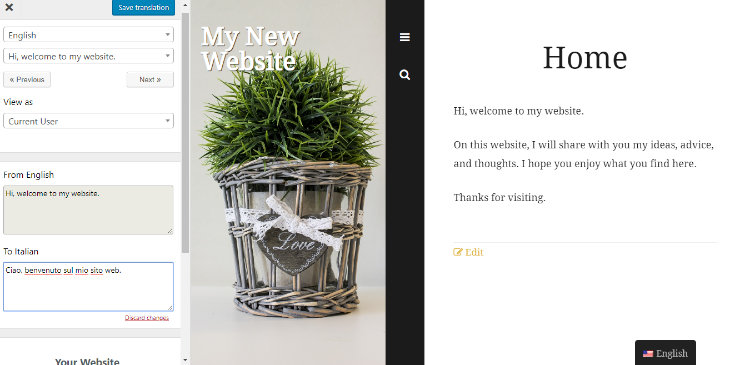 Important Note: Automatic translation is only available after you activate the Google Translate API.
To preview your translation, simply click on the language switcher you added in the settings section.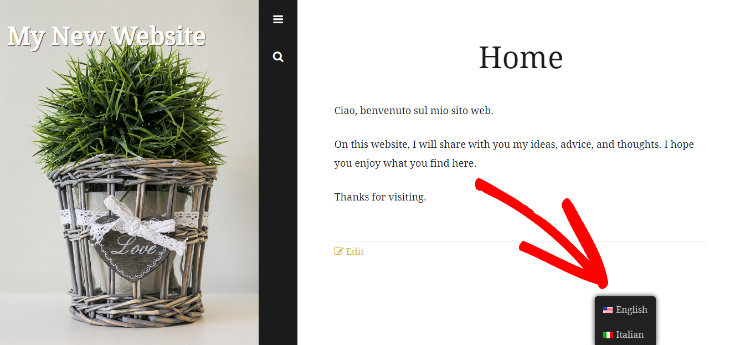 That's it! See, making a website that's multilingual is incredibly easy with TranslatePress.
TranslatePress Plugin: Pricing
TranslatePress offers a free version of their plugin as well as 3 different pricing plans: Personal, Business, and Developer. Each paid plan comes with the advanced translation interface, support for dynamic fields, integration with Google Translate, flexible language switcher, and 1 year of support and updates.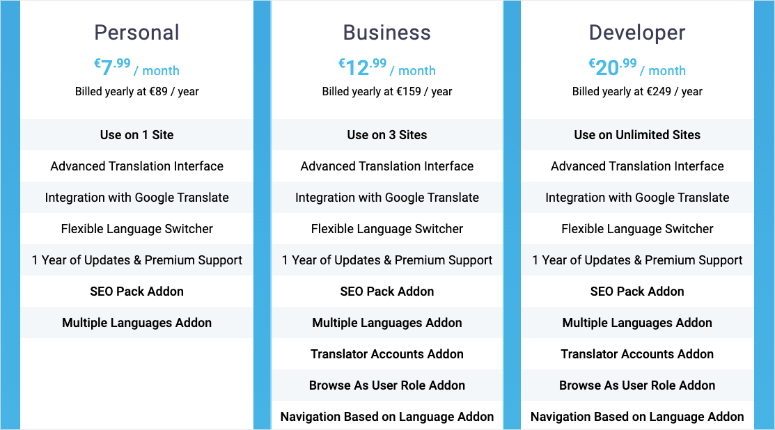 The free version of the TranslatePress plugin only allows you to translate your site into 1 language, which makes it suited for bilingual websites. So, if you want the ability to translate your site into many languages, you have to choose one of their paid plans.
The Personal plan costs €7.99/month (billed at €89/year). With the Personal plan you get the use of the plugin for 1 site as well as the multiple languages addon and SEO pack addon.
If you want the ability to use the plugin on 3 websites as well as other advanced features such as translator accounts, navigation based on language, automatic user language detection, and more, then you'll need to choose the Business plan which costs €159/year.
With the Developer plan, you get all of the same features and addons as the Business plan, but you get the ability to use the plugin on an unlimited number of websites. The Developer plan costs €249/year.
TranslatePress Plugin: Pros and Cons
Now that you know more about TranslatePress, let's take a look at the pros of using TranslatePress to translate your website content.
Pros
Free Version: You can get started with TranslatePress for free.
Easy to Use: TranslatePress is easy to get started with and allows you to translate everything from the frontend, including WooCommerce products, page builder content, forms, etc.
SEO Support: TranslatePress offers SEO support for multilingual sites.
Next, let's take a look at some of the limitations of TranslatePress.
Cons
Limited Free Version: The free version of TranslatePress is quite limited. You can only translate your site into 1 language.
No SEO Support: The free version also offers no SEO support features. So, if you want to boost local search rankings, the free version won't work for you.
Costly: If you're just starting out, a paid plan with TranslatePress might be a bit costly for you.
Our Verdict on Using TranslatePress to Translate Your WordPress Website
TranslatePress is a highly-rated translation plugin that makes it easy for anyone to translate their WordPress site into multiple languages. The fact that you can translate pages and posts on your site in real-time from the frontend is really what makes this translation plugin stand out from the crowd.
While the free version is fine to get started, in order to create a successful multilingual website that's optimized for SEO, you'll need to invest in one of their paid plans. The paid plans might seem costly to some but TranslatePress isn't just a simple translation plugin. TranslatePress is packed with features such as SEO support, automatic user language detection, navigation based on language, translator accounts, and much more to give your multilingual website added power and increased performance.
We give it a 4.5 out of 5 stars. Here's the breakdown of our review score:
We hope that you enjoyed this TranslatePress review and that you now know whether TranslatePress is the best translation plugin for your needs. If you still want to check out some other translation plugins, check out our article on the Best WordPress Translation Plugins Compared.
Get TranslatePress Now »