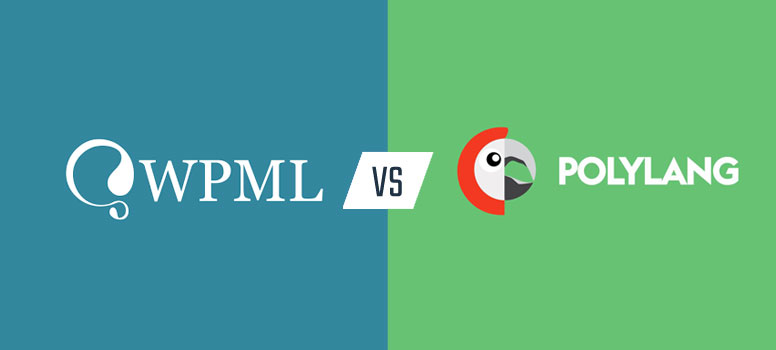 Looking to create a multilingual website? Setting up a multilingual site is the best way to expand your reach to a global audience.
While there are dozens of WordPress translation plugins on the market, 2 of them stand out from the rest – WPML and Polylang.
In this article, we'll do a head-to-head comparison between these 2 popular translation plugins and help you decide which one is the best choice for your unique needs.
WPML vs. Polylang – Table of Contents
The goal of this comparison is to explore the features of both the plugins in detail and compare their features, how they differ and which one really suits your needs.
We'll mainly cover the following points.
Ease of use
Translation management
Translation service
Number of languages supported
Text translations
eCommerce support
Media integration
Support and documentation
But before we dive into the actual features of the plugins, let's have a quick overview. It will help you understand the plugins better if you're not yet familiar with them.
WPML vs. Polylang – Overview
WPML is a powerful multilingual plugin with simplified controls and configurations. With over 40K active installations, there is absolutely no doubt, WPML is one of the most popular multilingual WordPress plugins on the WordPress market.
WPML makes it super easy to translate your content into different languages without having to sacrifice any features of your website.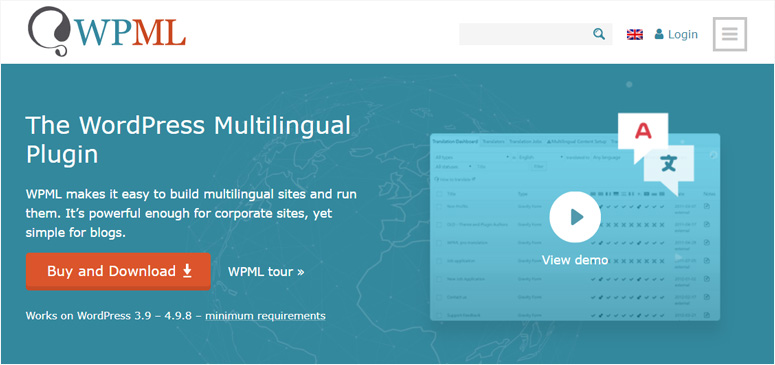 WPML is a paid plugin. The pricing for this plugin starts at $29.
Polylang is another robust translation plugin that stands as WPML's biggest competitor. The user-interface of Polylang is super simple. All you have to do is to add your content, create pages, categories, and tags and then define the languages for each of them.

You can provide as many language recommendations as you want to your users. You can also use RTL language scripts with Polylang. The plugin automatically downloads the WordPress language package and then updates them on your website. So no matter which language you want, you can rest assured that you'll have the right language package with Polylang.
Polylang also offers a premium version with extended features and customization options. The pricing for the commercial version of Polylang starts at €99 (around $111).
Feature Comparison: WPML vs. Polylang
Being two of the most popular translation plugins, both the plugins are packed with amazing features. Since this is a comparison post, we'll have a closer look at each of its features.
That being said, let's get started.
1. WPML vs. Polylang – Ease of Use
With WPML, you can convert a single language website into a multilingual one in just a couple of minutes. .

When you install and activate WPML Multilingual CMS (the core plugin), you'll be directed to a setup wizard where you can specify the essential settings, such as an option for setting up the default language, add additional languages, specify where to set up language switchers. The language switchers can be displayed on the menu, footer, and sidebars.
It also lets you configure the structure of your URLs for multiple languages for subdomains, directories, and URL parameters.
On the other hand, Polylang doesn't have a quick start guide or setup wizard to make your life easier with the plugin configuration.
To configure languages on your site, you'll need to navigate to the Language option inside the Polylang settings within your WordPress dashboard.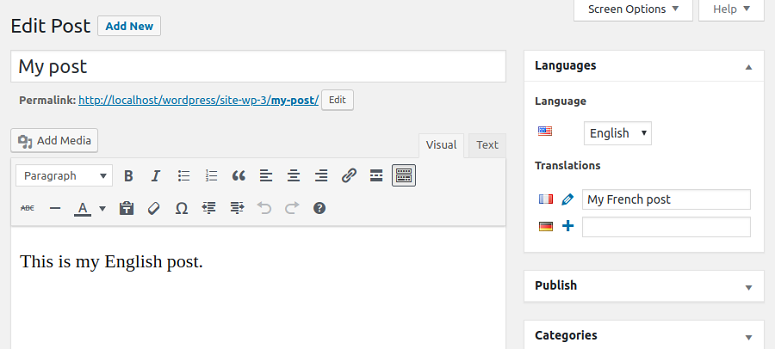 From there, you can find options to add a new language. After adding the required languages, it's pretty easy to handle add translate your content from your post and page editor. All you have to do is to select the right language and save your page.
Like WPML, with Polylang it's possible to change or update language settings from within WordPress dashboard. You can also apply string language settings and media language settings as well.
Winner
Both plugins make it easy to translate your content, but with the setup wizard, translation is even easier with WPML. So WPML is the winner when it comes to ease of use.
2. WPML vs. Polylang – Translation Management
Both Polylang and WPML support automatic and manual translation. With automatic translation, you can save time. However, in order to ensure the translation is accurate and sound human, it's advised to translate manually by yourself or by hiring a translation expert. Let's take a look at how these plugins let you manage the entire manual translation process.
With WPML, the translation management feature is offered as an addon. Once you activated the addon, you can send content for translation right from your dashboard.
On the other hand, Polylang lets you integrate a cloud-based translation management system known as Lingotek. With Lingotek, you can access free machine translation or hire a professional to do that for you. The downside is that you're required to install a third-party plugin, Lingotek and you need to set up an account with Lingotek.
Winner
WPML's translation management is available as an addon, whereas Polylang requires you to install Lingotek, a third-party plugin.
3. WPML vs. Polylang – Number of Supported Languages
WPML is shipped with translation files for 64 languages which you can use right after the installation of the plugin. But in case you need additional languages, you can add them as well with the help of its language editor.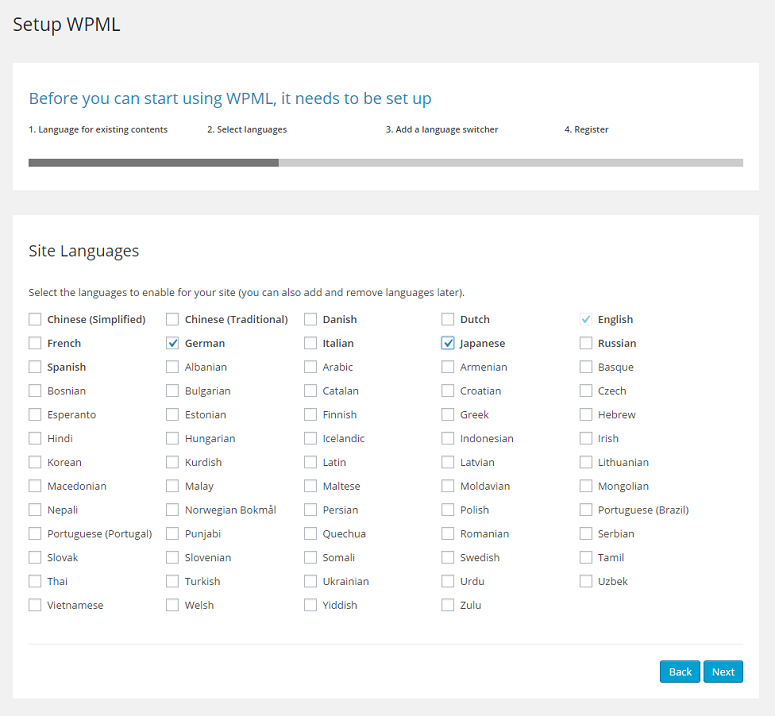 Polylang too does a great job in this regard.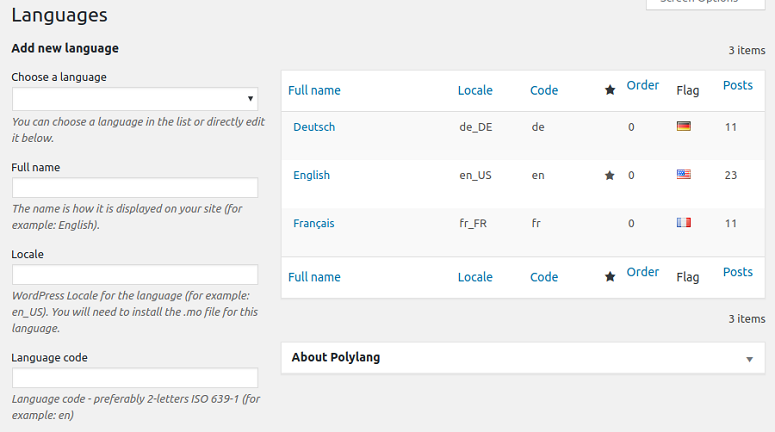 It supports more than a hundred languages for translations and you can add more as well.
Winner
In terms of the number of supported languages, Polylang stacks up against all their competitions.
4. WPML vs. Polylang – Localization Options
Both WPML and Polylang enable you to translate your texts coming from themes and plugins you use on your site. With this feature, you can build a multilingual admin area as well.
WPML supports themes and plugin localization in three ways:
Use only String Translation
Use String Translation but load .mo files as a backup
Only load the .mo files.
However, if a specific translation is not present in the file WPML and Polylang will let you provide your own translation of a specific language for any theme or plugin.
In WPML, translating the website theme and plugin's text is controlled by the String Translation feature. It actually searches for the translatable content in your theme and plugin and then enables you to add the alternative text.
Polylang, uses Poedit and Loco Translate to translate the theme and plugin texts.
Winner
Both the plugins offer a pretty good job in terms of translating the themes and plugins.
5. WPML vs. Polylang – eCommerce Support
Well, if you want to build a multilingual eCommerce site then these plugins can be really helpful. eCommerce sites need more work in terms of setting up the entire shop as compared to simple blogs.
And as long as you are using these two plugins there is nothing to worry about. The higher-priced WPML cms license will cover everything required to translate your entire eCommerce website. The cms license costs you around $79 and is supported by other eCommerce integrations as well.
In case you want to use Polylang to design a multilingual eCommerce store, then you should either upgrade to the Polylang Pro or purchase the WooCommerce add-on of Polylang.
Winner
Once again both the plugins offer great options but WPML can be the more optimal choice for users as it costs less.
6. Media Integrations
There is a lot to work on when it comes to translating media files like images and videos. If you display the image captions and work with the internal configurations like alt tags, naming, etc, then you should go for the plugin which has greater support to the media file.
WPML comes with the media translation module that needs to be activated before you can translate media files.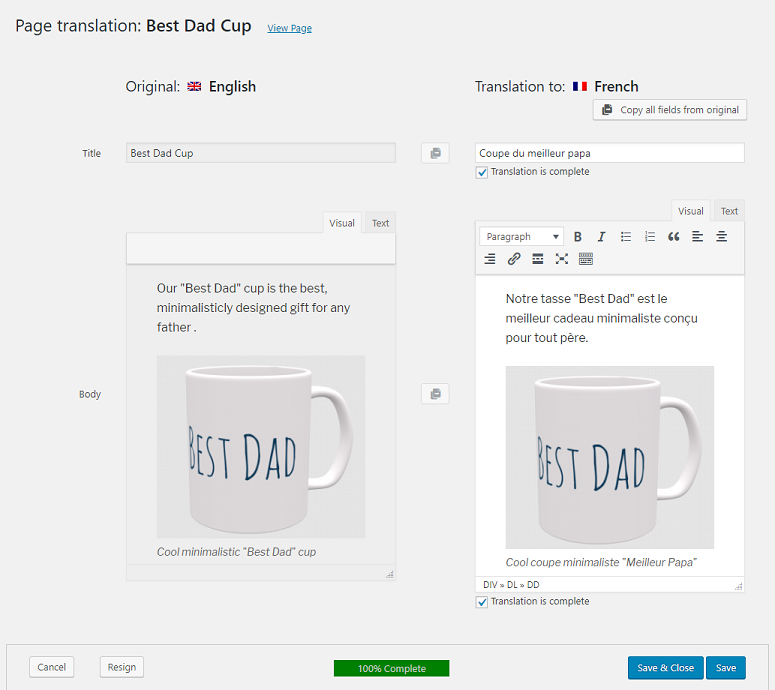 Using one media file for multiple languages is a great option since it will save a lot of work and space on the website.
Polylang does pretty much the same work as WPML.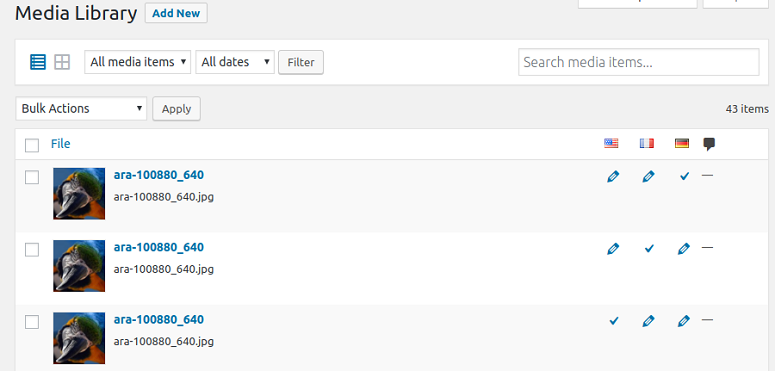 You just need to enable a module inside the plugin and then, you can configure the media files with respective captions and names in multiple languages.
Winner
Since both WPML and Polylang does the same job, using any one of them can give you the same experience for your media files.
7. Support and Documentation
One of the advantages of choosing a premium WordPress plugin over a free plugin is that the premium plugin comes with premium support. This can be extremely beneficial because if you're stuck at any point while using or configuring the plugin you can get in touch with the support team or refer to the documentation and get your issues fixed.
As a premium plugin, the WPML plugin beats the pants of all its competition when it comes to support. The online documentation is very detailed and it explains everything clearly from setting up the plugin to using its features for best results.
Polylang doesn't offer support for its free plugin. Their documentation is not as extensive as the WPML plugin.
Winner
WPML is a clear winner when it comes to support
Conclusion: Which One is Better – WPML or Polylang?
Both WPML and Polylang are great choices for creating a multilingual website. We believe WPML is a better translation plugin than Polylang because of its easy-to-use setup wizard and excellent support.
If you'd rather go with a free plugin, then Polylang is the right choice for you. We hope this article helps you find out the right translation plugin for your needs.
If you are interested, you can go into the details of creating a multilingual site with WPML and with Polylang .