Are you looking to translate your website? Then you might want to consider Weglot, one of the easiest translation plugins for WordPress.
In this Weglot review, we'll take a look at its features, pros and cons, and help you decide if it's worth the hype.
About Weglot and How It Works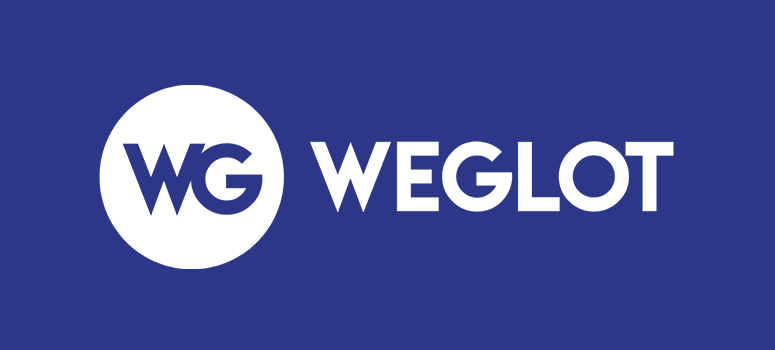 Weglot is a platform-independent website translation solution.
Weglot was founded in France back in 2016 as a small project. Today, Weglot lets you translate any website, including WordPress, Shopify, and any other CMS that you can think of.
To translate your WordPress site, you need to download the free plugin from WordPress.org. This free lightweight connector plugin integrates your site into the Weglot platform. Once it's activated, you can instantly translate your site by simply specifying to which languages you want to translate your content.
Weglot Review: Why Use It on Your Site
Weglot comes with all features you'll ever need from a WordPress translation plugin, such as automatic translation, manual professional translation, multilingual SEO optimization, and more. But what makes Weglot unique?
Let's take a look at a few unique features of Weglot that makes it stand out from the competition.
1. Probably the Easiest, Lightest and Highly Performing Translating Plugin
Without a doubt, Weglot is probably the easiest platform-independent translation solution available on the market.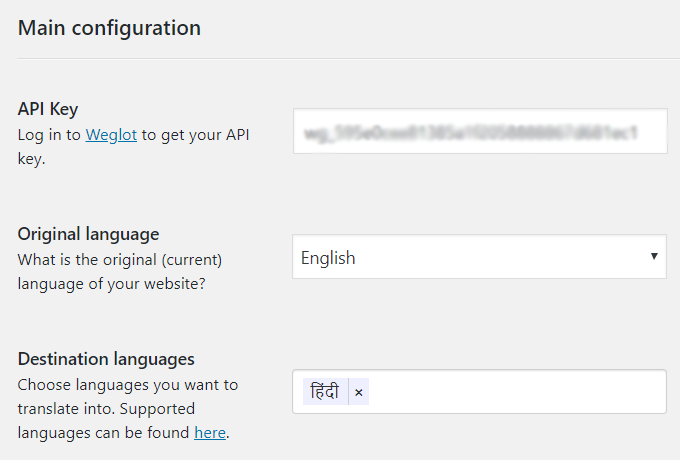 Once you installed the plugin on your WordPress site, you'll only see one menu for configuring the plugin. To enable automatic translation, all you have to do is to copy your API key from your Weglot account, choose the original and destination languages.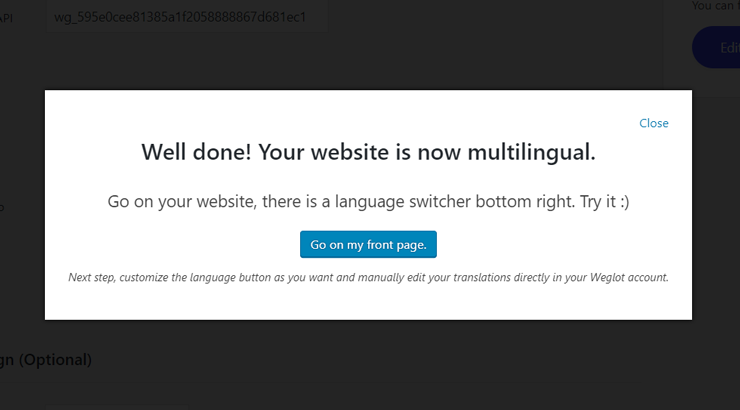 This will immediately create a menu on your website where your users can choose the language they prefer.
Unlike other popular WordPress translation plugins, you don't have to install multiple language packs on your WordPress site.
Best of all, your translated content is automatically indexed on Google following the best practices in multilingual SEO.
2. Works With Any Platform
Even if you have websites on multiple platforms, like WordPress and Shopify, you can easily manage their translation from a single account.
With their Pro plan, you can translate up to 3 sites. With Enterprise and Corporate plans, you can translate up to 15 and unlimited number of sites respectively.
3. Visual Editor for Manual Translation

Automated translation is the perfect choice for you if you want to translate your content quickly and easily without having to hire a professional translator. Not only can you make instant translation with Weglot, but the plugin also makes it super easy to edit your translation with the visual editor.

With its visual editor, you can make changes to your automated translated content right from the frontend of your website. All you have to do is to go to the Visual Editor tab and click Start Editing.
You'll be directed to your website. Just click on the Edit icon of the element where you want to fix the automatically translated content and start customizing it from the frontend.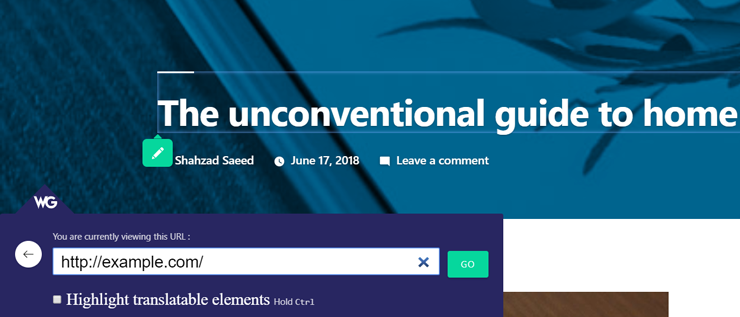 4. Hassle-free Professional Translation
Would you rather have a professional to translate your content? With Weglot, delegating translation is hassle-free.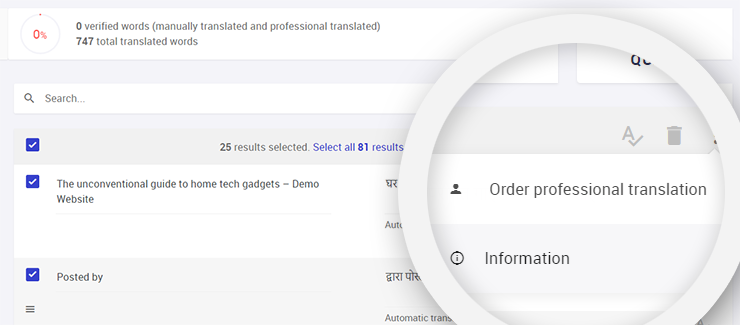 In your Weglot account, select the elements that you want to translate, order professional translation and complete the payment for the professional service. Weglot charges you €0.15/word. The translated content will be automatically updated to your website in 48 hours, depending on how much content you want to translate.

Cons of Using Weglot
Now that we've looked at the benefits of using Weglot, it's worth taking a moment to examine some of the cons of using Weglot.
1. Pricing
Weglot is a premium translation platform. While it has a free plan, it's limited to translating up to 2000 words and 5000 translated pageviews per month.
2. Ownership of the content
The ownership of the translated content is unclear. As it seems, as you cancel the subscription, you won't be able to display the translated content on your site.
Weglot's Support and Pricing
Weglot provides you with superior support customer support via email. Their extensive knowledge base guides you through every aspect of translating your website with Weglot.
Weglot has a limited free plan for those who wanted to test the service before opting for a premium plan. They also offer 5 premium plans:
Starter: €15 per month for 1 translated language and up to 10,000 words
Business: €29 per month for 3 translated languages and up to 50,000 words
Pro: €79 per month for 5 translated languages and up to 200,000 words
Advanced: €299 per month for 10 translated languages and up to 1,000,000 words
Extended: €699 per month for 20 translated languages and up to 5,000,000 words
Enterprise: Tailormade plan on request
Final Thoughts: Our Verdict on Translating With Weglot
Weglot is one of the easiest translation solutions in existence. It supports 100+ languages with automatic translation. It's a bit expensive compared to other translation plugins on the market.
It's the best bet for you if you have the budget and want the most intuitive plugin on the market for translation.
If you're under a tight budget, you might consider some alternatives to Weglot.
Get Weglot Now »