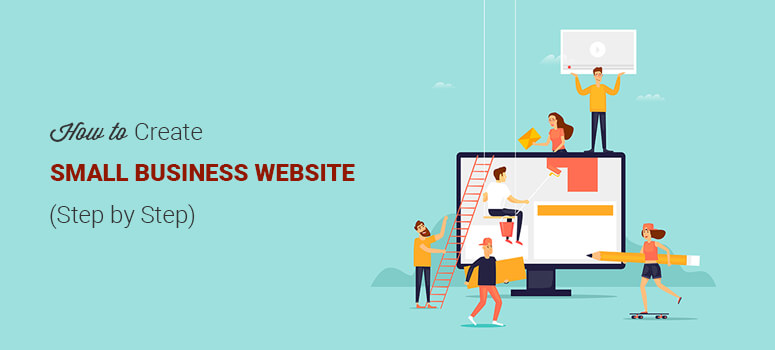 Do you want to create a website to promote your small business?
Making a website for your business can help you grow on the internet. Fortunately, you can create a small business website on your own without paying a hefty fee to a developer.
In this article, we'll show you how to create a small business website in 5 simple steps.
Why Should You Create a Website for Your Small Business?
As a business owner, you'll want to share your products and services with the world. This can be done by creating a business website. A website maximizes your reach to new customers and helps you grow your business more quickly.
In the past, it was not easy to make a website or create an online store for a small business. People used to hire professional developers who create their websites, and it was a huge expense for a small business owner. Now, technology has advanced, and you can build your own website without having any coding knowledge.
Also, check out our article on best WordPress books including the books on WordPress websites for business.
Let's take a look at how to create a small business website in 5 simple steps, without the help of a developer.
Step 1: Choosing a Platform to Create Your Small Business Website
First, you'll need to choose the right platform that gives you access to all features you need to create your site. Most beginners don't consider it important, but it is the base factor of your website. If you choose the correct platform for your needs, then all the other tasks you undertake will become easy.
We recommend you choose WordPress to create your small business website. It's a well-known software that supports 31% of all websites on the internet.
WordPress is great for small business websites as it comes with tons of built-in features that make your work simple. It has hundreds of thousands of free templates and extensions that help you create your website without writing a single line of code. Best of all, it gives you full control over your site.
WordPress comes in 2 flavors: WordPress.com and WordPress.org. For your website, you'll need the self-hosted WordPress.org as it has amazing features as well as access to free themes and plugins. For more details, you can read WordPress.com vs. WordPress.org.
Now that you know which platform you should choose, you can start the actual process of creating your website.
Step 2: Buying Domain and Hosting for Your Small Business Website
The first thing you'll need is a domain name and web hosting to begin creating your business website with WordPress.
This involves money and you may want an option that costs less in the initial stages of development. Overall, a domain name costs you $14.99 per year and web hosting costs around $7.99 / month, which is a lot of money if you're on a shoestring budget.
We recommend Bluehost hosting for your site. For our readers, they're offering a free domain name, a free SSL certificate, and 60% OFF on WordPress hosting. This reduces your cost for a domain name and hosting to $2.75 / month.
Click Here to Claim This Exclusive Bluehost Offer »
Once you are on Bluehost's website, click on the Get Started Now button to continue.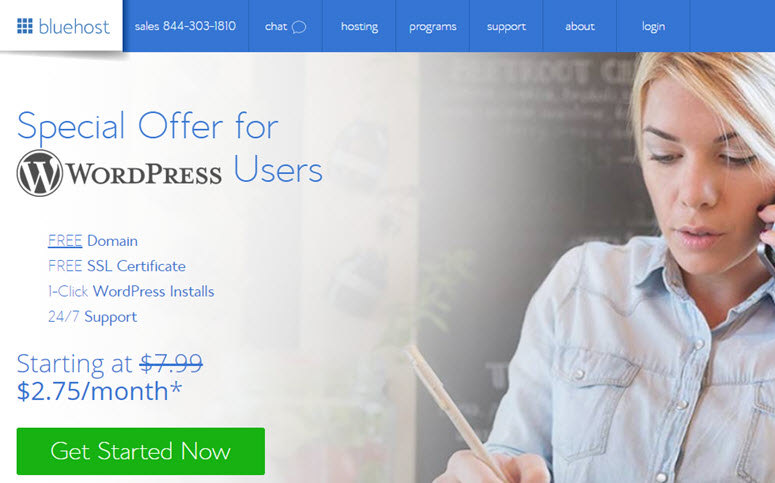 You'll be taken to the pricing page. You can look into the Basic and Plus plans. These plans are affordable and offer good services for small business websites.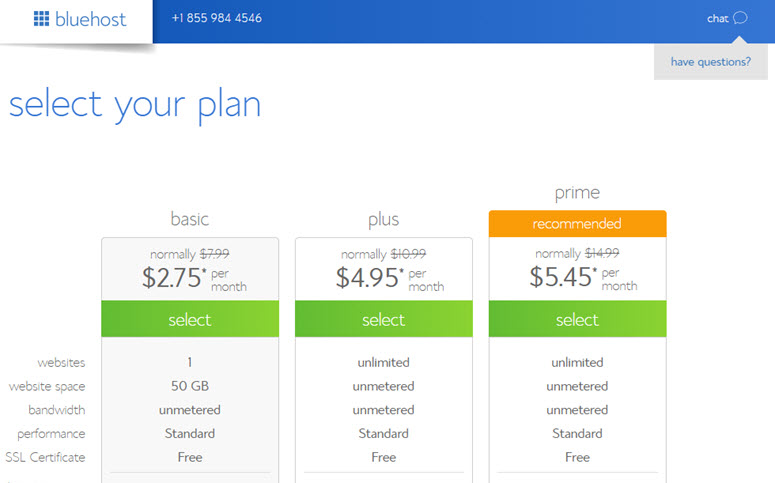 Once you've decided, you can click on the Select button to choose your plan and go ahead to next step to buy your domain name.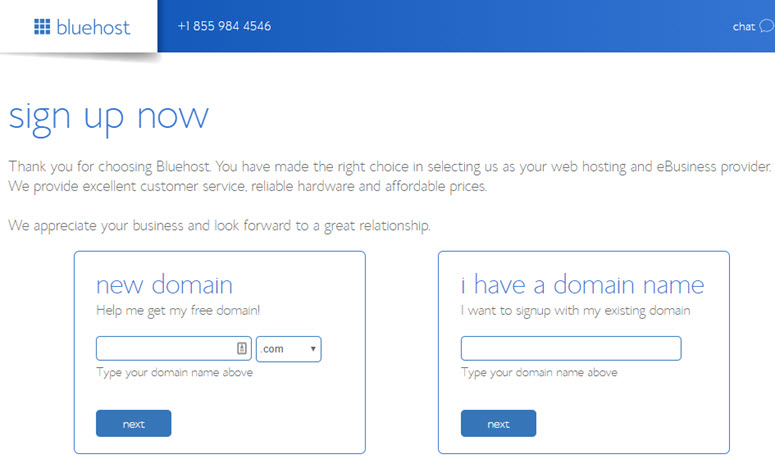 For a small business website, it's recommended to choose a domain name that is simple, short, and easy to pronounce. A domain name should be relevant to your business and give potential customers a clue as to what your brand is all about. Spend some time searching for the right domain name as it can be a major success factor for your site. You can even search for a domain name using our domain name generator tool.
Upon getting your domain name, you can click on the Next button. Now, you'll need to add your personal information like you name, email, address, etc.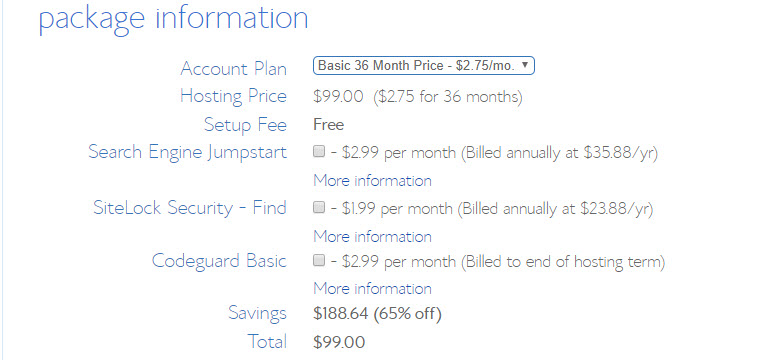 On the same page, it will display a few addons to include with your hosting plan. Simply uncheck them and continue to see the total price, select your payment method, and complete the purchase.
Note: If you want any of these hosting addons later, then you can add them from your hosting dashboard.
Step 3: Installing WordPress on Your Hosting Account
After subscribing to your hosting plan, you'll be prompted to choose a WordPress theme. You can choose any theme in this step because you can always change your theme later (we'll show you how to do so in a later step of this tutorial).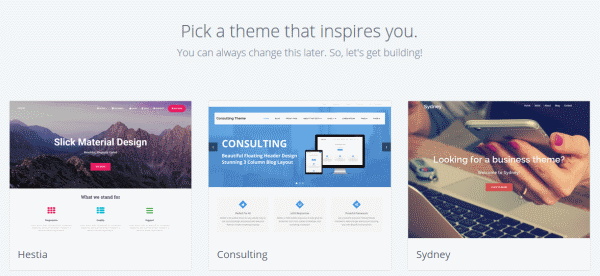 You'll then be asked to choose the name and tagline for your website.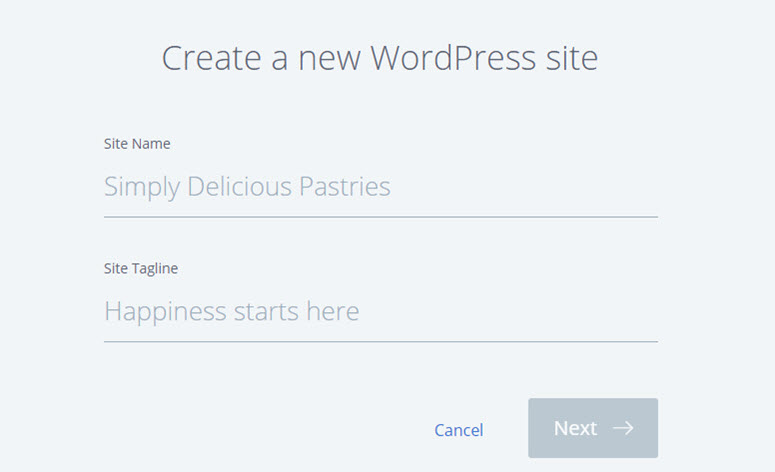 After specifying the details, click Next. Bluehost will now install WordPress for you and, once done, will show you a screen like this: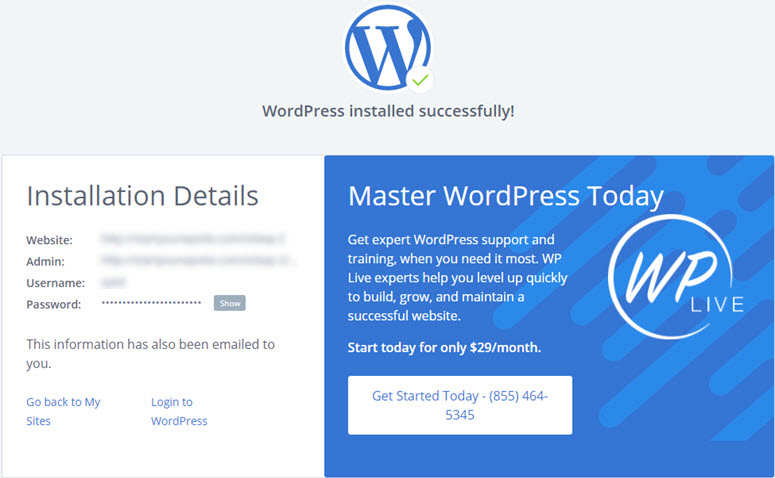 You can login to your site by appending wp-admin to your URL. Here's what your WordPress login URL should look like:
http://example.com/wp-admin
You can now log into your WordPress website with the credentials sent to your email address.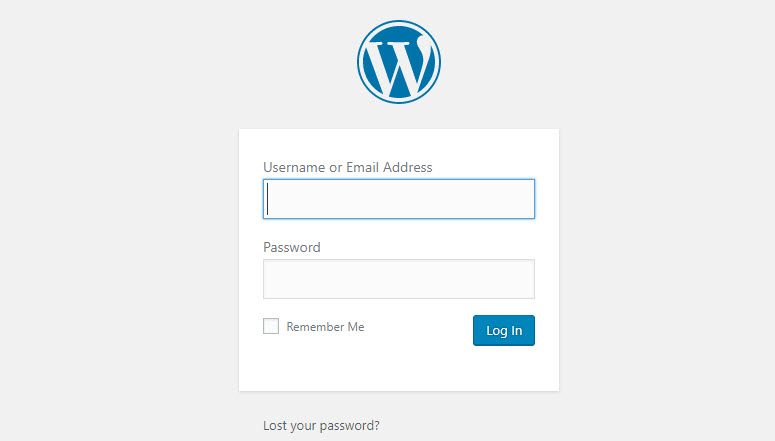 In your WordPress admin area, you can change general settings, create pages, and manage your entire website.
This WordPress installation has a basic theme that's installed and activated automatically. You can change the default template to a theme of your choice. There are hundreds of thousands of free and premium themes available on the internet.
You can check out this collection of the best and most popular WordPress themes for your small business website. Simply choose a WordPress theme that has an amazing design and matches the features that you need for your site.
After choosing a theme, you can simply install it within WordPress. For more details, see our step-by-step guide on how to install a WordPress theme.
All WordPress themes have different features and options to customize the appearance and feel of your site. You can always go to the Appearance » Customize page in your WordPress admin area to edit your theme's settings.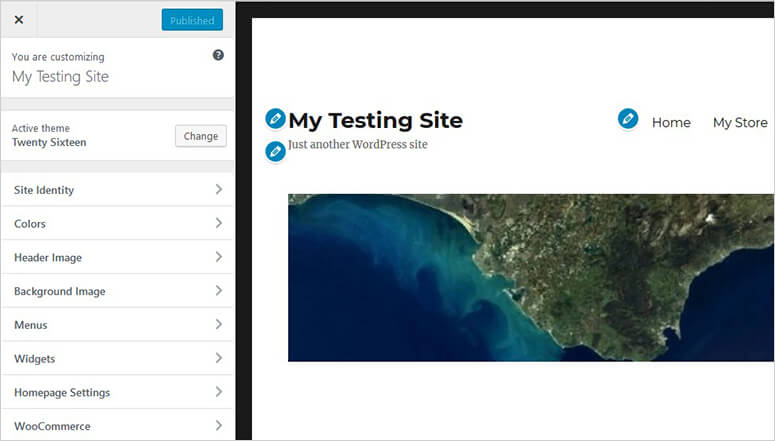 On this page, you can create menus, change website colors, add a header image, and more. Once you are done with the settings, you can click on the Publish button to see these changes in action.
While it's easy to find a WordPress theme that adapts to your workflow, the customization options on most themes are limited. Unless you're a developer, you can't make significant modifications to your theme design.
If you want to create a custom tailored design for your site on your own, then you can install a WordPress drag and drop builder plugin. The most popular ones are Beaver Builder and Divi Theme as they both give you a lot of options to create a magnificent business website easily.
Step 4: Making Your Website Pages
After activating your theme, you'll need to make a few pages and add your business' information. Small business websites are not loaded with content, so you can create simple website pages with basic details for your users.
To create a new page, you'll need to go to Pages » Add New in your WordPress admin area.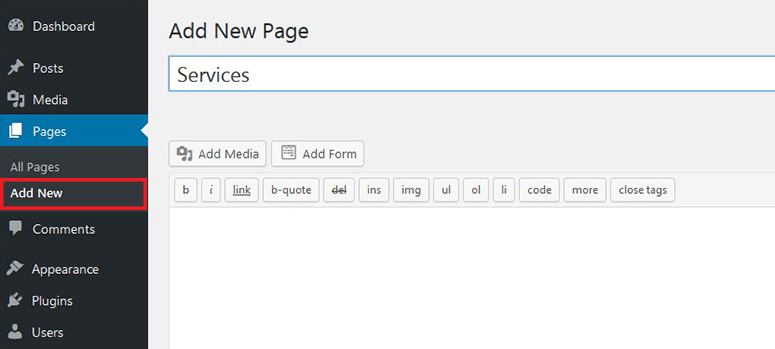 You can create as many pages as you need for your site. If you want to add or update any information on the published pages, then you can simply edit them from your WordPress admin area.
Add all the important pages that are necessary for a small business website like about us, services, products, support (if available), or any other useful pages will be created.
Once you get rolling, you can add more pages like a blog page, separate brand pages for each product, and more. Keep it simple for now.
Step 5: Adding Features to Your Website
WordPress comes with thousands of plugins (apps) to make the job easy for you. You can use these plugins to add incredible features to your site without editing a single line of code.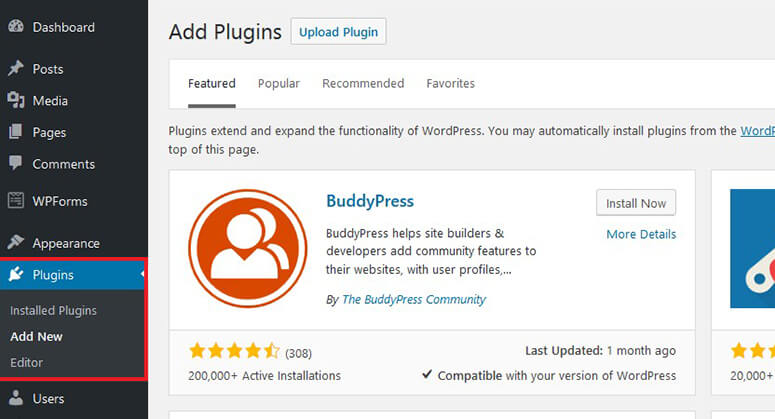 The WordPress repository has over 50,000 free plugins that you can use to add features to your site. Simply install and activate the ones you want, and you'll be on your way.
For more details, see our step-by-step guide on how to install a WordPress plugin.
Additionally, we recommend you to check out this article on how to create a micro job site like Fiverr.
Things to Do Right After Creating Your WordPress Website
Once your website is ready, you should perform a few tasks that are necessary to make your business website work well on the internet. For example, improve the search engine rankings to get more traffic, monitor the spam comments on your site, increase the page load speed, secure your website from hackers and malware, and add a contact form.
Let's take a look at the steps you should take immediately after building your small business website.
We hope this article helped you learn how to create a small business website in 5 simple steps. And also read our expert answers on how much does a website cost before starting your website.
For more detailed steps, read how to start a WordPress website from scratch (step-by-step).
If you're a solopreneur or a small business looking for a simpler solution, you can check our guide on how to create a one product store. This post will help you sell your product in WordPress without having to set up a whole eCommerce store.