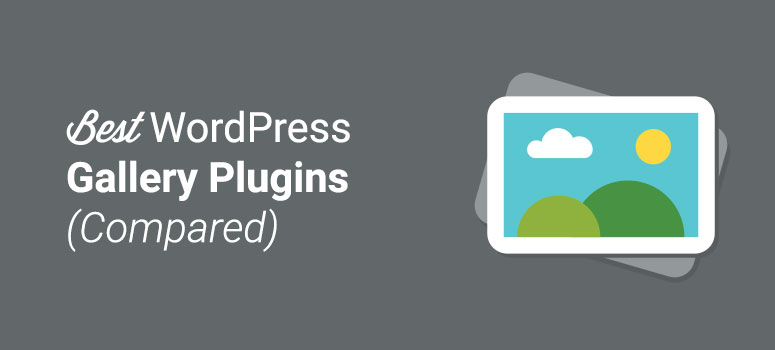 Do you want to create a photo gallery on your website? Are you looking for a perfect WordPress gallery plugin that fits your needs?
Then, you're in the right place.
In this article, we'll compare the best WordPress gallery plugins in the market, so you can choose the right one for your site and needs.
Choosing a WordPress Gallery Plugin
WordPress is shipped with a built-in gallery feature, but the default gallery lacks the functionality most users want. When choosing a WordPress gallery plugin, there are a few things you need to keep in mind.
Features:
Obviously, you need to choose a gallery plugin that comes with all the necessary features you'll need. Some plugins come with a lot of features out of the box while others allow you to expand the core functionalities only by adding necessary addons.
Essentially, before investing in a gallery plugin, it's worth taking a moment to examine the features it provides and ask yourself if it can help solve your needs.
Ease of use:
Having a feature rich plugin is great, but you need to find the right WordPress gallery plugin that adapts to your workflow and is easy to use. A bloated plugin can make your user interface messy whereas an easy to use plugin saves you time when managing your galleries.
Speed:
Images often account for most of the downloaded bytes of any website. Whether you're a photographer, artist or a publisher who wants to display a photo gallery, you can't afford to compromise on speed.
Speed is even more critical as Google continues to emphasize it on their search algorithm on every update. When choosing a plugin, you need to ensure it doesn't slow down your site.
Updates:
Is your gallery plugin of choice being updated regularly?
Your gallery plugin may have compatibility issues with new releases of WordPress if it is not updated on a regular basis. It goes without saying while choosing a WordPress gallery plugin, you need to make sure it's maintained and supported by a team you can rely upon.
Having that said, let's take a look at the best WordPress gallery plugins available in the market.

Envira Gallery is the best WordPress Gallery plugin that's both easy and powerful. It comes with a set of pre-built templates that let you easily customize the look and feel of your gallery.
Unlike other popular WordPress gallery plugins, Envira is lightweight and non-bloated. It comes with all the important features out of the box. You can easily enhance the core functionalities by installing one of their two dozen addons.
Some of the key features of Envira Gallery are:
Drag and drop builder: Create beautiful galleries in a matter of seconds with just a few clicks.
Responsive mobile friendly: All galleries you built with Envira are 100% responsive, meaning they'll work great on mobile, tablet and desktop devices.
Standalone galleries: Create independent galleries that are not tied to your posts and pages.
Tons of addons: You can find an extensive collection of addons, like Social sharing, Videos, WooCommerce, Watermarking – just to name a few.
Get started with Envira Gallery today.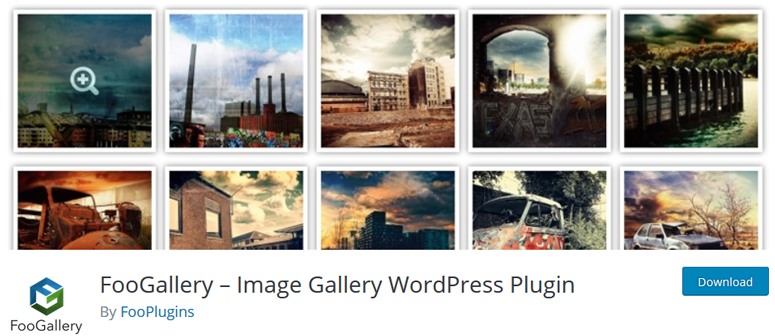 FooGallery is one of the best image gallery plugins for WordPress. Just like Envira Gallery, Foo also has a lite version of the plugin that can be downloaded from the official WordPress plugin repository.
With FooGallery, you can arrange your images the way you want by using its drag and drop reordering capability. It also allows you to choose a gallery template for your need, so you don't always have to create a gallery from the ground up.
If you're currently using the NextGEN gallery plugin on your site, you can easily import and convert your NextGEN galleries into FooGallery with just a few clicks.
It is a developer friendly plugin and comes with dozens of hooks and filters so you can easily customize the plugin per your clients' needs.
Get started with FooGallery today.

NextGEN Gallery is the most popular WordPress gallery plugin with over 1 million active installs. It comes bundled with all features you'll ever need out of the box. If you're looking for a lightweight plugin with minimal features, you might find it bloated.
The free version of the plugin offers two main gallery display styles and two album styles. With the premium plugin, you get premium gallery displays, pro lightbox display with image commenting and social sharing.
NextGEN Gallery provides a few different ways to organize your images
batch uploading images
importing metadata from your photos
grouping galleries into albums
After uploading your images to your WordPress site, you can group them to create a slideshow or a thumbnail gallery.
NextGen gallery offers eCommerce features and many other powerful features that a professional photographer needs.
Get started with NextGEN Gallery today.

WP Photo Album Plus is a powerful photo album plugin that lets your visitors rate or comment on photos.
The plugin setup isn't straightforward compared to other WordPress gallery plugins. However, it comes with more customization options than many other free WordPress gallery plugins.
With WP Photo Album Plus, you get full control over the meta data such as EXIF (Exchangeable Image File Format) and the display sizes. It also allows you to upload images from the frontend of your site and has loads of built-in features like lightbox overlay system, Google Maps and search functions.
The uniqueness of this plugin is that it comes with 20 different widgets to add to your website, including Photo of the day, Photo rating, Featured photos and more.
Get started with WP Photo Album Plus today.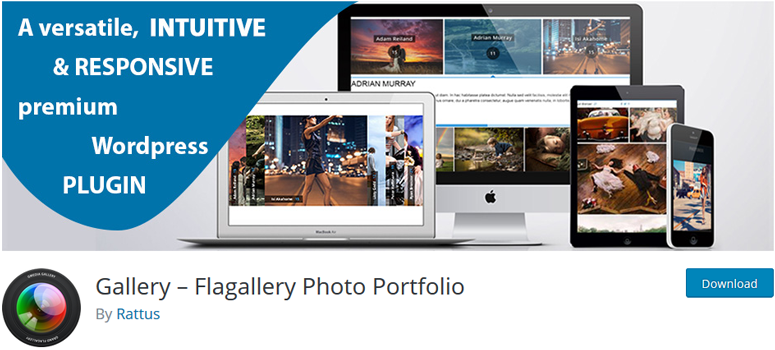 Grand Flagallery is a basic media and image gallery plugin developed by CodeEasily, a UK based team specialized in developing WordPress gallery plugins. Grand Flagallery allows you to easily upload images, create music and video playlists on your WordPress site.
The plugin lets you easily upload images and it also comes with the ability to batch upload and organize your images. All your galleries can be managed in a centralized location where you can create and customize collections of galleries.
There are 3 premium pricing plans, starting at $14.99 for lifetime access for a single site license. For multiple sites, you need to purchase license key individually.
Get started with Grand Flagallery today.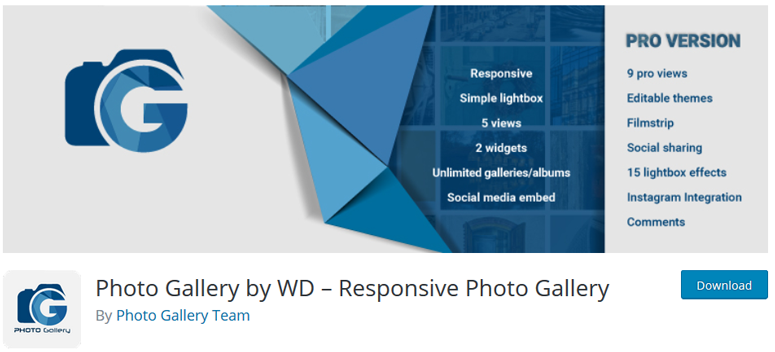 Photo Gallery is a fully responsive WordPress gallery plugin that allows you to showcase interactive multimedia gallery. Within a single gallery, you can add both images and videos. The Photo Gallery plugin is shipped with 4 easy to use widgets that easily blend into any WordPress theme.
A few more features of the Photo Gallery plugin are:
10 view options: The plugin lets you display your gallery in 10 different views such as thumbnails, masonry, mosaic, slideshow, etc.
Watermark: Protect your images with watermarking. You can add text or image watermark and set its position and display the size.
Ecommerce: Easily sell your images from your WordPress website with the eCommerce addon.
The pricing for Photo Gallery starts at $30 for a single site.
Get started with Photo Gallery today.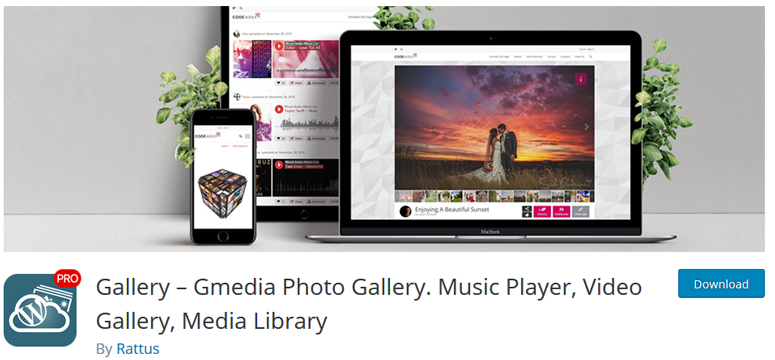 Gmedia Gallery is another basic image gallery plugin developed by CodeEasily. It allows you to easily create responsive image and video albums that perfectly adapts to the screen of your visitors, regardless of its resolution.
Some of the key features of Gmedia Gallery are:
Exif info: Display EXIF (Exchangeable Image File Format) data including camera model, aperture, etc.
Supports video and audio: Gmedia gallery lets you easily embed video and audio files even from YouTube, Vimeo and custom videos.
iOS application: Using Gmedia iOS app, you can easily upload images, videos and other files directly to your WordPress admin without hassle.
WordPress comments integration: Allow your users to post comments on video galleries.
Unlike other plugins, the pricing is based on the number of websites you want the plugin to be used. The single site license can be purchased for $29.99.
Get started with Gmedia Gallery today.
Which WordPress Gallery Plugin is Best for Your Needs?
From our comparison, we've found that Envira Gallery is the best WordPress gallery plugin you can have for your website. It is packed with all the necessary features you can expect from a gallery plugin, yet its user interface is easy to use and doesn't look bloated.
It comes with over two dozen different addons from eCommerce, proofing, lightroom integration, social sharing, and more.
We hope this article helped you find the best WordPress gallery plugin that fits your needs.
If you enjoyed this article, you might also read the best WordPress security plugins.