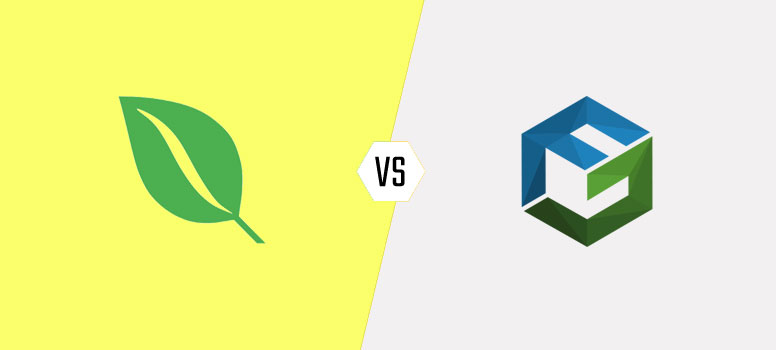 Looking for a gallery plugin for your website? The WordPress market is flooded with tons of amazing plugins that will let you display your media files in a visually stunning way. Two of the most popular ones are Envira Gallery and FooGallery – each with its own set of powerful features.
But, it might be confusing for beginners to choose the right gallery plugin for their needs, especially with so many gallery plugin options out there. If that sounds like a familiar situation, don't worry. We've got you covered.
To help you choose the best gallery plugin, we've come up with a detailed review of the plugins with this comparison post. We'll look at their features side-by-side and see which one is a better option for your website.
Before we dive deeper, let's have a quick overview of the plugins.
Overview: Envira Gallery vs. FooGallery
Envira Gallery

Envira Gallery is one of the most popular gallery plugins on the market with over 100,000 active installations and over 1 million downloads. Envira Gallery is a drag and drop photo gallery plugin that's easy for beginners to use. In 5 minutes or less, you can upload your photos, rearrange them, and create a stunning image gallery.
Aside from the drag and drop photo gallery builder, other features include gallery templates, albums, social sharing, video galleries, watermarking, slideshow, and more.
FooGallery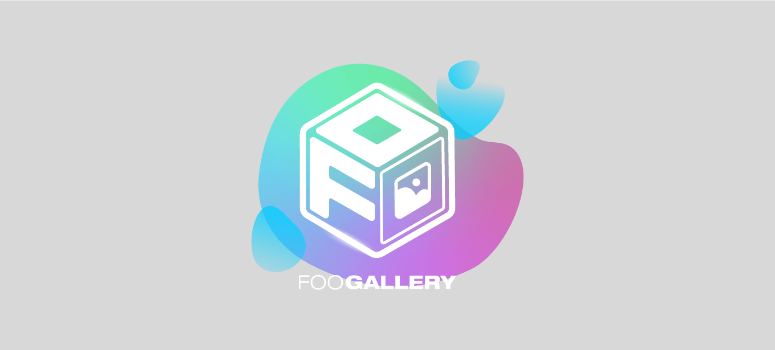 FooGallery also has over 200,000 active installations on the WordPress Official Plugin Repository and a 4.7 rating on WordPress.org. Like Envira Gallery, FooGallery also offers beautiful gallery layouts that are responsive, lightning fast, and optimized for Gutenberg.
Some of FooGallery's standout features include stunning gallery templates, easy reordering with drag and drop or gallery sorting, customization such as hover effects, video support, and more. Plus, they also have Gallery Preview which allows you to see what your gallery looks like as you're building it.
Configuration: Envira Gallery vs. FooGallery
Envira Gallery
Envira Gallery is super easy to configure. You will find the configuration option under the Configuration tab on your Envira Gallery dashboard. This is what it looks like: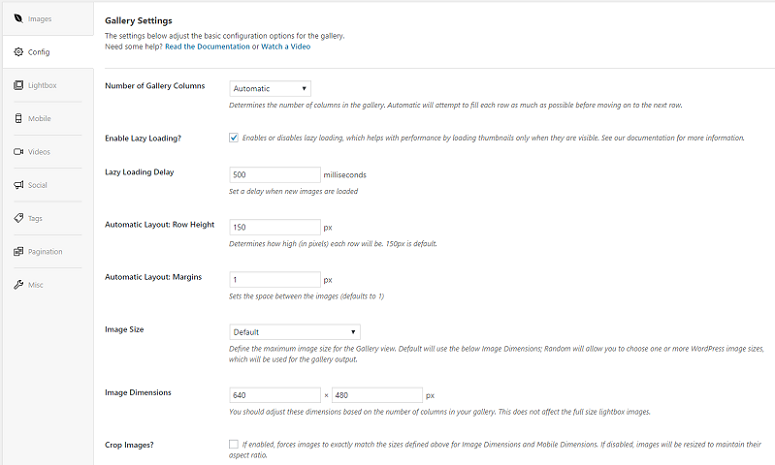 You have a lot of options here. You can add up to 6 gallery columns, enable the lazy load option, even set the delay timing for your images. It also has options to select the dimensions of your layouts.
If you want to configure the image size, you have amazing options for that as well. It has a lot of styles included. It can be in the form of thumbnails, portraits, square shapes, landscapes and more. Based on the number of layout columns, it also lets you select the dimensions of your images.
FooGallery
FooGallery too has fantastic configuration options. You will find it under the Settings option in the FooGallery dashboard.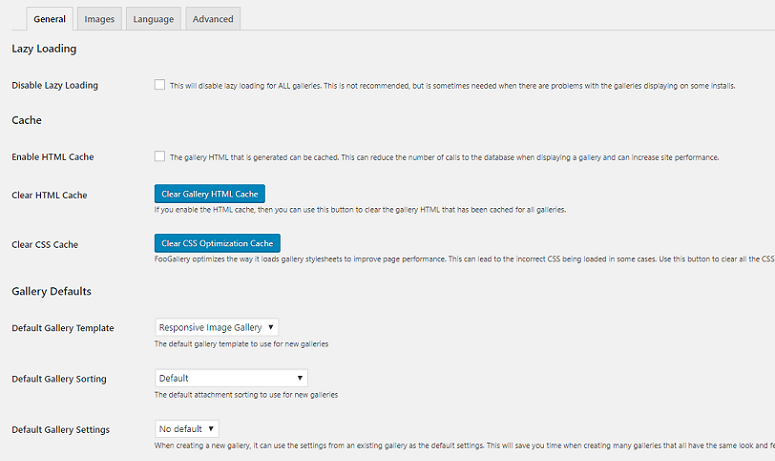 Here you have 4 different settings tabs including General, Image, Language, and the Advanced settings.
Under the General tab, you can work on the lazy load, cache gallery options, and your gallery captions.
There are 6 options for styling the gallery. The Image tab offers options for setting up the image dimensions, resizing animated GIFs, showing animated thumbnails, and so on.
Configuring your image gallery exactly to your needs is easy with both Envira Gallery and FooGallery.
Ease of Use: Envira Gallery vs. FooGallery
Envira Gallery
Creating your gallery with Envira Gallery is extremely simple. All you have to do is go to your Envira dashboard and click the Add New button. Now you can upload your images in the Native Envira Gallery section.
Just name your gallery in the title section and then select the images from your computer. You can also add already existing images from your media library by clicking on the Select Files From Other Sources option. Once the images are added, you will see a live preview right below where you just added your images.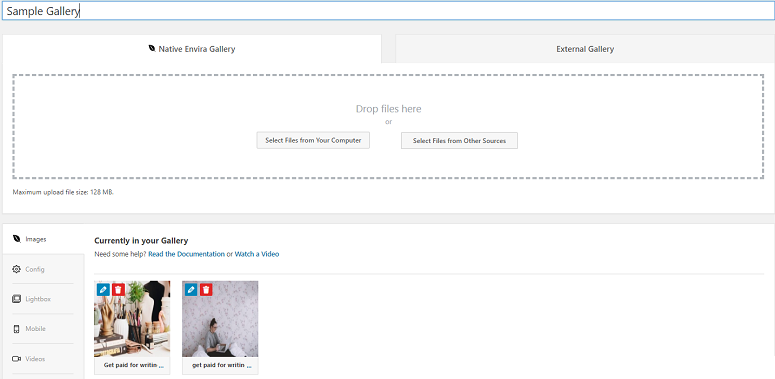 On the right side, you will have the shortcode. You can either use this or hit the publish button to display your gallery on any page or post you want. Isn't that simple?
FooGallery
Adding a gallery with FooGallery is simple too, but it's a little different from Envira Gallery. To add your images with FooGallery, go to the FooGallery dashboard and click on the Add Gallery button. Next, add your gallery title and images.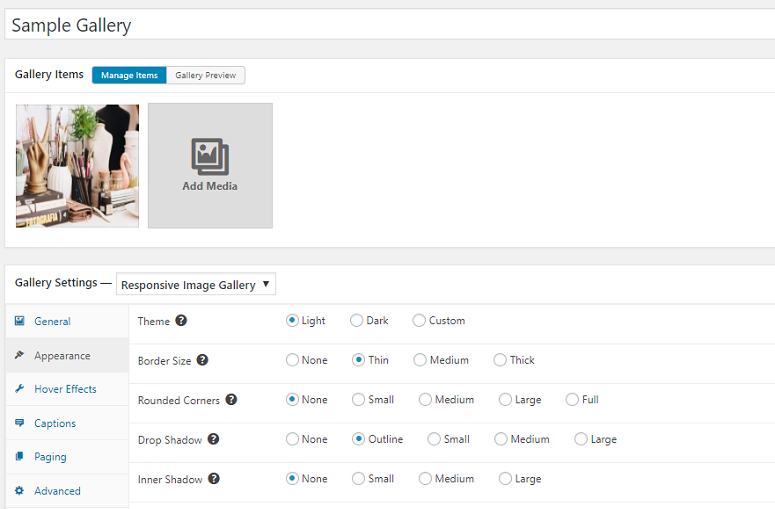 Below the area where you add the images, you will have some settings options. You can use them to add effects to your images, select a theme, add load effects, borders, and more.
To check out what your gallery looks like, click on the Gallery Preview button near the top of the screen.
Our Thoughts
If you are using a gallery plugin for the first time then Envira can be a good one to start with. It has a user-friendly interface so there's no chance of people getting confused even when you use it for the first time.
Foo, on the other hand, might overwhelm you if you're a beginner. This doesn't mean it lags behind Envira in any way. If you have experience working with gallery plugins, you might find it easier to configure the images. The only problem with Foo is that you need to switch tabs to check your preview after adding your images.
Display Styles: Envira Gallery vs. FooGallery
Envira Gallery
Envira Gallery offers a lot of beautiful ways to display your image galleries. You can choose the number of columns you want, enable or disable lazy load, add different image sizes and do a lot more.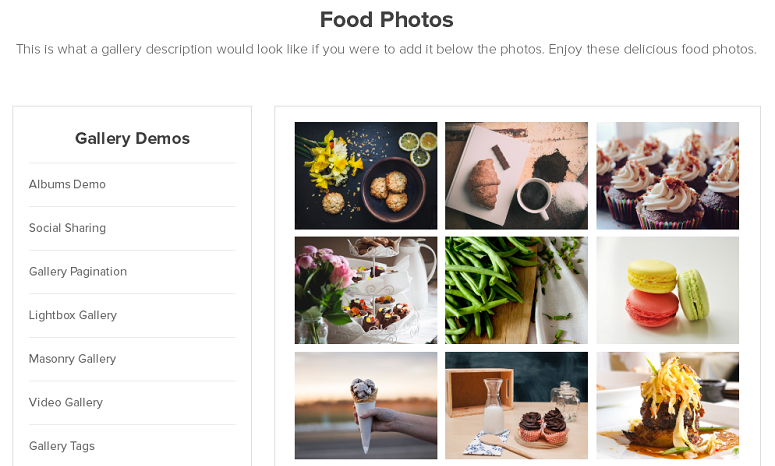 The plugin has a lot of size options for your images. From thumbnails, portraits, landscapes, random – you just name it. Envira also has options to add a lightbox and set a caption position too. You may also force your images to match a certain size if you want.
FooGallery
FooGallery also has a huge list of options for your images. To make it look appealing, it lets you choose a theme that comes in 3 types – light, dark and custom.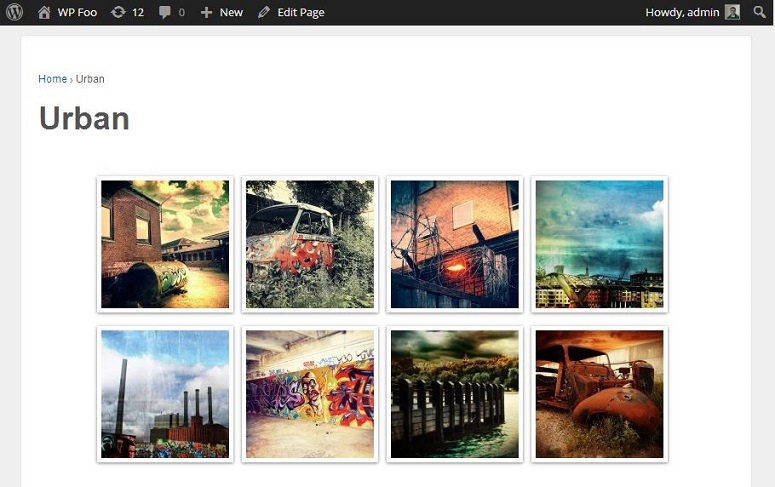 You can also add different borders, drop and inner shadow, choose a loading icon and more. it also has a lot of hover effects, option to add a caption and add a paging type too. The images can also be linked to a specific page pr post using the URL field.
Our Thoughts
In terms of displaying your images, Envira in its lite version offers the basic features. Foo, on the other hand, has slightly more advanced options. So depending upon your requirements, you can select the one with the options you need.
Addons: EviraGallery vs. FooGallery
Envira Gallery
You can expand the functions of Envira Gallery using its premium addons. It has beautiful addons for adding social media options, supporting video files, adding mobile-specific settings, adding tags, adding watermark, password protection, pagination and a lot more. Overall Envira Gallery offers more than 30 addons.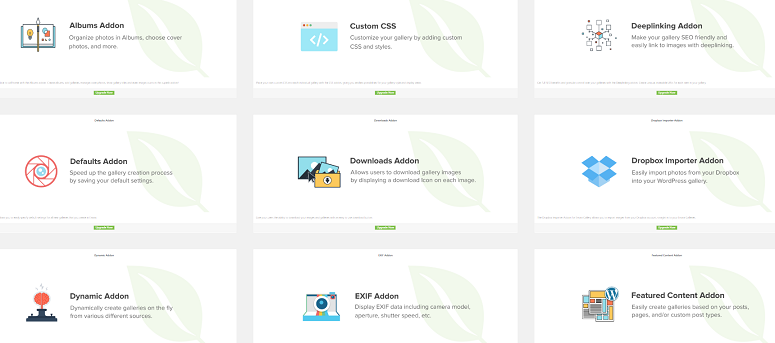 FooGallery
FooGallery also has options to upgrade its functions.


You can use that option to add video files, multiple load effects, various fancy gallery templates, infinite scroll, hover effects presets and more. Foo has 5 extensions in total.
Our Thoughts
In terms of expanding your features, Envira can be a better choice. Although Foo has premium options, Envira in this regard is seen to be leading the race.
Documentation: Envira Gallery vs. FooGallery
Envira Gallery
Envira Gallery has been beautifully documented and you will find every answer to your question (if any) in it. It also offers the option of letting you submit a ticket, if you are unable to find a solution to any problem.
FooGallery
FooGallery is equally well documented. You should not have any problem understanding the plugin or finding an answer to a question when handling it.
Our Thoughts
Both the plugins can be awarded equal points in terms of its documentation. Both have been brilliantly documented and by following this documentation a beginner too can handle the plugin like a pro.
Pricing: Envira Gallery vs. FooGallery
Envira Gallery
Envira Gallery offers 4 different pricing plans. The basic start at $26 and goes up to $209.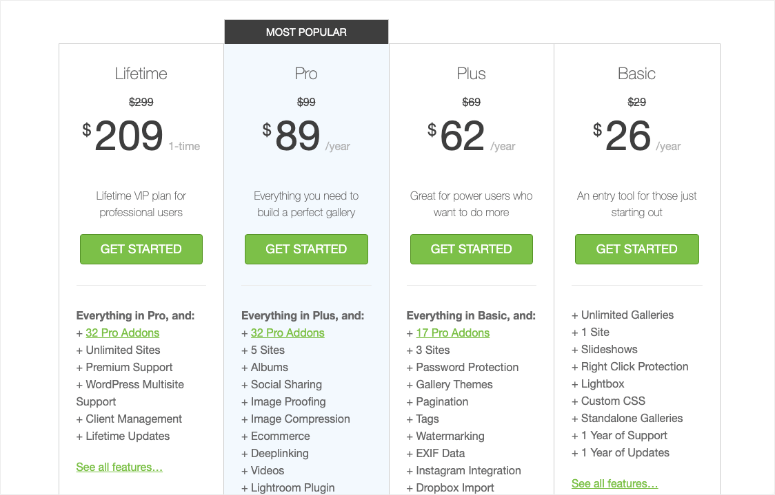 FooGallery
The pricing plans of FooGallery come in 3 different options. It starts at $33.99 and goes up to $99.99.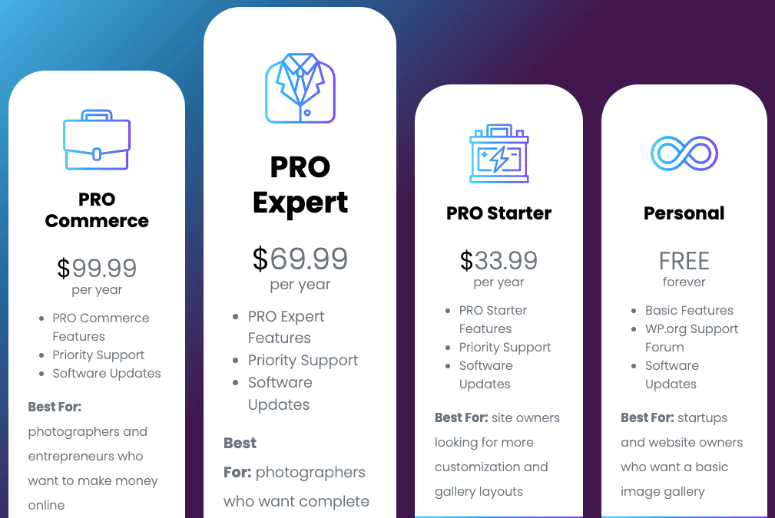 Our Verdict: Envira Gallery vs. FooGallery: Which Gallery Plugin Should You Choose?
Envira Gallery is a lightweight plugin that comes with all features you'll ever need from a WordPress gallery plugin.
The price of Envira Gallery is a little higher than Foo. But we think the features and the addons that these plans offer justifies the quote.
That's all about the two plugins. We hope this Envira Gallery Vs FooGallery post was helpful to you. If you want to check out more alternatives, read our post on Best WordPress Gallery Plugins Compared.