Are you looking for a plugin to add responsive galleries on your WordPress site? Envira Gallery is one of the best WordPress gallery plugins in the market. In this Envira Gallery review, we will take a look at its features and performance.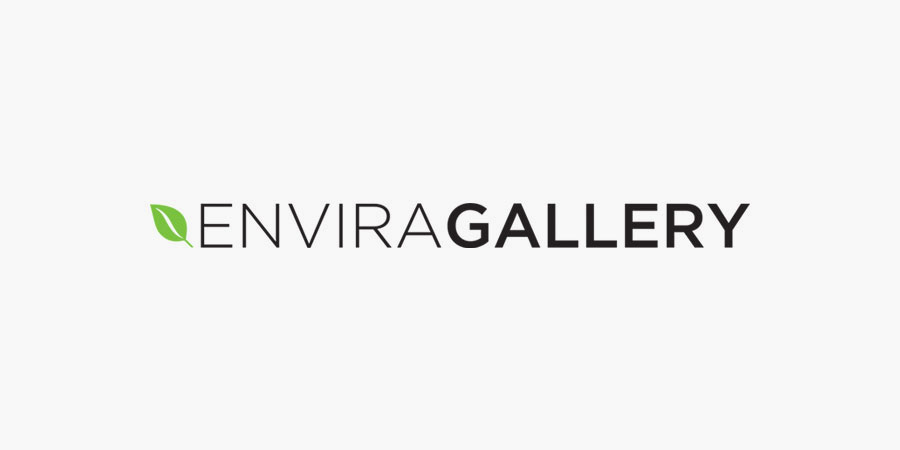 Why Do You Need a WordPress Gallery Plugin?
You can select a few images in WordPress media library and create a gallery without installing any plugin. The problem is that the default WordPress image gallery lacks important functionality, like keeping the gallery and images responsive on mobile devices, opening them in lightbox popup, showing them as slideshow, etc.
A gallery plugin for WordPress is not required by just photo bloggers any more. Almost all WordPress sites and blogs upload lots of images. The best way to display your images in a gallery is by using a plugin that properly handles the display.
The most common problem with WordPress gallery plugins is that they can be bloated with features. Many of them load external JavaScript and CSS files which makes them slower. See How WordPress Plugins Affect Your Site's Load Time for more details. Not to mention how difficult it is to find the specific features you're looking for in so much bloat.
About Envira Gallery
Envira Gallery was originally created by Thomas Griffin, the same mastermind behind OptinMonster, the best email marketing tool and Soliloquy, the best WordPress slider plugin.
Envira Gallery's one of the most popular WordPress gallery plugin in the official WordPress plugin repository with over 100,000 active installs. Since its launch in 2014, Envira has been helping bloggers, small businesses and even Fortune 500 companies to showcase their photos.
In 2018, Envira Gallery's acquired by Nathan Singh, an entrepreneur based out of Houston, Texas.
Envira Gallery Review: Does It Live Up to the Hype?
Envira Gallery is the complete WordPress gallery plugin that lets you easily build responsive photos and videos for your site in minutes. In our Envira Gallery review, we've put their promises on the test to see if it actually lives up to the hype.
Easily Create Awesome Image Galleries in Minutes
The first thing you would notice after installing Envira Gallery is the ease of use. The user interface integrates well with in WordPress.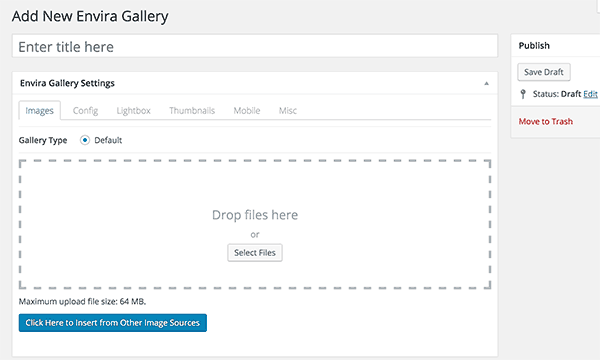 Simply select and upload images from your computer or select images from your WordPress media library. Move to the config, lightbox, and other tabs if you need.
Once you are done, simply click on the publish button and your gallery is ready.
Envira Gallery makes it extremely easy to add your gallery into any WordPress page, post, or even a sidebar widget. It adds a button on top of post editor which you can use to easily insert any of your image galleries into a post or page.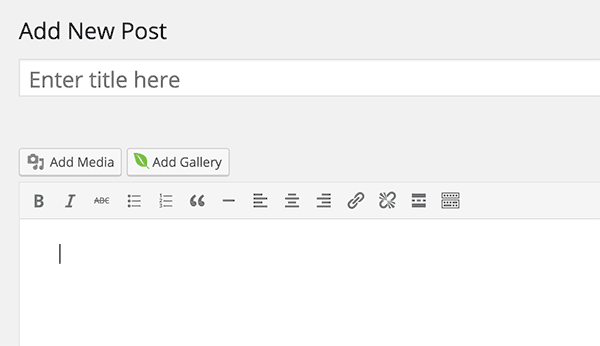 It also comes with an easy to use Envira Gallery widget. Simply go to Appearance » Widgets and drag the Envira Gallery widget to a sidebar. Select the gallery you want to display and click on the save button.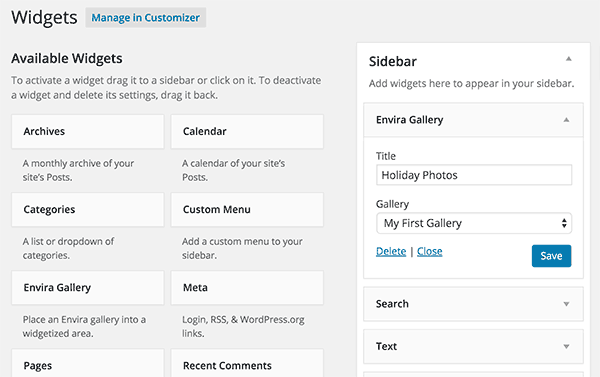 Blazing Fast Image Galleries in WordPress with Envira Gallery
The most noticeable feature of Envira Gallery is the speed. With other WordPress plugins when you add an image gallery it slows down your site's speed. Envira Gallery on the other hand loads much faster.
Speed is one of the most important SEO factors. Fast websites rank higher and slow websites often get buried in search results. This is why it is really important that your image gallery plugin does not load too much bloat.
Envira Gallery uses the standard best practices to properly enqueue images and scripts. It loads them asynchronously, which makes the speed noticeable for you and your users.
We ran tests to compare Envira Gallery with other WordPress gallery plugins.
As you can see in the above results, Envira Gallery came out as the fastest loading WordPress gallery plugin despite the fact that the page size was nearly double of NextGEN and Foo Gallery.
Get All WordPress Gallery Features without the Bloat
As we mentioned earlier, that one of the major problems with most WordPress gallery plugins is the bloat. They pack too many features in the plugin which makes them difficult to use. Most users don't even need or use all those features.
Envira Gallery solves this problem by packing the most essential features in the core plugin. It offers a growing range of features as separate addons. You can install and uninstall these addons depending on your requirements.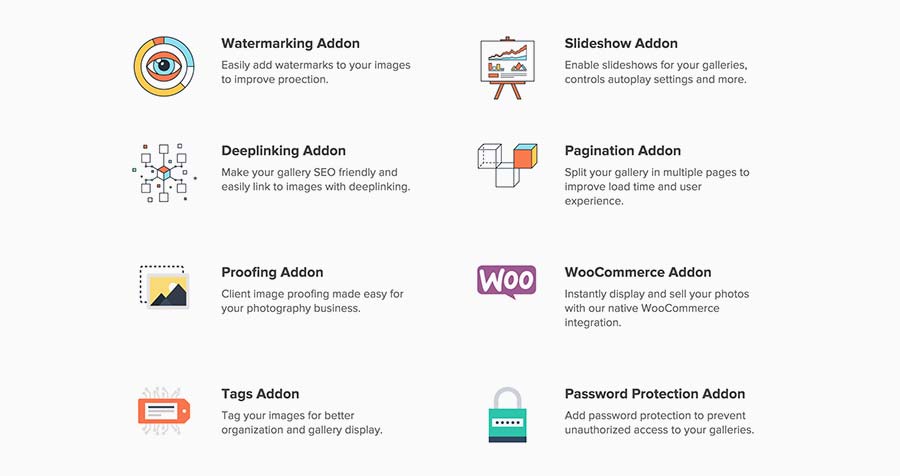 Core features that come bundled with the base plugin are:
Drag and drop gallery builder
Pre-built templates to customize the look of your image galleries
Mobile responsive out of the box
Lightbox popup and slideshows
Features available as Addons are:
Prebuilt templates: Easily customize the appearance of your gallery
Albums: Create beautiful albums with your image galleries
Social Sharing: Share your photos on Facebook, Twitter, Pinterest and Google+
Videos: Envira allows you to create video galleries as well
Watermarking: Add watermarks to your images to improve protection
Deeplinking: Improve your SEO with deeplinking
Pagination: Create multi-page galleries
Proofing: Client image proofing made easy
WooCommerce: Sell your photos with the native WooCommerce integration
Pinterest: Add the coveted Pinterest Pin It button
Instagram: Easily import your images from your Instagram
Fullscreen: Take advantage of the native fullscreen gallery
Supersize: Display full image dimensions without cropping or resizing images
Download: Allow users to download images with a click
Image protection: Disable right-clicking to avoid downloading
Standalone galleries: Create dedicated gallery pages that are not tied to your posts or pages.
Print: Let users print photos easily from your gallery
Slideshow: Create beautiful slideshows by controlling autoplay settings.
Import: Easily import images from Dropbox or NextGEN
Adobe Lightroom: Create and sync photo galleries from your Adobe Lightroom collections
Password protection: Prevent unauthorized access with a password
Custom CSS: Unlimited customization with custom CSS
Exif: Display EXIF data including camera model, aperture, shutter speed, etc.
Featured content: Create galleries based on your posts, pages and custom post types.
Dynamic: Dynamically create galleries on the fly
Defaults: Save your default settings for faster gallery creation
Zip: Easily import photos from a zip file
Breadcrumbs: Add breadcrumb navigation
Zoom: Provide zoom functionality
Tags: Tag your images for easy access
3 Ways Envira Gallery Stacks Up Against the Competition
Below are a few ways Envira Gallery stands out from the other WordPress gallery plugins.
1. The Best User Experience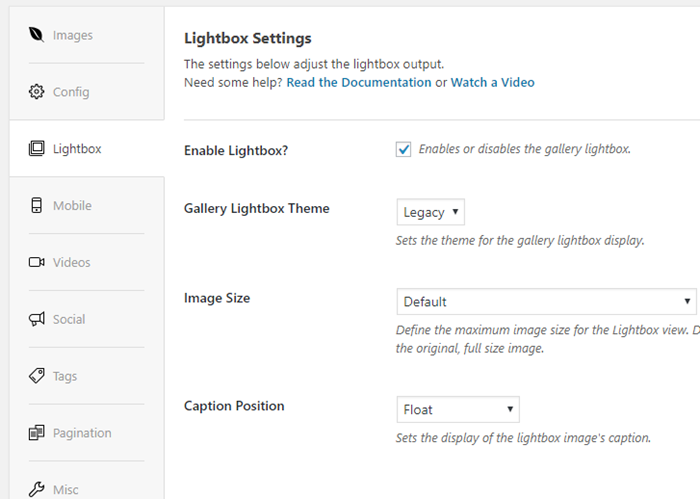 Envira Gallery was built with a single goal in mind: build a WordPress gallery plugin that's both easy and powerful. The plugin's interface keeps things simple, so any user, regardless of their skill set, can build an amazing gallery without hassle.
In fact, they hugely emphasize the convenience the plugin offers to build a WordPress gallery.
The plugin also integrates seamlessly with the WordPress media library. This makes it easy to upload to your galleries.
2. Easiest Gallery Plugin Available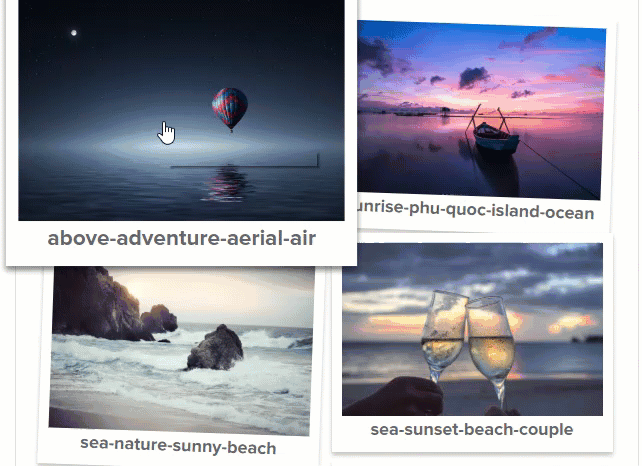 Envira Gallery makes it super easy to create beautiful photo and video galleries that work on mobile, desktop and tablet devices. Its powerful drag and drop builder makes the creation process intuitive. You can upload all your photos to your WordPress media and then, rearrange them as needed.
Plus, you can make use of the pre-built templates to customize the appearance of your galleries the way you want without having to manually choose the settings.
3. High Performance
With no doubt, Envira Gallery is the fastest WordPress gallery plugin on the market. This came as no surprise because the plugin's highly optimized for web and server performance.
Pricing and Support Options for Envira Gallery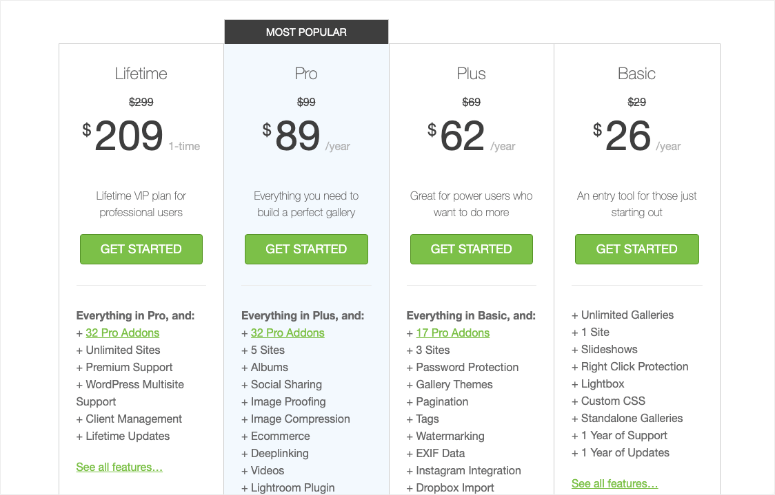 Envira Gallery is a premium WordPress plugin. It has a lite version available for free in the WordPress plugin repository, which has limited functionality and support.
The pricing starts for as low as $26 with one year of support and updates. This Basic package comes with basic addons and unlimited galleries for a single site.
The Plus package comes with advanced addons and you can use it on 3 Sites for $62 per year.
The Pro package costs $89 per year and gives you access to all addons on 5 sites.
Enivra Gallery also has an Lifetime package that lets you use the plugin on unlimited websites, with WordPress multisite support for $209.
We must mention that prices can vary during sales, keep an eye out for discounts. You can also check out our Envira Gallery coupon.
Envira Gallery – Documentation and Support
Support is provided using the ticket-based support system by well trained professionals. The average response time for queries is usually less than 24 hours.
All the plugin features and addons are explained in the extensive documentation, with step by step tutorials and guides.
Our Verdict on Envira Gallery as The Best WordPress Gallery Plugin
During our review process, we tested Envira Gallery for performance and ease of use. Envira Gallery easily outshined all other WordPress gallery plugins in both these categories. We were also very impressed with the growing list of features and addons.
The code behind Envira Gallery was written by the best minds in WordPress community. It's highly optimized, secure, and can be easily scaled for high-traffic websites.
We feel very confident in saying that Envira Gallery is the best WordPress gallery plugin on the market today. We give it 5/5 stars, here is the breakdown of our review scores.
Get Envira Gallery Now »