Are you looking for a plugin to add responsive galleries on your WordPress site? Envira Gallery is one of the best WordPress gallery plugins in the market. In this Envira Gallery review, we will take a look its features and performance.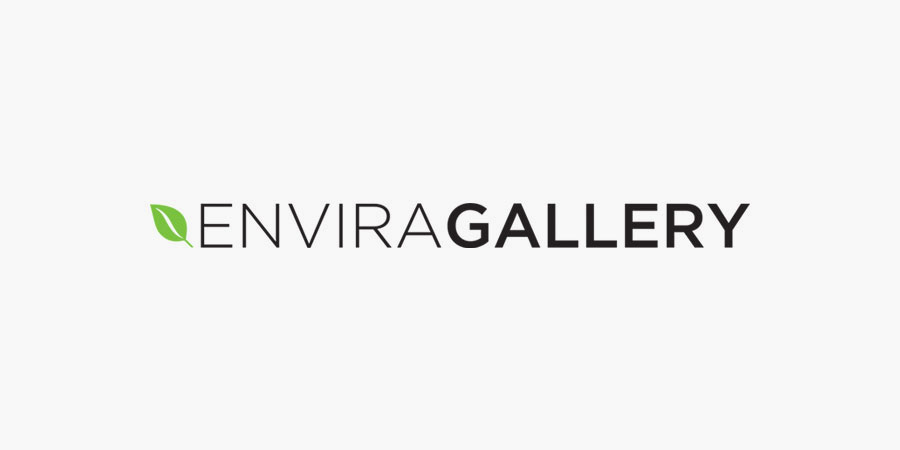 Why Do You Need a Gallery Plugin for WordPress?
You can select a few images in WordPress media library and create a gallery without installing any plugin. The problem is that the default WordPress image gallery lacks important functionality, like keeping the gallery and images responsive on mobile devices, opening them in lightbox popup, showing them as slideshow, etc.
A gallery plugin for WordPress is not required by just photo bloggers any more. Almost all WordPress sites and blogs upload lots of images. The best way to display your images in a gallery is by using a plugin that properly handles the display.
The most common problem with WordPress gallery plugins is that they can be bloated with features. Many of them load external JavaScript and CSS files which makes them slower. See How WordPress Plugins Affect Your Site's Load Time for more details. Not to mention how difficult it is to find the specific features you're looking for in so much bloat.
Having said that, let's take a look at how Envira Gallery handles these issues.
Easily Create Awesome Image Galleries in Minutes
The first thing you would notice after installing Envira Gallery is the ease of use. The user interface integrates well with in WordPress.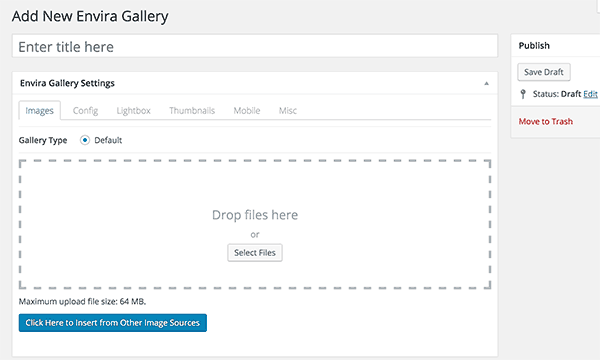 Simply select and upload images from your computer or select images from your WordPress media library. Move to the config, lightbox, and other tabs if you need.
Once you are done, simply click on the publish button and your gallery is ready.
Envira Gallery makes it extremely easy to add your gallery into any WordPress page, post, or even a sidebar widget. It adds a button on top of post editor which you can use to easily insert any of your image galleries into a post or page.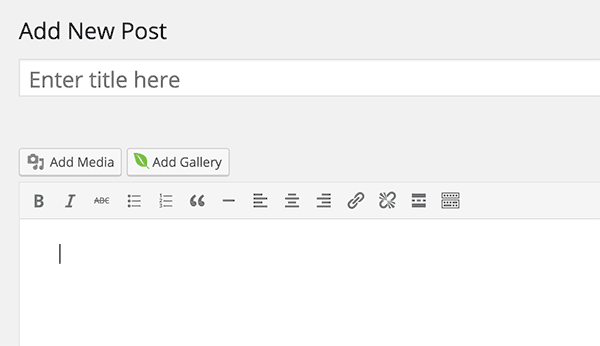 It also comes with an easy to use Envira Gallery widget. Simply go to Appearance » Widgets and drag the Envira Gallery widget to a sidebar. Select the gallery you want to display and click on the save button.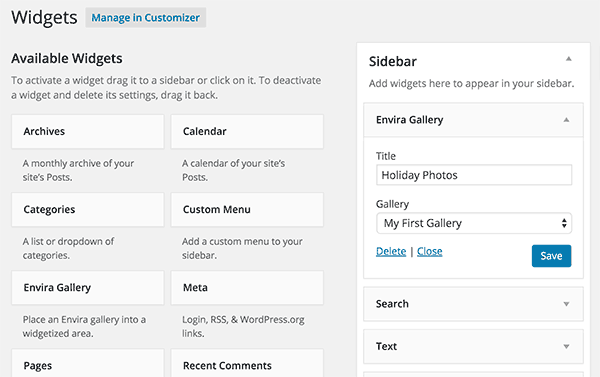 Blazing Fast Image Galleries in WordPress with Envira Gallery
The most noticeable feature of Envira Gallery is the speed. With other WordPress plugins when you add an image gallery it slows down your site's speed. Envira Gallery on the other hand loads much faster.
Speed is one of the most important SEO factors. Fast websites rank higher and slow websites often get buried in search results. This is why it is really important that your image gallery plugin does not load too much bloat.
Envira Gallery uses the standard best practices to properly enqueue images and scripts. It loads them asynchronously, which makes the speed noticeable for you and your users.
We ran tests to compare Envira Gallery with other WordPress gallery plugins.
As you can see in the above results, Envira Gallery came out as the fastest loading WordPress gallery plugin despite the fact that the page size was nearly double of NextGEN and Foo Gallery.
Features and Addons Available With Envira Gallery
As we mentioned earlier, that one of the major problems with most WordPress gallery plugins is the bloat. They pack too many features in the plugin which makes them difficult to use. Most users don't even need or use all those features.
Envira Gallery solves this problem by packing the most essential features in the core plugin. It offers a growing range of features as separate Addons. You can install and uninstall these addons depending on your requirements.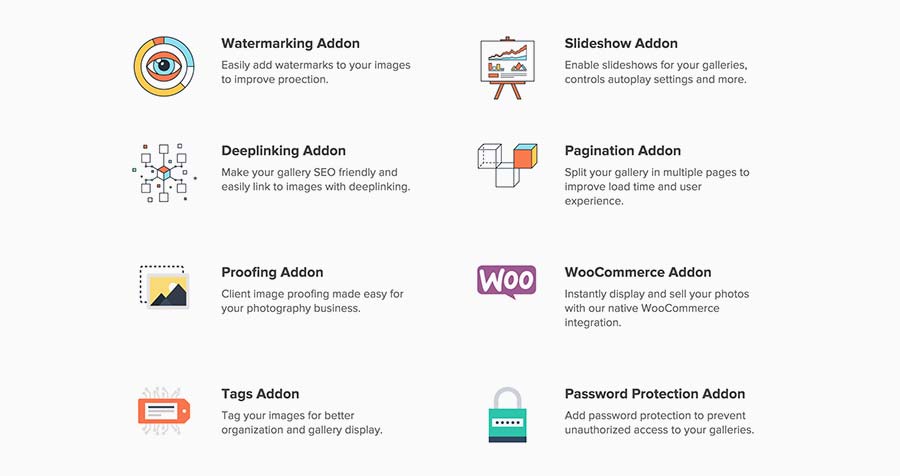 Core features that come with the base plugin are:
Drag and drop gallery builder
Pre-built templates to customize the look of your image galleries
Mobile responsive out of the box.
Lightbox popup and slideshows.
Features available as Addons are:
Albums Addon – Create beautiful albums with your image galleries
Social Sharing Addon – Share your photos on Facebook, Twitter, Pinterest and Google+
Videos Addon – Envira allows you to create video galleries as well
Watermarking Addon
Deeplinking Addon
Pagination Addon – Create multi-page galleries
Proofing Addon – Client image proofing made easy
WooCommerce Addon
Pinterest Addon
Instagram Addon
Fullscreen Addon
Supersize Addon
NextGen Importer Addon
Dropbox Importer Addon
And many more
Pricing and Support Options for Envira Gallery
Envira Gallery is a premium WordPress plugin. It has a lite version available for free in the WordPress plugin repository, which has limited functionality and support.
The pricing starts for as low as $19 with one year of support and updates. This Bronze package comes with basic addons and unlimited galleries for a single site.
The Silver package comes with advanced addons and you can use it on 3 Sites for $49 per year.
The Gold package costs $99 per year and gives you access to all addons on unlimited sites.
Enivra Gallery also has a premium package which gives you lifetime support with access to all addons on unlimited sites for $249.
Documentation and Support
Support is provided using the ticket based support system by well trained professionals. The average response time for queries is usually less than 24 hours.
All the plugin features and addons are explained in the extensive documentation, with step by step tutorials and guides.
Our Verdict on Envira Gallery as The Best WordPress Gallery Plugin
During our review process we tested Envira Gallery for performance and ease of use. Envira Gallery easily outshined all other WordPress gallery plugins in both these categories. We were also very impressed with the growing list of features and addons.
The code behind Envira Gallery is written by the best minds in WordPress community. It is highly optimized, secure, and can be easily scaled for high traffic websites.
We feel very confident in saying that Envira Gallery is the best WordPress gallery plugin in the market today. We give it 5/5 stars, here is the breakdown of our review scores.
Get Envira Gallery Now »
If you liked this article, then please consider following us on Twitter and Facebook. If you have any questions, please let us know by leaving a comment below.