Looking for the best image gallery plugin for WordPress? NextGEN Gallery is one of the oldest and most popular image gallery plugins in the WordPress.org directory, but is it the best? Read our NextGEN Gallery review to find out if it lives up to the hype.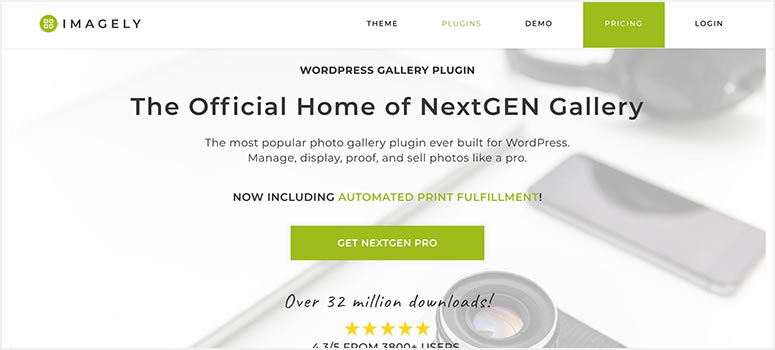 About NextGEN Gallery
NextGEN Gallery is a free and premium WordPress gallery plugin created by Imagely in 2007. Since its release, it's been popular among WordPress users, making it the most widely-used WordPress gallery plugin to date. The free version of the plugin has over 1 million active installs worldwide.
Although it has the highest number of downloads and installs, NextGEN Gallery has received mixed user responses. The plugin's average rating on the official WordPress.org plugins page is 4.3 out of 5 stars.
NextGEN Gallery plugin allows you to create beautiful photo galleries and albums in WordPress. Additionally, you can upload photos in bulk, import metadata, add/delete/rearrange photos, edit thumbnails, and group galleries into albums. It's a complete gallery management tool for WordPress.
Despite a few drawbacks reported on WordPress.org, which we'll get into below, it's still the most widely-used WordPress gallery plugin available based on its multiple features.
Do You Need an Image Gallery Plugin?
If your website is heavily image-focused, you've probably noticed WordPress's shortcomings in that area. WordPress was built primarily for blogs with a focus on written content.
If you're a photographer, designer, artist, or any other profession that relies on visual content, you'll have a lot of images to share with your website visitors.
Without question, the best way to organize and display those images is with image galleries.
The only issue is finding an image gallery plugin that's easy to use, makes your images look great, and won't slow down your site.
NextGEN Gallery Features
NextGEN Gallery has a number of ways to help you organize your images, including:
batch uploading images
importing metadata from your photos
grouping galleries into albums
Once you've uploaded your images, you can group them together to create either a slideshow or a thumbnail gallery.
For each gallery, you can control the size, style, timing, transitions, controls, lightbox effects, and more.
There're also plenty of premium add-on plugins available. Each add-on adds a new type of gallery, such as mosaic, grid, or list-style galleries. You can purchase either NextGEN Plus for 8 new types of gallery displays, or NextGEN Pro for the 8 galleries plus more add-on plugins and pro support.
How to Create Your First NextGEN Gallery
After installing and activating the NextGEN Gallery plugin, you can choose to allow or skip usage data collection and reporting.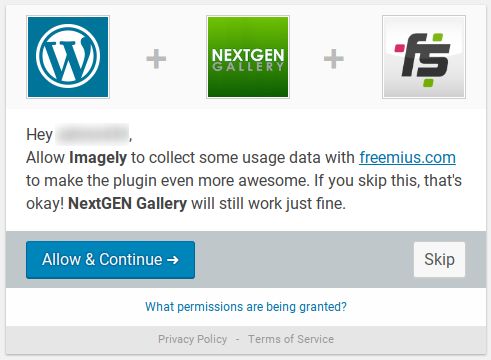 You'll then be taken to the welcome screen, where there's a short video that shows you how to create a basic gallery with the default options.
If you navigate to Gallery » Gallery Settings, you can customize your gallery options. You should do this before you set up your first gallery, because some of the new settings won't apply retroactively to galleries you've already created.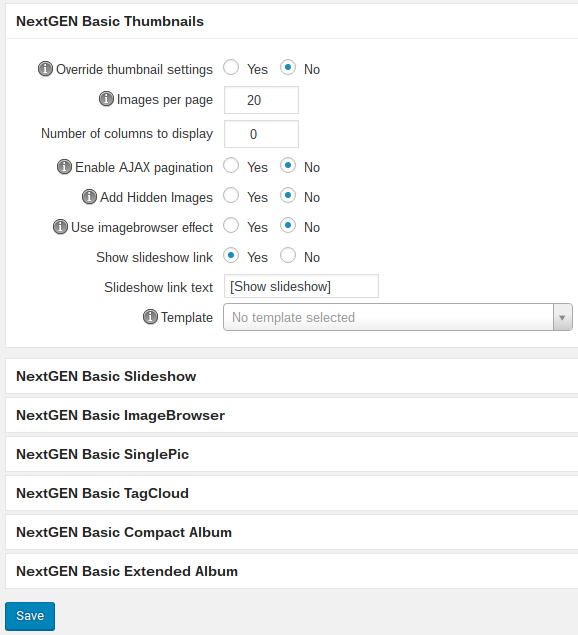 The settings are organized by the type of gallery you want to create. You can change the number of columns, the number of images to display, maximum image dimensions, etc. If you mouseover the information icons, you'll see a tooltip with more details on what each option does and how it works.
When your settings are saved, you can create your first gallery. Simply create a new page or post, or edit an existing page or post you'd like to insert your gallery into.
To add your gallery, you can click either of the green buttons (the one that says "Add Gallery," or the green button in your editor toolbar) — they both open the same window.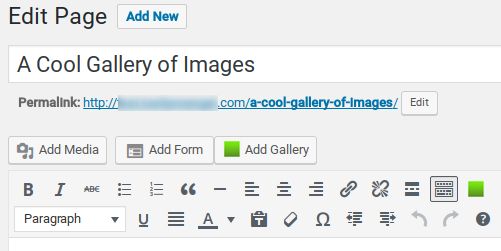 Click the Add Gallery / Images tab at the top to upload or choose the images you'd like to include.

After uploading or choosing your images, a popup will appear. Don't click the link!

If you click the "Manage Gallery" link, it will open in a whole new window. Instead, just click the "X."
Now, click on the Display Galleries tab to insert your gallery on the page.
Don't click the Insert Displayed Galleries button yet! It will insert an empty gallery. Instead, you have to click the What would you like to display? section to expand it.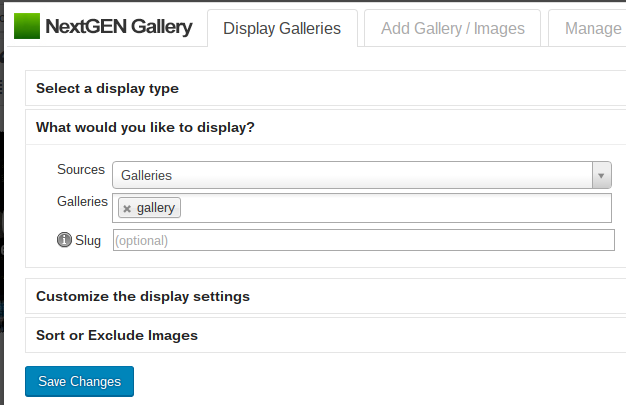 Then under "Sources," select "Galleries."
Under "Galleries," click the empty field to display a list of your galleries. The one you just created should show up. Be sure to select it.
Now you can click the Insert Displayed Galleries button, and the gallery you just created should appear. However, you won't see it in the visual editor. Instead, you'll see this thumbnail: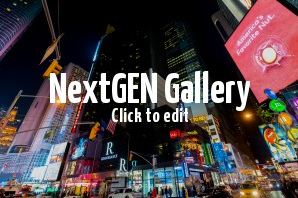 You'll have to save your draft and preview the page to make sure it's working.
Documentation and Support
NextGEN Gallery provides extensive documentation for each and every feature on their website, with walkthroughs of all the technical details, as well as help for troubleshooting and solving the most common issues. They also offer a selection of tutorial videos.
The developers do offer active support in the WordPress.org support forums. However, some reviews complained about the quality of their support.
Pricing for NextGEN Gallery Plugin
The NextGEN Gallery core plugin is available for free in the official WordPress plugin repository. You can download it free from there and use it on as many sites as you want.
Yet, there're dozens of powerful Pro extensions created to add power to the core plugin. The Pro extensions are used for enhancing the gallery displays, creating lightboxs, enabling eCommerce, and connecting social networks.
If you want to use the plugin extensions, you must purchase one of their premium plans. They have basically 3 pricing plans of which 2 are specifically for the NextGen Gallery Pro extensions.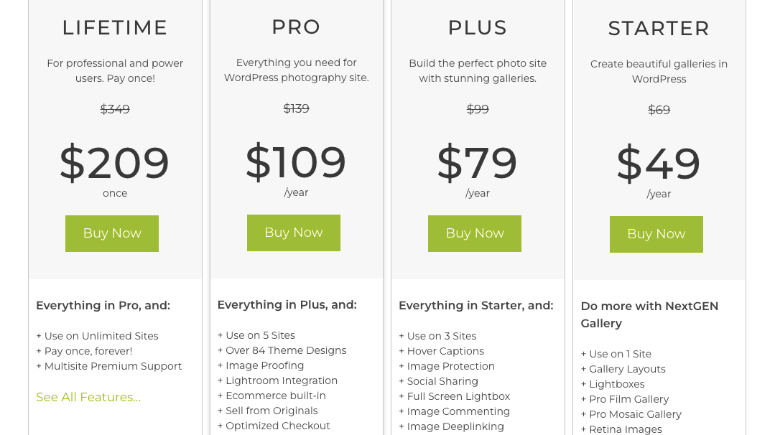 The first plan is Starter, which costs $49 per year. You get to use it on 1 site with features like gallery layouts, lightboxes, film and mosaic gallery, retina images, and infinite scrolling.
Next Plus, which costs $79, gives you all the gallery extensions and pro lightbox extensions for 3 websites.
The third plan is called NextGEN Pro, which costs $109. It includes all the extensions provided in the Plus plan with additional eCommerce extensions and a Lightroom plugin. Thus, if you want to use all of NextGEN Gallery Pro's extensions, you'll need to purchase the Pro plan.
All these three plans come with 1 year of premium support and updates. They also have a Lifetime Everything plan that lets you use all the Imagely themes and plugins with support and updates forever. This plan costs a $209 one-time fee, and you'll get all the features and can use the plugin on unlimited sites.
NextGEN Gallery vs. Envira Gallery
Want to make your images look great, without spending lots of time trying to figure out how to use a new plugin?
Then you need the best image gallery plugin available: one that can create beautiful galleries, has lots of customization options while still being easy to use, and won't slow down your site.
Unfortunately, NextGEN Gallery falls flat on most of these requirements. See our verdict below for why.
Of the 2 plugins, only Envira Gallery meets all of those expectations. It's easy to use, intuitive, fast, and creates beautiful galleries. See our full Envira Gallery Review for more details.
If you've already started using NextGEN Gallery and want to switch to Envira, it's easy — just see this guide on How to Switch From NextGEN to Envira Gallery in WordPress.
Our Verdict on Using NextGen Gallery
If you're looking for a quick and easy way to create beautiful galleries on your WordPress site, we believe NextGEN Gallery isn't a good choice.
While NextGEN Gallery has been one of the most popular WordPress gallery plugins for almost a decade, its reviews are not so good: it's rated just 3.2 out of 5 stars on WordPress.org.
The main issue is that NextGEN Gallery has a steep learning curve — the user interface is incredibly unintuitive.
While it does have a huge array of customization options, they're difficult to navigate to find the options you need. You can create nice galleries with NextGEN Gallery, but it'll take you a long time to learn how to configure your settings and get your galleries the way you want them to look.
We've also noticed that NextGEN Gallery seems to use a lot of resources and slows down the WordPress admin. See How WordPress Plugins Affect Your Site's Load Time for more details.
We give NextGEN Gallery 4.1 out of 5 stars. Here's the breakdown of our review scores:
Get NextGen Gallery Now »