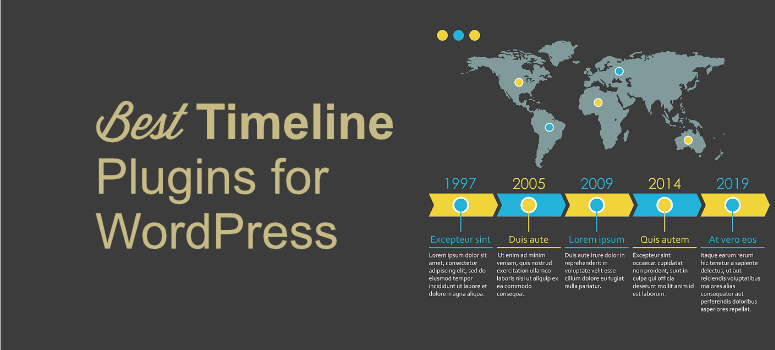 Do you want to use a timeline or roadmap on your website to show the growth of your business?
You may want to consider using a timeline plugin. Timeline plugins can help narrate your story in a visual way that is engaging and easy to understand for your audience.
You can use it to show your blogging or social media journey. You can also go deeper and show your struggles, achievements, and milestones in a chronological way in the form of a timeline. Many big brands choose to showcase their business story in this way. This helps them show their credibility and build trust among their audience.
In this guide, we'll tell you about the best timeline plugins that can help you create a timeline without any coding skills needed. But before that, let's check out some of the features you should look for in a timeline plugin.
What Features to Look for in a Timeline Plugin
The best way to select a timeline plugin is to check their demos. This can help you find out which features are offered by the plugin. Depending on the purpose of creating your timeline, the feature requirements may vary for every user.
However, having the following features on your plugin can be really helpful for you to create beautiful and engaging timelines for your website:
Support for media and text files
Social sharing options
Pre-built templates for an easy start
All of these elements can make your timeline share a more engaging story with your audience.
Having said that, let's now look at some of the plugins that you can try out.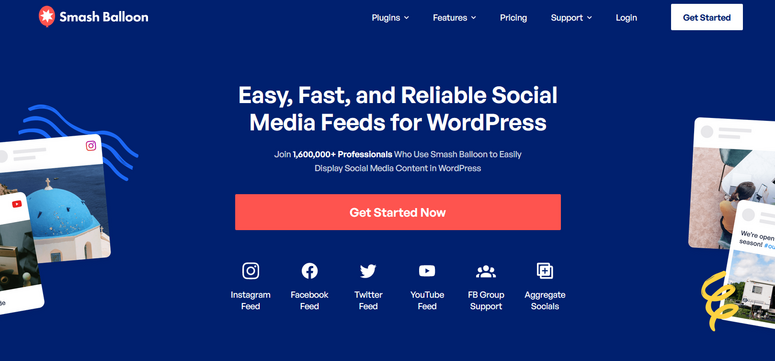 Smash Balloon is the best social media feeds plugin for WordPress. It lets you showcase a timeline of all your social media activity on your site.
That way, visitors never have to leave your site to view your social media posts. You can fetch posts from Facebook, Instagram, Twitter, and YouTuve. You can even combine these feeds to display posts from multiple platforms.
What we love about this plugin is that you get to choose what is displayed. You can use filters to show/hide posts, photos, and videos by tags, categories, hashtags, terms, and so on.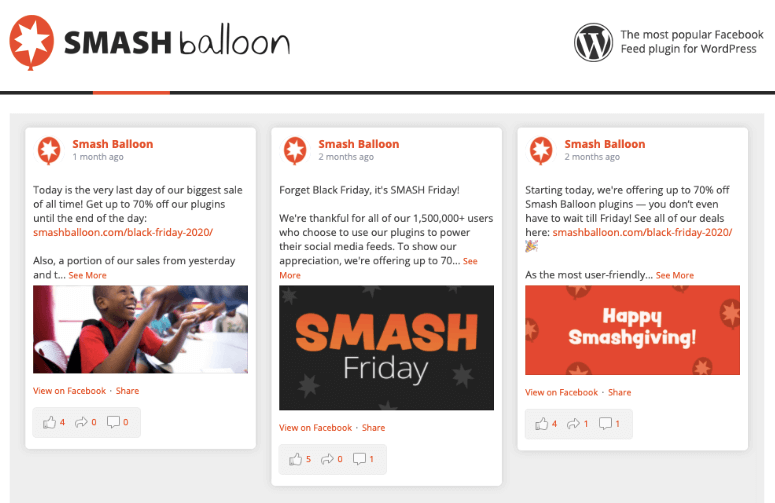 Smash Balloon is the only social media timeline plugin you'll need as it takes care of everything for you. Plus, it's super easy to set up and use.
Once you connect your social media profile, it's a set-and-forget process. This means the tool will run automatically fetching new social media posts and displaying them on your site.

Timeline Express is a free timeline plugin that offers great features to create animated vertical timelines for your business. The plugin offers a shortcode for any timeline you create. You can paste these shortcodes within your posts and pages wherever you want to display them.
The plugin lets you use various fonts, icons, and images on your timeline to make it look more interesting. The plugin is cross-browser compatible and looks stunning across devices. It also has a pro version available with even more features.

Essential Addons isn't a plugin but a powerful addon that can help you create timelines for your website. You can use this addon only if you're using the Elementor page builder to create your website designs.
You can learn more about Elementor here.
By installing this addon, you not only get to create timelines but can also extend your features to create accordions, pricing tables, filterable galleries, countdown timers, and a lot more. It lets you display blog posts, pages, or custom posts in a stunning vertical layout. You can set your preferred number of posts, add amazing effects, image overlay, buttons, and more in your timelines with this addon.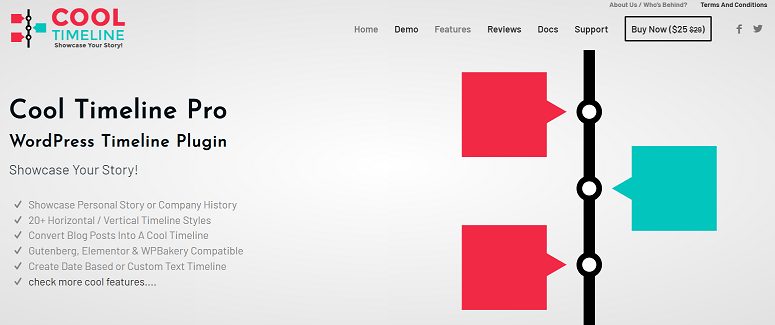 Cool Timeline is another amazing timeline plugin that can help you tell your story in the form of a timeline. It offers 20+ horizontal and vertical timeline styles to make it look unique and interesting. You can also use it to convert your blogs to a cool timeline.
The plugin offers extensive customization options and supports various multimedia files like videos, images, sliders, and more. The plugin is compatible with different page builders like Elementor, WPBakery, and other popular choices.
Cool Timeline is user-friendly and has extensive documentation to help you troubleshoot and solve your problems.

Event Timeline is a free timeline plugin that lets you create vertical and horizontal timelines that look amazing across all devices. To help you get started quickly, it offers 18 beautiful themes, each of which is super flexible.
It also supports 2 different styles: classic and modern. You can select the one that you think looks best on your website. The plugin also supports various media files including videos. The color picker makes it easy to choose your own color. Because of the clean code used to design the plugin, it looks stunning across all devices.

Timeline and History is a free timeline plugin that lets you add your business history or timeline to your WordPress website without writing any code. You can also add a title and featured image to make it easy for users to understand your timeline better.
Timeline and History Slider lets you create a timeline of your blog posts in a horizontal order based on the year and date of your posts. The plugin is super easy to use and works alongside all modern plugins and themes.

Post Timeline is the next plugin that you should check out. It's a powerful and user-friendly plugin that offers you quick and easy ways to add vertical timelines to your website. It will also automatically create animated scroll navigation based on Tag or dates in ascending order.
With this plugin, you can create as many timelines as you want for free. It also offers the flexibility to assign icons and set different colors to your timeline. This makes it more appealing for your users to look at. To help you reach out to a larger audience, Post Timeline supports multiple languages.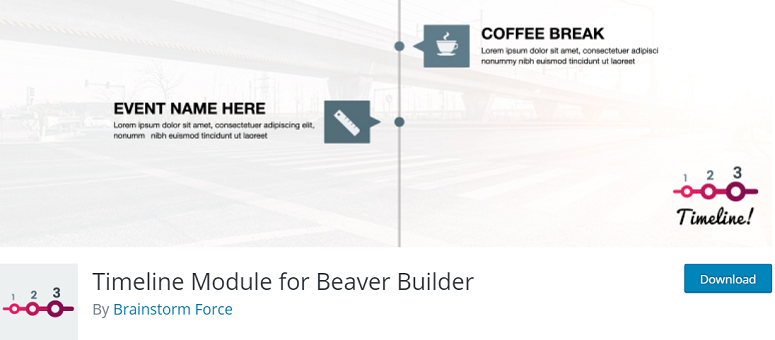 Timeline Module for Beaver Builder is a free plugin that adds the module for adding a timeline to your Beaver Builder plugin. With this plugin, you can easily display your company history and its progress or list your personal achievements in the form of a timeline.
The plugin offers various typography options for your titles, descriptions, dates, or any other content that you add. You can also hide or show your timeline date, enable or disable the connectors, and do a lot more.
These are some of the best timeline plugins that you can check out. We hope you found this article helpful.
You may also want to check out our other guides:
These posts will help you make your site more stunning with porf