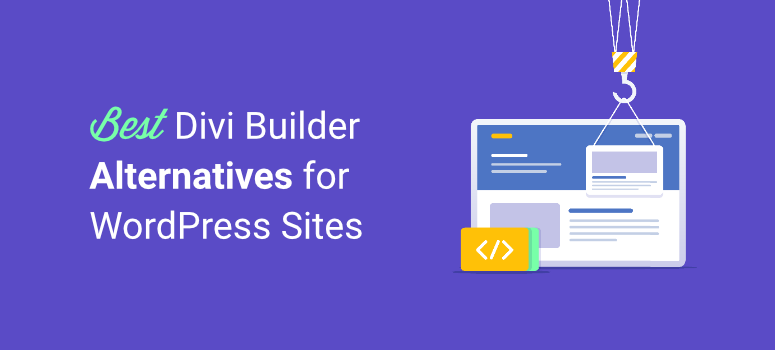 Are you looking for Divi alternatives to help build your website?
Divi is one of the most popular WordPress builders, but some users may find Divi's interface to have a bit of a learning curve, making it harder for beginners to catch on.
There are other builders that are more user-friendly and designed for anyone to use, even without any prior experience. So it's best to explore your options.
In this guide, we'll show you the popular ones that we've used ourselves, and we'll give you our first-hand experience in reviewing them.
We're focussing on website and page builders below. If you're looking for Divi Theme Alternatives, then check out: 23 Best WordPress Multipurpose Themes.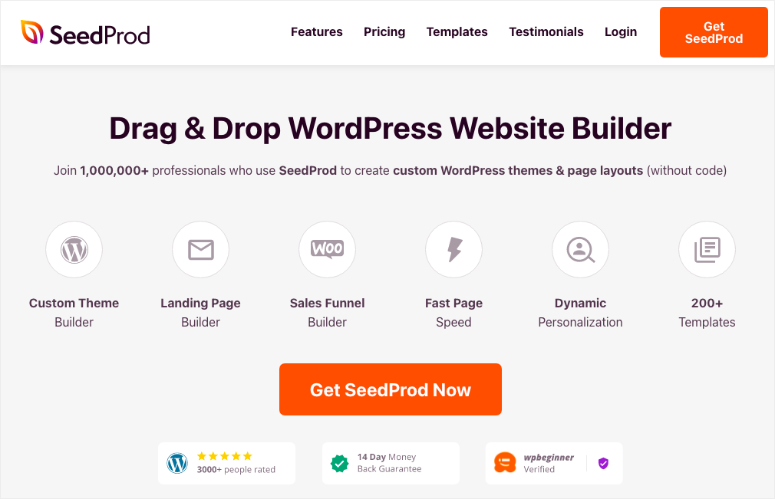 SeedProd is the best website and landing page builder for WordPress. It's designed to be beginner-friendly so you won't have any trouble learning how to use this builder.
You can choose from 200+ stunning page templates and even entire website theme kits. To customize your design, all you have to do is drag and drop new elements and modules to where you want them to appear. You can also click to edit any type of content, such as text, videos, and images.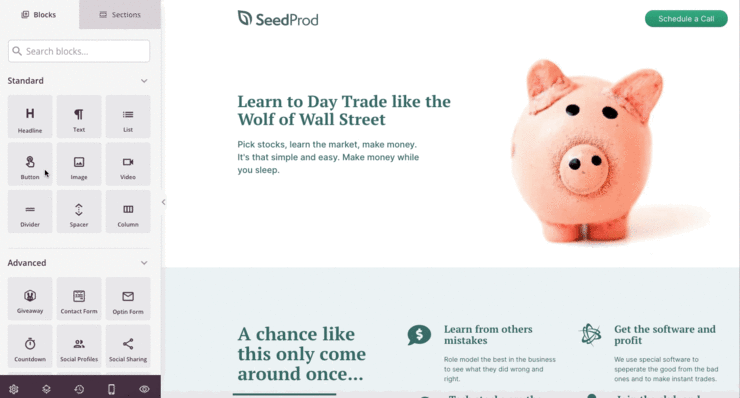 Just these features make it a great alternative to Divi, but there's more!
To ensure you do not forget the most important parts of a page, be it for SEO purposes or to improve user experience, SeedProd offers smart sections.
You can add these prebuilt reusable sections, such as headers and calls to action, to your page.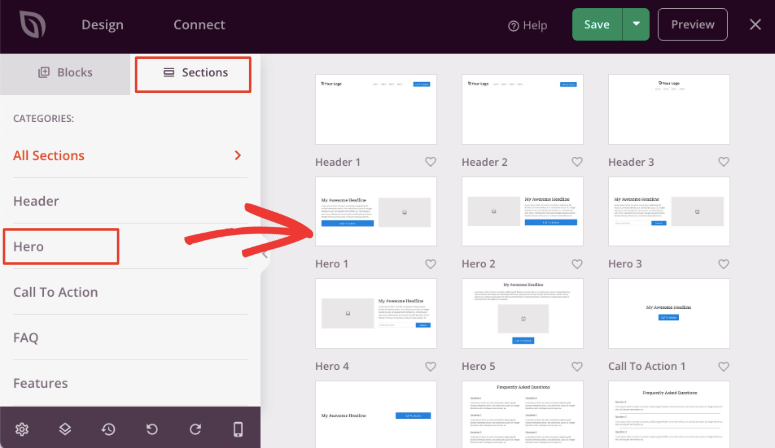 Since they streamline the page-building process, they save you time and help maintain consistent design elements throughout your WordPress site. 
SeedProd still stays true to what made it so popular, which is creating maintenance or coming soon pages. You can enable these modes with just a click in the SeedProd dashboard: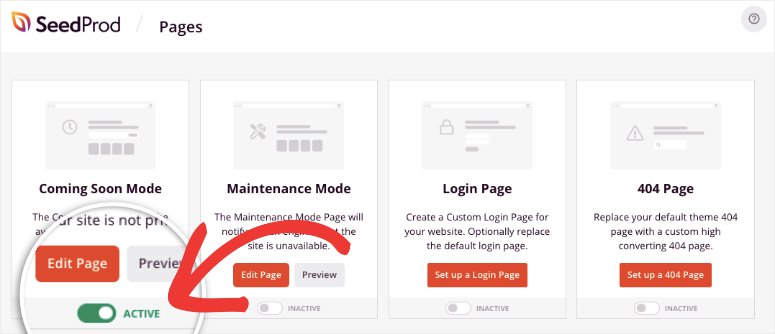 SeedProd also lets you add elements to your coming soon page so you can drive traffic to your site even before you launch it. To give you a better idea of how powerful this feature is, here's what you can do with your coming soon page:
Display a launch countdown to excite your audience
Share your social media links to build traffic even before you launch
Showcase promo content to advertise your potential services
Add email signup forms to get early potential leads
Play background videos to educate your audience
Offer interactive quizzes and surveys to keep your audience engaged and collect data
Added to this, SeedProd integrates with popular email marketing providers such as MailChimp, Zapier, and GetResponse.
And to protect you from spam, SeedProd uses Recaptcha by Google ensuring all the leads you receive are quality and can convert.
WordPress security tip: Perhaps the best security feature SeedProd offers is that you can customize your backend login page and URL. If someone wants to brute force your site, they won't be able to easily find the login page itself.
Here are the pros and cons of the SeedProd builder:
Pros:
User-friendly interface
Mobile-ready and responsive 
Live previews
Compatible with all WordPress themes
Free and affordable pricing plans
Integrates with most email marketing list builders
eCommerce elements and WooCommerce integration
Revision history allows you to go back to a saved point
Cons:
The free plan is limited though it lets you create basic landing pages and put your site into coming soon mode.
Price: The premium version starts at $39.50 per year for 1 website.
Interested to know more about this plugin? Check out our SeedProd Review »
Get started with SeedProd »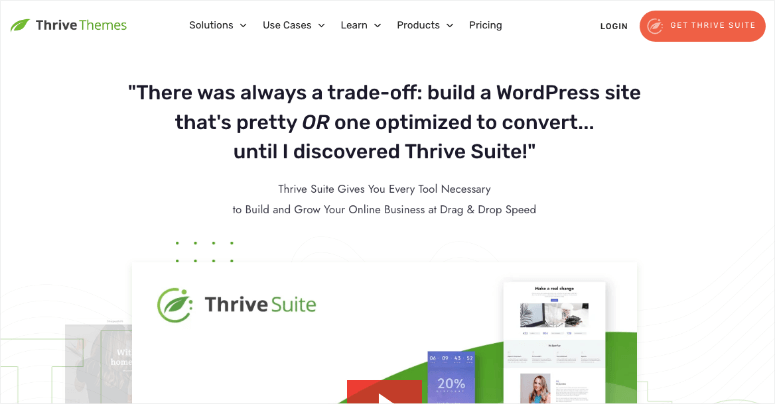 Thrive Themes is a powerful WordPress theme and theme builder. You can choose from themes that include Shapeshift, Ommi, and Kwik. There are even layouts within the themes that you can choose from to customize your site.

What's really cool is that the site setup wizard will get you up and running in just a couple of minutes.
Once you open up the theme builder, you'll see an easy navigation section to quickly switch between designing the header, content, sidebar, footer, and more.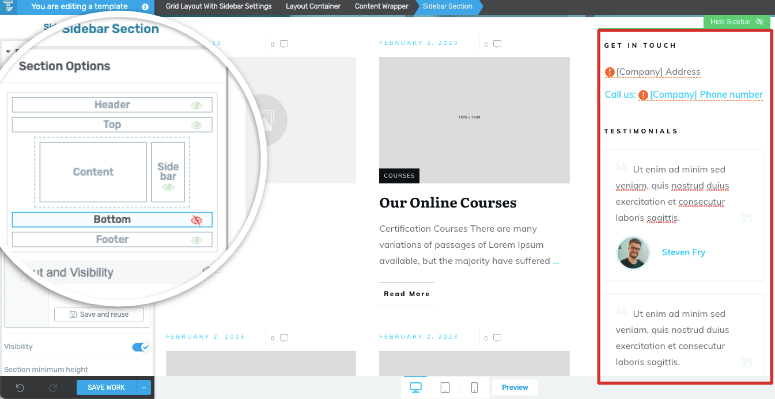 Inside this builder, there are hundreds of pre-designed sections and templates to customize your header, footer, blog post template, page template, and more
To create customized pages and posts, there's Thrive Architect – a powerful WordPress page builder. This lets you easily place the different elements exactly where you want on a page without coding experience.
You can either access Thrive Architect as a stand-alone plugin or as part of Thrive Suite.
Once installed, the plugin is effortless to locate and use because the Edit with Thrive Architect option is next to every page or post.

You can also launch the Thrive Architect Editor once you open any page or post, again giving you various ways to access and use the plugin.

This Divi alternative focuses on lead conversion, making it great for businesses.
For example, it can help you find quality leads through opt-in forms, which come in different designs, such as popup, slide-in, and inline forms. The various form designs can work as excellent lead magnets for different types of pages or page sections.
To capitalize on FOMO, Thrive Architect offers countdown timers to build a sense of urgency, encouraging immediate action. On the other hand, using the progress bar feature can help you better user engagement, which, in turn, can help your visitors complete tasks like filling out forms.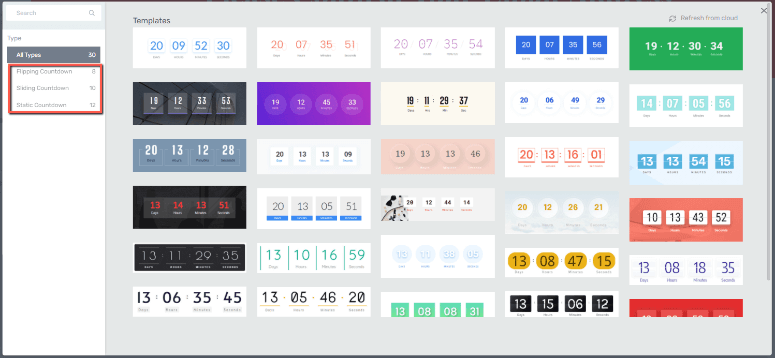 Thrive lets you customize everything about a page element on both the backend and frontend editors. But if you do not have experience or need quick recommendations, the plugin comes with plenty of pre-made elements. 
Take the 'Button' element, for example. Thrive comes with dozens of button templates ready to use, all seamlessly designed. However, you can also further edit each button template to fit your style.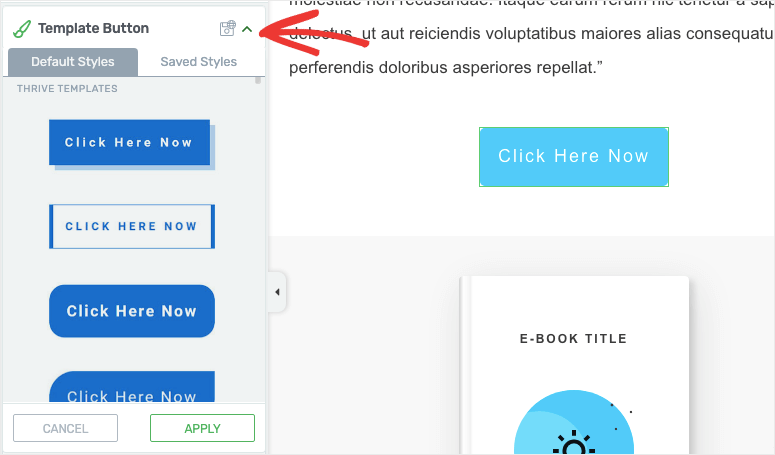 You can edit the color, size, border, position, and animation. You can also make the button a nofollow link or open it in a new tab straight from the live editor.
Thrive Architect comes with over 350+ pre-designed layouts, giving you a starting point to personalize each page differently and quickly. Like elements, this Divi alternative allows you to edit the pre-designed page layouts extensively.
What's more, you can import/export templates and use them to create similar pages with different content, making your site creation process more streamlined, uniform, and faster.
As you can see, Thrive Themes focuses on giving endless customization options.
It even offers advanced personalization, as you can change how the site sidebar appears and position the post layouts and header however you want.
A cool feature that stands out about Thrive is that it allows for dynamic content changes. This is when the content areas change depending on the content displayed. 
Pros:
Instant drag-and-drop editing
Smart landing page templates
Powerful conversion optimization elements
Preview on different screen sizes
Dynamic animations and effects
Connect with Thrive addons
Great support and documentation
Cons:
Thrive Suite may be expensive on a budget
Price: Starts at $99 per year for just the stand-alone plugin. You can also get the entire Thrive Suite plugin package, which starts at $299 a year.
Interested to know more about this plugin? Check out our Thrive Architect review »
Get started with Thrive Architect »

Another great Divi site builder alternative is Beaver Builder.
It comes with over 30+ pre-built templates that allow you to change the images and text. You can adjust the color, fonts, backgrounds, and more.
Beaver Builder has both a front-end and backend editor. You can switch between the two, allowing you to better customize your site according to the elements you are working on at that moment.
The ability to switch between editors ensures no guessing; you can design your page to match your exact vision.
Beaver Builder uses a 'row and column' system that makes designing the page layout and site structure easier through a drag-and-drop process.
With this system, you can better align page attributes like the background colors, padding, and margins, creating a better site design.
Pros:
View site changes live
Available as both a plugin and theme
Front and backend drag-and-drop editors
Save custom layouts
Multisite support
Compatible with WooComerce making it great for building online stores
Pre-built elements and custom layouts can be used across unlimited websites
Cons:
It can be challenging to switch between themes once you use Beaver Builder
Not compatible with all themes, must be a responsive theme
The use of shortcodes may lead to a learning curve
Price: Starts at $99 and works for unlimited websites.
Interested to know more about this plugin? Check out our Beaver Builder Review »
Get started with Beaver Builder »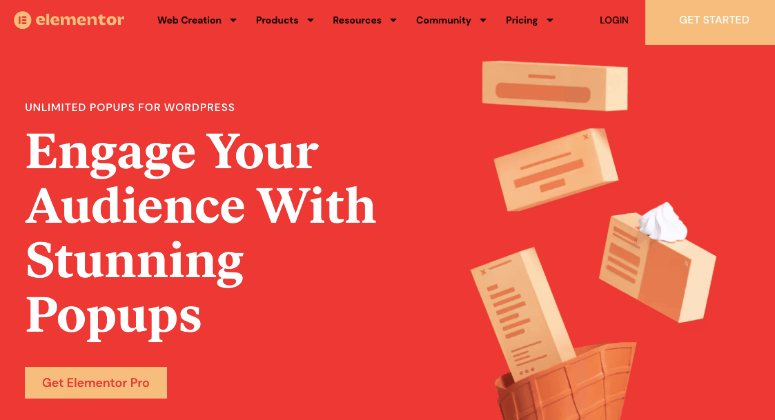 Elementor is a live drag-and-drop front-end site builder that works well with all popular themes like Astra, GeneratePress, and Neve.
The beauty of front-end site editing is that you can see exactly how the final design will turn out, making it great for beginners.
This site builder was specifically designed to be lightweight and easy to use. That is why it uses the Hello Theme.
The Hello Theme was designed by Elementor to complement and enhance the design and customization abilities of their page builder plugin. This blank theme makes using their front-end drag-and-drop site builder feature easy to ensure you create the exact site you want.
With 100+ full site kits, you do not have to start from scratch, saving you time and making it even easier to create your site.
Elementor saves all your revision history, allowing you to go back to any point of your editing history if you mess up your design.
Pros:
Quickly switch from WordPress backend to Elementor editor
Built-in hosting from Google
Responsive design while building
Real-time editing
Powerful addons and integrations
Translated into over 23 languages
Cons:
It can be difficult to use for a beginner
This can lead to poor site speed if you add too many widgets and elements
Complex site designs may need some coding experience
Price: Starts at $49 yearly for the 1-site personal plan
Interested to know more about this plugin? Check out our Elementor Review »
Get started with Elementor »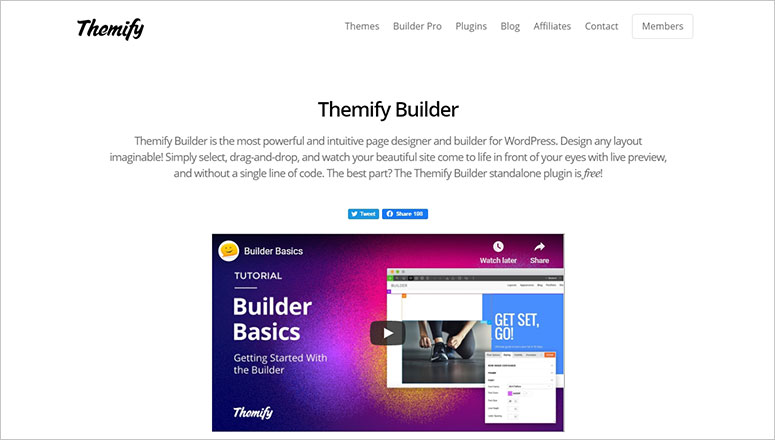 Themify Builder is another drag-and-drop site builder that offers both backend and front-end editors.
However, Themify has divided the functions of its builders.
The front-end editor helps you make and view live changes through columns, rows, and modules. It's great if you want to see how changes impact the actual website in real-time.
While the backend editor is more structured.
Unlike the front end, where changes are saved immediately, with the backend editor, you have to confirm changes first.
Themify Builder's backend editor can do everything the front end can but with the added bonus of helping you structure your elements. This is helpful when you want to focus solely on the design without distractions.
Themify Builder also has built-in shortcuts to make your site creation process faster and easier.
It comes with 40+ professionally designed site templates you can change and make your own by simply copying and pasting.
Themify Builder offers 60+ animation effects that can make your site dynamic and increase engagement.
Pros:
Lightweight animations that do not affect page loading
Backend and front-end with different abilities
Use of shortcodes for further customization
Templated content modules
Built-in with all Themify themes
The stand-alone plugin is free to use other themes
Multisite support
Cons:
Needs no coding experience to use custom CSS
It may not be compatible with all themes outside Themify
Price: $69 and comes with 25 builder addons.
Interested to know more about this plugin? Check out our Themify Builder Review »
Get started with Themify Builder »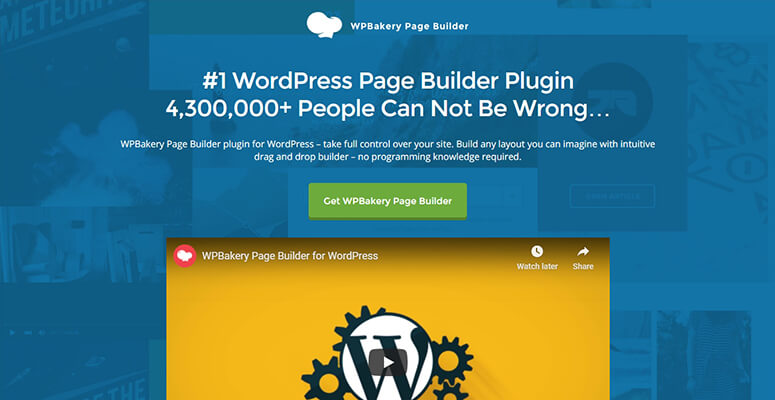 WP Bakery is a drag-and-drop page builder with a beautiful interface.
It comes with both a front-end and backend editor to change anything and everything on your page. 
This drag-and-drop page builder prioritizes attention to detail, as you can easily customize the size and shape of all page elements to your exact specifications.
With 50+ built-in content elements designed by professionals, you have a great starting point to build your site without any coding.
You can incorporate CSS animations into elements created with WPBakery. CSS animations enable smooth transitions to different page elements. They help grab your audience's attention, making them stay longer on your page.
Pros:
Highly customizable features
Enables lazy content loading
Helps with quicker loading speeds
Easy to add and use APIs for advanced users
Cons:
Reliance on shortcodes and scripts
Front-end editor may be hard to use
Price: $49/year for one site license
Interested to know more about this plugin? Check out our WP Bakery Review »
Get started with WP Bakery »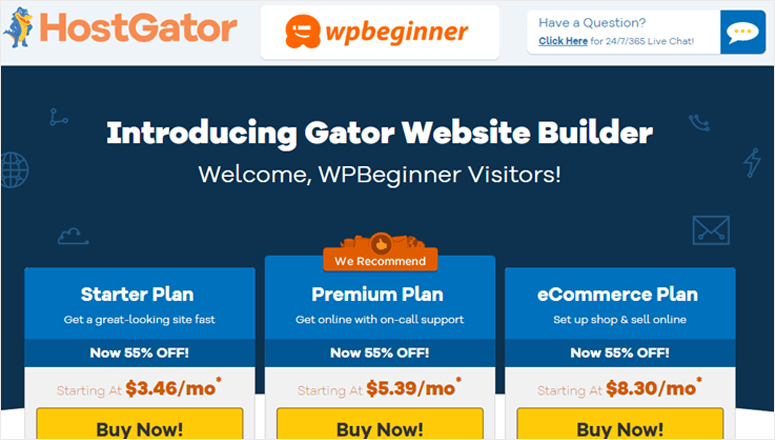 Hostgator is one of the largest hosting companies in the world. It offers the HostGator Builder to help you easily build and launch a site.

Every HostGator builder plan comes with free hosting, a free SSL certificate, a domain name, and site analytics.
Hostgator has created one of the best drag-and-drop site builders focusing on 1-click designs. You can choose from pre-designed site templates from the Gator Builder Collection, making setting up a page in minutes easy.
It offers live social feed integration, which creates a real-time feed of your social media channels on your website.
Learn the best way to add a Facebook feed to your website here.
Pros:
Hostgator cloud hosting and support
Site Analytics
Free SSL certificate
Basic SEO tools included
Cons:
Limited customization ability
It can only be used with Hostgator
Price: The starter plan costs $3.46 per month
Get started with HostGator Builder »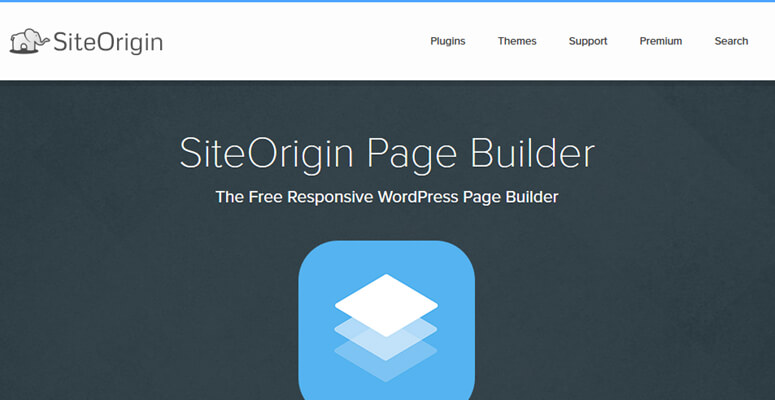 SiteOrigin is a drag-and-drop site builder that uses a grid-based approach. This system enables you to build website layouts by dividing the content area into a grid of rows and columns.
The grid serves as a framework for arranging and organizing various elements on the page, leading to a cleaner website design.
SiteOrigin offers live editing with a preview. It saves your changes to roll back if you make any errors.
Pros:
Completely free
Works with any theme
integrates with the default WordPress widgets
Cons:
Editor layout may be difficult to understand for newbies
Price: Free
Interested to know more about this plugin? Check out our SiteOrigin Review »
Get started with SiteOrigin »
That's our list of the best alternatives to the Divi Builder. Next, we'll give you our recommendations on our top 2 picks
Our Top Pick: What Is The Best Divi Alternative
After analyzing the popular builders and what they have to offer, our top pick is SeedProd. 
First, as mentioned, SeedProd has undergone an amazing evolution, showing its creators are not afraid to change and listen to customers.
It offers a simple and direct way of creating a landing page without coding or shortcodes, ideal for both seasoned and new WordPress users.
Its library of 200+ pre-designed website templates and smart sections streamline the process, ensuring consistent design elements and efficient page building.
SeedProd was designed with every site owner in mind. It can help a designer showcase their portfolio, integrate with WooCommerce for online store owners, and even help you create a blog.
To add to this, SeedProd comes with many business-focused features, such as lead generation prelaunch engagement tools and professionally designed landing pages.
This makes it great for companies and businesses because it offers features that can help deliver a good return on your investment.
Our second pick is Thrive Architect. 
This Divi alternative was created to offer endless customization options, as described above.
It comes with ready-to-use templated elements, which can be edited further to get precisely what you are looking for. You can edit element traits like the background section, layout and position, typography, animation and action, responsive, and HTML attributes.
With over 350 predesigned templates, again, you have the ability to capitalize on Thrive Architect customization abilities to create an entire unique page each time with no coding experience.
Fitted with an easy-to-use visual editor, you can see the exact position of every element as you drag and drop it.
Attract high-quality leads with features like opt-in forms, lead generation pages, countdown timers, testimonial elements, and integration with email marketing services.
Follow this up by motivating your users to be subscribers by using Thrive Architect's content-locking feature. This ensures that users only access certain pages after providing their information or signing up.
That's all we have; next, we will cover common questions our users often ask us.
FAQs on Divi Builder Alternatives
What does Divi offer?
Divi is brought to you by Elegant Themes. They offer the Divi theme and page builder. They also offer another theme called Extra Magazine and a standalone Divi Page Builder that's compatible with any theme.
Aside from this, there are also tools that include Bloom for email optins, and Monarch for social sharing. Their plans start from $89 per year (a lifetime access plan is also available).
What are Divi Builder alternatives?
Divi Builder alternatives are similar WordPress page builder plugins that enable a user to create a site visually using a drag and drop builder.
Is Divi Builder better than Elementor?
Both WordPress website builders are good. However, Elementor is much easier to learn and use. Elementor Pro also has more affordable plans for small businesses and individuals.
Which is better SeedProd or Divi?
SeedProd is easier to use and has more advanced features if you want to grow your website. It comes with built-in coming soon mode, SEO-friendly features, marketing integrations, and tons of conversion-focused elements and design options.
Why would I consider using a Divi Builder alternative?
You may be seeking different design preferences, specific features, compatibility with themes or plugins, or to explore other user-friendly options for website creation without coding.
What features should I look for in a Divi Builder alternative?
Look for features like drag-and-drop interfaces, responsive design, template libraries, customization options, pre-designed elements, compatibility with popular plugins, SEO tools, and integrations with email marketing services.
Are Visual Composer and WP Bakery the same?
No, WP Bakery is a page builder plugin while Visual Composer is a website builder. They are owned by the same company. Visual Composer makes it easy to create professional-looking sites in minutes. You get access to a full WordPress page builder, templates, blocks, elements, and extensions.
Are there other website builders that are not mentioned on this list?
Yes, we like to give our users just the top options so there's no confusion with too many choices. Other builders include Brizy and Avada. There's also the default Gutenberg editor inside WordPress to build your website but you'll find that it's quite basic and limited in what you can do.
Which Divi Builder alternatives are recommended?
We recommend SeedProd and Thrive Theme Builder as the best Divi alternatives. They both come with an easy-to-use interface and built-in theme kits to get you started.
We hope you found this tutorial helpful. You may also be interested in reading our complete Divi review before making your final decision on the builder you want to use. But just to make sure you have everything at your fingertips, here are a few articles we think could help you create a better site with no coding experience:
We've given you a list of simple themes you can use for your site. The last 2 posts show you the best tools and builders to create stunning designs for your site.