Looking to get more email subscribers or social media followers? Themify Landing helps you to build high-conversion landing pages with ease without having to touch a single line of code. In our Themify Landing review, we'll show you why Themify Landing is one of the best landing page WordPress themes.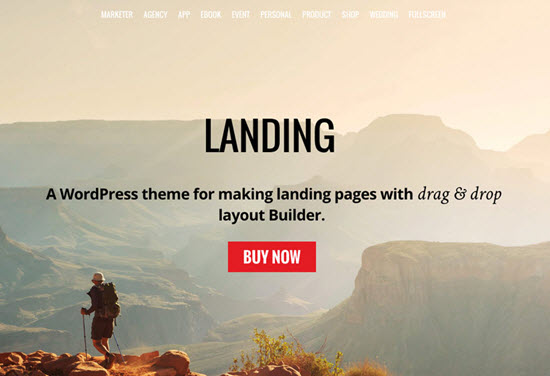 About Themify Landing
Themify Landing offers everything you need to create effective landing pages to convert your visitors into leads and customers. With Themify Landing, you can either choose a predesigned landing page layout and make edits on it or build a unique page from scratch using Themify Builder.
It also allows you to easily integrate an email marketing service like Constant Contact, SendinBlue, MailChimp or its alternatives to create a newsletter signup form with your landing pages. In this way you can grow your business with email marketing.
Let's take a detailed look at its features, so you can decide if Themify Landing is the right choice for your needs.
Tons of Prebuilt Layouts to Choose From
Themify Landing comes with 25+ pre-designed landing page layouts to choose from, so you can set up a stunning landing page in minutes. You can find landing pages that are suitable for different niches including agencies, apps, events, ebook, products, weddings, portfolios, shops, marketers, your personal page, etc.
If you want to import the demo content so your site looks just like the demos, you can navigate to Themify Landing » Themify Settings » Demo Import and then, click Import Demo button.
In your Themify panel, you can also choose the right skin for your theme easily, so you don't have to set up the color palettes manually.
Easily Create Landing Pages from Scratch
What if you don't want to import any pre-designed landing page layout?
No worries! With Themify Landing, you can easily create landing pages from scratch using Themify Builder. Themify Builder is a drag & drop tool that helps you to create any type of landing page layouts.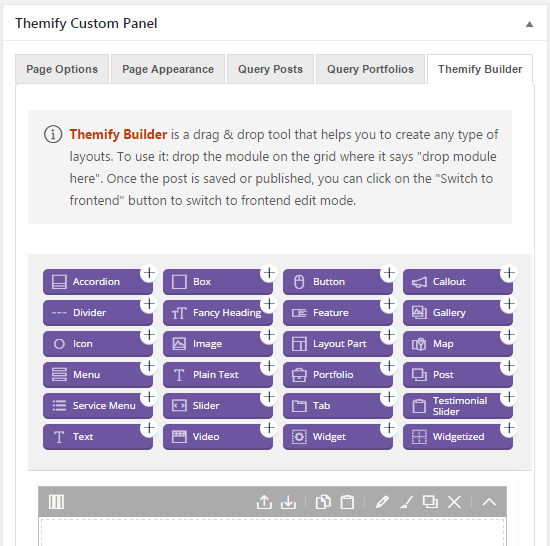 All you need to do is to select the right modules in your Builder and drop them on the grid where it says drop module here. After saving your post, you can switch to frontend view and edit your modules from the frontend of your site.
That means you can customize the layout of your pages by viewing the live site. Using Themify Builder is the most convenient way to customize your pages because you can immediately view changes as you make them.
It also gives you more control over the header and footer of each post or page. This way, you can create highly customized landing pages on your site for boosting conversions.
Flexible Header Design Options
For header design, you can choose from 4 different layouts. When customizing the header of each page, you can hide certain design landing page elements, choose a background type and background design, and choose custom header text colors.
Shipped With Two Custom Post Types
Themify Landing is shipped with two custom post types: Portfolio and Event post types.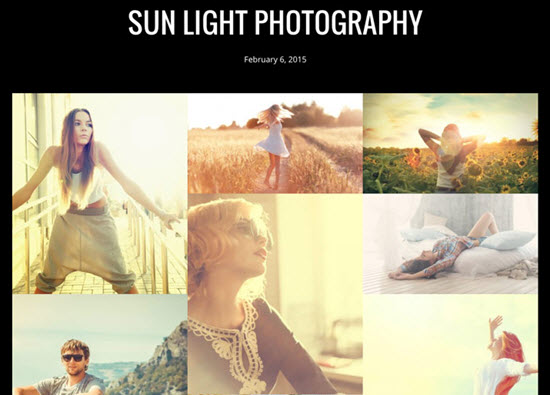 Portfolio Post Type: Just like any other Themify WordPress themes, Portfolio post type lets you feature portfolio items on your website. To enable Portfolio post type, you'll have to install an additional WordPress plugin, Themify Portfolio Posts. It lets you easily organize your portfolio items with various image sizes and arrangements.
Event Post Type: This custom post type allows you to promote any events whether it is a tour, concert, etc. The best thing is that you can also include a Google Maps view of the venue and sell the tickets right away.
MailChimp Integration
Do you use MailChimp to build your email list?
With the Mailchimp plugin, you can easily integrate your newsletter signup forms with your landing pages and grow your email list.
Documentation and Support
The documentation of Themify Landing walks you through the entire list of features. All tutorials are well explained with beautiful screenshots and videos.
Whenever you need any assistance, you just need to scan through its documentation. Everything is listed in a step by step method.
Themify offers support through their forums. They are well-known for their fast response time.
Themify Landing is available for a one-time fee of $49. When you purchase the Themify Landing theme, you'll get a bonus theme to download for free.
You can use the Themify themes on unlimited sites. To access all the Themify themes, you can join their Theme Club for just $79.
Our Score
Themify Landing is one of the best landing page themes that gives you tons of different options to design high-conversion landing pages with ease. It lets you integrate your newsletter with MailChimp, so you can easily set up your lead generation page and start building an email list in minutes.
You can easily customize the header and footer of each post and page. That means you can get more control over the design and content to optimize your landing page for high conversions.
We give Themify Landing 5 out of 5 stars. Here is the breakdown of our review scores:
Get Landing Now »