Want a more flexible, powerful visual editor for your pages, without the need for coding? With WPBakery Page Builder, you can create complex layouts using a drag-and-drop editor, from the front or back end of your site. Find out how it all works in our WPBakery Page Builder review.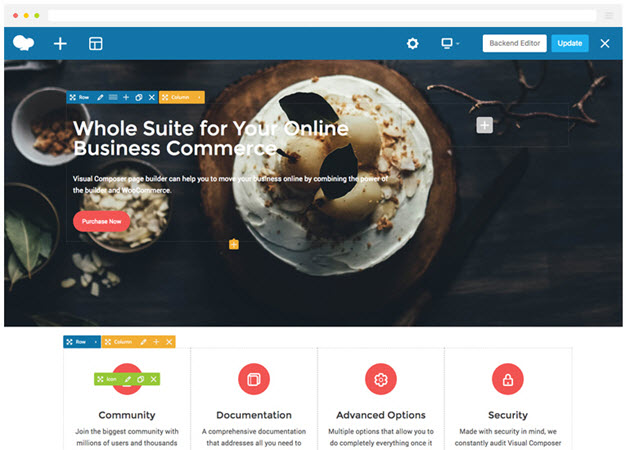 About WPBakery Page Builder (Formerly Visual Composer)
WPBakery Page Builder, formerly known as Visual Composer, is one of the original WordPress page builders. Ever since WPBakery Page Builder was released, it's been the most popular page builder plugin for WordPress in the CodeCanyon marketplace and now has 300k+ direct sales.
In October 2017, the original Visual Composer was rebranded to WPBakery Page Builder. The Visual Composer trademark has since been used for a completely different project: a full-fledged website builder – Visual Composer Website Builder.
While the original page builder is still available to purchase from CodeCanyon as WPBakery Page Builder, the brand new Visual Composer, which was rewritten from scratch, is being sold on their own website.
You might be wondering, why would someone rename a popular plugin, especially when is has such a huge market share? Why do the folks behind WPBakery sell their brand new version of Visual Composer as a separate product?
To shed some light on these questions, we'll inspect them in-depth below.
The Original Visual Composer Rebranded to WPBakery Page Builder – Why?
The original Visual Composer plugin was first released in May 2011 on CodeCanyon. Since then, the page builder market, and WordPress itself, has evolved a lot. However, the original Visual Composer has remained almost the same in terms of UX.
Since it's a widely-adopted plugin and comes bundled with most Themeforest themes, revamping the plugin from the ground up was sure to create a lot of backlash.
So, rather than revamping the original WordPress plugin from the ground up, the WPBakery team decided to release a brand new product on their own site and name it Visual Composer Website Builder, while maintaining and selling the original product as WPBakery Page Builder.
WPBakery Page Builder vs. Visual Composer Website Builder
In a nutshell, WPBakery is a page builder whereas the new Visual Composer is a website builder.
WPBakery lets you create WordPress pages the way you want with its easy-to-use drag and drop builder. It comes with frontend and backend editors, works seamlessly with any theme, and has tons of other useful features to create a beautiful page without hiring a developer.
On the other hand, Visual Composer comes with all the cool features you'll need to create a beautiful website. You can customize your sidebar, headers and footers, tweak mobile editing options, and utilize multiple page layouts.
The pricing for WPBakery Page Builder starts at $59 for regular license; whereas, for Visual Composer, it starts at $49.
WPBakery Page Builder Review: Do You Really Need It?
Have you ever wanted to create more complex page layouts than's possible with WordPress's built-in editor?
While the TinyMCE editor is handy for writing blog posts with a few pictures, it won't help you:
organize your content in rows and columns
create animated buttons and calls to action
add eye-catching charts and maps in the middle of your page
If you want to build responsive and complex page layouts in WordPress, without hiring a web designer or learning to code, then WPBakery Page Builder can help.
WPBakery Page Builder is a drag and drop page building tool that allows you to create fully responsive, complex pages in mere minutes.
How to Build a Page With WPBakery Page Builder
After installing and activating the plugin, you can get started by creating a new page.
At the top of the editor, you'll see a couple of new buttons: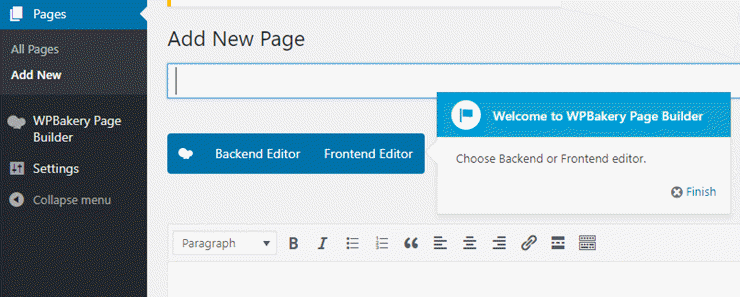 You can choose to start editing your page from the backend, where you are now, or you can save the page and click the Frontend Editor button to edit the live version of the page.
We'll click on the Backend Editor button to start with.
You'll see a few options appear in the visual editor.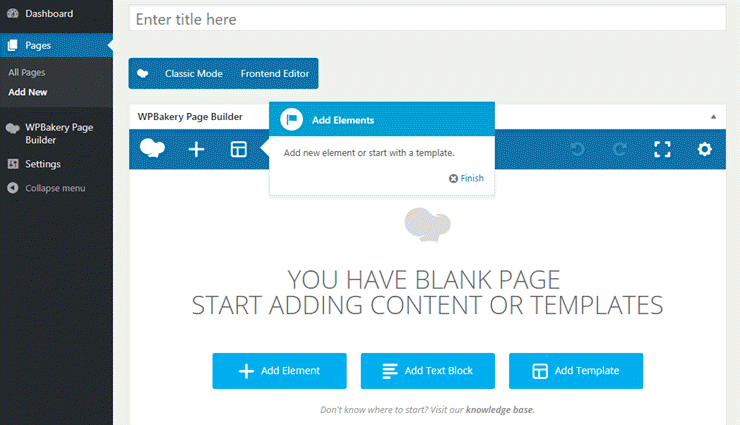 You can choose to add an element or a text box, or choose a template for your page.
There are dozens of default templates available, or you can create and save your own templates.
If you want to design your page yourself, there're a variety of elements available to place on your page, including:
images
icons
Google maps
FAQs
video players
charts and graphs
buttons and CTAs
WordPress widgets
…and many more.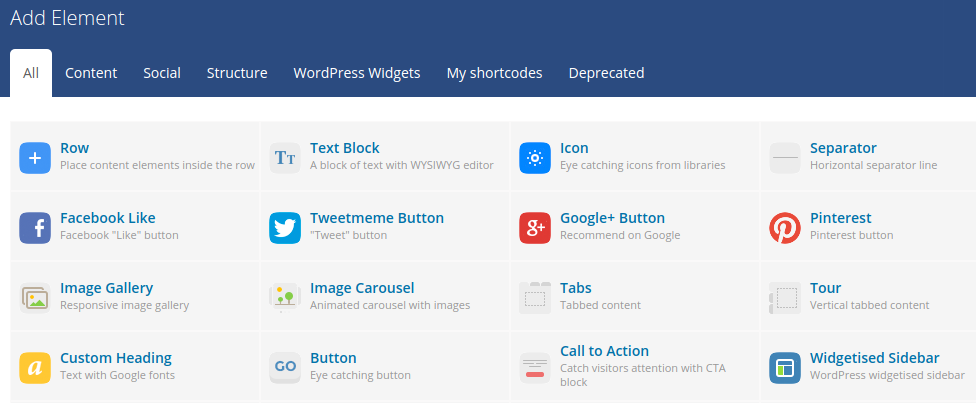 The list might look a bit overwhelming, but you can sort them by category or search for a particular element using the search box in the top right-hand corner.
Get started by choosing your first element. It will automatically be inserted into a row.
You can add another row of elements to your page by clicking the plus sign at the bottom.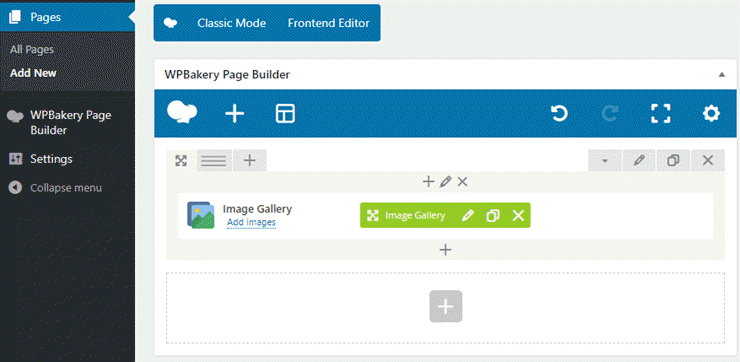 If you hover your cursor over the icon with lines above any row, you can choose to add columns to your row. With columns, different elements can sit side-by-side on the page.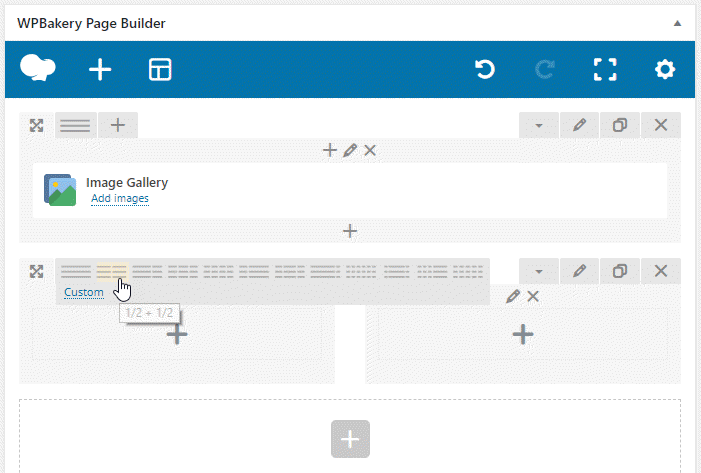 All of the elements available have tons of options for customization, including CSS animations. You can even add extra class names so you can customize the CSS styles more easily.

You can also edit any page from the front end.
Just click the Edit with WPBakery Page Builder link in the toolbar while viewing any page.
In the top right corner menu, you can change your page settings, preview the page in different screen sizes, switch to the backend editor, and click Update to save any changes. Go back to viewing the page by clicking the X.

By default, WPBakery Page Builder is only available for editing pages. But if you navigate to WPBakery Page Builder » Role Manager, you can choose to enable the editor on posts as well.
Build More With WPBakery Page Builder Add-ons
WPBakery, the developers behind WPBakery Page Builder, also have many add-on plugins available.
Here are just a few examples:
Templatera Template Manager: Create, manage, and set control access to your templates based on user roles or page post types.
Easy Tables: Create and manage tables with a drag and drop interface.
Parallax Image and Video Background: Add parallax background images and videos to any page.
CSS Animator Addon: Add over 40 animations to available CSS effects for each element.
Woo Products: Add elements to show off your WooCommerce products.
Team Showcase: Display and manage your team and clients as a responsive grid or as a dynamic slider.
Easy Form for WPBakery Page Builder: Create and manage easy responsive forms.
There are 500+ elements, templates, and add-ons available, so you'll definitely find the exact function you need.
Many premium themes on CodeCanyon also come with WPBakery Page Builder integration, or even have WPBakery Page Builder packaged with the theme.
Documentation and Support
The official WPBakery Page Builder site has extensive documentation available for every feature of the plugin, plus articles for developers who want to customize their sites even further.
Your purchase of WPBakery Page Builder includes 6 months of support, with options to extend support for another 6 months. Support is provided via a ticket system, where you'll be required to verify your license.
Our Verdict
WPBakery Page Builder is one of the most popular and highly rated plugins on CodeCanyon, and is the most well-known drag and drop page building plugin on the market.
If you want to create complex page layouts without having to code, WPBakery Page Builder is the best choice.
While there's a bit of a learning curve to get used to how it works, WPBakery Page Builder is relatively easy to use, and will save you a lot of time. And there are a huge number of add-on plugins available if it doesn't include the options you need out of the box.
We hope you liked our WPBakery review. You may also want to see other options that offer a lot more for lesser: SeedProd and Thrive Architect.
We give WPBakery Page Builder 4.2 out of 5 stars. Here's the breakdown of our review scores:
Get WPBakery Page Builder Now »