Are you feeling limited by the WordPress visual editor? Can't find the formatting options you need? Take a look at the TinyMCE Advanced plugin. This plugin can help you customize your TinyMCE visual editor so that all the formatting tools and shortcuts you need are right at your fingertips. Find out how in our TinyMCE Advanced review.

What Is TinyMCE?
Though they may not know its name, millions of people all over the world use TinyMCE.
TinyMCE is an open source, platform-independent WYSIWYG (What You See Is What You Get) visual editor, built using JavaScript and HTML.
WordPress comes with TinyMCE built in: it's the visual editor you use to compose and edit all your posts and pages:

While the default visual editor has a lot of hidden potential once you master it, it can still be rather limited when it comes to more advanced editing.
Take Control of Your WordPress Visual Editor
If you used more advanced formatting in your posts, you probably need to use other tools besides the WordPress visual editor. For example, you might draft your posts in Microsoft Word in order to choose the right fonts and styles, or use a text editor with a search and replace function to save time in editing.
TinyMCE Advanced allows you to perform advanced formatting like this, right from your WordPress dashboard.
It enables you to:
create and edit tables
choose upper or lower case letters for ordered lists, instead of the default numbers
select disks or squares for unordered lists, instead of bullets
search and replace text
set font family and change font sizes
justify your text, in addition to left-align, right-align, and center
insert page breaks, emoticons, spaces, date and time, horizontal lines, and more
How to Set Up TinyMCE Advanced Plugin
Install and activate the plugin, and then navigate to Settings » TinyMCE Advanced to begin customizing your visual editor.
Your current toolbars are displayed at the top of the page.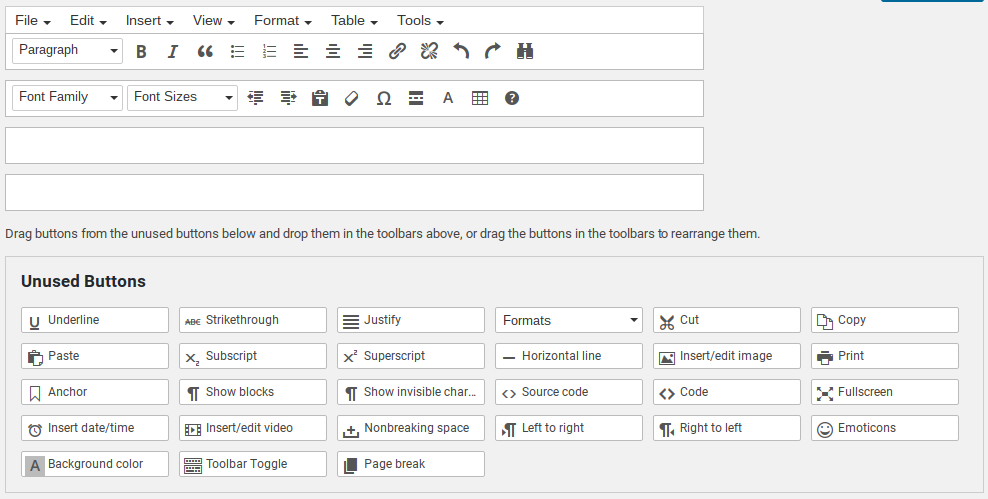 Right below are all the new buttons you can enable. Just drag and drop a button from the Unused Buttons area to the toolbar and location of your choice.
You can also drag and drop existing buttons to change the order to suit your preference.
Below that are more options, such as enabling more styling options for lists.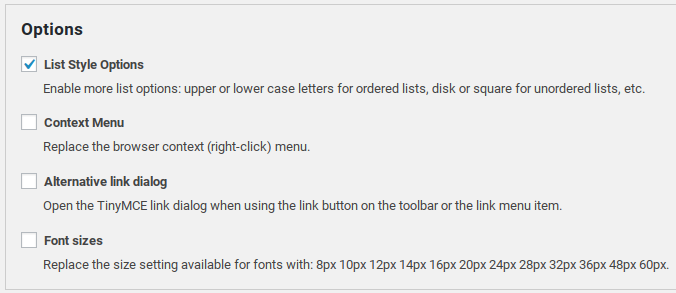 You can also choose to replace the context menu within your post with a new one.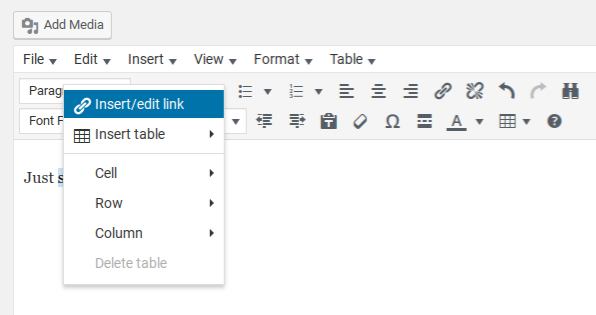 TinyMCE vs. TablePress for Creating HTML Tables
If you're looking into an easy way to create tables on your WordPress website, you may have seen our TablePress review. You know that tables can be used to format:
product comparisons
plans and pricing information
accounting and financial information
info on people, such as members of a team or organization
formulas and calculations
and more
If you only need to create the occasional simple table in a post or page, then the TinyMCE Advanced plugin will probably be all you need. It adds a button to your WordPress visual editor that enables you to quickly select the number of rows and columns and insert a table (very similarly to how most word processing applications work).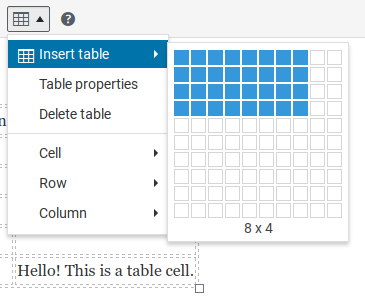 However, if you need to create more advanced tables, then TablePress is probably what you need.
Unlike TinyMCE Advanced, TablePress will enable you to use mathematical functions and formulas, allow visitors to sort and filter your data on the fly, create sticky header rows or columns, and much more.
Support and Documentation
Basic documentation is provided on WordPress.org and the official plugin site. There are also tutorials to troubleshoot and fix the most common issues that arise.
The plugin developer participates actively in the support forums at WordPress.org, attempting to resolve all issues posted, though sometimes it takes a few days for a response.
Our Verdict
TinyMCE Advanced is a plugin a lot of WordPress site owners want, though they may not know it! It enables all those features in the WordPress visual editor you've always wished you had.
We love how the plugin is easy to use with its drag and drop interface. Though the UI isn't pretty and could use more explanation of certain features, it works well enough.
TinyMCE Advanced is also a lightweight plugin, since it only activates the buttons you install in your toolbar.
With over a million downloads from the WordPress.org plugins directory, and an average rating of 4.6 stars, it's enjoyed by many WordPress users.
We give TinyMCE Advanced 5 out of 5 stars. Here is the breakdown of our review scores:
Get TinyMCE Advanced Now »