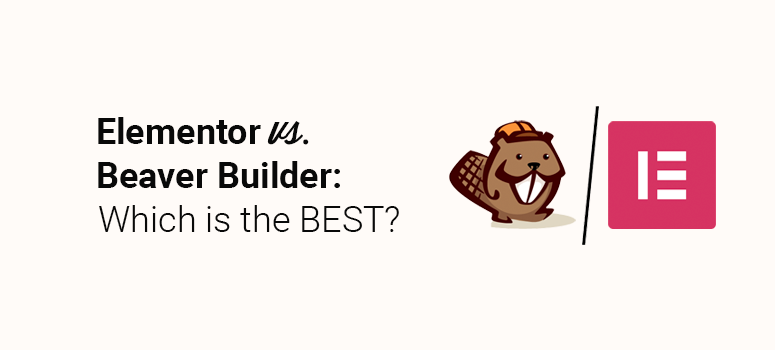 Are you looking for the best drag and drop builder for your WordPress website? Do you want to know which one would be better for you: Beaver Builder vs Elementor?
Page builders make it easy for you to set up your website without editing any code. However, they can differ in features and pricing so you'll want to be sure to pick the right one that will help you build and customize a website with ease.
Over the years, we've used both builders on our own sites, and in this article, we will talk about everything you need to know about Beaver Builder vs Elementor to help you determine which page builder is better for your website.
Beaver Builder vs Elementor: What Are They?
Both Beaver Builder and Elementor are among the most popular WordPress plugins like Divi to make a website using a drag and drop builder.
Beaver Builder is known as the original page builder WordPress plugin. It's feature-rich and user-friendly to create custom websites in just a few minutes.
Beaver Builder lets you customize every aspect of your page using a front-end view of your site. Added to that, the plugin is fast, flexible, and comes packed with tons of design options.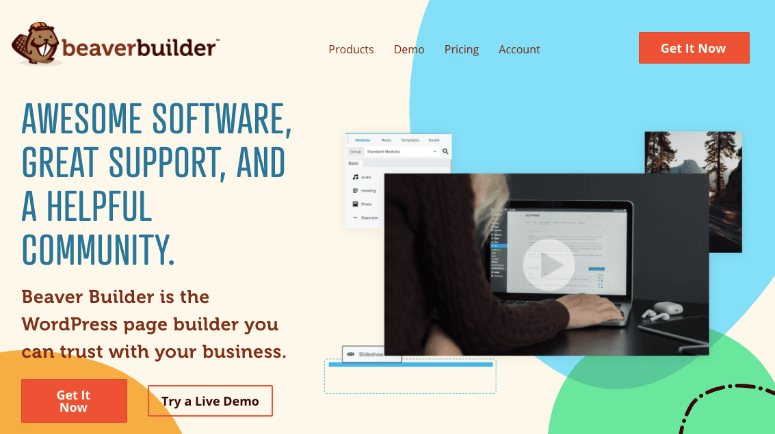 Elementor is the what-you-see-is-what-you-get (WYSIWYG) WordPress page builder plugin. It comes with a clean interface and a drag and drop builder to easily customize your entire website. You can even create posts and pages using their stunning premade templates and smart sections.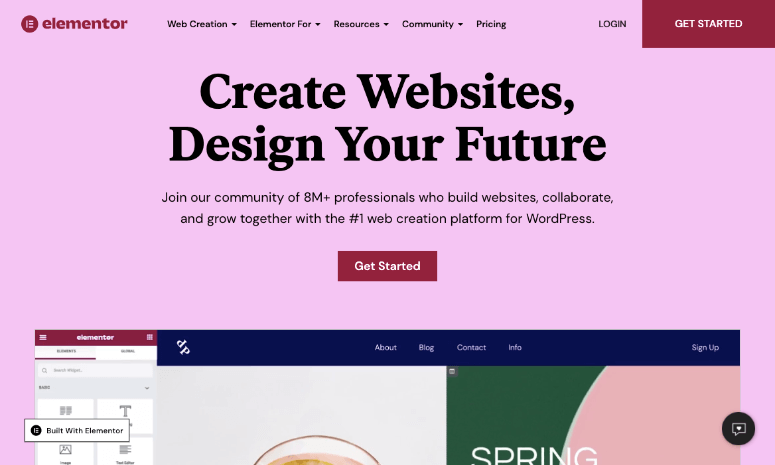 While both page builders offer similar features, Elementor stands out as a more beginner-friendly option.
They are also both designed for small businesses to enterprise users who want to create websites without editing code. Unlike manual website development that takes days and months, these plugins make it easy to launch a website within few minutes.
These builders are also compatible with most popular WordPress themes so you'll won't face issues when your building your site.
With that said, let's dive into the details of each plugin including their installation process, usage, features, pricing, and support so you can see which WordPress page builder is best for your website.
To help you easily navigate this post, we've broken down the comparison into simpler sections. Feel free to skip to the information you're looking for.
As both these plugins are widely popular, this comparison is going to be a battle of the giants. But by the end of this article, you'll find a clear winner between Beaver Builder vs Elementor. Now let's go straight into the comparison to find out which is the best WordPress page builder.
Beaver Builder vs Elementor: Interface Design
The interface design of a page builder will determine how easy it is for your to create and customize your page design. You'll use the interface, otherwise known as the backend, all the time while setting up your website pages.
You'll want to find a builder that's user-friendly and lets you easily access the features you need while building your site.
Beaver Builder and Elementor are the top page builders, and so, therefore, the interface design offered by both services is top-notch, user-friendly, and intuitive.
We'll share the interfaces one by one and then determine which one's better in the end.
Beaver Builder Interface Design
Beaver Builder provides a full-width frontend display to users making it easy to understand how the actual page will appear on the website.
There's a header on the top with basic information, including the page name, editing information, and a '+' icon. If you want to edit the page and add a module, click on the '+' icon.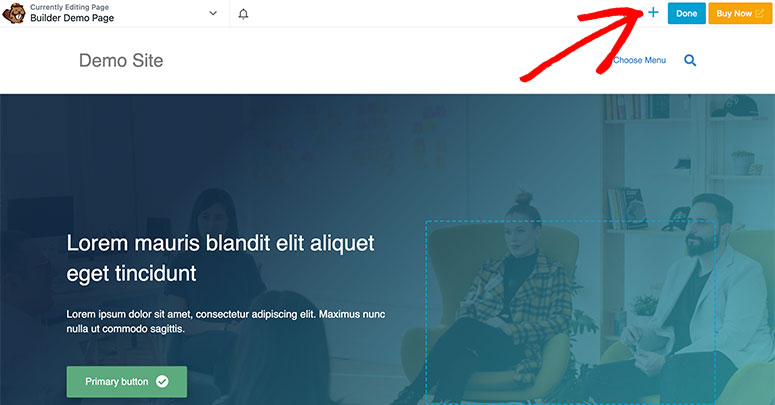 Since Beaver Builder is a complete drag and drop page builder, you can easily drag any module or element to your page.
Here are some of the key modules available in Beaver Builder editor:
Audio / Video
Heading
Button
Photo / Text Editor
Map
Gallery
Content Slider
And so on…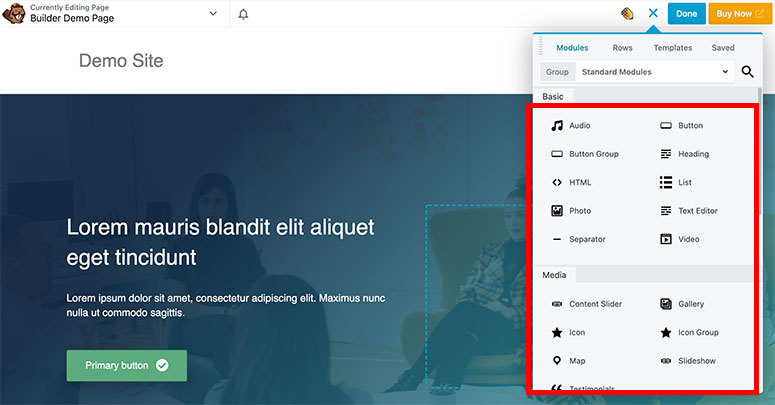 When you click on any text to edit, it'll open a popup where you can enter your content. You can also use the in-line editor to enter text and fonts on your page.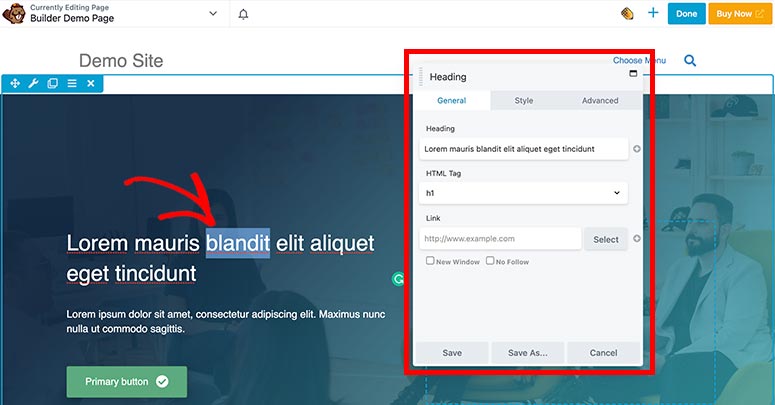 Once you're done editing the page, you can click on the arrow option next to your page name in the top bar to save the page template.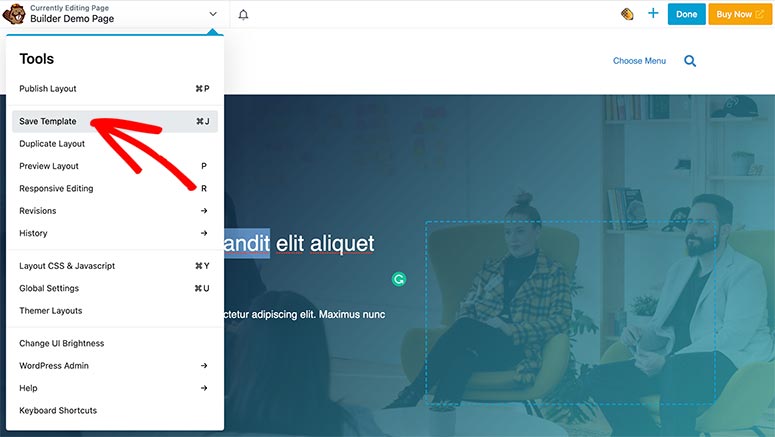 In the same menu, you'll see other page settings that you may require while editing the page such as global settings and layout CSS and JavaScript. One thing that stands out about Beaver Builder is that it stores your revisions and page history. This lets you revert to a previous version of your web page design if you don't like the new changes.
Elementor Interface Design
Elementor page builder has a beginner-friendly interface with a frontend page editor. On the left, you'll find a taskbar with all elements and editing options. On the right of the screen, there's a live preview of the page so you can edit the design on the go.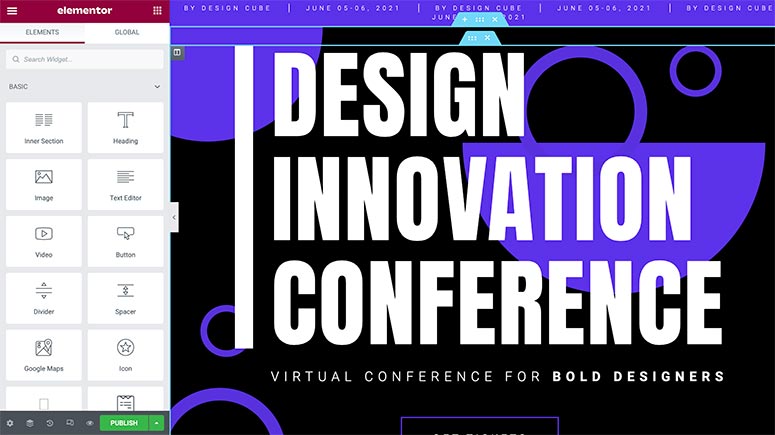 Here are the elements included in the Elementor builder:
Heading
Image / Video
Text Editor
Button
Divider
Spacer
Testimonials
And so on…
Similar to Beaver Builder, Elementor is also a drag and drop page builder. This means you can drag any element from the left panel to the page preview on the right side.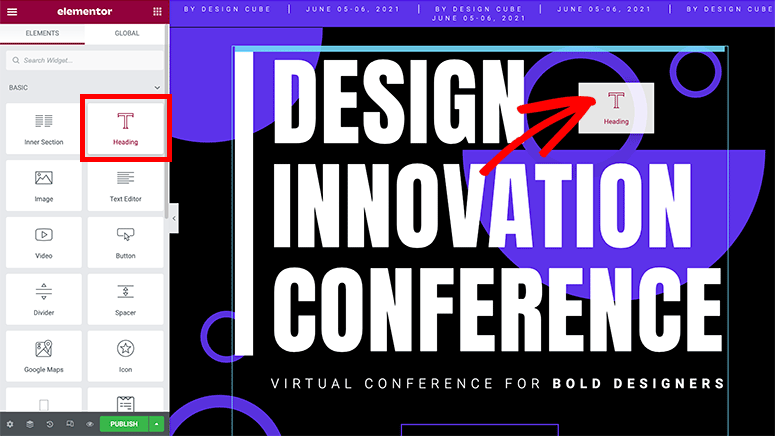 It provides an in-line text editor that lets you edit any text just by clicking on it. Once you click on a text element, you can also use the sidebar text area to customize your text. You can change the spacing, typography, and much more.
Similarly, if you click on an icon or other element from the preview, you'll find other formatting options, including text, icon, title and description, link, and more.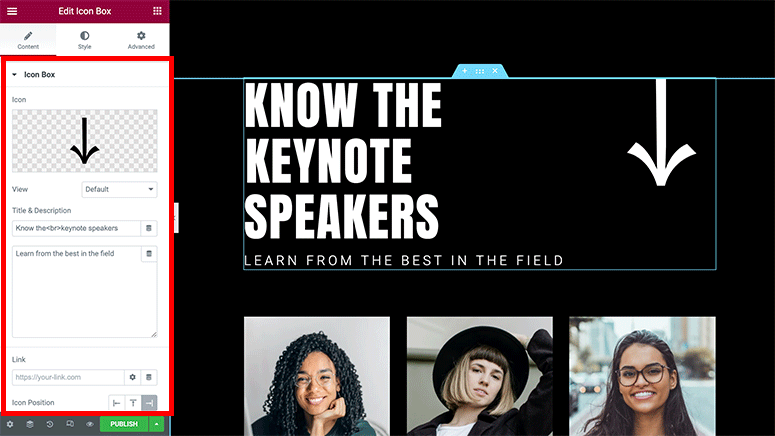 To save the page template, you'll need to look at the bottom left corner of the screen. There are several other settings like page title, publish status, featured image, and so on.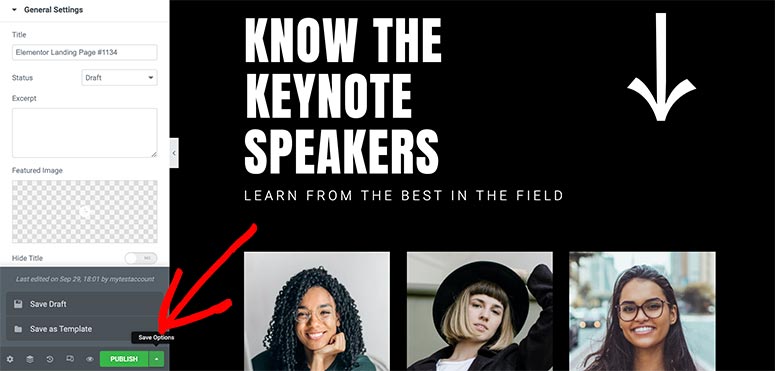 It also provides editing history and gives you the option to go back to the previous version. You can also preview the page on different screen sizes and resolutions. You can view the page as it would look on mobile and make mobile-only changes before publishing it live on your WordPress site.
Interface Design: Winner
When we compare the interface of Beaver Builder with Elementor, there's not a major difference as both designs include modules, drag and drop editor, in-line editor, and more.
However, Beaver Builder has a default full-width page preview that gives a better understanding of the front-end appearance of your page. It also offers flexibility to move the features panel on the right or left as you need, and you can also pin it to any side at your ease.
For the interface design, we consider Beaver Builder as a winner.
Beaver Builder vs Elementor: Theme Builder
Topping off the page builder with theme building functionality, you get complete access to change your website design and style while using your favorite page builder.
Both Beaver Builder and Elementor come with built-in theme builders. Beaver Builder offers it as an addon known as Beaver Theme, while Elementor includes it with its page builder.
Beaver Themer
Beaver Themer comes as a separate addon, and you need to install it independently.
After the installation, you need to visit Beaver Builder » Themer Layouts page in your WordPress dashboard to customize a template.
The Beaver Themer places ease of use right on top. It divides your website layout into sections so it's easy to customize one without affecting the other. The sections include:
Header
Footer
404 page
Single post
Archives
Part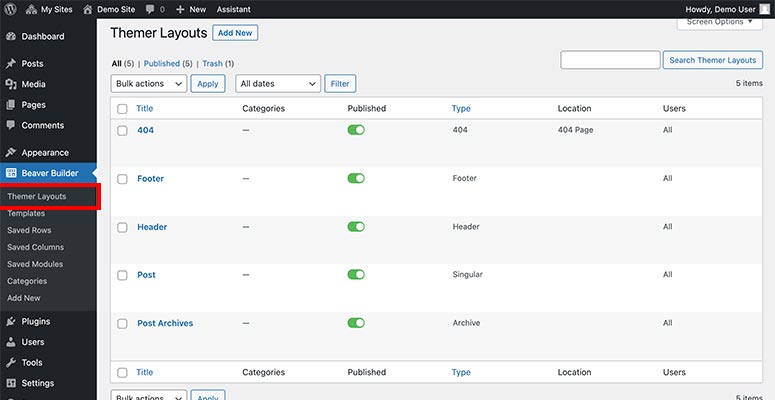 You can customize a built-in template that comes with demo content, images, and more. It also lets you add a new theme layout and design it from scratch.

Beaver Themer comes with custom rules to show a template based on your defined settings. You simply need to choose your preferences from the different possible options given below each template.
For example, you may want to add a custom header with a specific navigation menu only for the pricing page. Beaver Builder lets you do this by replacing the default header from your website.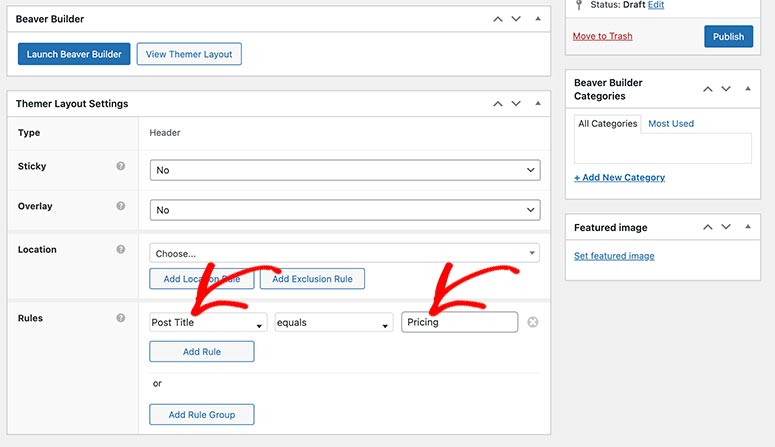 This rules system makes Beaver Themer highly flexible to customize your website design. You can add multiple rules for each template section and take complete control of your website.
Elementor Theme Builder
Elementor Theme Builder is an additional feature of their page builder and works just like the rest of its interface. You'll need to visit Templates » Theme Builder to access the built-in templates.
It also allows you to create custom design templates from scratch to replace the default theme sections. Similar to Beaver Builder, the templates include the following:
Header
Footer
Single pages
Single posts
Archive
404 pages
WooCommerce pages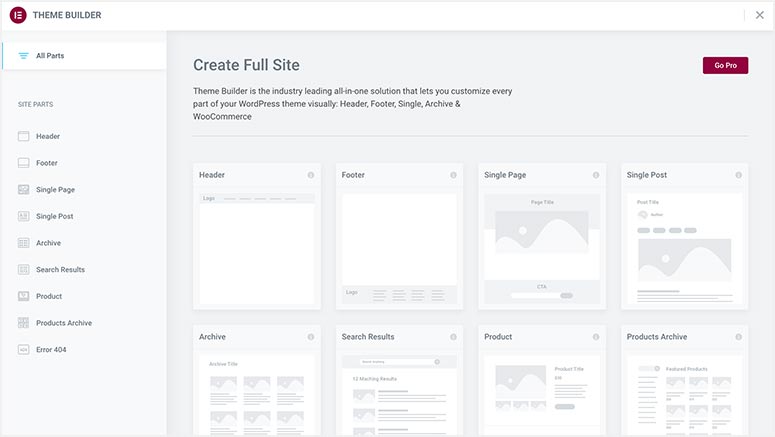 With the Theme Builder, you'll get access to theme sections. You can select the ones you want and apply display conditions to manage elements on your website.
For example, you can design the header or footer of your website and make it different from the header/footer of your WordPress blog.
This works for single pages and single posts as well. You can change the look of your posts for different authors by replacing them with custom post templates for each author.
Theme Builder: Winner
Beaver Themer is a paid addon and costs $147. This is an additional cost to the base price of the Beaver Builder plugin. However, the Beaver Themer has a powerful rules system to control the display of your website.
On the other hand, the Elementor theme builder comes without any additional cost. It offers additional support for WooCommerce pages and products.
It's hard to tell the clear winner, but we'll explain it on a use case basis.
If you're looking for flexible custom rules and conditioning and are willing to pay for the theme builder, then Beaver Themer is the right choice.
And, if you want a theme builder with basic display conditions but with no extra cost on your page builder, then the Elementor theme builder will work fine for your website.
It's a tie between Beaver Builder and Elementor for the theme builder.
Beaver Builder vs Elementor: Modules, Widgets, and Templates
When it comes to styling your website, Beaver Builder and Elementor are super flexible and offer tons of options.
Beaver Builder provides standard modules and rows to design your pages. At the same time, Elementor comes with creative widgets and theme elements to customize your website.
Both page builder plugins also offer professional page templates built by experts to launch different landing pages on your website quickly.
Let's dive into the details of these resources and find out who takes the lead in this section.
Beaver Builder Modules and Templates
Beaver Builder modules are divided into three groups:
Standard Modules
WordPress Widgets
Saved Modules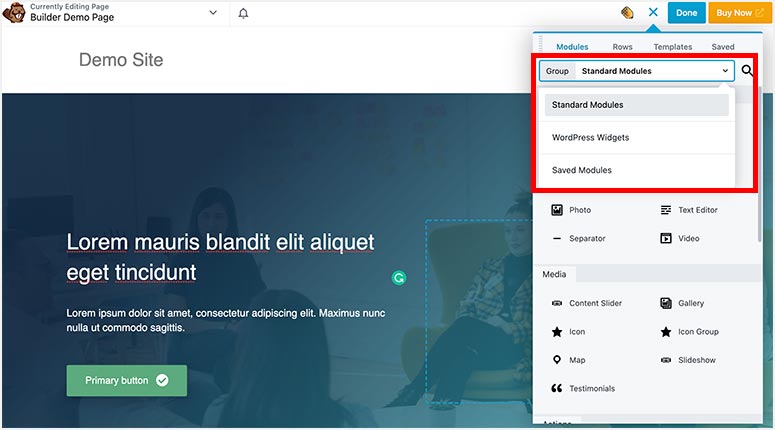 In the standard modules, you'll find different categories for basic, media, actions, layout, and more. For each category, there are other modules.
Here are some of the common modules to add to your pages:
Audio/Video
Photo
Text Editor
Slideshow
Call to Action
Pricing Table
Countdown
And more…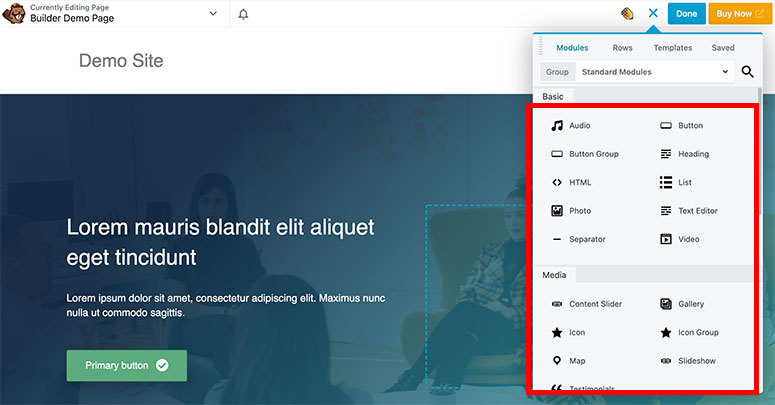 In the WordPress Widgets group, you'll find the general options that are also available in a simple WordPress website:
Archives
Block
Categories
Navigation Menu
Pages
Recent Posts
And more…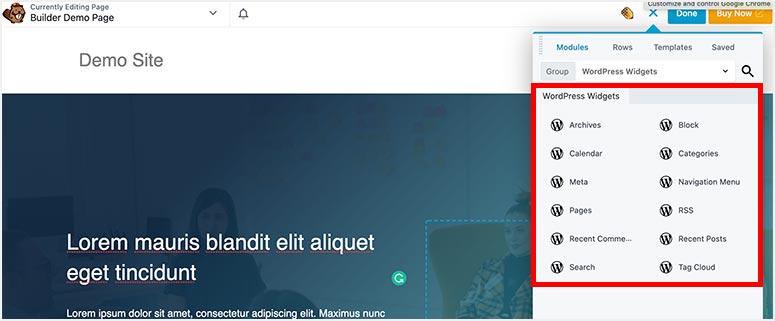 In the Saved Modules, you can store your custom modules built for additional functionality. This gives you easy access to previous customizations.
Templates
Beaver Builder templates are also divided into three groups:
Landing Pages: These pages are built for different business niches, situations, and user requirements. All landing pages are fully customizable and easy to replace with your default homepage template. There's a blank landing page template that you can use to design a page from scratch.
Content Pages: This group covers different pages required by any website. It includes about us, services, contact, case study, thank you, event, download, portfolio, team members, and other page templates. You can choose a template and replace it with your current page in just a few seconds.
Saved Templates: In this section, you'll find a blank template that you can use to make new page templates. You can also store any custom templates you create here.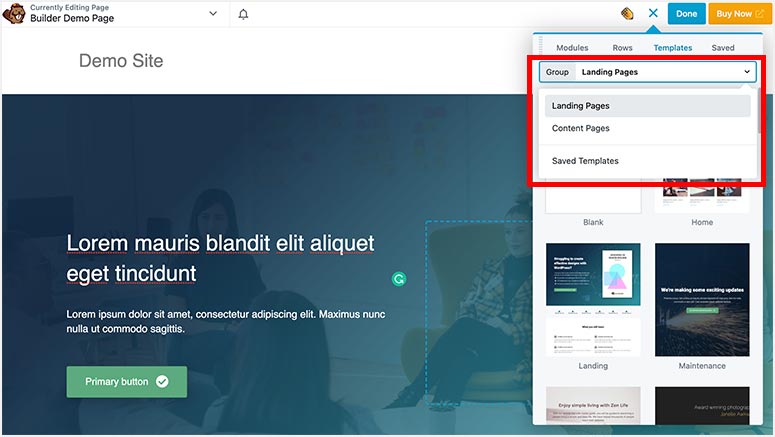 If that's not enough, Beaver Builder also lets you integrate with third-party templates to add more options in this section.
Elementor Widgets and Templates
Elementor has dozens of widgets and elements for your WordPress website, blog, and online store. It's divided into six sections:
Basic
Pro
General
Site
WooCommerce
WordPress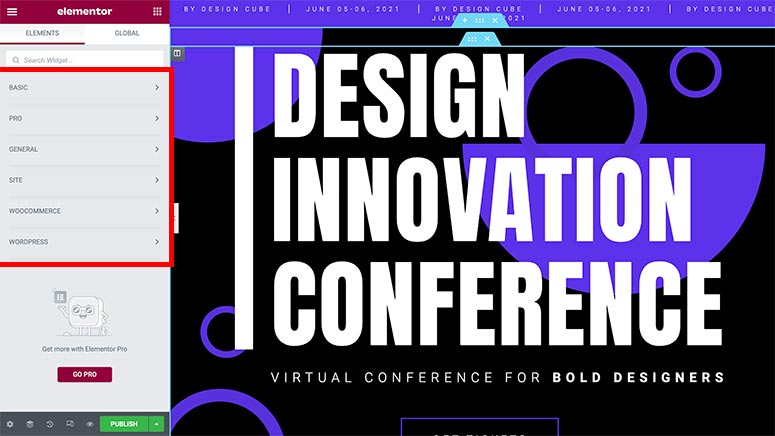 For each section, you'll find separate widgets and elements. Here are some of the standard widgets you'll find in the Elementor page builder.
Heading
Image/Video
Text Editor
Button
Basic Gallery
Google Maps
And more…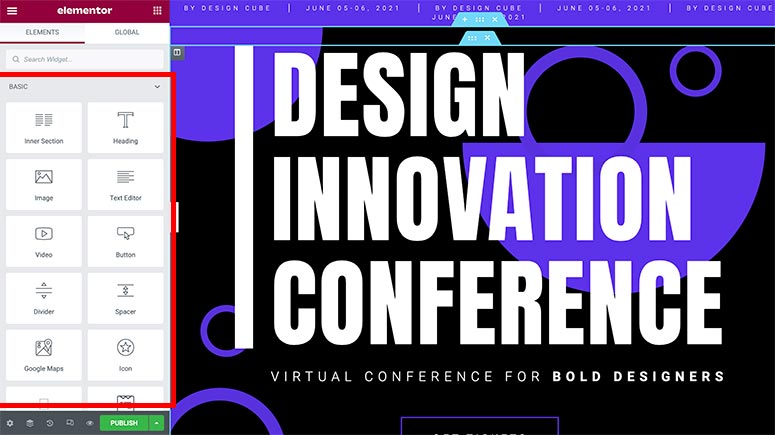 Additionally, it provides separate widgets for WooCommerce stores. This will help set up your online store and add products in just a few clicks.
The WooCommerce widgets include:
Products
WooCommerce Pages
Menu Cart
Product Categories
Product Images
Add to Cart
And more…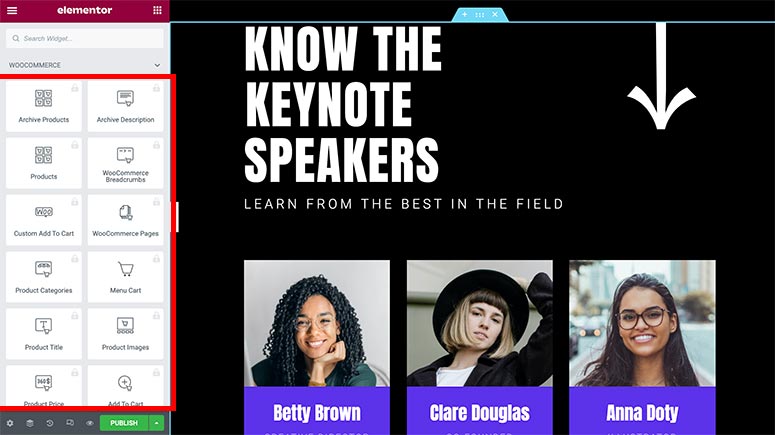 The WordPress widgets are similar to the Beaver Builder, with a few additional options.
Blocks & Templates
You'll need to visit Templates » Landing Pages from your WordPress admin dashboard and click on the Add New Landing Page button to access the Elementor library.
Inside, you'll see hundreds of custom blocks and professional landing page templates that you can launch in 1-click.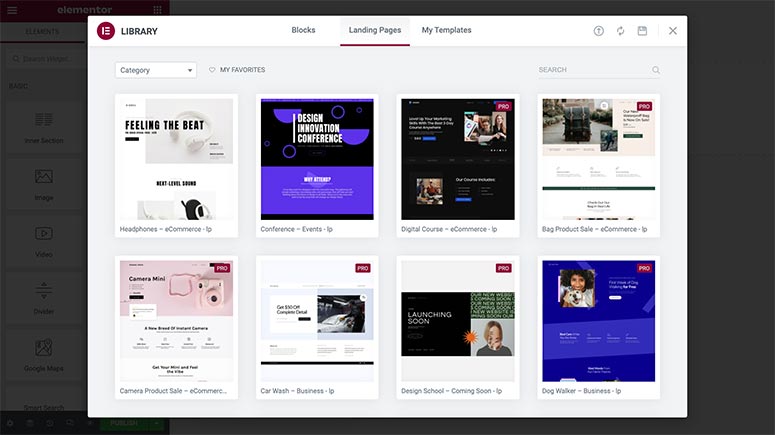 There are free and premium landing pages with lots of styling options. If you're using the free plan, you can also buy the premium landing page templates separately.
With Elementor Pro, you'll get access to all custom blocks and landing pages. You can also integrate third-party Elementor page templates to extend your page builder resources.
Modules, Widgets, and Templates: Winner
Both Beaver Builder and Elementor may offer similar options but are categorized differently. They also offer blocks to easily create an eCommerce section on your site.
Beaver Builder has modules and rows, while Elementor comes with widgets and elements. In this section, Elementor offers more flexibility and features to customize your website.
When it comes to templates, Elementor does offer more landing pages and custom blocks, even for the free version. Beaver Builder doesn't include any template in its free version.
Comparing modules, widgets, and templates, we can say that Elementor is a winner here.
Beaver Builder vs Elementor: Pricing
Pricing plans are the key factor for many businesses to decide which page builder to choose for a website.
If you're just starting out and are on a budget, this could be the ultimate factor that makes your decision. So we've thoroughly checked the prices for Beaver Builder and Elementor and compared them with the features offered against those plans.
Beaver Builder Pricing
Beaver Builder offers three pricing plans:
Standard – $99
Pro – $199
Agency – $399
These prices are valid for a first-time purchase. For all Beaver Builder paid plans, you get a 40% discount on the renewal.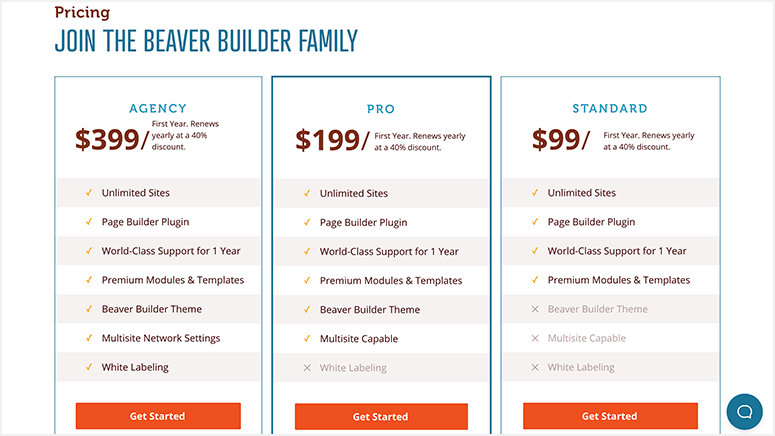 There's also a lite version of the Beaver Builder WordPress plugin that's free. touse. It lets you customize your website using the drag and drop functionality, custom modules, real-time changes, and more.
Beaver Builder's premium version is available for unlimited sites. This means you can use the Standard plan on all your sites. However, it doesn't include multisite support, Beaver Builder theme, and white labeling.
In the Beaver Builder Pro plan, you'll get their built-in theme and multisite option. The Agency plan comes with all features and white labeling. All paid plans include premium support on email, Slack, and Facebook.
The Beaver Themer addon comes with an additional $147, and it works for unlimited sites.
Keep in mind that all the Beaver Builder plans have a 30-day money-back guarantee so you can test the builder before you make a commitment.
Elementor Pricing
Elementor comes with five different premium plans.
Essential – $49
Advanced – $99
Expert – $199
Studio – $499
Agency – $999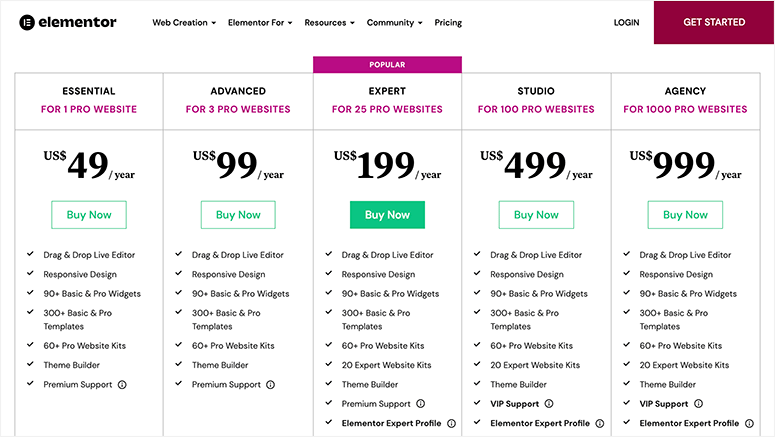 There's also an Elementor free plan with basic widgets, templates, and complete drag and drop functionality.
All Elementor paid plans include basic and pro widgets, over 300 templates, a theme builder with no additional cost, and premium customer support. The top-tier plans (Studio & Agency) also offer live chat support with exclusive experts.
Elementor paid plans have support for a limited number of websites. For example, the Essential plan allows you to use the page builder on only one website, the Advanced plan allows up to three websites, and so on.
Even the topmost Agency plan doesn't offer unlimited websites access.
Pricing: Winner
Beaver Builder paid version is accessible for unlimited websites, and they offer flexible pricing with renewal discounts. The page builder's unique features are top-notch and their customer support is quite fast, even for the free plan.
Elementor has a complex pricing model for the pro version that caters to a wider range of budgets so there's a plan for everyone! It offers exclusive features to basic paid plan users which is a great option for those who are just starting out.
The free version of Elementor is designed to let anyone build a beautiful website for free. However, the downside is it limits the number of websites you can use the license on.
Factoring all this in, Beaver Builder comes out on top as the winner for the pricing section.
Beaver Builder vs Elementor: Conclusion – A Clear Winner
Beaver Builder and Elementor are no doubt the top contenders among the WordPress page builder plugins on the market.
To determine a winner, let's take a quick recap:
Beaver Builder comes with a fast drag and drop page builder, premium quality templates, modules, and more. The user interface is ultra-flexible and easy to use.
The pricing plans for Beaver Builder are simple and affordable for long-term WordPress users. You have to pay an additional cost for their Beaver Themer but their rules system that comes along with the theme builder makes it worth the price. Plus, it provides white labeling on high-tier plans.
Beaver Builder has expert-level support available for all plans. This includes email support, private Slack community, and Facebook support.
On the other hand, Elementor offers a live page editor with drag and drop functionality, hundreds of free and premium page templates, a large variety of widgets, and more.
However, their pricing model is a bit complex, with limited website access. If you have multiple websites, the cost of your license can be quite high.
Elementor provides customer support to all users but the live chat support is only available for their top tiers starting at $499 per year.
After a thorough comparison on different levels, Elementor is a good choice for website owners on a budget, but looking at advanced features and long-term growth, we can say that Beaver Builder is a clear winner!
I want to explore more options…
If you're looking for a more flexible and user-friendly landing page builder plugin for WordPress, we recommend SeedProd.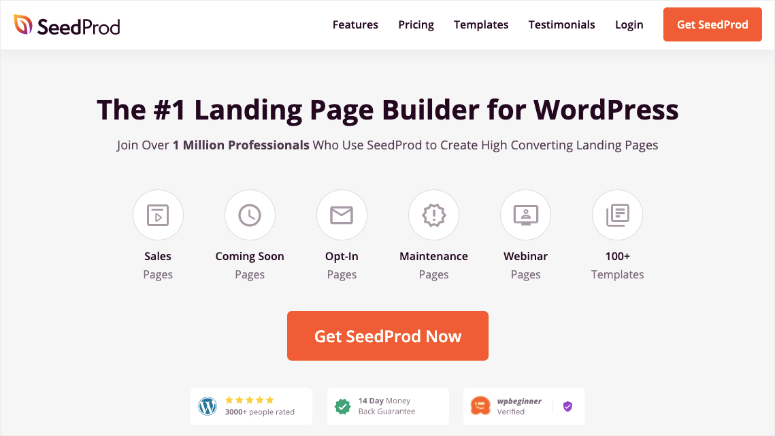 SeedProd is incredibly easy to use, highly responsive, and fast in performance. It comes with readymade landing page templates for sales, options, coming soon, maintenance, and 404 errors.
These templates are designed to look great out of the box, plus there's a drag and drop builder to customize it to your liking. You can add smart sections and blocks like contact form, inline optin form, social media sharing, countdown timers, headlines animations, and more.
All aspects of web design can be done with button clicks. You won't have to embed shortcodes or know any coding to design beautiful web pages. At the same time, if you're a developer, there's room to add custom CSS to style the page even further.
Other than the general page builder features, it comes with powerful integrations with third-party services, including MailChimp, Constant Contact, and more. It also provides built-in spam protection that makes sure every page you publish is automatically protected from spambots.
If you want to build an email list with your landing pages and track every subscriber without using an additional WordPress plugin, SeedProd is perfect for you. Not only does it have a built-in subscriber management tool but also offers visual insights into your growth.
To top it off, SeedProd integrates with SEO plugins like All In One SEO to help you optimize your pages and user experience before you publish them.
When it comes to SeedProd pricing, you'll find a mixture of what you get with Beaver Builder and Elementor. This pricing model makes SeedProd the favorite WordPress page builder plugin for millions of users.
That's all we got for you. We hope this Beaver Builder vs Elementor comparison gives you a clear picture of the two popular WordPress page builder plugins. You may also want to see our review of the Divi Builder.
Moving ahead, we also recommend you to check out these guides:
After selecting a page builder, these guides will provide more resources to grow your website, capture leads, and add valuable forms in WordPress.