Are you looking for a powerful page builder for your WordPress site? Beaver Builder is a popular drag and drop page builder for WordPress and might be just what you're looking for.
In this Beaver Builder review, we will take a look at its features, performance, and ease of use.

What is a Page Builder WordPress Plugin?
When you're looking for a theme for your WordPress website, you can buy a theme that looks closest to what you have in mind. You will have to rely on the theme's features to customize it.
Or, you can hire a WordPress developer to work out a theme exactly as you've imagined. This will be costly and may not work out as nicely as you'd hope.
Last, you can use a page builder plugin to build your website block by block. This will give you the freedom to use any layout you want. Use multiple layouts for different pages, use your own colors, styles, and content anywhere on your site.
There are plenty of page builder plugins. Some of them are very difficult to use, some of them have too much bloat packed into them.
The perfect page builder plugin for WordPress should allow you to create your website in a live mode. It should be fast and easy to use. If you ever decide to use something else, it should not leave a mess behind.
That said, let's take a look at how Beaver Builder fits our criteria.
Easily Create Designs and Layouts with Beaver Builder
Whether you're a WordPress beginner or a seasoned professional, you'll love the powerful capabilities and intuitiveness of the Beaver Builder plugin.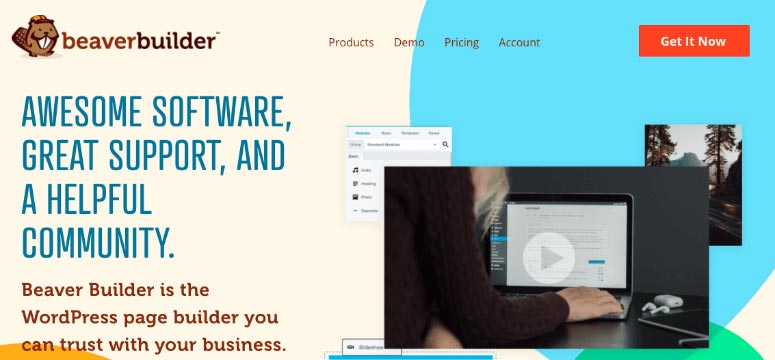 You never have to touch the code or wrestle with confusing shortcodes to build professional websites. With drag and drop, you can build stunning pages in minutes, not months.
Let's take a look at how Beaver Builder makes it easy to create stunning pages for your WordPress site:
1. Dozens of Creative Page Templates to Choose From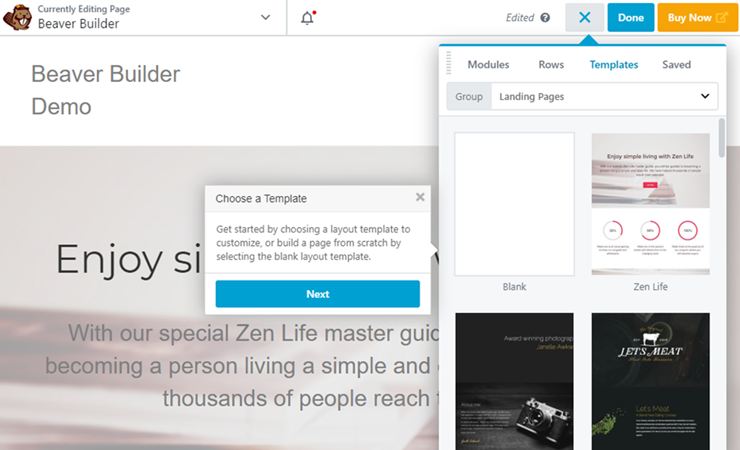 Beaver Builder comes with over 30 stunning page templates. The Beaver Builder plugin works on all WordPress themes, so you don't have to change your favorite theme to start using the plugin. In case you find any compatibility issues with your WordPress theme, you can reach out to their friendly support team and get the issues sorted out.
As long as you're using a responsive WordPress theme, all the pages you create will be 100% responsive, meaning they look great on all devices.
You can use all Beaver Builder templates with any of your premium plans, with no hidden charges. You can find templates for small business, eBooks, law firms, and many more.
You can also find many inner page templates such as contact pages, newsletter signups, about pages, pricing tables, and a lot more.
To save even more time, the plugin also allows you to save an infinite number of templates in the builder. Similarly, you can save both the raw and modules in the builder.
2. Easy-to-Use Page Builder
Most WordPress page builders work inside the post edit screen. Users have to guess what their page will look like or launch a preview in a separate tab.
With Beaver Builder's easy-to-use frontend editor, you don't have to switch back and forth between Preview and live site. To use the frontend editor, go to your WordPress page editor and choose the Beaver Builder tab.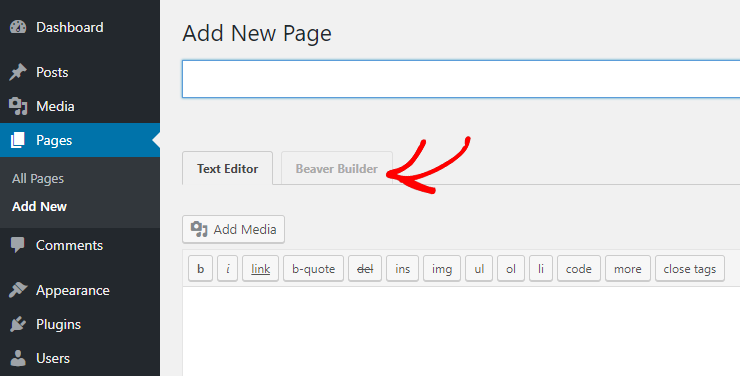 This will direct you to the frontend of your WordPress site. Then you can start building and customizing your pages on the frontend in real time.
The page builder interface shows you a live preview of your page with tools on the right. You can simply click anywhere on your page and start customizing that section. You can also add more rows, content blocks, widgets, and advanced elements like toggles, accordions, tabs, etc.
Beaver Builder comes with a live visual editor which allows you to edit your page in a WYSIWYG environment. This makes it an incredibly easy to use page builder plugin for WordPress.
Beaver Builder also supports shortcodes and widgets. That means you can use Beaver Builder on your pages in conjunction with your
favorite WordPress plugins.
3. Position Your Content With Great Precision
Positioning images and text in your default WordPress page editor is a pain. With Beaver Builder's frontend drag and drop page editor, you can easily position your content with great precision. Once you've finished editing, you can save the changes directly from the frontend or revert back to the last published state.
4. Get Complete Control of Your Content
Beaver Builder allows you to switch your theme without losing your content. If you decide to stop using Beaver Builder, your content gets ported right back into the WordPress editor.
5. Available as Both a Plugin and a Theme
Beaver Builder is available as both plugin and a theme. The theme is a perfect balance of settings and functionality. You can customize the theme just as you edit your pages.
The Beaver Builder theme allows you to make live edits via the WordPress customizer. All your theme settings can be found in the customizer. That way, you can live preview any of your theme settings changes.
The theme also comes with a wide variety of presets. With the click of a button, the presets automatically update the theme settings to create dozens of different styles.
Beaver Builder is Friendly for Beginners as Well as Developers
Beginners who need help getting started will find Beaver Builder tremendously helpful.
Developers working on client sites will enjoy its developer-friendly features such as Editor Mode, which stops clients from breaking your layout. Developers can also integrate custom widgets, shortcodes, or use Beaver Builder's custom module boilerplate.
Every layout you create can be saved as a template and reused. You can also save and reuse rows and modules. You can even move your layouts from WordPress site to another using the default WordPress import/export tools.
Powerful Ready-to-Use Modules in Beaver Builder
Modules act like blocks that you can add to your pages. Beaver Builder comes with all the essential modules that you'ill ever need to build any kind of website.
Text Editor– Adds a visual text editor similar to the WordPress post editor
Video– Adds videos from media library, YouTube, Vimeo, etc.
Accordion– Adds an interactive accordion menu. Ideal for FAQs or Q&A pages
Button– Add beautiful buttons with links
Call to Action– Adds targeted call to actions
Callout– Similar to call to action with different layout
Contact Form– Quickly add a contact form.
Content Slider– Adds beautiful sliders with images and text
Tabs– Add content in tabs
Number Counter– Adds beautiful animated circles, numbers, and bar counters
Custom HTML– Adds custom HTML and WordPress plugin shortcodes
Font Icons– Use FontAwesome, Foundation, and Dashicons
Map– Adds Google Maps
Post Carousel– Adds beautiful post carousel from your posts, pages, or custom post types
Pricing TableAdds beautiful pricing tables.
Social ButtonsAllows users to easily share your content on social network
Testimonials– Creates beautiful testimonial slider with various style choices
WooCommerce– Add products using simple drag and drop to build an online store
We think that this list of modules contains the most commonly used elements of modern websites.
Pricing and Support Options for Beaver Builder
Unlike most WordPress page builders available on the market, Beaver Builder allows you to download a lite version of the plugin for free from the official WordPress repository.
If you don't have a budget for all the premium features, you can get started with the lite version of Beaver Builder. The lite version comes with limited features and support.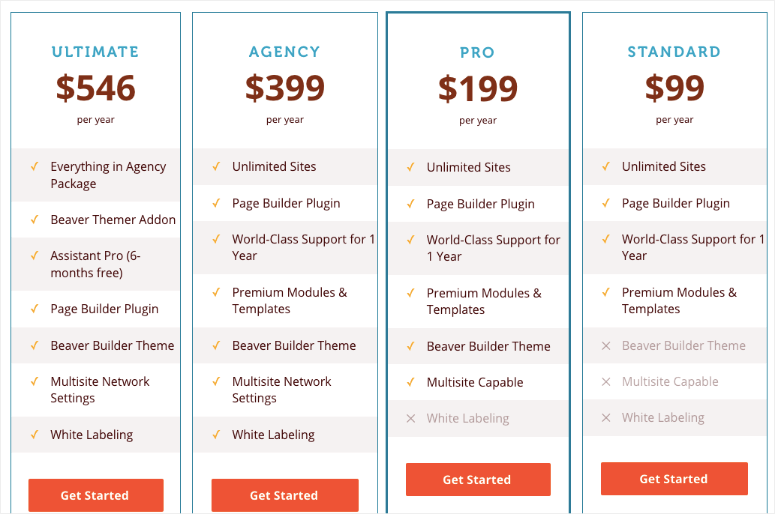 The premium version of Beaver Builder is available in 4 different plans: Standard, Pro, Agency, and Ultimate. All plans allow you to use the page builder for unlimited sites and also offer their world-class support for one year.
The only difference is that the Standard plan doesn't come with the Beaver Builder theme. The Pro plan is shipped with the theme and multi-site capability. The Agency plan gives you all the features of the Pro plan. Plus, it enables you to white label the builder. That way, you can build websites for your clients while changing all instances of the words Page Builder and Beaver Builder in the WordPress admin area.
Take a look at the different Beaver Builder pricing plans (per year) here:
Standard: $99
Pro: $199
Agency: $399
Ultimate: $546
For the best deal, check out our Beaver Builder coupons!
Alternative to Beaver Builder
The best alternative to Beaver Builder is SeedProd.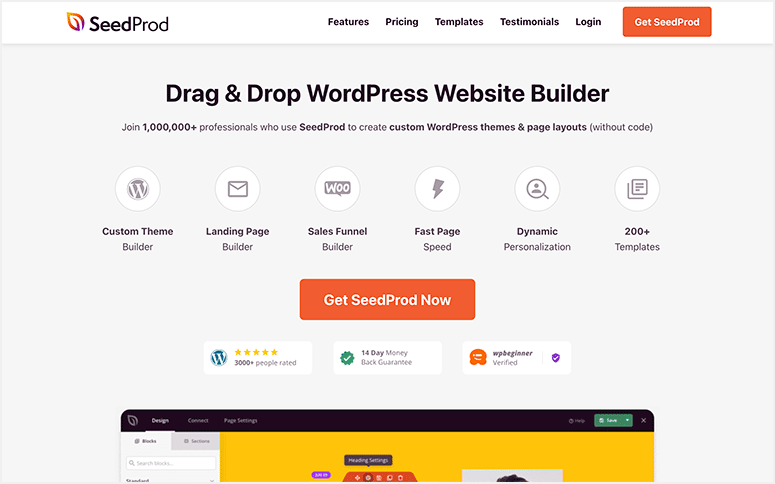 SeedProd is an awesome website theme builder and landing page builder.
It's incredibly easy to use making it a great choice for beginners.
First, it comes with built-in coming soon and maintenance mode. So you can hide your website while it's under construction.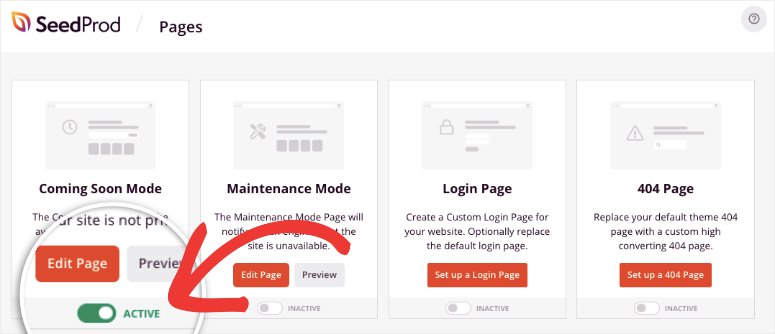 You can display a beautiful placeholder page with your logo and branding.
Next, there are plenty of themes to choose from to create pages, posts, and even an entire website.
Then there's a drag and drop builder to customize your site. There are so many blocks to choose from including animated headlines, countdown timers, optin forms, and more.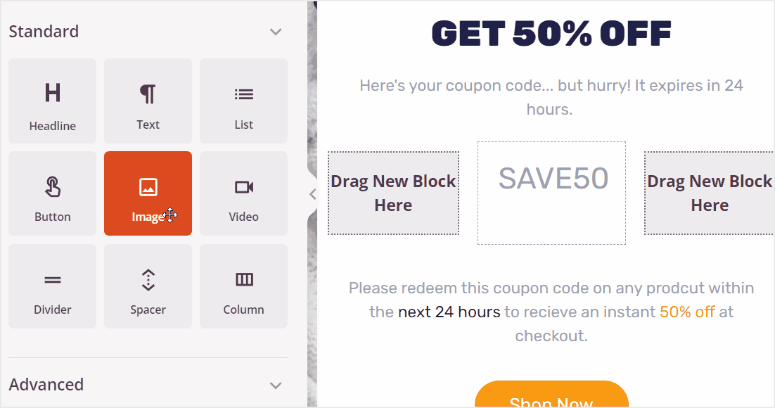 In a nutshell, here's SeedProd's highlights:
Readymade templates and page blocks
Drag and drop page builder
Subscriber management
WooCommerce support
Email marketing integrations
Want to know more? See our complete SeedProd Review .
You may also want to check out more options here: The Best WordPress Page Builders.
Our Verdict on Beaver Builder as the Best WordPress Page Builder
We believe that Beaver Builder is the most easy to use drag and drop page builder plugin for WordPress. Without a doubt, it's one of the most downloaded WordPress page builders in existence and is best suited for websites of all sizes. Its easy-to-use user interface makes it convenient for anyone to build a highly-customized WordPress website. It comes with all the powerful page building features you could ever ask for.
We give Beaver Builder 4.2 out of 5 stars. Here is a breakdown of our scoring system:
Get Beaver Builder Now »
See Beaver Builder Coupon »