Are you looking for a powerful page builder for your WordPress site? Beaver Builder is a popular drag and drop page builder for WordPress. In this Beaver Builder review, we will take a look at its features, performance, and ease of use.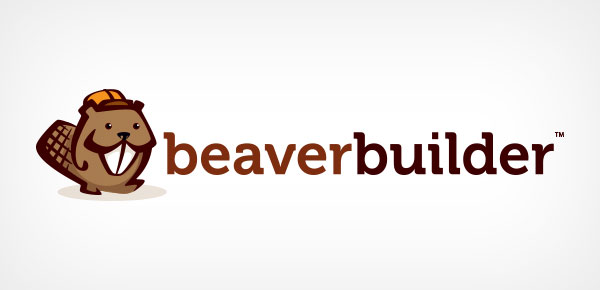 What is a Page Builder WordPress Plugin?
When you are looking for a theme for your WordPress website, you can buy a theme that looks closest to what you have in mind. You will have to rely on theme features to customize it.
You can hire a WordPress developer to work out a theme exactly as you have imagined. This will be costly and may not work out as nicely as you would hope.
Lastly, you can use a page builder plugin to build your website block by block. This will give you the freedom to use any layout you want. Use multiple layouts for different pages, use your own colors, styles, and content anywhere on your site.
There are plenty of page builder plugins. Some of them are very difficult to use, some of them have too much bloat packed into them.
The perfect page builder plugin for WordPress should allow you to create your website in a live mode. It should be fast and easy to use. If you ever decide to use something else, it should not leave a mess behind.
Having said that, let's take a look at how Beaver Builder fits that criteria.
Easily Create Designs and Layouts with Beaver Builder
One thing you would immediately notice after installing Beaver Builder is its ease of use. You can simply click on the page editor tool, choose a template, and start editing.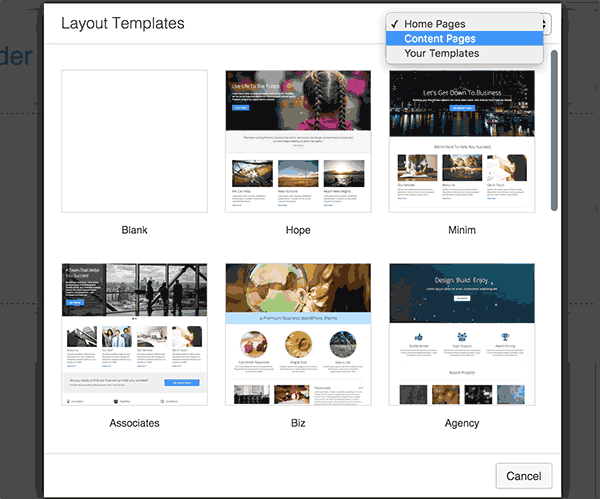 The page builder interface shows you a live preview of your page with tools on the right. Simply click anywhere on your page and start customizing that section. You can also add more rows, content blocks, widgets, and advanced elements like toggles, accordions, tabs, etc.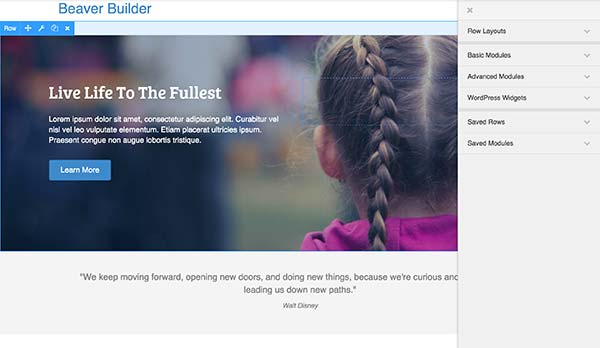 Most WordPress page builders work inside post edit screen. Users have to guess what their page would look like or launch a preview in a separate tab. Beaver Builder comes with live visual editor which allows you to edit your page in a WYSIWYG environment. This makes it an incredibly easy to use page builder plugin for WordPress.
Beaver Builder is Friendly for Beginners as well as Developers
Beginners who need help getting started would find Beaver Builder tremendously helpful. Its easy to use, with live editing, ready-to-use layouts and templates, and works well with plugins.
Developers working on client sites would enjoy its developer friendly features such as Editor Mode, which stops clients from breaking layout. Developers can also integrate custom widgets, shortcodes, or use Beaver Builder's custom module boilerplate.
Every layout you create can be saved as a template and reused. You can also save and reuse rows and modules. You can even move your layouts from WordPress site to another using the default WordPress import/export tools.
Powerful Ready-to-Use Modules in Beaver Builder
Modules act like blocks that you can add to your pages. Beaver Builder comes with all the essential modules that you will ever need to build any kind of website.
Text Editor – Adds a visual text editor similar to the WordPress post editor
Video – Adds videos from media library, YouTube, Vimeo, etc.
Accordion – Adds an interactive accordion menu. Ideal for FAQs or Q&A pages
Button – Add beautiful buttons with links
Call to Action – Adds targeted call to actions
Callout – Similar to call to action with different layout
Contact Form – Quickly add a contact form.
Content Slider – Adds beautiful sliders with images and text
Tabs – Add content in tabs
Number Counter – Adds beautiful animated circles, numbers, and bar counters
Custom HTML – Adds custom HTML and WordPress plugin shortcodes
Font Icons – Use FontAwesome, Foundation, and Dashicons
Map – Add Google Maps
Post Carousel – Adds beautiful post carousel from your posts, pages, or custom post types
Pricing Table Adds beautiful pricing tables.
Social Buttons Allows users to easily share your content on social network
Testimonials – Creates beautiful testimonial slider with various style choices
WooCommerce – Add products using simple drag and drop to build an online store
We think that this list of modules contains the most commonly used elements of modern websites.
Pricing and Support Options for Beaver Builder
Beaver Builder is a premium WordPress plugin. It has a light version available for free from official WordPress repository. The light version comes with limited features and support.
Pricing for the premium version starts from $99 per year for standard license. This license does not give you access to Beaver Builder Theme and multisite capability.
The pro license is available for $199 and gives you access to Beaver Builder Theme and multisite capability.
Agency license gives you white labeling capability and it costs $299. All plans allow you to use Beaver Builder on unlimited sites and come with premium support.
Our Verdict
We believe that Beaver Builder is the most easy to use drag and drop page builder plugin for WordPress. It has an intuitive user interface, which is very easy to understand. It has all the powerful features you can ask for.
We give Beaver Builder 4 out of 5 stars. Here is the breakdown of our scores.
Get Beaver Builder Now »
If you liked this article, then please consider following us on Twitter and Facebook. If you have any questions, please let us know by leaving a comment below.