Do you want to build and grow your email list? Using a lead generation plugin like Thrive Leads is the best way to grow your email list faster.
In this Thrive Leads review, we'll take a look at its features and explain how the plugin actually works to find out if it's the best WordPress list building plugin for your site.

Note: At IsItWP, we use OptinMonster for lead generation, an alternative to Thrive Leads. You can read our complete OptinMonster review for more information.
Why Do You Need an Email List Building Plugin for WordPress?
Building an email list is one of the best ways to build a long-lasting relationship with your potential customers.
With a list building plugin (also called a lead generation plugin), you can turn your website visitors into leads or subscribers. The default optin forms that you can generate from your email marketing tool (such as MailChimp, SendinBlue, or Aweber) look generic and boring. With a lead generation plugin, you can create stunning optin forms quickly and easily that are proven to generate conversions.
About Thrive Leads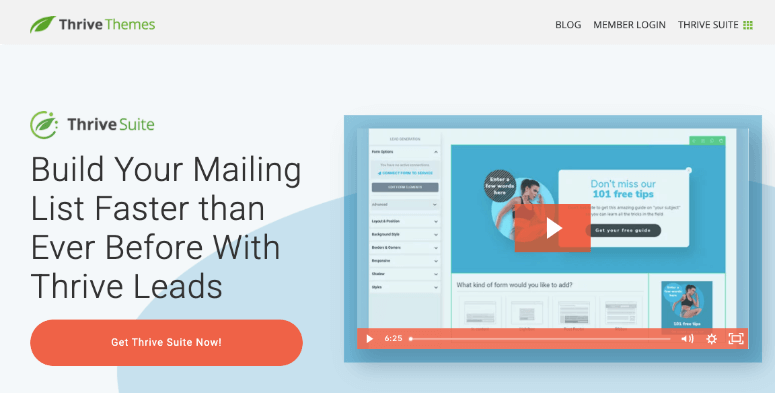 Thrive Leads is a powerful plugin that allows you to create beautiful optin forms on your WordPress website. By creating stunning optin forms, you can attract your website visitors' attention quickly and entice them to subscribe to your email list. You can also create highly-targeted campaigns that are proven to drive more conversions.
Types of Optin Forms You Can Create with Thrive Leads
The Thrive Leads plugin lets you build a wide variety of optin forms and display them on different parts of your WordPress site. It provides you with 10 highly-engaging optin types to invite users to subscribe to your email list.
Popup Lightbox: A popup lightbox appears (pops up) above your content and prompts your site visitors to fill in the form and subscribe.
Sticky Ribbon: Sticky ribbon remains at the top of the screen even after the user scrolls down the page.
In-Line Forms: In-line forms display at the bottom of your posts or anywhere within the post using a simple shortcode.
2-Step Optin Forms: This lets you trigger a popup when your visitors click on a link, image or button.
Slide-in Forms: A slide-in optin is a form that appears at the bottom right corner of your page as the visitors scroll down.
Optin Widget: You can display optin forms in the sidebar or any widget-ready area of your site with optin widgets.
Screen Filler Overlay: It's an overlay optin that covers your entire screen to convert your visitors.
Content Lock: Entice users to subscribe to your list by locking your content.
Scroll Mat: It's a full screen form that appears at the top by pushing the content down.
Multiple Choice Forms: These forms offer multiple choices to the users.
Creating Forms
After you install and activate the Thrive Leads plugin, you'll be able to see your Thrive Leads dashboard as in the screenshot below.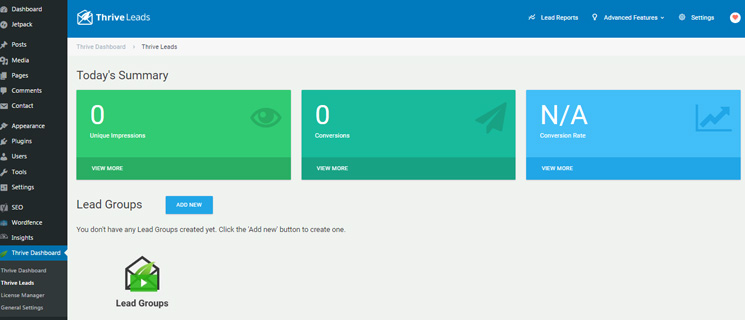 The first thing you'll need to do is create Lead Group. For example, we have created a lead group, 'Lead Group 1', as shown in the screenshot below.
A lead group is a form or group of forms that you can display globally across your site or on a specific post category. You can add multiple types of forms in a lead group.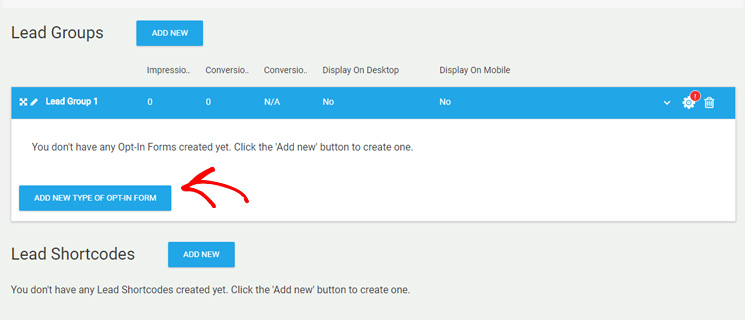 Now, you have to add a form type. You can choose one from 9 form types available in Thrive Leads.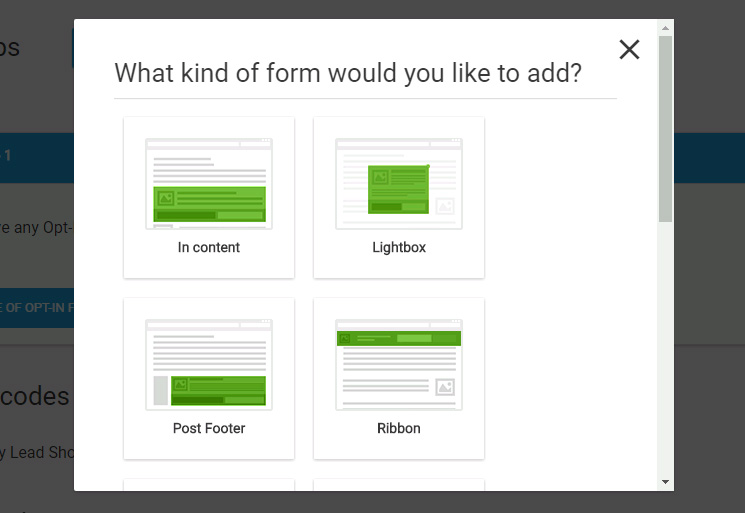 For example, we've chosen popup lightbox. Next, you'll be asked to add a form.

We created our first form and named it 'Form 1'. Next, you can manage triggers, display frequency, animation, and the design of the form.

In order to manage triggers, click on the assigned trigger option and a drop-down containing the trigger options will appear. Choose the trigger you want.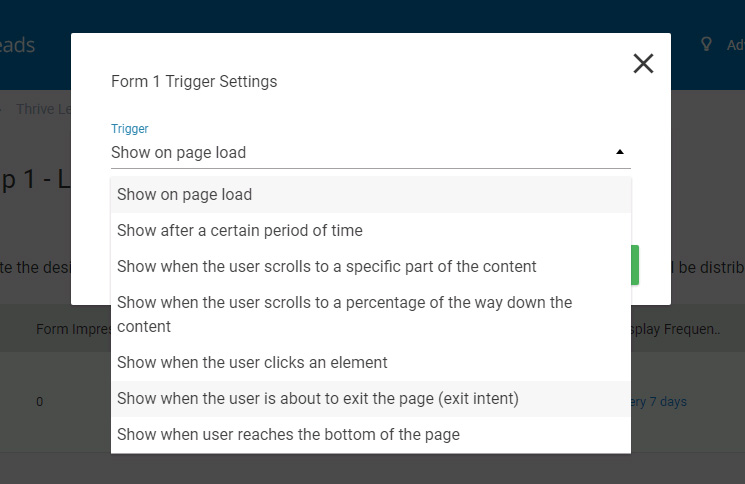 Similarly, you can set the display frequency and animation options.
Design Your Optin Forms with the Drag and Drop Builder
So, the next step is to design your form. Simply, click on the blue pencil icon on the right-hand side of the screen to edit the design of your form.
Now, you'll find a large variety of optin templates. There are also multi-step optin templates for 2-step optin forms. All the templates are well-designed and highly attractive.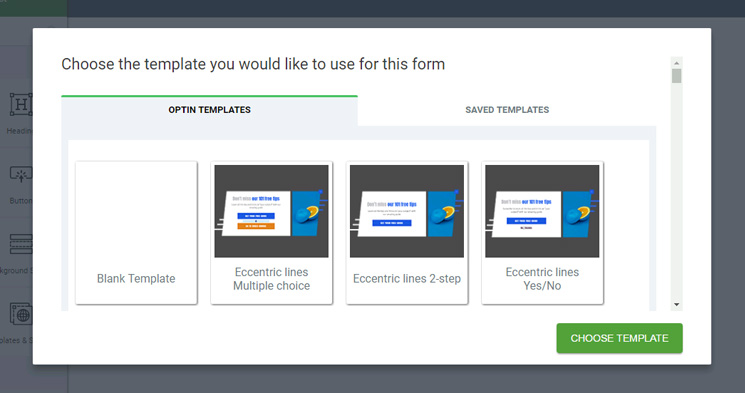 Choose any one of the templates and it'll open the form editor page like this: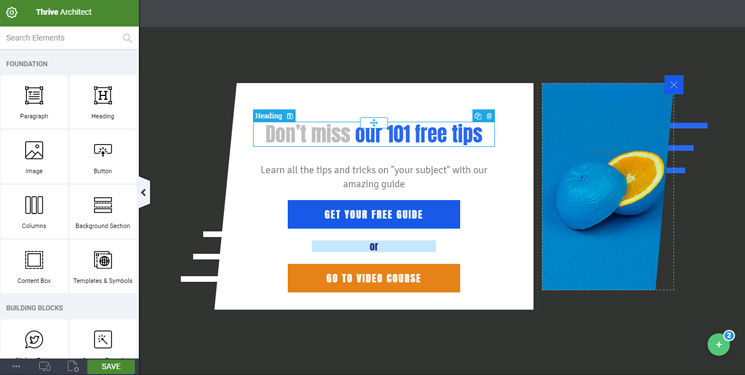 Thrive Leads has an integrated page builder, Thrive Architect. It lets you visually edit all the form elements. Aside from that, it enables you to customize your text by clicking on it.
You can manage the elements completely using the drag and drop interface. Feel free to move elements, delete elements, or add new elements from the Thrive Architect section on the left-hand side.
Design the form however you like and save it. It's now ready for use on your site.
Set Targeting Options and Display Your Optin Form
You just created a form that is ready to publish on your site. You can set targeting options for your lead group and publish it.
First, go to the Thrive Leads menu on your WordPress dashboard. You will see a Lead Groups section and your lead group. We created 'Lead Group 1' for our example, remember?
Next, go to the settings icon on the right side of the lead group panel and click on it.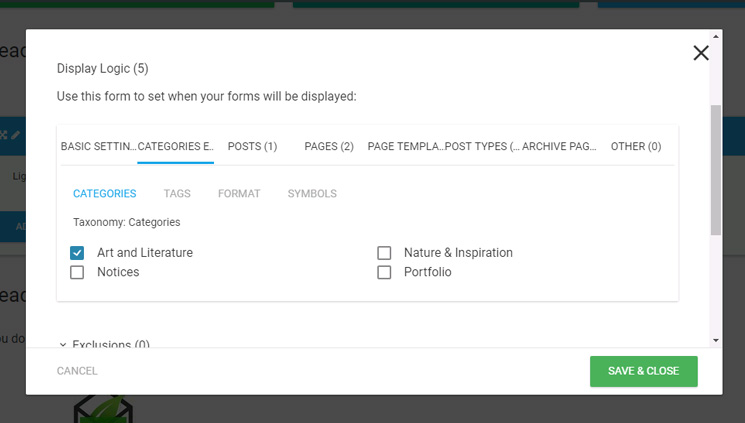 You can now target the optin form for all pages / posts, by categories, individual posts or pages, archive pages, etc.
You can create different lead groups and set different targets for them. You can target your site users precisely using this feature and collect more leads.
That's all it takes to create and display an optin form. Now, you can go to your live site and see the optins working.
Other Great Features of Thrive Leads
Let's explore some more great features of the plugin.
1. Powerful A/B Testing Engine
A/B Testing feature allows you to compare different types and variations between optin forms and provides you with an automatic winner. This technology allows you to discover the most impressive optin form so you know ahead of time that it's going to catch the eyes of your visitors.
With this plugin, you can compare between:
Different types of optins: eg. Popup vs. In-line
Different triggers: eg. Show a popup after 5 seconds vs. exit-intent popup
Different design and content: eg. change the headline, color, or icons and compare.
Optin bribes: eg. Optin incentives vs. a free webinar course
Create forms, clone or create variations, compare and use the best one.
For example, we compared 2 different types of optins. Below is the screenshot: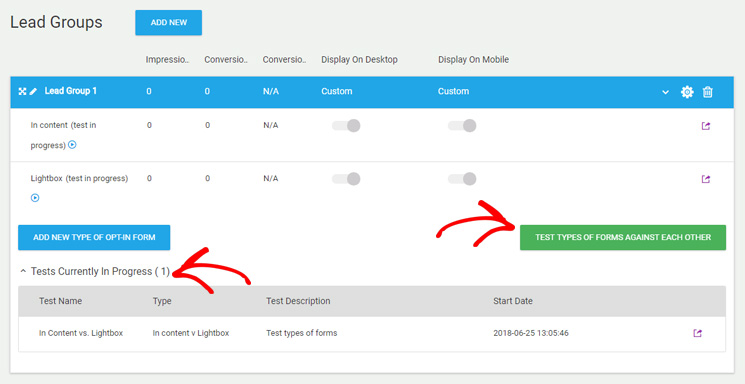 2. Advanced Targeting Options
This feature is really amazing and efficient for turning visitors into subscribers. You can pinpoint exactly whom you want to show an optin form to. This feature lets you show the most relevant and attractive offers to the most suitable people.
You can target and show optin forms by:
Category or tag
Post or page
Custom post types. URL, page type etc.
If you show the right optin to the right people, conversion spikes.
3. SmartLinks
An incredibly intelligent feature of Thrive Leads is SmartLinks, which enables you to show different offers to different users.
Displaying a Subscribe to Us optin to a user who's already subscribed to your site isn't just annoying but can also be seen as disrespectful.
Thus, Thrive Leads has an option called SmartLinks which lets you treat different users differently. You can specify what offer to be shown to a new visitor, a current subscriber, or a potential customer.
You can find SmartLinks in the Advanced Features option in the Thrive Leads dashboard.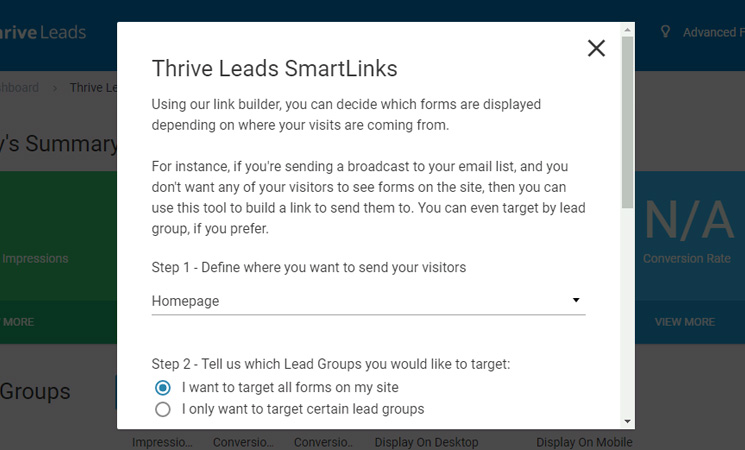 4. Advanced Trigger Options
With Thrive Leads' advanced trigger options, you can show an optin form at the right time when your visitor is likely to subscribe to your list.
It features mainly 4 types of triggers to display forms on a WordPress site:
Exit trigger – appears when a user is about to leave your site
Time trigger – triggers an optin after a specified timeframe like 5 seconds
Scroll trigger – shows an optin after user scrolls to specific part of the page
Click trigger – shows an optin on clicking a link or button
These triggers let you display your optin forms very strategically.
5. Detailed Reports and Analytics
The Thrive Leads plugin also gives you insights into how your forms are performing, which pages are sending you the most leads, conversion rates, and more.
With a precise idea of how your optin forms are performing, you can make some tweaks and improve their performance even more.
The reports you can access are conversion rates, comparison reports, list growth, lead referral reports, lead tracking, and content marketing reports.
6. Email Marketing Service Integration
The plugin provides seamless integration with all the major email marketing service providers. Its direct API integration with popular email marketing services makes it super easy to send emails to your email list.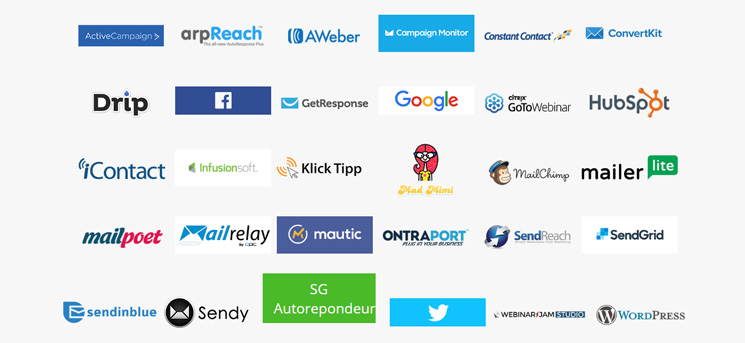 Pricing and Support Options for the Thrive Leads Plugin
Thrive Leads is a premium plugin that costs $99 per year. You'll get:
Unlimited Updates
Unlimited Support
Hundreds of Opt-in Form Templates
Easy A/B Testing for Faster List Building
Alternatively, you can get the entire Thrive Suite for $299 per year. It comes packed with all these WordPress plugins:
You'll also get access to 4 beautiful WordPress themes: Kwik, Shapeshift, Ommi, and Bookwise. Thrive Suite also comes loaded with the Thrive University so you can learn how to optimize your site for conversions.
There's a 30-day money back guarantee on all plans.
Their documentation is extensive and helps you walk through every aspect of building high-converting optin forms with Thrive Themes. Support is provided via their ticket-based support system.
Thrive Leads vs. OptinMonster: Which is the Best Email List Building Plugin
OptinMonster is the best email list building solution in the market.
Our Thrive Leads review would be incomplete if we didn't compare Thrive Leads with OptinMonster.
Compared to a hosted solution like OptinMonster, Thrive Leads tends to consume more server resources, slowing down your site's performance.
Unlike Thrive Leads, OptinMonster is a hosted solution. OptinMonster consumes fewer server resources than Thrive Leads and doesn't slow down your site. Plus, Thrive Leads lacks many useful features and its targeting options are limited.
OptinMonster's pricing starts at $9 / month. You can get Thrive Leads for $99 per year.
You can also choose to sign up for the entire Thrive Suite. You'll get full access to the entire suite of integrated plugins (including Thrive Leads) at one great price of $299 per year. This lets you build and grow your dream online business with a complete set of conversion-focused tools.
Our Verdict on Thrive Leads for Email List Building
Thrive Leads is undoubtedly a powerful WordPress plugin for list building. Its features and functionalities are both impressive and efficient.
The plugin interface is user-friendly and simple. It doesn't require any coding skills to configure the plugin settings and options.
This is a great pick if you want an quick and easy way to build optin forms on your WordPress site.
Get Thrive Leads Now »