Want to quickly and easily create complex page layouts with columns, widgets, and more? Give the Page Builder by SiteOrigin plugin a try. In our Page Builder by SiteOrigin review, you'll find out how this free plugin can help you build responsive page layouts using widgets, no coding skills necessary.

About SiteOrigin Page Builder
SiteOrigin is a WordPress theme and plugin hub that allows you to create a highly-customized website with ease. Page Builder is an easy-to-use WordPress plugin by SiteOrigin that lets you effortlessly build stunning WordPress pages on your own without hiring a developer.
It comes with a simple drag and drop interface that looks similar to WordPress' interface. Thanks to this, it quickly adapts to your workflow with a minimal learning curve.
Why Use Page Builder by SiteOrigin?
If you've ever tried to create a more complex page than a text-focused blog post, you know that the built-in WordPress visual editor is not up to the task.
Want to break your content into responsive columns, use widgets directly on your pages, or create your own layout templates? Then you'll need a plugin like Page Builder by SiteOrigin.
SiteOrigin's Page Builder plugin is a drag and drop tool that allows you to create complex page layouts using WordPress' own built-in widgets, plus a number of additional widgets from SiteOrigin. You can set up your widgets in rows and columns which you control the size and ratio of.
Available widgets include:
buttons
text editor
list of features with Font Awesome icons
Google maps
image
post carousel
post content
customizable post loop
SiteOrigin creates themes and plugins for WordPress. They also have a number of free themes available that are designed to work will with their Page Builder plugin.
Also check: Our List of Top Page Builders.
How to Get Started with Page Builder
Install and activate the plugin, available for free in the WordPress.org directory.
By default, you can use it on posts or pages (you can change this under Settings » Page Builder if you want).
You can get started by creating a new post or page. On the visual editor, you'll see a new tab on the right, next to the usual Visual and Text tabs.

Click the Page Builder tab, and you'll be prompted to add a widget, row, or prebuilt layout.

You can choose from your existing WordPress widgets, or widgets included with the Page Builder plugin such as post content, images, or sliders. Choosing to add a widget will automatically insert it into a new row by itself.

If you select a SiteOrigin widget, you'll be prompted to install the SiteOrigin Widgets Bundle plugin, which is also free.
To create a row with more than one column, click the Add Row button. You can choose the number of columns and their ratio to each other.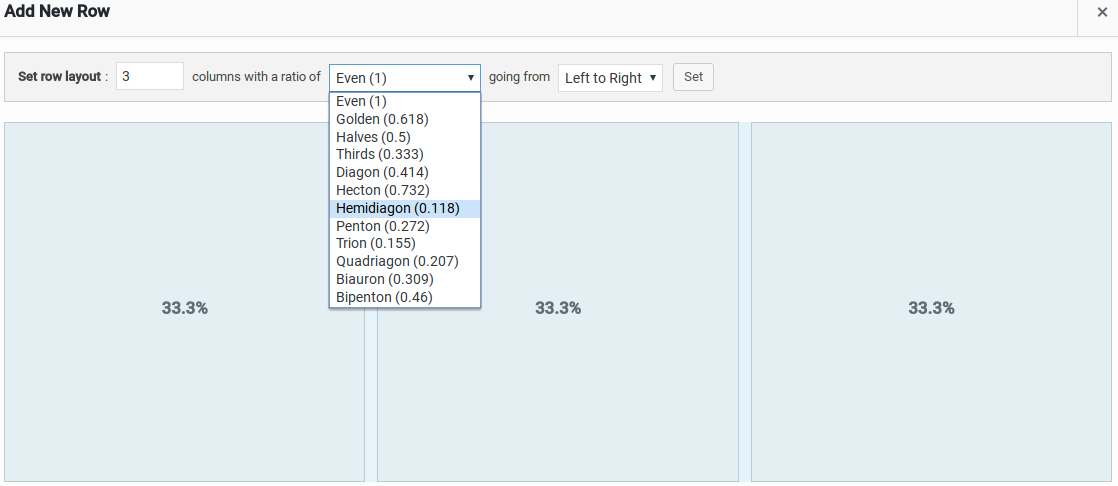 You can also edit a row to add columns. Just click the wrench icon above the row to edit it. You can also hover over any widget to edit or delete it.
If you want to use layouts, you'll have to enable the directory. This'll give you access to 16 different prebuilt layouts. You can also import and export your own layouts.
To edit a page from the frontend of your site, you can click the Live Editor button while editing the page or viewing it. The live editor also allows you to preview the site in 3 different screen sizes.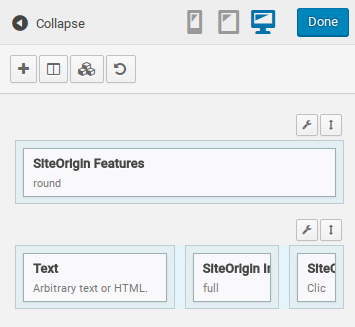 Documentation and Support
SiteOrigin provides a lot of great videos and tutorials with screenshots to help you get started. They also have articles on theme integration and more advanced settings and features.
Page Builder is actively developed, and they welcome contributors on GitHub. SiteOrigin commits to always making the plugin available for free.
They also offer free support on the official SiteOrigin forums, and you can get email support included with SiteOrigin Premium.
Get More with SiteOrigin Premium
SiteOrigin also offers a premium membership that grants you access to additional add-on plugins and faster email support.
SiteOrigin Premium includes:
Enhanced Page Builder: Build custom post types, add CSS animations, and more.
Widgets Bundle Extras: Includes more widgets for your layouts, including contact form fields, enhanced social widgets, etc.
Theme Enhancements: Remove SiteOrigin attributions, get ajax comments, and more.
There're various 1-year licenses available depending on how many sites you want to use it on.
Page Builder by SiteOrigin vs. WPBakery Page Builder
Page Builder by SiteOrigin and WPBakery Page Builder (formerly Visual Composer) are the 2 most popular drag and drop page building plugins for WordPress.
WPBakery Page Builder is a premium plugin available on CodeCanyon. It works very similarly to Page Builder, with "elements" instead of "widgets." It also allows you to edit your page from the front or back end of your site.
WPBakery Page Builder includes many more elements than Page Builder has widgets, and it gives you more advanced options for those elements. There're also hundreds of add-on plugins available to expand the features and add more elements and options.
WPBakery Page Builder also seems to be a little more user-friendly and has a more modern, flat design. Compare the look of their buttons, for example:
The number of options in WPBakery Page Builder can be a little overwhelming at first, but they do come in handy if you want to build more complex pages.
For more details, check out our full WPBakery Page Builder review.
Pricing SiteOrigin Page Builder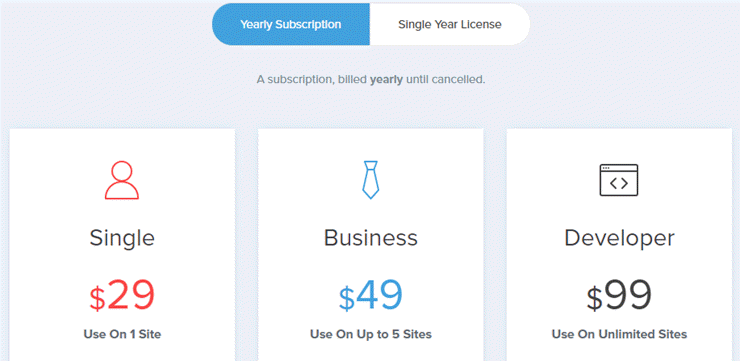 The core plugin is absolutely free to use. It's available to download from the WordPress repository.
For just $29, you can purchase a premium bundle of addons that enhance the functionalities of Page Builder.
To use on up to 5 sites, you can get the Business plan for $49. For an unlimited sites license, you can get the Developer plan for $99.
Our Verdict on Using SiteOrigin Page Builder
If you just need a basic free page building tool, Page Builder by SiteOrigin is a great option. It's actively developed and supported, and the user interface is intuitive enough to get started quickly. They also have detailed documentation, in both video and tutorial form.
We give Page Builder by SiteOrigin 4 out of 5 stars. Here's the breakdown of our review scores:
Get Page Builder by SiteOrigin Now »