Want a way to add more community interaction to your WordPress site with forums? Take a look at bbPress, a free, lightweight forum plugin focused on ease of integration, ease of use, web standards, and speed.
Read our bbPress review to find out if it's the right forum plugin for your site.

Why Add Forums to Your Site?
Thinking about adding more community interaction to your WordPress blog? A forum where visitors can sign up and interact with each other is a great addition to any site.
Forums can help you:
Engage with your audience: Unless there's something to bring them back to your website, most visitors won't return after one visit. If there's an active community they can sign up for and participate in, it will give them a reason to keep coming back.
Increase loyalty: When users return to your site again and again to participate in your forums, they will be more likely to remember and choose your brand.
Conduct research: A forum on your website is a great way to get data on the thoughts and feelings about your target audience. You can easily see right on your own website what their top concerns, needs, and motivations are.
Crowdsource content: With user permission, you can share quality content from your forums on your website, blog, and social media.
And if your site runs on WordPress, adding a forum is as easy as installing a plugin.
The only question is, which forum plugin is best for your site?
Why Should You Use bbPress?
Free and open source, bbPress is one of the most popular and highly rated forum plugins for WordPress with over 300,000 active installs.
One of the lead developers of the plugin is Matt Mullenweg, creator of WordPress.
bbPress is designed to be lightweight and flexible. It's not bloated with unnecessary features, and won't slow down your site or introduce vulnerabilities.
How to Create Your bbPress Forums
Install and activate the plugin, and you'll be redirected to a welcome page.
You can scroll to the bottom and click on the Go to Forum Settings link, or click on Settings » Forums in the WordPress dashboard menu.
At the top of the settings page, you can customize the user settings to prevent spam.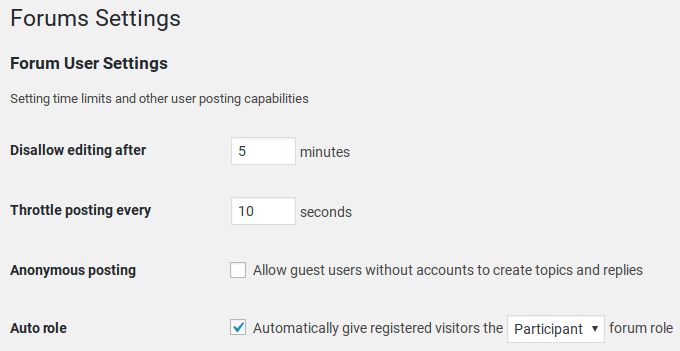 Below that are the Forum Features settings. Here you can allow favorites, subscriptions, topic tags, and other useful features.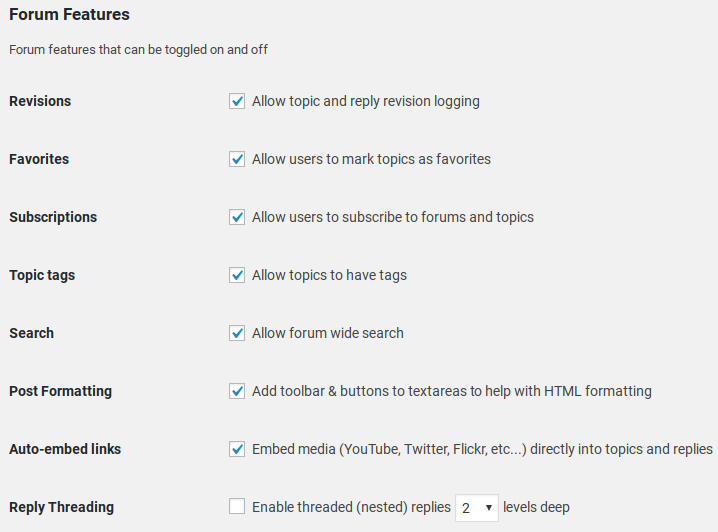 Under Topics and Replies Per Page, you can adjust how many topics are visible at a time.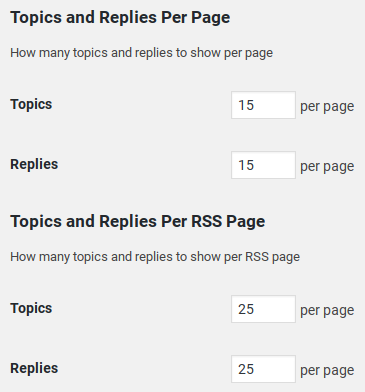 And at the bottom of the page, under Single Forum Slugs and Forum User Slugs, you can adjust your URLs.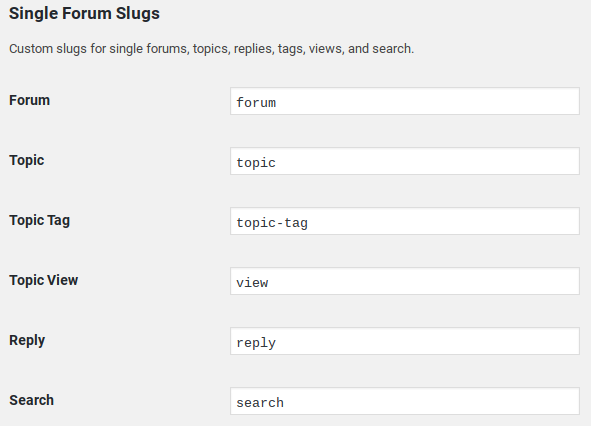 Remember to click the Save Changes button at the bottom when you're finished choosing your options.
To create your forums, navigate to Forums » New Forum.
Enter a title and description of your forum, and set the options at the right side of the screen. Then click Publish.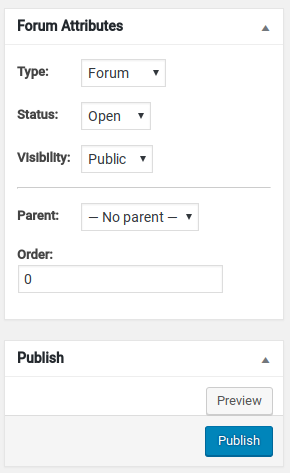 If your blog has permalinks enabled (you can check this at Settings » Permalinks), you can see your forums at example.com/forums, where you can add the first thread.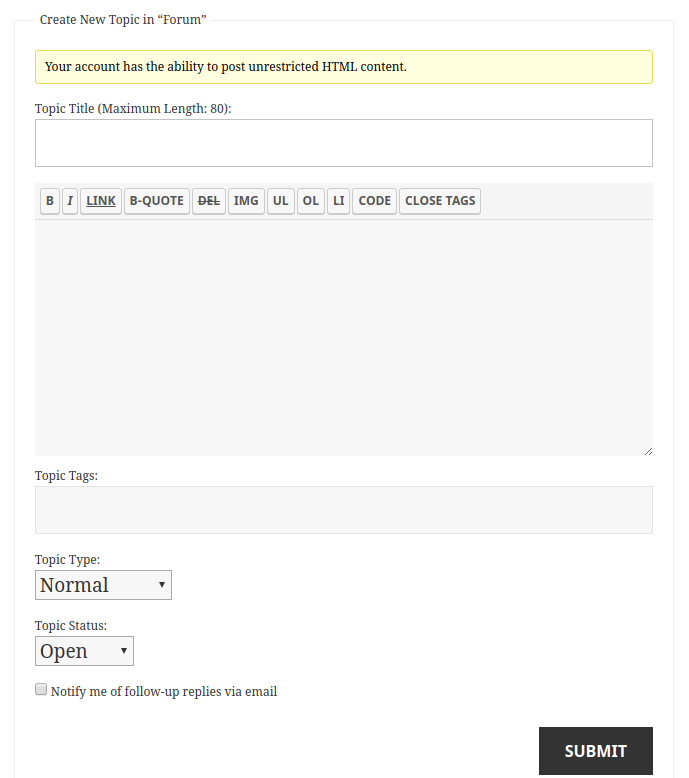 On your dashboard, you'll now have a widget showing the current status of your forums: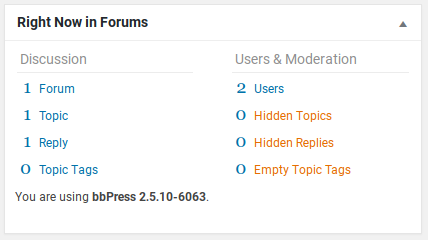 For more details on setting up your forums, see WPBeginner's tutorial, How to Add a Forum in WordPress with bbPress.
How to Style Your Forums
The way your forums look on your website is controlled by your theme's styles. There are no separate bbPress themes to customize the appearance of your forums.
If you want to customize your forum's appearance, you'll have to edit the CSS of your theme, or add custom CSS.
What if bbPress doesn't look good with your current theme, and you don't want to mess with CSS code?
You may want to consider switching to a different WordPress theme that has built-in support and styling for bbPress.
You can also take a look at a plugin like CSS Hero, which allows you to modify CSS with a visual editor, even if you don't know how to code. Check out our CSS Hero review for more information on how it works.
Create Advanced Forums With bbPress Add-ons
bbPress is a very simple, lightweight plugin, so it may be missing some features that you need for your site.
Because bbPress is free and open source, there are a number of third-party plugins available for free in the WordPress.org directory.
By searching "bbPress" in the directory, you'll find plugins that can help you:
customize notifications
send private messages
sort replies
generate reports
flag inappropriate content
…and more.
Documentation and Support
The official bbPress site has a lot of documentation to help you get started. It also has documentation for developers, so you can create your own bbPress-compatible WordPress themes or bbPress add-on plugins.
Support is also available on the official site. The developers and community are very responsive in the forums, and many threads are resolved quickly.
Our Verdict
If you need to add a simple forum to your WordPress site, we recommend you give bbPress a try.
It's free and lightweight, so it won't slow down your site. It's very simple to set up, and user-friendly for beginners.
Because it's so simple, it may be missing features you need. But there are so many third-party plugins available, there's probably one out there for you.
The only big downside is the inability to customize the look of your forums. Depending on the WordPress theme you're using, your forums may not look great. Unfortunately, the only options are to switch themes, or modify the code.
We hope you liked this bbPress review. If so, you may also want to see our other guides:
We give bbPress 4 out of 5 stars. Here is the breakdown of our review scores:
Get bbPress Now »