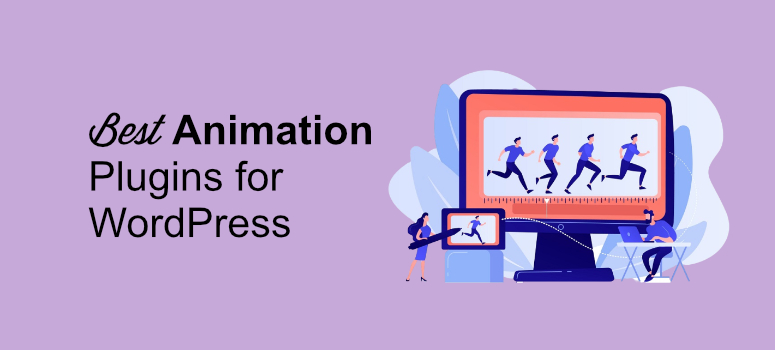 Are you looking for an animation plugin for your WordPress website?
Adding animation to your website is a great way of engaging your audience. Animations are fun to watch, and you can make any topic interesting by adding a visual component.
But if you're not into programming, adding animation to your website can be tough. That's why many users rely on animation plugins: they make things quick and simple.
In this article, we'll tell you about some of the best WordPress animation plugins that you can choose from. But before we do, let's see how your website can benefit from adding animation.
Why Add Animation to Your Website?
Apart from making your site's pages more interesting, adding animation can have many benefits for your business. Here are just a few:
Make Your Site Stand out: By adding animation to your website, you can stand out from your competitors. This gives you an edge over other websites in your niche.
Engage Your Audience: Adding animation to your content makes things interesting so you can easily engage the audience on your website for longer. It also encourages them to explore your site for more visually interesting content.
Improve Your SEO: By engaging your audience on your website for longer, you can decrease your bounce rate and increase your page views. This can be a major factor for improving your SEO.
Boost Your Conversions: By engaging your audience with animations, you can inspire them to take action on your website. This can instantly boost your conversions.
Bring Your Content to Life: Adding animation to your website brings life to your content. It also becomes easy for you to explain your content in a more exciting way to your users.
With so many advantages of adding animation to your website, why wouldn't anyone want to add them? That's why we made a list of the best WordPress animation plugins that can make adding animation to your website a smoother process.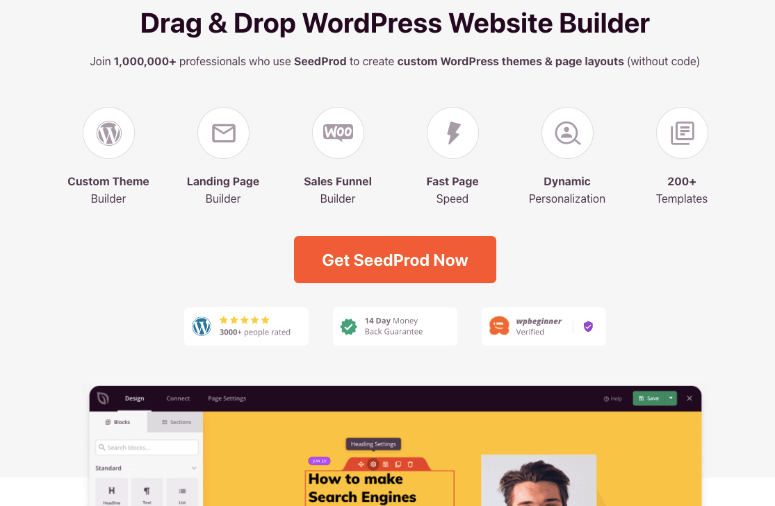 SeedProd is the best website and landing page builder for WordPress. With this plugin, you can quickly create a custom WordPress theme, make a website, and set up high-converting landing pages for your website.
SeedProd makes it easy to add animation to your landing pages thanks to the pre-made landing page blocks. Choose from blocks like animated headlines, image carousels, background videos, and slideshows. Then, simply drag the animated block and drop it into place on your page.
This plugin is also optimized for speed to ensure your animated pages load super fast. Plus every page you create is responsive so it'll look good on desktop, tabs, and smartphones.
You can check out the SeedProd blog and YouTube channel for tutorials on how to add animated effects to your site. Here's one of our favorite tutorials: How to Add Parallax Effects to WordPress using SeedProd
To learn more, check out this detailed SeedProd review.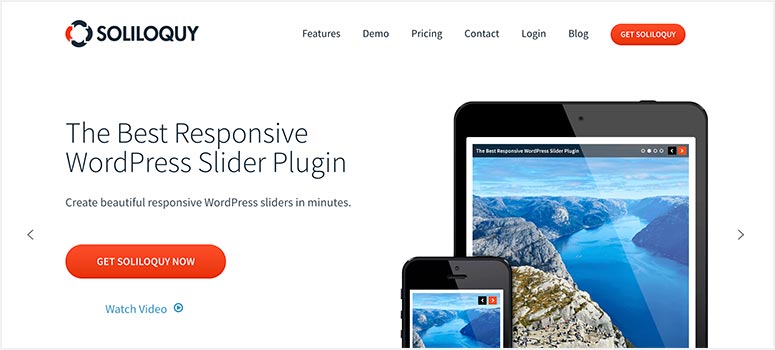 Soliloquy is a powerful slider plugin that lets you add beautiful sliders to your website without coding a single line. Its drag and drop builder lets you create stunning video sliders with just a few clicks.
You can also add dynamic sliders from featured blog posts, Instagram images, testimonials, and more. It offers easy ways to add PDF sliders, including thumbnail images to navigate with your sliders, turn WordPress sliders into a responsive carousel, and much more.
For more information, read this review to learn about Soliloquy.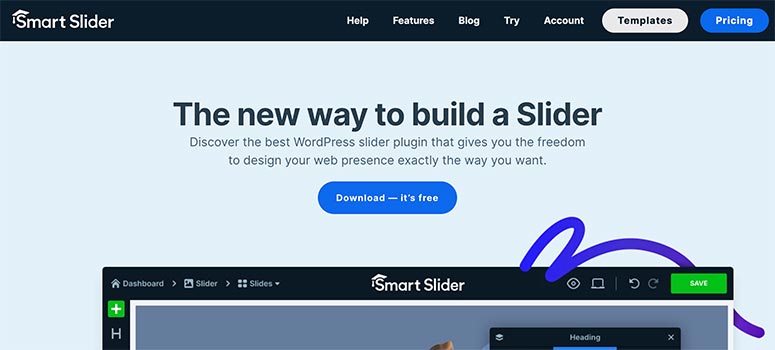 Smart Slider 3 is another powerful WordPress plugin that lets you tell your stories through beautiful sliders. To make it more appealing, this plugin lets you add layers to your sliders. You can structure your layers into rows and columns to make them appear more organized.
It also offers different animated backgrounds for your sliders to give them a unique look. To help you start your designs more quickly, Smart Slider offers starter sliders that are ready to be used right away. The plugin supports images and videos and is fully optimized for SEO.
Here's more in-depth information about Smart Slider 3.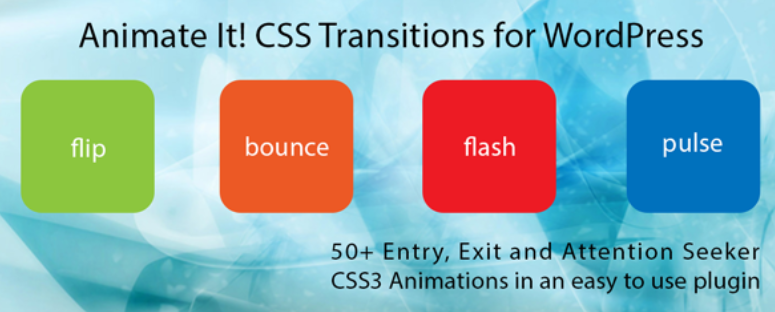 Animate It! is a free WordPress animation plugin that lets you add cool animation effects to your content. It uses CSS3 animations and you can add your own custom CSS as well.
With this plugin, you get attention-grabbing animation effects that instantly engage your audience.
It also offers options to apply animations when a user clicks on or hovers over a specific area on your WordPress site. This lets you create button or image hover effects.
You also get to control the duration for different animations. So for instance, you can create text animations for your site with the delayed animation.
There's more, you can use the custom Animate iI! block to apply animations on other Gutenberg blocks.
The plugin supports German and Spanish, too. That means you can expand your reach to a broader audience.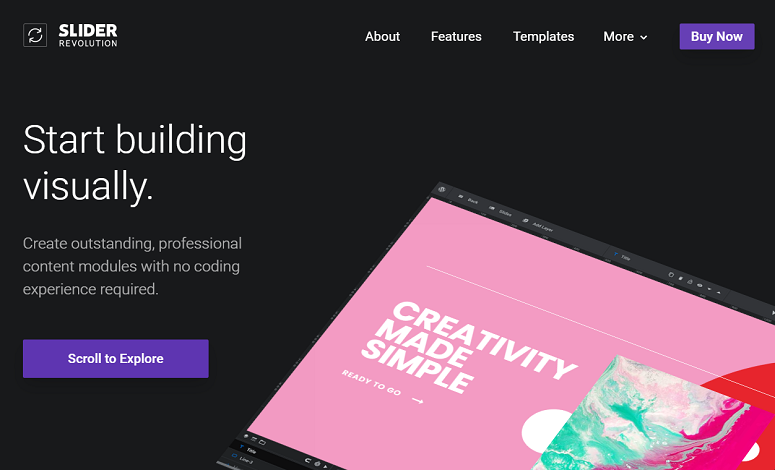 Slider Revolution is another unique WordPress animation plugin that offers easy ways to build rich & dynamic content for your websites. It offers hundreds of templates designed to give your site a perfect look.
You can use this plugin to create sliders & carousels, hero headers, content modules, and a lot more. You can also use images, videos, icons, and other visual elements to make your site stand out. The plugin offers in-depth animation settings and animation presets, so you can have full control over the animations you use.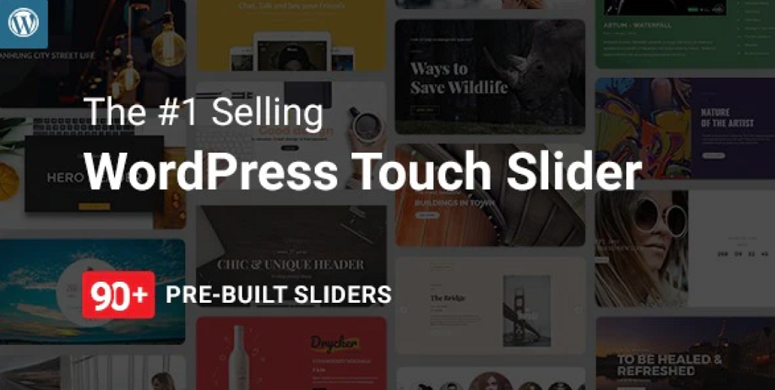 Master Slider is a robust animation plugin that lets you add premium images and content sliders with super smooth transition effects. The plugin supports touch navigation with swipe gestures that offer a great user experience on your website.
You can also have dozens of ready-to-use sample sliders. You can also have 6 different interactive slider transitions and manage the timing of the slideshows too.
To make your content more engaging, it lets you use the parallax effect while scrolling, too. Each layer can be animated too. With these animated layers, you can insert or embed HTML formatted texts, links, images, and videos directly into your slides. You can also add unique animation parameter such as effect, animation duration, delay, etc.
You can also display your sliders in the form of galleries. The sliders support animated layers and are search engine optimized. Because of its responsive nature, it will also look wonderful across all devices and is compatible with all browsers.
You can get started for free with the lite Master Slider plugin in the WordPress repository.
In a nutshell, the plugin is a responsive and SEO-friendly image and video slider plugin that looks amazing across devices.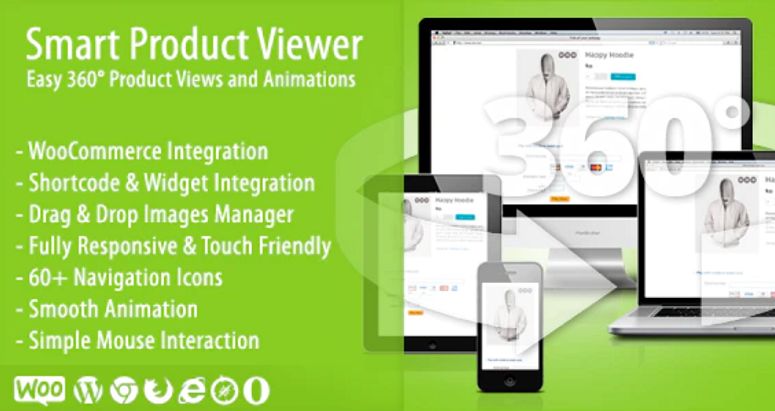 Smart Product Viewer is a great animation plugin that's designed specifically for WordPress. This allows a customer to see your product in detail with a full 360° spin view. Customers can also view the product to understand how it works in an animated way.
The 360° spin as a scroll animation, on mouse click, and even on finger touch for iPhone/iPad and Android devices.
You get full control over the layouts, colors, and styles using the shortcodes generator. You can also add 360-degree animation views to your page scroll or the sidebars as widgets.
With this plugin installed, you can let your customers spin the product simply using their mouse. It includes navigation styles and color combinations to choose from.

Responsive Menu is another free plugin that lets you add animation to your website menus. It offers animation options that let your menu slide over the top or push the content when a visitor lands on your web page.
You can select the animation type and speed for your menus and buttons. It even supports background images for your menus. It's super responsive and looks good on all screen sizes.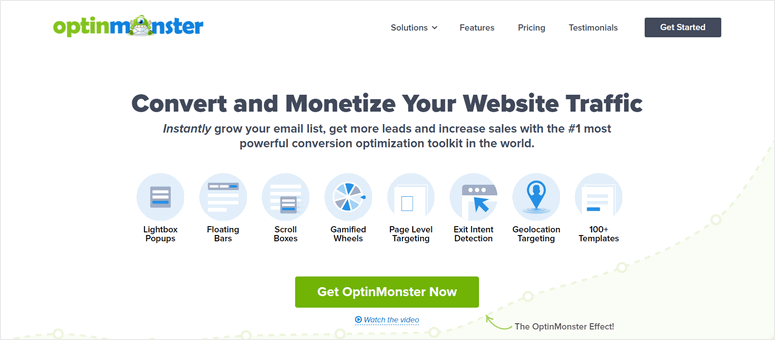 OptinMonster isn't a standard WordPress animation plugin. Instead, it's a powerful marketing tool that lets you add animations in the form of lightbox popups, slide-ins, scroll boxes, and coupon wheels.
It's the best way to generate leads and get people to sign up for your newsletter.
When you sign up for OptinMonster, you get a user-friendly dashboard to create and track all your animated marketing campaigns. There are also tons of templates to choose from and a drag and drop builder to customize them. This lets you create lead generation campaigns that add an animated effect to your site.
The best part is that you get to choose who sees these popups and other campaigns. You can use this functionality to target by mobile devices, geographic location, scroll depth, exit intent, and so much more.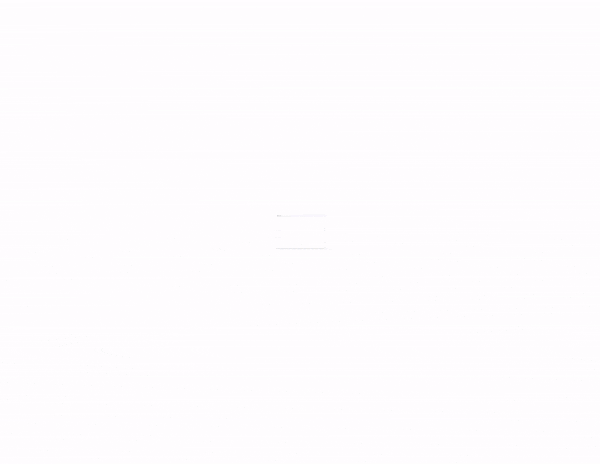 Learn about OptinMonster here.
These are some of the best WordPress animation plugins that you can choose from. We hope you found this article helpful.
Whichever plugin you choose, you should be able to find tutorials online on how to use it. We recommend checking out WPBeginner and the SeedProd blog.
Apart from adding animations to your website, another great way of engaging your audience is to add image galleries.
If you're interested in adding one, here's a list of gallery plugins that can make your site more visually engaging.