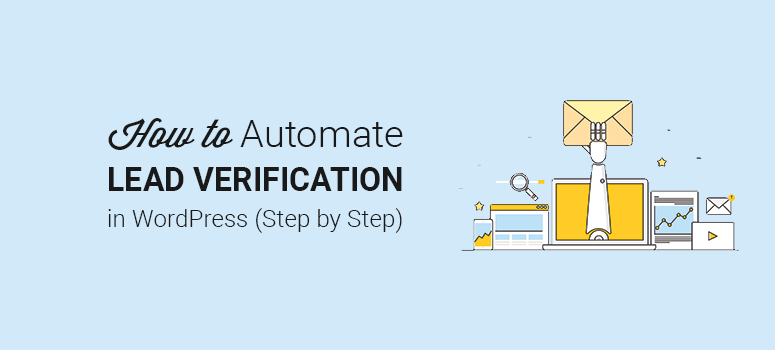 Do you want to automate lead verification in WordPress?
Lead verification is a modern way to filter and verify leads that you generate from your website. With this technique, you can avoid spam and convert more website visitors into customers.
In this article, we'll show you how to automate lead verification in WordPress. But first, let's briefly talk about how to generate leads for your site.
Because without potential business leads, you won't have anything to verify in. the first place!
How to Generate Leads in WordPress?
You may have many website visitors, but once they leave your website, they likely won't come back. As a growing business, you can't afford to lose visitors without grabbing their contact information. You need to build communication with users on your website using social networks and email lists right away.
This communication is the basis of lead generation.
Fortunately, there are multiple WordPress lead generation plugins on the market. We highly recommend using OptinMonster: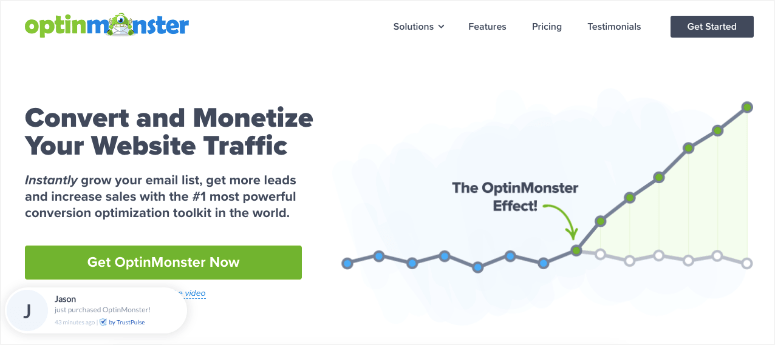 OptinMonster is the best lead generation and conversion optimization plugin around.
It lets you create multiple campaigns to generate potential leads from your website traffic easily.
With OptinMonster, you get powerful Exit-Intent® Technology to convert abandoning visitors into subscribers and customers.
OptinMonster also comes with multiple highly-engaging campaign types, including lightbox optin popups, fullscreen welcome mats, floating bars, coupon wheel optins, and so on. Plus, it offers a simple drag and drop builder to set up the lead generation campaigns without writing any code.
You should check out our complete OptinMonster review to find out more details on lead generation in WordPress.
Now that you know how to start getting new leads, let's talk about what lead verification is and why it matters.
What's Lead Verification in WordPress? (And Why You Should Automate It?)
When your website traffic grows, and you start generating new leads, it's important to filter and verify these leads for better user engagement. It can take hours to verify and segment each lead in WordPress manually, and with a growing business, it's nearly impossible for you to take that much time.
This is where OptinMonster's Lead Verification addon, TruLead™ comes into play. TruLead™ saves time and works in the background to make sure you're only adding the leads that you want to your contact list.
In other words, TruLead™ eliminates low-quality leads, increases email deliverability, maximizes email open rate, and helps grow your business. That way, you can avoid spambot email submissions and fully focus on high-quality leads.
Let's take a look at the steps below to automate lead verification in WordPress.
Automating Lead Verification in WordPress
The first thing you need to do is login into your OptinMonster account. If you don't have an account already, then you can sign up for any of OptinMonster's paid plans.
After logging into your OptinMonster account, you need to visit the Leads » Lead Verification page from the top navigation menu: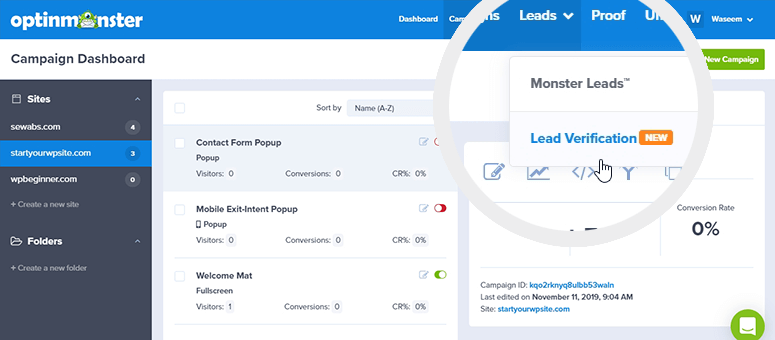 You'll need to sign up for TruLead's™ verification system. Fortunately, you can do so at zero risk for 30 days.
Once you've signed up for your risk-free trial, you'll need to create a new filter to verify your leads.
Click on the Create New Filter button to continue: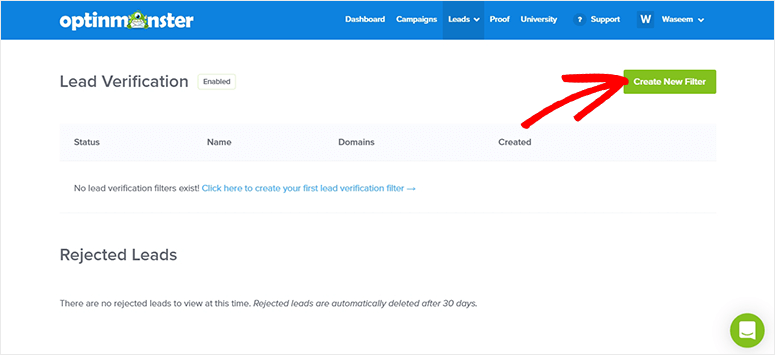 Start by adding a name to your lead verification filter. It's an AI-powered filtering program and works smartly to segment the best leads that convert into customers.
If you have multiple websites, you can select the domain from the drop-down menu to create a filter. It also lets you block IP addresses, strings, characters, and so on: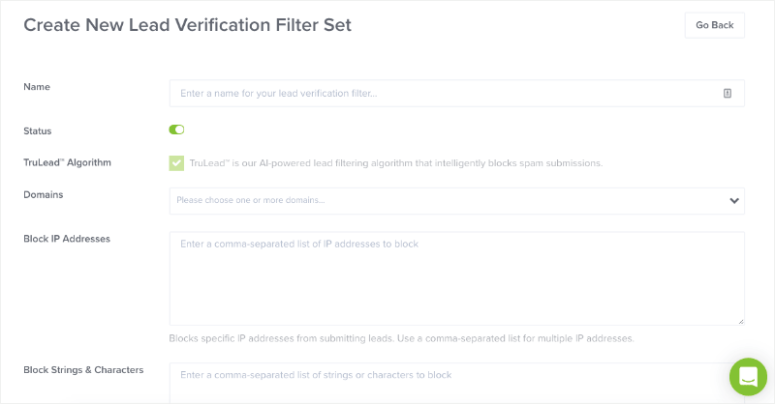 If a user fills out your optin form, but their email doesn't match your lead verification configurations, they'll get a small error message: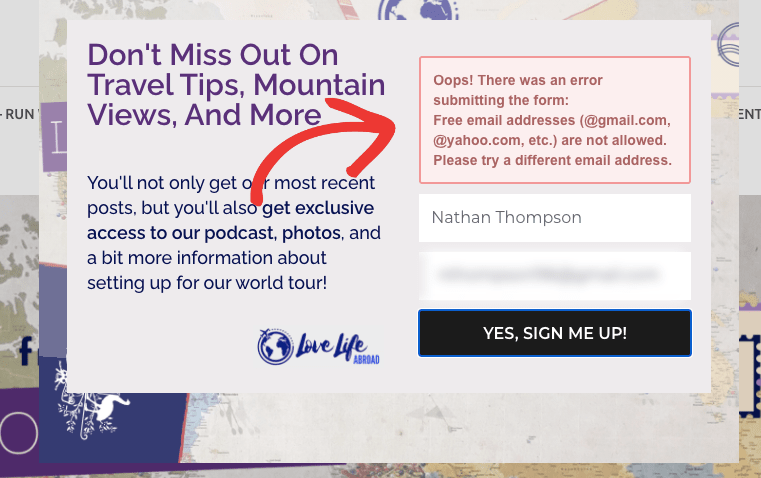 This helps ensure that people have a second chance at adding the right email address to join your contact is.
Another benefit of OptinMonster's lead verification filter is that it autocorrects email addresses for misspellings, so your potential customers don't get rejected in the process.
Once you're done selecting the options, click on the Create Filter button.
It will automatically reject leads based on the filter you created, but you can look at the rejected leads to not miss out on important email addresses.
Rejected leads stay in your OptinMonster account for 30 days on the lead verification page. You can manually approve or delete a rejected lead.

After 30 days, these rejected leads will be deleted permanently and can't be recovered.
TruLead™ lets you edit and update the lead verification filter as you learn more from the rejected leads. You can also delete the filter anytime you need.
And if at any moment you don't want to use the automated lead verification feature, you can disable it from Your Accounts » Billing page.
Under the Additional Upgrades section, you need to look for the Lead Verification option and click on the Remove button to disable it: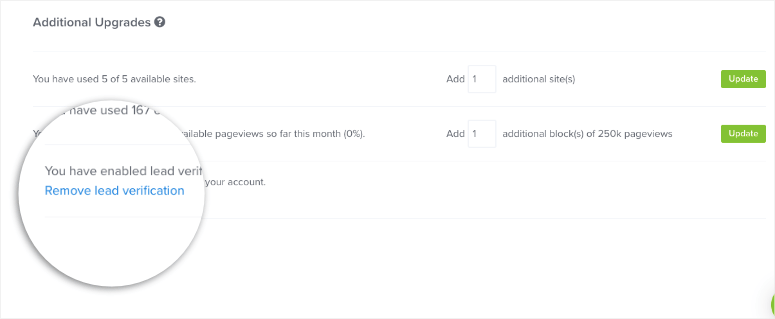 And that's it! We hope this article has helped you learn how to automate lead verification in WordPress.
You may also want to check out our guide on best lead magnet plugins for WordPress to build and grow your email list.
Furthermore, you can check our guide on best WordPress age verification plugins. This will help you verify your website visitors' age before they can access your website content.