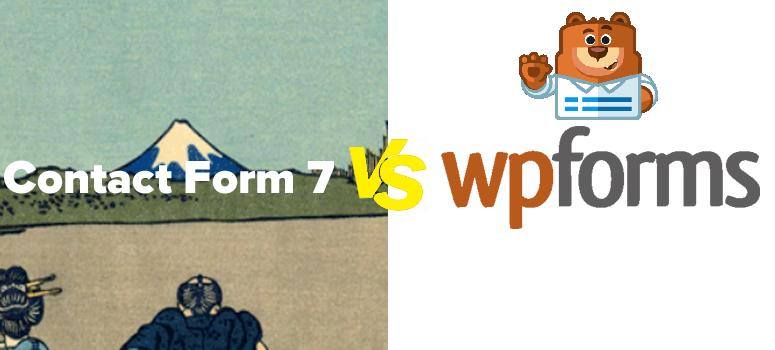 Are you trying to decide between WPForms vs Contact Form 7 for your website? Well, you're off to a great start. As the two most popular contact form plugins of all time, you've already narrowed down your selection to the best of the best.
But which one is perfect for YOUR needs? In this article, we've put WPForms vs Contact Form 7 into the ring for the fight of the century.
The 6 elements we put to the test were:
Basic Form Creation
Features
Advanced Form Creation
Integration
Support
Price
Are you ready to rumble? Then it's time to see who wins: WPForms vs Contact Form 7!
1. Basic Form Creation
Contact Form 7 is one of the oldest free contact form plugins for WordPress in existence. However, although it retains its popularity, age doesn't equate to wisdom. Not much has changed over the years to enhance this plugin to be more user-friendly. It hasn't shown any new developments, in all this time.
In order to format Contact Form 7, or add additional fields, you'll need to have a good grasp on HTML.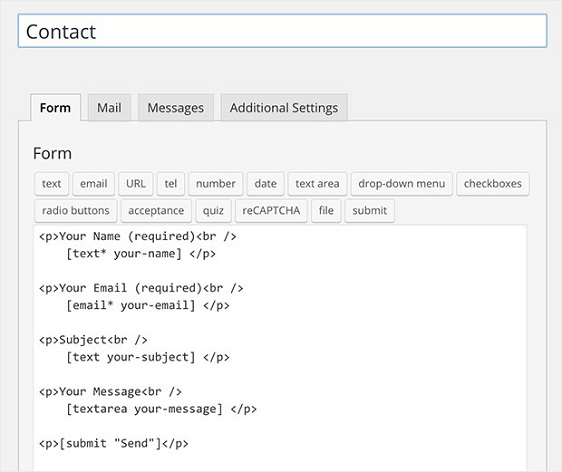 Live previews are also not an option with Contact Form 7. You'll need a good imagination to visualize how your forms will look.
On the other hand, WPForms has taken a newer, modern, approach to contact forms placing major emphasis on usability.
With its intuitive drag and drop builder, you'll need absolutely zero HTML knowledge in order to format or edit your forms.
WPForms also comes with several pre-built templates, so you won't have to make your forms from scratch. (Though you absolutely can, if you want to).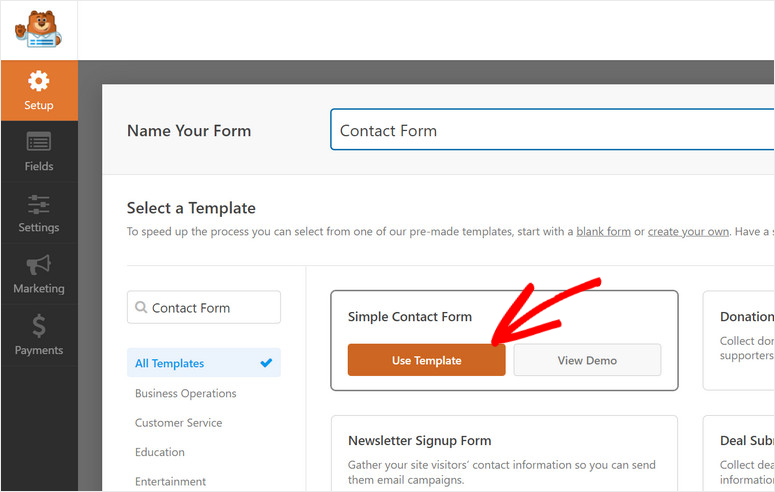 In additon, the Form Editor includes a live preview, so you won't have to use your imagination to visualize what it will look like once it's finished. You can check it at any time, and can even test your forms before publishing them.
WPForms also offers several additional form fields that Contact Form 7 doesn't:
Page Breaks
GDPR Agreement
Likert Scale
Checkboxes
Ratings
File Uploads
Payments are a breeze as well, with form fields such as Single and Multiple Items, Credit Card, and Dropdown Items. Making money online has never been easier.
Winner: WPForms. This plugin is super beginner-friendly, but has everything advanced users could ever dream of. With ZERO coding skills required, it doesn't get any simpler.
2. Features
Contact Form 7 has a limited number of features. Text, number, date, drop-down menus, checkboxes, radio buttons, reCAPTCHA, and file uploads are all available; but that's it.
To extend Contact Form 7's features, you'll need to install additional plugins not officially supported by the Contact Form 7 team. Risky, at best.
By comparison, WPForms blows Contact Form 7 out of the water with its features. It's much more than just a simple contact form.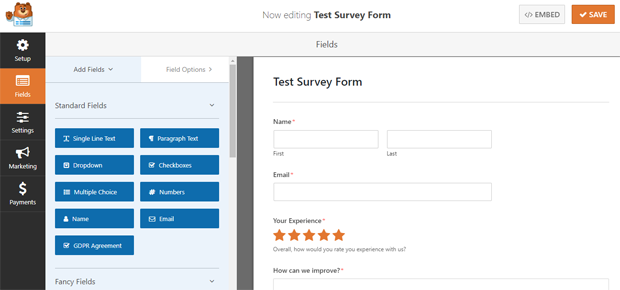 WPForms Lite (the free version) is similar to Contact Form 7 in terms of features; however, WPForms Pro comes bundled with a multitude of officially-supported addons and features:
Better Spam Protection
MailChimp, AWeber, Drip, Campaign Monitor, GetResponse, and Constant Contact email list building integration
Smart Conditional Logic
Entry Management from Your WordPress Dashboard
Instant Notifications and Confirmations Upon Form Submissions
Partial Form Saving
Multi-Part Form Creation
And So Much More!
Check out WPForms lite vs. Pro
Related: How to create a Typeform style form in WordPress (Step by step guide)
Winner: WPForms. With its extreme flexibility and customization options, WPForms pulls miles ahead of Contact Form 7.
3. Advanced Form Creation
It stands to reason that the contact form plugin with the most features would also be the one capable of producing the most advanced forms, but we're gonna share the details anyway.
Here's a form we created with WPForms using conditional logic: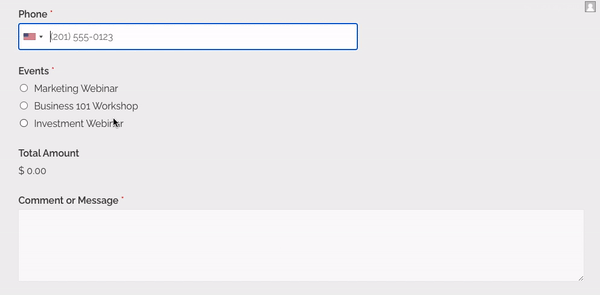 WPForms is fully capable of creating advanced forms. Whether you need a payment form, a custom user registration form, a survey form, a file upload form, or anything in-between: WPForms has you covered.
Winner: WPForms. Whether you choose between the multitude of ready-made templates, or utilize the flexibility of its drag and drop builder to create a masterpiece from scratch, WPForms has exactly what you need to succeed.
4. Integration
Looking to enhance the capabilities of your contact form plugin? Addon plugins are perfect for the job.
While Contact Form 7 doesn't have any official addon plugins, you can google "Contact Form 7 integration" and find several options created by third-party developers. Things like MailChimp integration, custom skins, and spam protection tools are all readily available if you're willing to dig for them.
Unfortunately, only limited integrations are available for Contact Form 7 and many of them are unreliable as most of the addons are no longer maintained or supported by the third-party developers who created them. Sadly, that means that many addons that seem perfect might not be compatible with the most recent versions of WordPress.
On the other hand, WPForms has nearly unlimited official integrations that are constantly being updated and maintained. You can install any addons directly from your WordPress dashboard and rest assured knowing they won't break your WordPress website.
You can also connect your form with any online application using the Zapier integration.
Winner: WPForms. The WPForms team is consistently adding new addon features all the time, and keeping previous addons up-to-date with the latest technology. Any integration you could possibly need is ready for you to install, and will work properly.
5. Support
As a free WordPress plugin, Contact Form 7 offers support only in the form of the WordPress Plugins Support Forum. Unfortunately, the WordPress Plugin Directory is not required to offer support, or any guaranteed responses, for their free plugins.
If you look online, you can find some documentation available for troubleshooting common issues. And Contact Form 7 has a FAQ page on their official website.
WPForms, on the other hand, offers a support ticket system, as well as readily-available extensive documentation and tutorials, to help you each and every step of the way.
Winner: WPForms. Comprehensive, friendly, and speedy; the support from WPForms couldn't be better.
6. Price
Contact Form 7 and WPForms Lite are both FREE to get started with. It doesn't get any better than that!
And, of course, you can upgrade to a paid version of WPForms if you want even more amazing features.
Winner: Tie. Free is a price everyone can afford.
Final Results
Contact Form 7 launched nearly a decade ago, and still remains one of the best WordPress form plugins on the market. But when it comes down to Contact Form 7 vs WPForms; Contact Form 7 has finally met its match.
WPForms has evolved and grown with its users, keeping up with the latest technology and adding new features constantly. Contact Form 7 hasn't.
With WPForms, you can build a contact form in mere minutes, no matter what your skill level is. Need help? Turn to the WPForms support team. Want more features? Send in a suggestion! WPForms is improving constantly.
So, in this battle of Contact Form 7 vs WPForms… WPForms is the clear WINNER.
You'd also like to check out the comparisons between,
Also, don't miss our step by step guide on how to create an AMP form in WordPress.
We hope this article helped you make your decision. Ready to get started with WPForms? Read our article on how to add a contact form to your WordPress website.