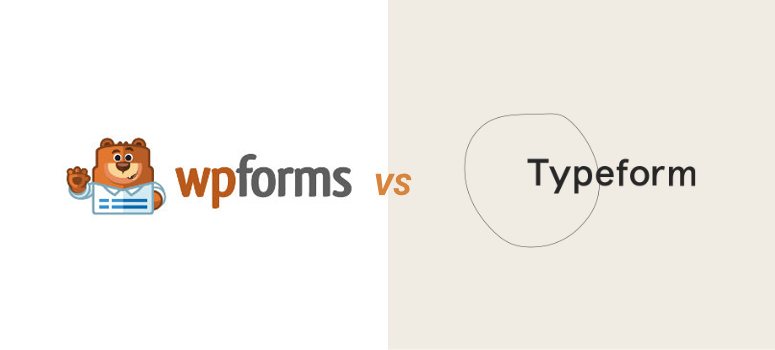 Are you looking for TypeForm alternatives? If you're wanting to add forms or surveys to your website, you need to find a form builder plugin that will allow you to easily do that. But with so many form builder plugins available, it can be difficult to find the best one to suit your needs.
In this article, we'll compare WPForms vs. TypeForm so that you can discover which form builder plugin will allow you to easily build contact forms and surveys for your WordPress site.
What to Look for in a Form Builder
When looking for the best form builder plugins, you need to spend time looking closely at each of your options in order to figure out which solution is best for your needs. The form builder you choose depends on the specific needs of your website.
If you want to build contact forms for your website, you need to look at the best WordPress form plugins that offer all of the features you need. Want to add surveys to your website? You'll need a form builder that offers those capabilities. Furthermore, if you want the ability to have both, you have to find a form builder that allows you to create simple contact forms as well as more complicated conversational forms and surveys.
In general, there are a number of factors you should consider when choosing a form builder, including:
Features – Does the form builder offer the features you need to create more powerful forms and grow your website?
Ease of Use – Is the form builder plugin easy to use, even for beginners?
Pricing – Is the cost of the form builder suitable for your budget?
Support – Will you get the help you need along the way in case you run into any issues?
We'll go over each of these factors in our comparison of WPForms vs. TypeForm, let's get started.
Overview: WPForms vs. TypeForm
TypeForm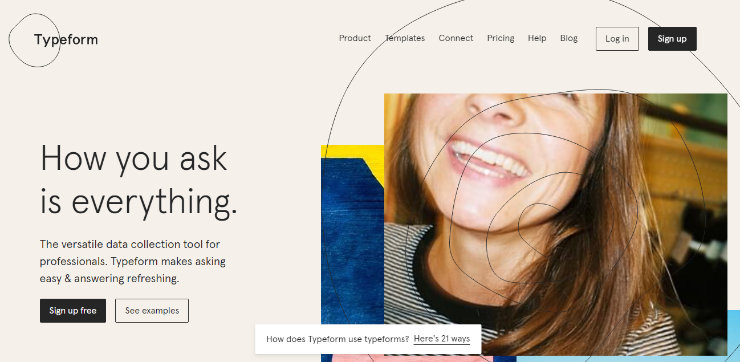 TypeForm is a standalone tool, also known as SAAS (software as a service) tool that specializes in online form building and online surveys. TypeForm focuses on creating surveys that are fun for your audience to fill out using their conversational format and ones that look great with their unique styling.
Along with surveys, you can also build contact forms, quizzes, customer feedback forms, shopping carts, and more. TypeForm provides a number of pre-designed templates to help you build a form quickly and their form builder allows you to easily create forms 1 question at a time.
Related: How to create a Typeform style form in WordPress (Step by step guide)
WPForms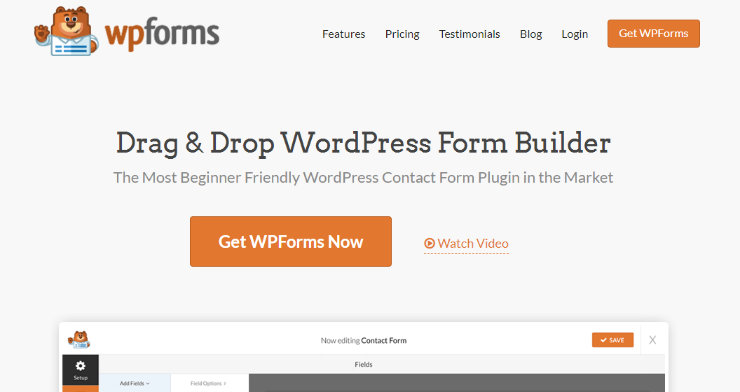 WPForms is the most popular and most beginner friendly form builder plugin on the market. With their drag and drop builder, you can easily create online forms for your website in a matter of minutes, without having to touch a line of code at all. WPForms makes it simple to build powerful contact forms, survey forms, online order forms, email subscription forms, and more.
WPForms offers a wide variety of pre-built form templates to get you started quickly on building a form that meets your exact needs. Plus, all the forms you create will be 100% mobile friendly, which means your website visitors can access them from their desktops, tablets, or mobile.
Features: WPForms vs. TypeForm
TypeForm
TypeForm's most popular feature is the ability to create conversational forms. Conversational forms help keep users engaged and provide for a better user experience. Instead of filling in their answer and scrolling down to the next question, with conversational forms users are automatically taken to the next question. It's more interactive and enjoyable for website visitors.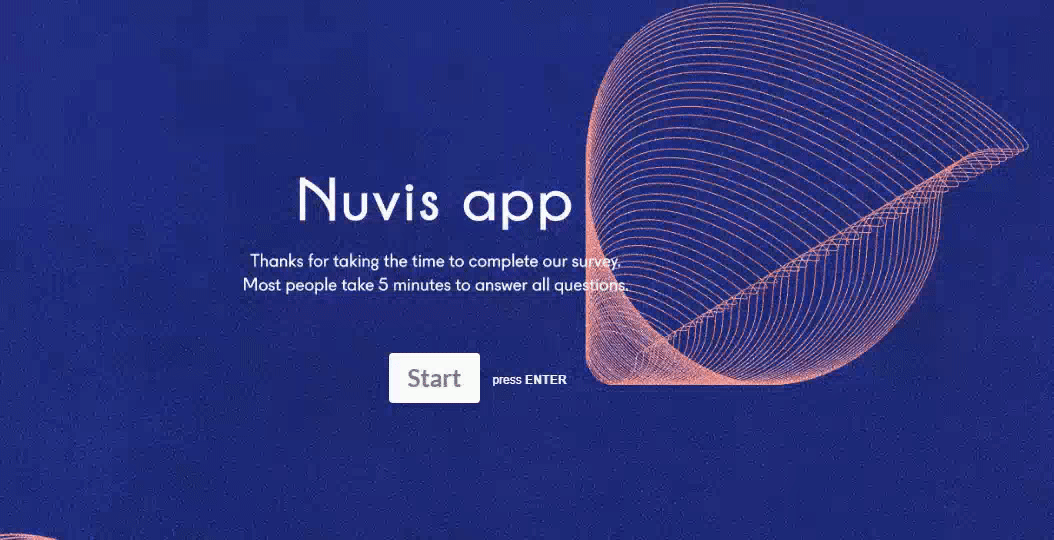 When creating conversational forms, TypeForm also provides a Logic Jump feature to make your forms smarter. This feature allows you to ask different questions based on the user's answer to the previous questions as well as show personalized endings based on the answers given.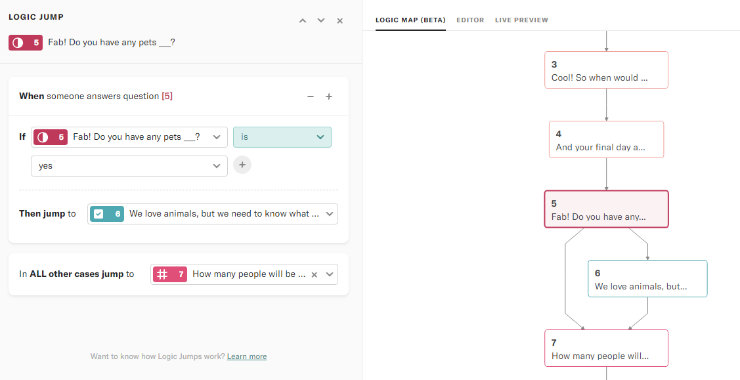 TypeForm also offers features like a calculator to do simple calculations in your forms and hidden fields that you can use to populate your questions and results table with information you already have on file. They also offer file uploads, the ability to accept payments, respondent notifications, and easy integration with top apps like Google Sheets and Mailchimp.
WPForms
WPForms offers a number of awesome features right out of the box to help you create powerful contact forms and surveys, as well as a wide array of other types of forms as well.
With their Poll/Survey addon, you can easily create a poll or survey for your WordPress website. The Poll/Survey addon comes with a number of unique form fields to create a powerful form for your business including multiple choice, checkboxes, star ratings, Likert scale, Net Promoter Score, and more.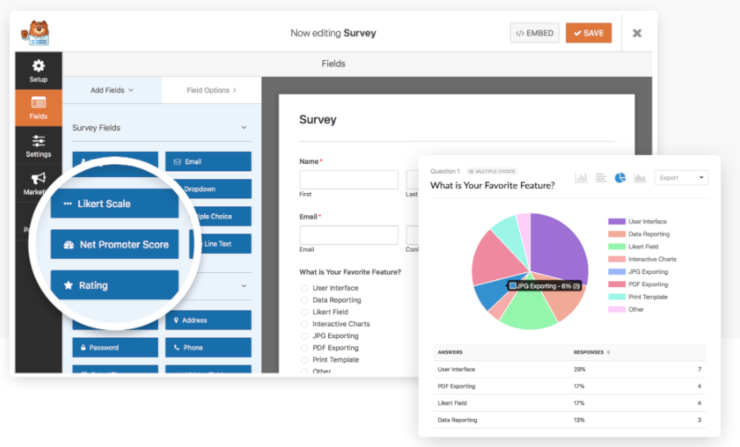 What's even more exciting is that WPForms lets you create conversational forms as well.
Now you can create more interactive forms that boost form completion and decrease form abandonment with WPForms too. The full-page conversational form layout makes your online forms more personal, like a face-to-face conversation with a friend.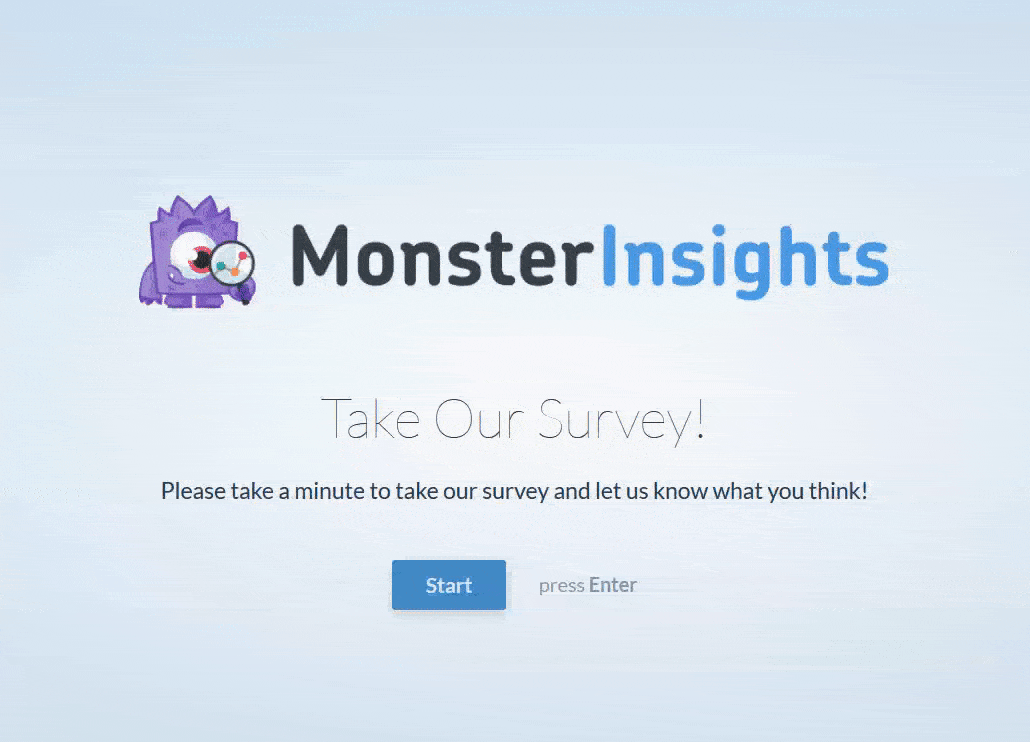 WPForms also offers smart conditional logic that works both with conversational forms and other form types so you can create highly-personalized forms based on the answers from users.
With WPForms you also get interactive survey reports with real-time insights, you can even display real-time results from polls on your website. This form builder plugin also gives you the ability to accept online payments with Stripe and PayPal and it easily integrates with all of the top email marketing services.
WPForms also offers a bunch of unique fields and features for your forms that TypeForm doesn't offer including:
User Registration – Create custom WordPress user registration forms for eCommerce sites, membership sites, and forums.
Custom Captcha – Add custom questions and math Captcha.
Geolocation Data – Use geolocation data to learn more about your users.
Signature Addon – Allow users to sign your online forms with their mouse or touchscreen.
Form Abandonment Addon – Unlock more leads by capturing partial entries from your forms.
Winner: WPForms
Ease of Use: WPForms vs. TypeForm
TypeForms
With TypeForm it's fairly easy to create a survey or online form. You can start with one of their pre-designed templates. They have a number of templates designed for surveys and questionnaires, feedback, registrations, applications, and more.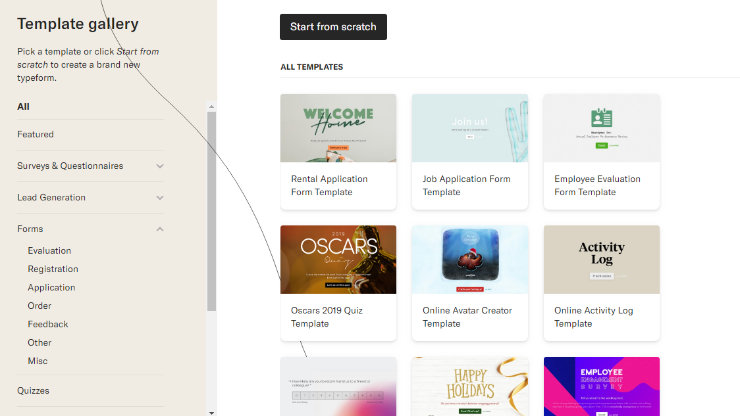 When you choose a template it comes with pre-written questions. If you want to change them, simply click on the text and start writing. Choosing the questions for your form is easy enough but customizing your form for design or adding a new question can become a bit more confusing for beginners.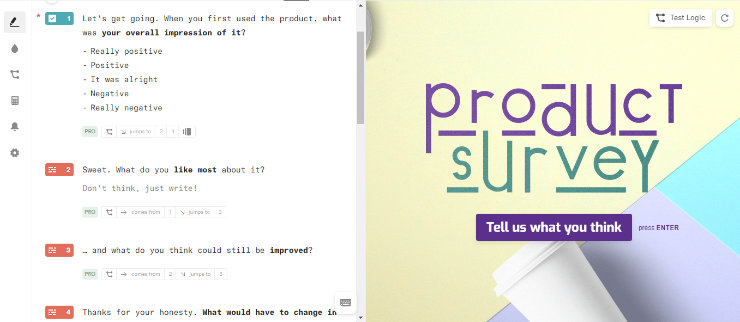 As far as creating a contact form for your site, there's no simple way to do it. They don't have any templates for it so you have to start from scratch. Plus, you can't just add fields to your form, you have to write a question first.
In addition, to add your online form to your site, you need to copy and paste the code TypeForm provides into your page's HTML where you want it to appear, which can also be a difficult task for beginners.
WPForms
On the other hand, beginners will find WPForms to be very user-friendly. With WPForms you can easily make simple contact forms or even complicated conversational forms or surveys in minutes.
First, WPForms provides pre-built templates for a variety of needs, including a simple contact form, request a quote form, billing/order form, donation form, suggestion form, appointment booking form, and more. Each template provides you with all of the fields you need to get started.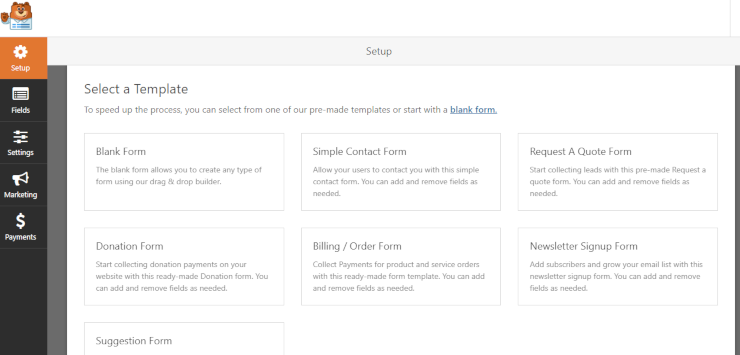 Customizing your forms is easy with WPForm's drag and drop builder. If you don't want a field, delete it with 1 click of a button. You can easily add new fields by dragging them from the left side to the right side. You can also rearrange the form fields using the drag and drop functionality also.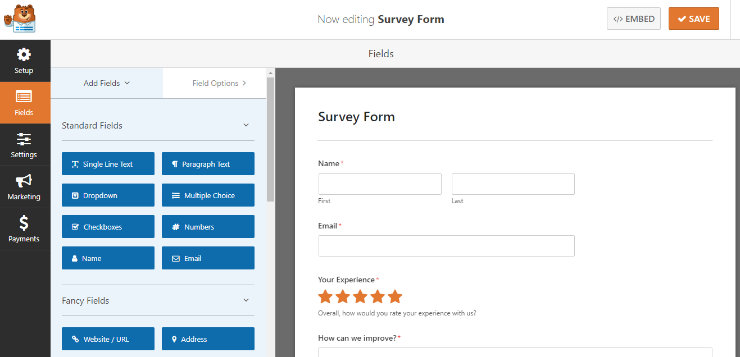 If you want to turn any of your forms into conversational forms with WPForm's new conversational forms feature, you can enable that with 1 click of a button as well.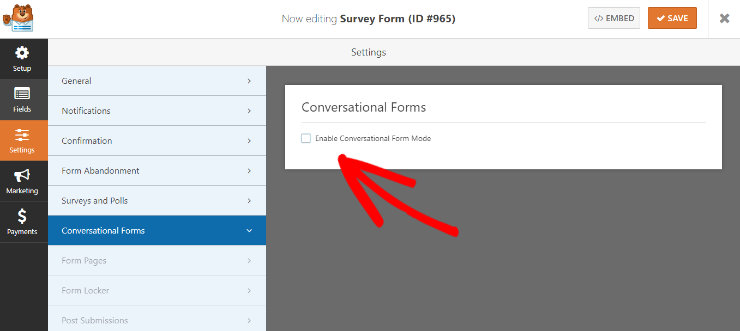 Plus, adding your form to your WordPress website is super easy with WPForms — no need to touch any code. With just 2 clicks you can add your form to any page of your site or to any post on your site. WPForms also comes with a widget that allows you to display your form in the sidebar, footer, or any other widget areas of a website.
Winner: WPForms
Pricing: WPForms vs. TypeForm
TypeForm
TypeForm offers 3 different pricing plans: Free, Pro, and Pro+. With all of the plans, you can create unlimited forms. But with the Free plan, you can only get 100 responses per month and you can only add 10 questions to each form.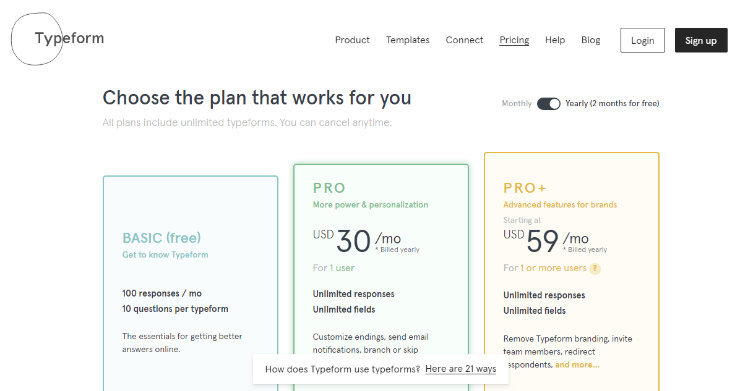 If you want the ability to collect unlimited responses and add unlimited fields, you need to upgrade to the Pro plan which is $30 per month. Also, you can only access their advanced fields and features like logic jump, file upload, and payment when you sign up for the Pro plan — they aren't available with the free plan.
Furthermore, if you want to be able to remove the TypeForm branding, you have to select the most expensive plan, Pro+, which costs $59 per month.
WPForms
WPForms offers 4 different pricing plans: Basic, Plus, Pro, and Elite. Their plans range from $39.50 per year to $299.50 per year. Their pricing is great for website owners who are just starting out and want access to powerful features while still staying on budget.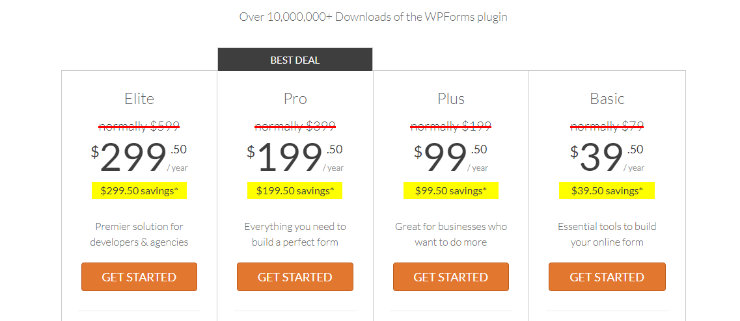 Plus, even with the least expensive plan, you still get the ability to create and receive unlimited forms, smart conditional logic, advanced fields, and more. WPForms is an affordable solution even when compared to Ninja Forms.
If you want to get access to robust features like payment integration and conversational forms, you'll need to choose the most popular plan, Pro, for $199.50 per year.
Winner: WPForms
Support: WPForms vs. TypeForm
TypeForm
TypeForm offers a variety of support for their users. They offer a packed Help Center with documentation to help you with creating your form, integration, sharing and embedding your form, managing your account, and more.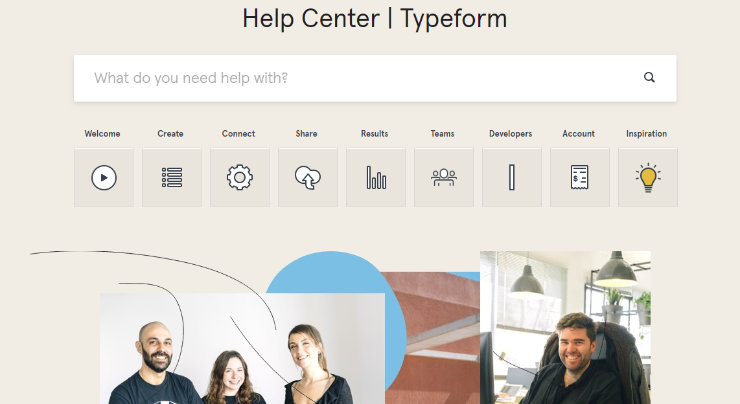 TypeForm also has a helpful blog full of tips and tricks. You also have the option of contacting their support team but they only provide support during business hours Monday – Friday and offer limited support during evenings and weekends. So, if you run into a problem, you might not get the speediest response.
WPForms
WPForms offers a number of different avenues for their users to access support. So, no matter what your preference for finding solutions to your issues, WPForms has got you covered. You can access their support ticket system right from your account and they typically respond to support requests within 24 hours on weekdays.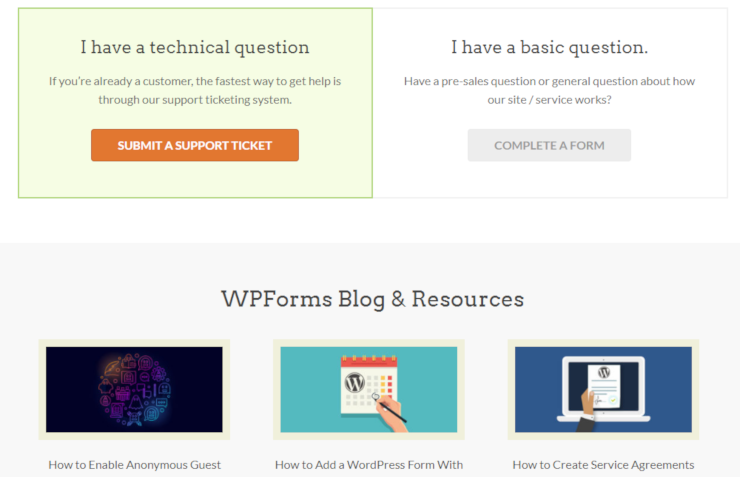 They also have a Documentation section that provides you with tutorials in categories such as Getting Started, Functionality, Styling, Addons, Account Management, and more.
WPForms also has an awesome, frequently updated blog that's full of tutorials, tips, and advice that often includes step-by-step screenshots and video instructions.
Winner: WPForms
Conclusion: WPForms vs. TypeForm: Which Form Builder is Best?
If you're looking for a plugin that gives you the ability to easily create a variety of forms for your website, such as contact forms, registration forms, and surveys, WPForms is your best option.
With WPForms, you get access to powerful online form features and fields that will give your forms the added power your business needs — without having to spend a fortune. Plus, it's incredibly user-friendly, even for complete beginners.
Get Started with WPForms Today!
If you want to create a design-focused form for your site or to share on social media, TypeForm is a great option. But, if you want a form builder solution for your website or business with all of the robust features you need, you'll have to opt for their priciest plan. Be sure to determine what features you need and what your budget is before committing to TypeForm.
We hope you enjoyed this article and that you've discovered what form builder option is the best for you in the WPForms vs. TypeForm battle. If you liked this post, check out our articles on WPForms vs SurveyMonkey and WPForms vs FormStack.