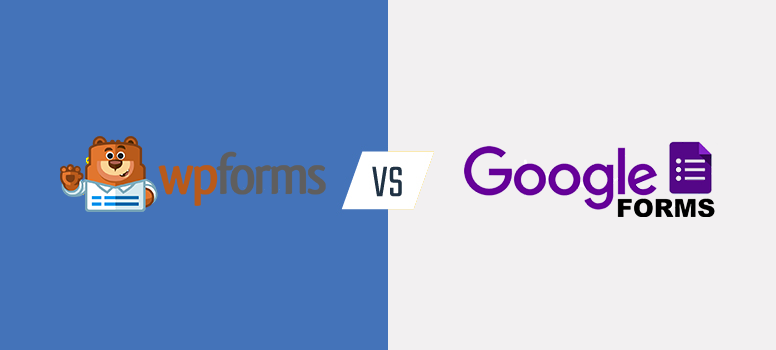 Looking to build an online form on your WordPress site? Not sure whether you should use WPForms or Google Forms?
Both WPForms and Google Forms are two great options for small and medium scale businesses. But when you dig deeper, you'll find a few key differences between these 2 form builders.
To help you find the right form builder for your needs, we decided to do a head-to-head comparison between WPForms and Google Forms. We mainly looked at 6 different aspects:
Popularity
Features
Ease of Use
Documentation & Support
Pricing
Towards the end, we'll tell you which one is the best option for you.
WPForms vs. Google Forms – Overview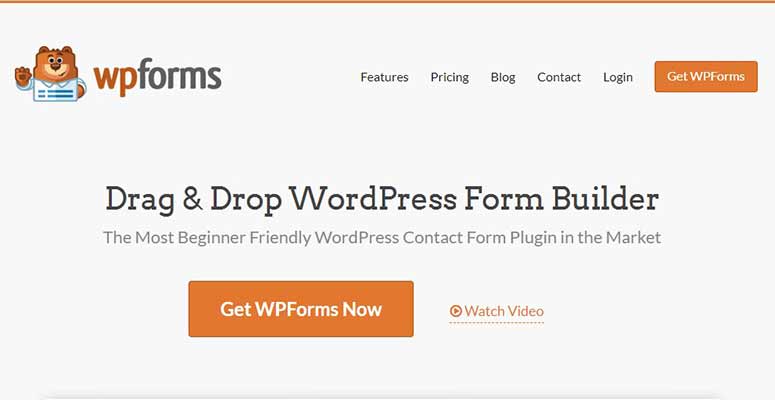 WPForms is an all-in-one form builder plugin that lets you create any kind of forms for your website, including contact forms, signup forms, survey forms, and more. You can use its form templates to get a head start or build your form from scratch depending on your needs.
It supports file uploads, lets you split long forms into multiple forms, accepts payments, integrates your form with an email marketing service, and do a lot more.

Unlike WPForms, Google Forms is more of a survey form builder. However, it can be used to set up other forms as well, such as contact form.
Since it's not a WordPress centric form builder, you'll have to manually embed the code to your website; no plugin is available for WordPress integration. Although it's best used as a survey form builder, you can create polls, questionnaires, data collection forms, or any other forms that you can think of. It also lets you upload different file formats like images, videos, links, etc.
The form entries are stored in Google Drive and can be sent to your emails as well.
1. WPForms vs. Google Forms – Which One is More Popular?
According to Datanyze, a web data company, WPForms is used on at least 161k+ websites and Google Forms on 101k+ sites.
That means WPForms has a 22.49% market share while Google Forms has 14.05%.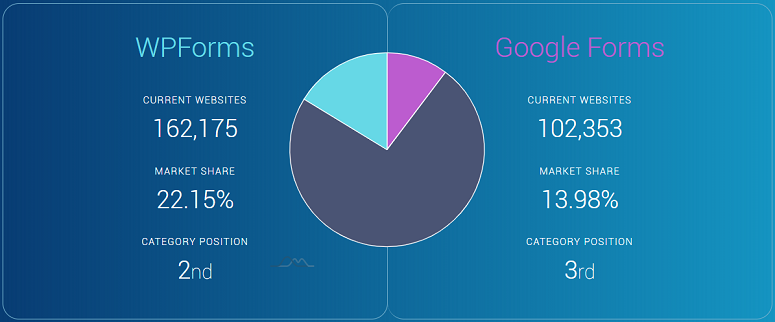 Now, this data doesn't necessarily mean that there are more WPForms forms created than Google Forms. Keep in mind that Google Forms are often published/hosted on Google Forms' website itself.
This data just means that more number of websites are hosting WPForms than Google Forms. This shouldn't come as a surprise especially because over 30% of the web is hosted on WordPress and WPForms is currently the fastest growing free contact form plugin in the WordPress repository.
2. WPForms vs. Google Forms – Features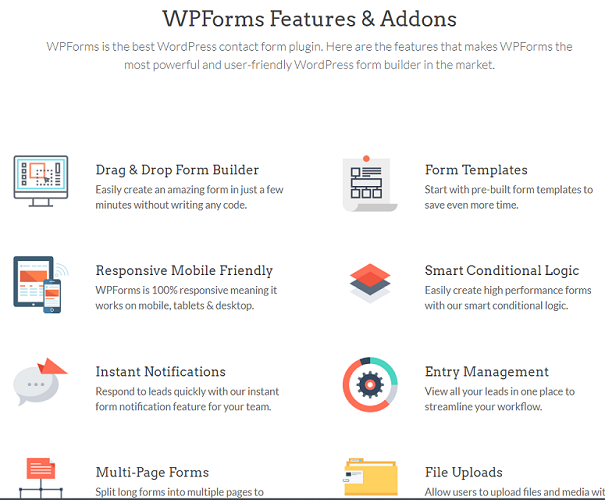 WPForms offers great features to create a pleasant form building experience. The best thing about this plugin is that it even lets you create form-specific landing pages, which look similar to Google Forms and also provide almost the same features.
Here's a list of some of the features it offers.
Drag and drop builder: This makes it easy for you to create your forms without coding.
Form Templates: WPForms offers various stunning form templates to help you get a head start.
Spam Protection: Keep your forms secure from spam submissions.
Smart Conditional Logic: Show and hide fileds and do more based on user input.
Payment Support: Easily collect payments, donations, etc. with PayPal and Stripe from your forms.
Entry Management: View all your leads in one place and keep things organized.
Email Marketing: Connect to various email marketing services and grow your list.
Zapier Support: Connect to hundreds of apps for empowering your website with advanced features.
Add Geolocation: Personalize your forms by detecting geolocation.
Several Addons: Enables you to expand your form features with several powerful addons.
Mobile Responsive: Makes your form appear good on mobile devices.
Here's the detailed review on WPForms.
Google Forms also offers amazing features for you to get started. Here's a list of features you might want to check out.
Multi-form Format: Easily create multiple question type forms.
Supports Different File Format: Create survey forms with different file format support like images, videos, links, etc.
Various Form Templates: It offers several form templates, so you don't always have to start from scratch
Email Reminders: Send email reminders to your users about your forms.
Smart Suggestion: It suggests answers to questions in your forms for user-friendly forms.
Customizable Branding: Customize your forms to blend in with your brand.
Coditional Logic:Create advanced forms with its conditional logic feature.
Real-time Response Chart: Display real-time results for polls, quizzes, etc.
The key differences between them are that WPForms is an all-in-one form builder plugin, whereas Google Forms is more of a survey form.
For example, with WPForms, you can build any forms, like email signup forms, registration forms, survey forms, order form, donation form etc. On the other hand, with Google Forms, you can only build contact forms and survey forms.
Winner
After looking at both the options, WPForms is clearly the winner with all its advanced features.
3. Google Forms vs. WPForms – Ease of Use
WPForms is designed specifically with beginners and non-techies in mind. This makes the interface super easy and flexible for anyone to handle. All you need to do is select your template, add your fields using its drag and drop builder and embed your form in your WordPress site. You can find hundreds of templates that best suited to any niche.
Customizing the fields is also extremely easy and the plugin offers full flexibility to customize each template to meet your requirements. Just click on them and start editing your fields on your left.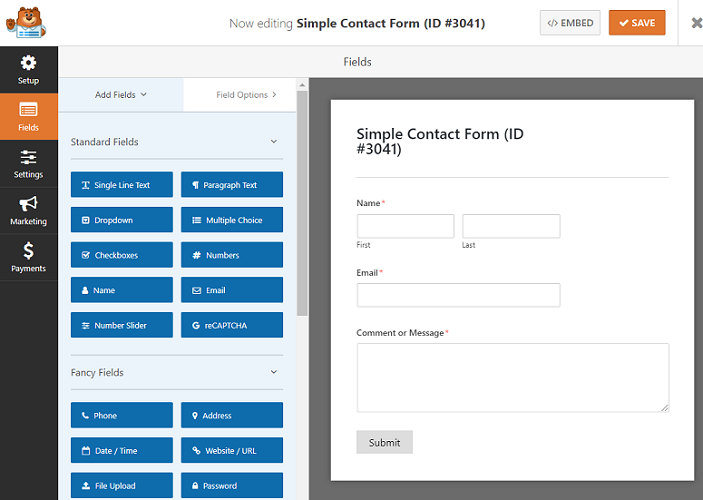 Even though the plugin comes with a lot of features, the core version isn't bloated at all. In order to extend the features of core plugins, you'll have to install the addons.
Google Forms also offers an easy interface to create your forms. Just go to Google Forms, click on the + button, and start creating your form. You have all the options on your right-hand side and you'll see the real-time view right on your screen.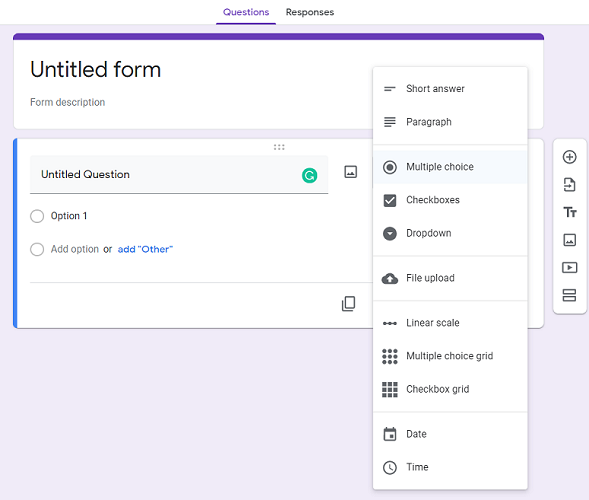 Google Forms only provides 17 premade templates, as opposed to 150+ templates by WPForms.
Winner
Both WPForms and Google Forms are easy to use. However, in terms of the number of templates, WPForms blows Google Forms out of the water.
4. WPForms vs. Google Forms – Documentation & Support
Both WPForms and Google Forms are very well documented. If you got stuck, you could easily find a solution from their extensive knowledgebases.
WPForms offers excellent support to its customers. You can reach out to their friendly support team by raising a ticket and someone from the team will reach out to you at the earliest with a solution to your problem.
Google Forms has a help center with a set of question and answers, which works like a forum, supported by a global community. However, answers aren't guaranteed.
Winner
WPForms
5. Google Forms vs. WPForms – Pricing
WPForms has a free version that lets you create beautiful and professional looking forms without any code. For more form features, you can upgrade it to one of its premium plans.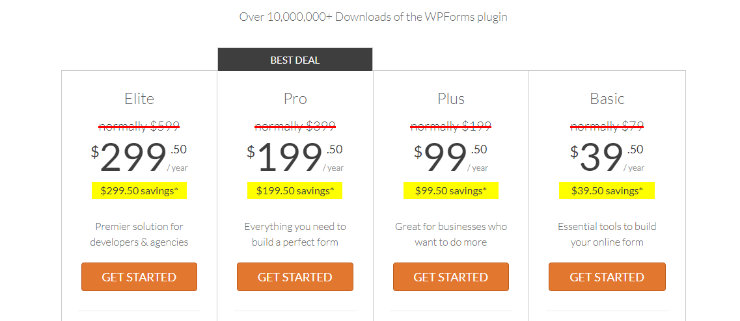 Conversely, Google Forms is a 100% free app.
Winner
It's a tie.
Which one is Better – WPForms or Google Forms?
After our comparison, it's quite evident that WPForms is way ahead of Google Forms. What we think the key difference between these 2 plugins is that the ease of access/management.
Since WPForms is a WordPress plugin, you can easily manage your forms and entries right within your WordPress dashboard. However, you'll have to log into your Google account every time you want to edit the forms and view your survey responses.
That said, if you're looking for an all-in-one form solution that provides you with every possible feature, then WPForms is the best choice. So you can use it as the best Google Forms alternative in the market.
Google Forms could be the best choice for you if you want to publish the same form on multiple websites that run on multiple platforms (like WordPress, Joomla, etc.), such as a survey form or job application form, etc. and organize all form entries in a single location.
That's it. We hope you liked our article on WPForms vs. Google Forms and helped you find the right choice for your needs. You might also want to check out how to build a contact form in WordPress.