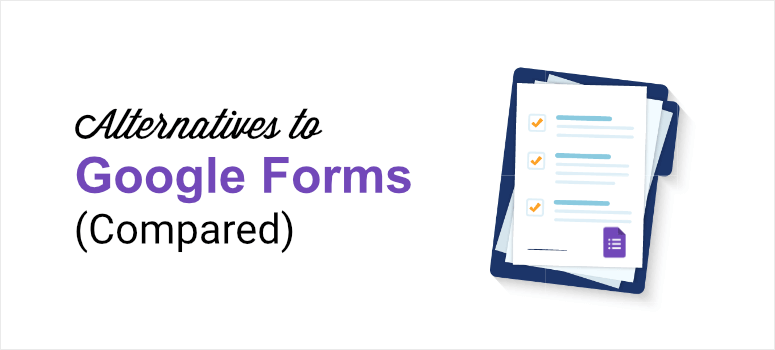 Do you want to find a better form builder than Google Forms?
Google Forms is widely used to create any kind of form for work, school projects, and surveys. But it lacks much-needed features like security, conditional logic, and the ability to accept payments. Plus, the form cannot be customized so it can look unprofessional.
For most website owners, the features of Google Forms fall short of what they need for business purposes. Luckily, there are plenty of alternative options that give you just what you need.
In this post, we'll compare the best Google Forms alternatives out there to help you find a more suitable form builder.
Why Do You Need a Google Forms Alternative?
Google Forms is a free form builder that's included in the Google Suite. So anyone with a Google account can use it to create forms, quizzes, surveys, and questionnaires.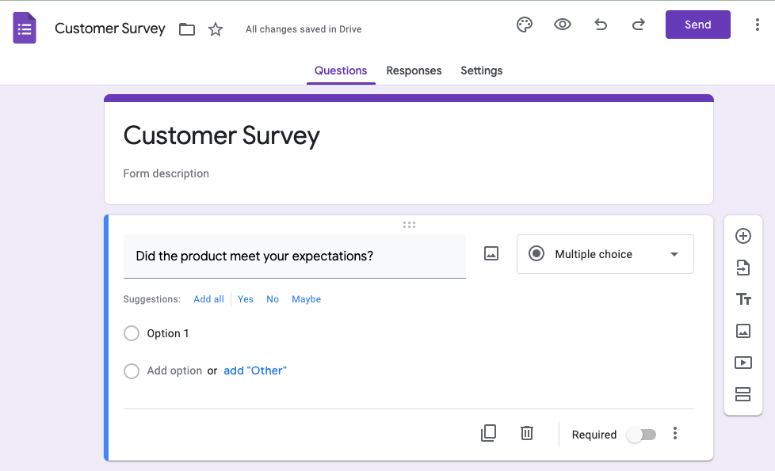 The builder gives you a couple of templates to choose from or you can create one from scratch. You'll get basic features to add, edit, and delete form fields. And once you start accepting entries, the form automatically collects the user's data and stores it for you.
You can manage your responses and customize settings to change how the responses are presented.
The thing about Google Forms is that it has a standard layout and design so anyone who's used Google Forms before will know that it's a Google Form right off the bat.
While this might be acceptable for basic use, especially for schools and internal team collaborations, it isn't ideal for professional and business purposes.
Here's why:
Lacks security features like built-in anti-spam protection and password protection
No option to collect online payments
Very basic form reporting so you won't get detailed insights
No conditional logic which means you can't automatically show or hide fields based on user response
Not a lot of options to customize the form's style
Also, you can send an email confirmation with a copy of the user's form responses. However, you can't customize this email or send drip campaigns to users.
Now there are many popular online form builders that offer better features that will work in favor of your website and business. Let's take a look at the top 8 alternatives to Google Forms.
Best Google Forms Alternatives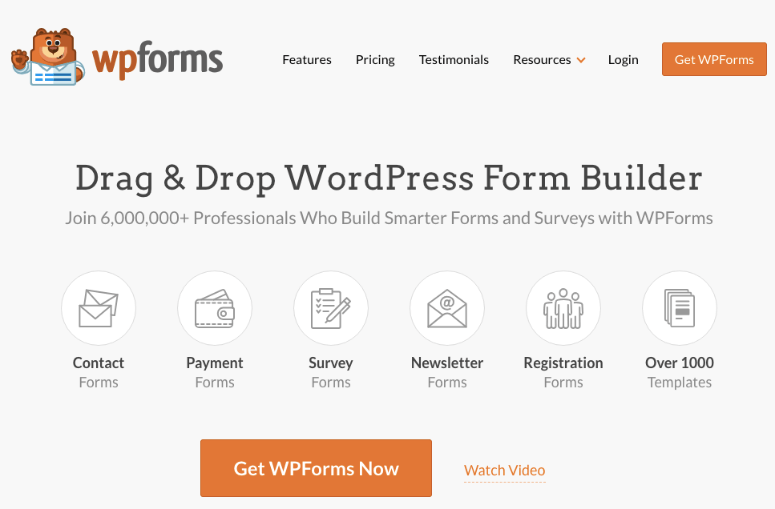 WPForms is the #1 form builder for WordPress. It comes with premade templates for just about any form you have in mind. This includes contact, registration, get a quote, surveys, polls, and much more.
Coupled with its powerful drag and drop builder, you can create beautiful WordPress forms in just a few minutes without touching a single line of code.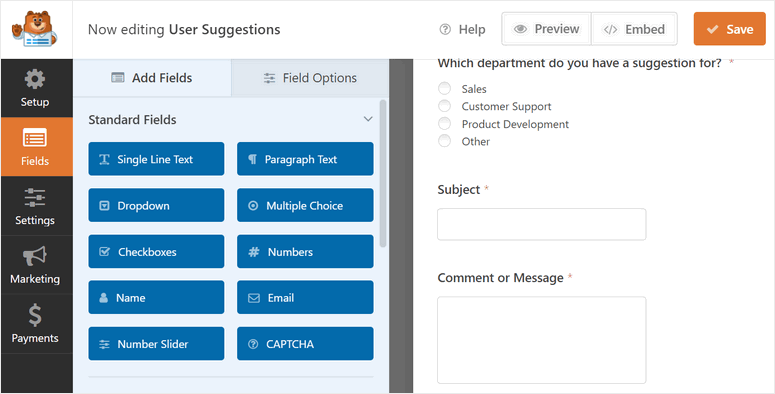 WPForms integrates seamlessly with all popular page builders so you can customize the form to make it unique and match your website perfectly.
Every form you create comes with built-in spam protection and you can enable Captcha as an added security measure. Plus, the forms are 100% mobile-friendly, meaning it will look great on any device (computer, mobile, or tablet).
What really makes WPForms #1 is its advanced features that are designed to give your users a seamless experience. First, there's conditional logic that lets you display followup questions based on a user's response. So you won't have to ask redundant questions in surveys and make your forms longer than they need to be.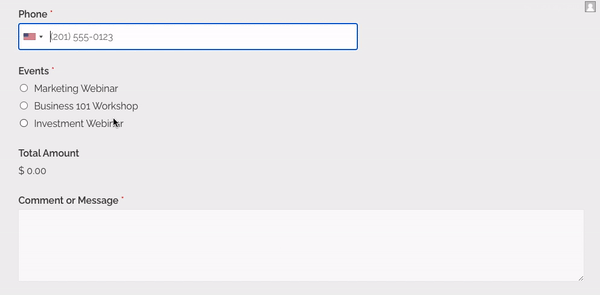 Next, there's conversational mode and form-only mode which removes all distractions and lets the user concentrate only on the form. With features like this, you can be sure to improve form completion rates and enhance the user's experience.
Added to all this, you can set up automated email notifications to be sent to admins and users to confirm their submission, deliver products/results, or even welcome them to your brand. You can integrate the form with your favorite email provider that way any email addresses you collect will automatically be added to your contact list.
There's so much you can do with WPForms. And if you're looking for more features, you'll find plenty of add ons to integrate with other tools, track user journey, allow users to save and resume, autocomplete address, and more.
Highlights
100+ templates to create any form
User-friendly drag and drop builder
Customized and automated email notifications
Integrate with PayPal, Stripe, and Authorize.Net
Advanced fields like file upload, Likert scale, priced items, and dynamic total
Addons to extend functionality and integrate with other tools
Manage leads and form submissions easily
Free version: Yes. Try WPForms Lite.
Pricing: The pro version costs $39.50 – $299.50 per year
Get started with WPForms Pro today.
Bonus: IsItWP users get a 50% discount on WPForms. Simply use our WPForms coupon code.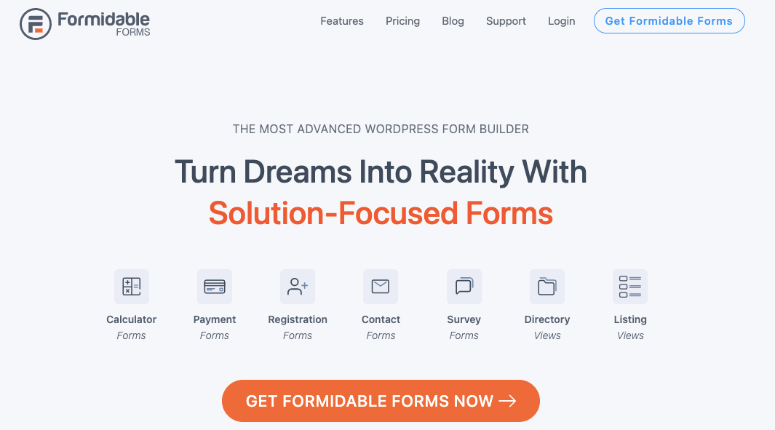 Formidable Forms is a more advanced WordPress form builder that you can use to create complex forms with ease.
To give you a few examples, you can create calculator forms, payment forms, directory views, listing views, and surveys.
Similar to WPForms, Formidable has a drag and drop builder with a visual styler. This means you can design your form in preview mode so you'll know exactly how your changes will look when the form is live.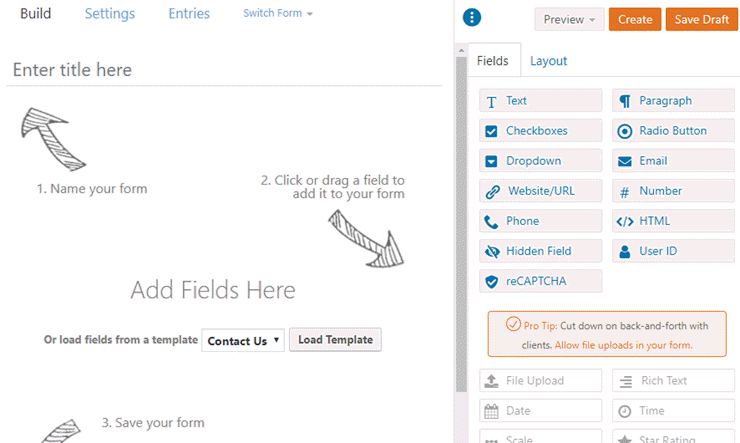 Formidable is built with both beginners and advanced developers in mind. There are plenty of options to create forms just the way you want them with 125+ hooks and customizable HTML.
Highlights
Conditional logic
Dynamic prefilled fields
Built-in anti-spam and Captcha protection
Multi-page forms
Save and continue
File uploads
Payment and marketing integrations
Free / lite version: Yes. Try Formidable Forms Lite.
Pricing: $39.50- $299.50 per year
Get started with Formidable Forms today.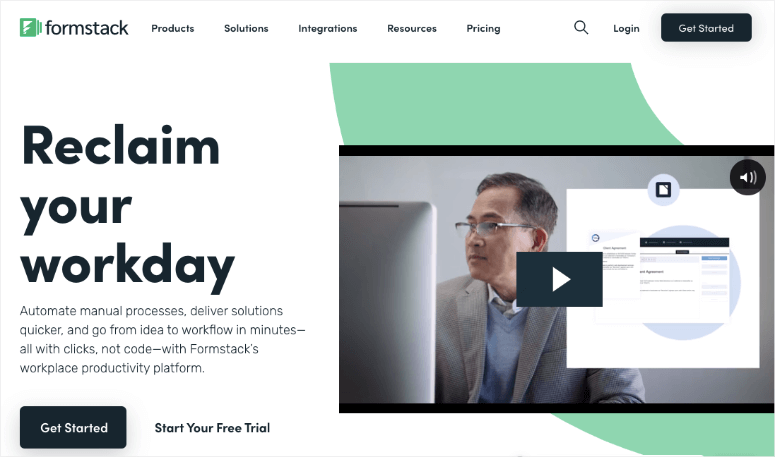 Formstack is a premium form builder to create versatile online forms that don't need any coding to set up. You can use the drag and drop builder to create forms to collect payments, capture leads, run surveys, and much more.
The tool is a great choice if you're looking to gather customer data like feedback, applications, and surveys. And if you have long forms, you can allow users to save their progress and finish it at a later date.
Formstack integrates with popular tools like Microsoft 365, Zapier, Google Sheets, PayPal, Salesforce, and HubSpot, so you can sync your forms with other work processes.
Highlights
Mobile friendly secure forms
Analytics and actionable insights
Field prefill and saved fields
HIPAA Compliant Forms
100+ integrations
Free plan: No but there's a 14-day free trial.
Pricing: $50 – $66 per month
Get started with Formstack today.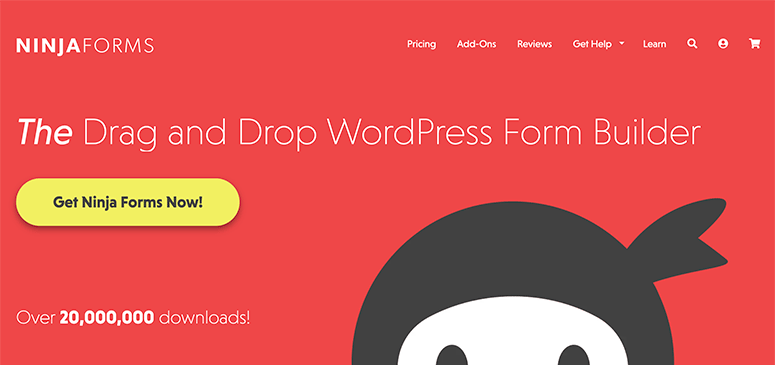 Ninja Forms is a beginner-friendly form plugin for WordPress. You can create both simple and complex forms with this tool without ever using any coding.
With this plugin, you can add conditional forms, multi-page forms and much more to your website. Plus, users can upload files like PDFs, Excel Sheets, and Google Sheets before they submit the form.
And there's more. You can accept PayPal and credit card payments securely. This lets you use your form to get donations, offer paid subscriptions, and sell products.
You can enhance the functionalities of Ninja Forms by installing premium add-ons whenever needed. And if you're a developer, the plugin comes with hundreds of functions and hooks to enhance it with custom features easily.
If you're looking for a free contact form plugin on your website, then Ninja Forms is a good option.
But keep in mind that as your website grows, you'll need to get on the premium plan and buy addons to extend functionality. This can make Ninja Forms more expensive than other plugins in this list.
Highlights
100% beginner friendly
Customize to match theme
Advanced features for developers
Payment integrations
GDPR compliance
Dedicated support with all premium plans
Free / lite version: Yes
Individual addons pricing: $29 – $129 each
Pricing: $99 – $499 per year
Get started with Ninja Forms Pro today.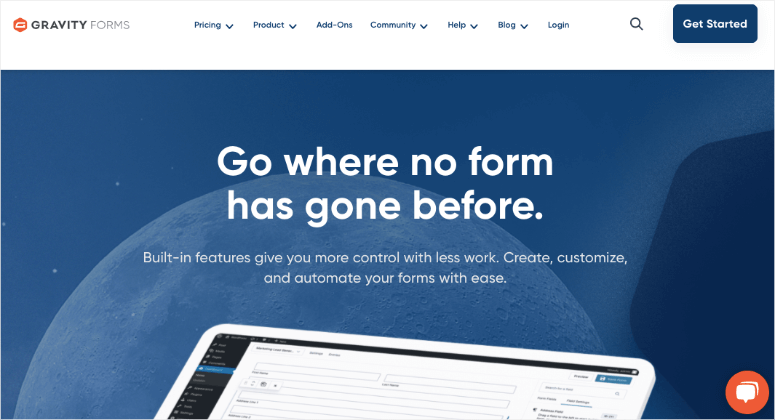 Gravity Forms is another premium WordPress plugin to create forms for your website. There are plenty of templates to choose from and you can customize them easily with its intuitive drag and drop builder.
The forms are designed to help you generate leads, collect payments, and grow your business.
Gravity Forms lets you create multiple columns in your form which gives you more options to be creative with your form. You can paginate the form and create multiple pages to break up your form fields and make them more visually appealing.
Gravity Forms also integrates with HubSpot and Zapier so you can connect to thousands of different apps.
The downside is that Gravity Forms is the most expensive form builder and there's no trial available either.
Highlights
30+ form fields
Conditional logic
Reponsive forms
WordPress multisite compatible
Foreign language support
Data collection, validation and routing
Custom form CSS, API, and webhooks
Free / lite version: No. You can view a demo of the form builder before making a decision.
Pricing: $59 – $259 per month
Get started with Gravity Forms today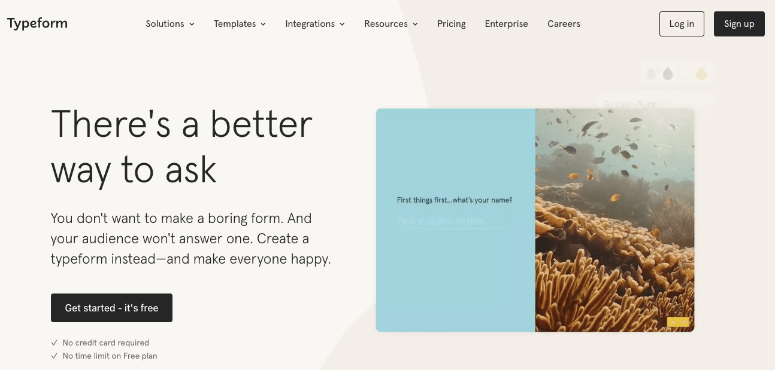 Typeform lets you transform boring forms into a conversation. You can create forms, surveys, and quizzes that people will enjoy filling out.
These forms are designed to keep your users engaged so that they give you more thoughtful responses. The conversation style together with conditional logic also helps improve form completion rates.
Typeform comes with customizable layouts and a built-in video and photo stock library. This lets you create stunning forms that match your brand and style perfectly.
Once your form is ready, you can embed it on your website and share it in an email or as a URL link.
Then as you collect responses, you'll get insights on your form responses and performance that you can share to other apps.
There's a forever free plan, however, it's extremely limited and will bear the Typeform branding which can look unprofessional.
If you want, you can check our guide for the best Typeform alternatives.
Highlights
Unlimited forms
Calcuator
FIle uploads
Powerful integrations with other marketing tools
Shareable reports
Free / lite version: Yes.
Pricing: $25 – $83 per month for the form builder. They have other tools like the quiz, survey, and poll makers that are priced separately.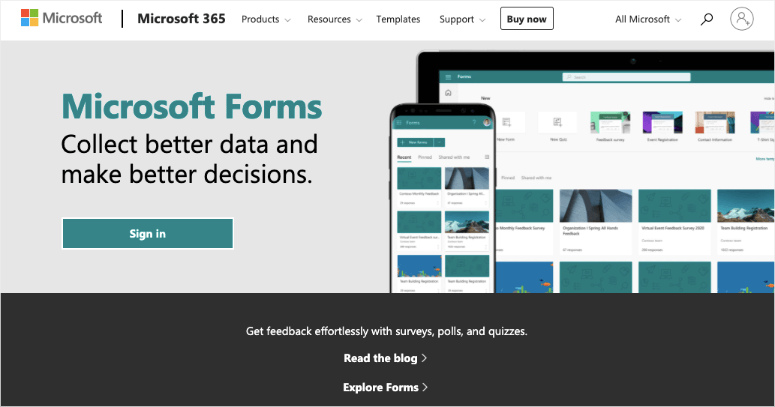 One of Google Workspace's strongest competitors is Microsoft 365. It comes packed with apps like Microsoft Teams, Word, Powerpoint Outlook, Forms, and more!
Anyone with a Microsoft account can access the form builder to create a form in minutes. You can also use it to make surveys or quizzes and invite others to respond to the questions.
Microsoft Forms gives you real-time results as users submit the form. You also get built-in analytics to evaluate responses. And if you'd like to use the results offline, you can export the data to Excel.
This form builder is quite similar to Google Forms and is a great option for schools, internal work collaborations, and surveys. But if you're looking to embed a form on your website, then you're better off with a tool like WPForms.
Highlights
Visual response data and advanced analysis
Built-in AI and smart recommendations
Integrates with popular apps
Multilingual support
Free / lite version: Yes
Pricing: Starts at $5 per month
That's all we have for you today! That's our list of the best Google Forms alternatives.
We hope this post helped you find the right form solution for your business and website.
While there are many options, we recommend WPForms as the best Google Forms alternative in the market. It's hands down the best form builder for any WordPress website.
If you're looking for a form builder outside of WordPress, then we recommend Typeform. It's packed with features that you'll love.
You may also check our guide on the best Google Analytics alternatives. This will help your find the best analytics tools and plugins to track your website traffic.
Next, you'll definitely want to check out these resources that we've handpicked for you:
These posts will help you create and design high-converting forms for your website so that you can drive leads and sales up!