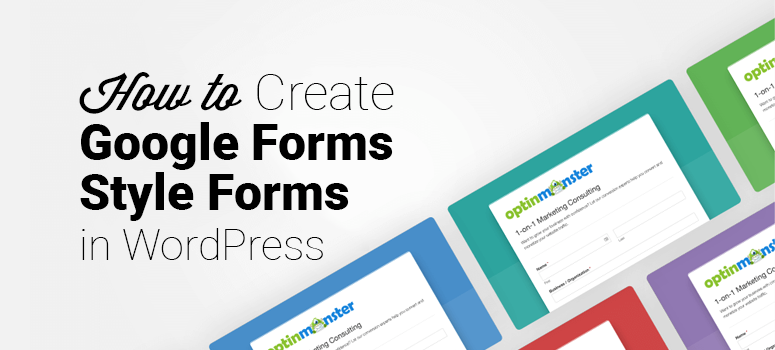 Want to create "Google Forms style" forms for your WordPress website?
A lot of publishers choose Google Forms to create a survey because it provides a distraction-free landing page dedicated to the form.
If you want to create a distraction-free landing page specifically for your form, but don't want to use a third-party app, like Google Forms, then you're at the right place.
In this tutorial, we'll show you how to create a "Google Forms style" form right from your WordPress dashboard using a plugin called WPForms.
Natively Creating a "Google Forms Style" Form in WordPress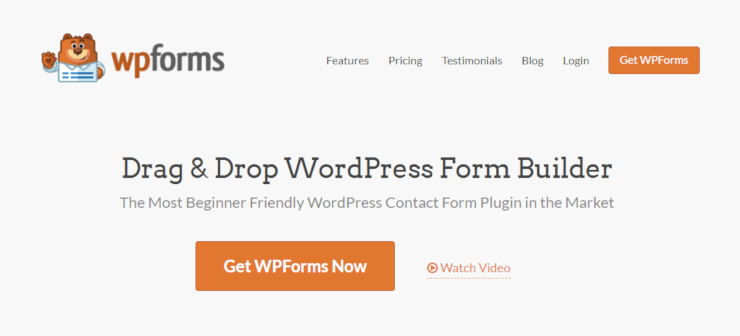 WPForms is the best contact form plugin on the market that comes with several form layouts, including a layout called Form Pages. The Form Pages by WPForms is a good alternative to Google Forms.
The best part is that unlike Google Forms, WPForms lets you add the brand logo to your form page. No third-party logo will be displayed. Plus, the form page's layout is not controlled by your WordPress theme, so you don't have to settle for mediocre form layouts and low form conversions
So it is one of the best Google Forms alternatives that you can find.  You can also use WPForms for creating custom form landing pages for:
Lead Generation
Surveys
Site Registrations
Event signups
and a lot more. Check out this detailed review of WPForms.
Step 1: Installing and Activating WPForms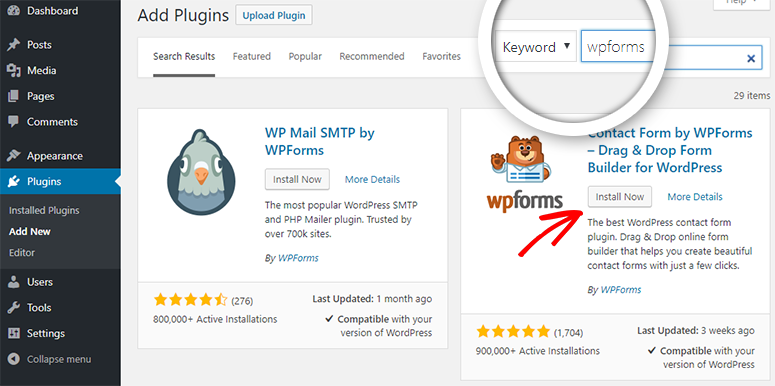 The first step is to install and activate the WPForms plugin on your website.
Once that's done, you can begin creating your form page for your WordPress site.
Step 2: Installing the Form Templates Pack Addon
The next step is to install the Form Pages addon. With this addon, you can easily turn your form into a custom form landing page. To activate this plugin go to your WordPress dashboard and click on WPForms » Addons. Now using the search field look for the Form Pages addon.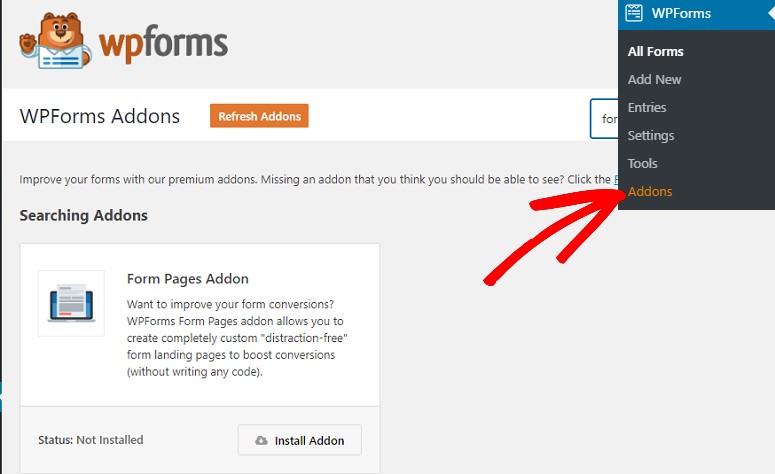 Once found, click on the Install Addon button for the addon to start working.
Step 3: Creating a New Form with WPForms
To create a new form, go to WPForms » Add New on your WordPress dashboard. You'll then be taken to a new page where you can select a template for your form.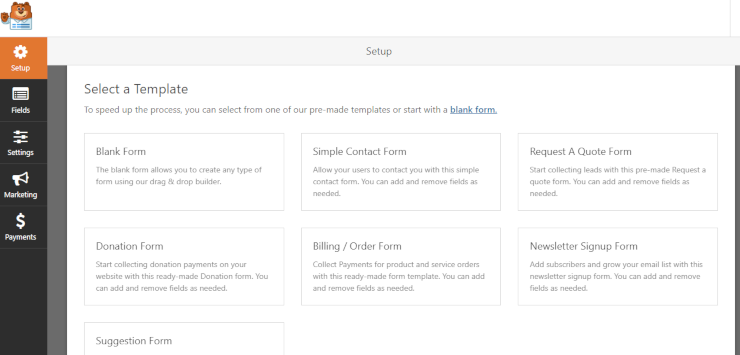 Let's select the Simple Contact Form template. You'll now be directed to a new page where you can see the form editor on your right and the form fields and other settings on your left.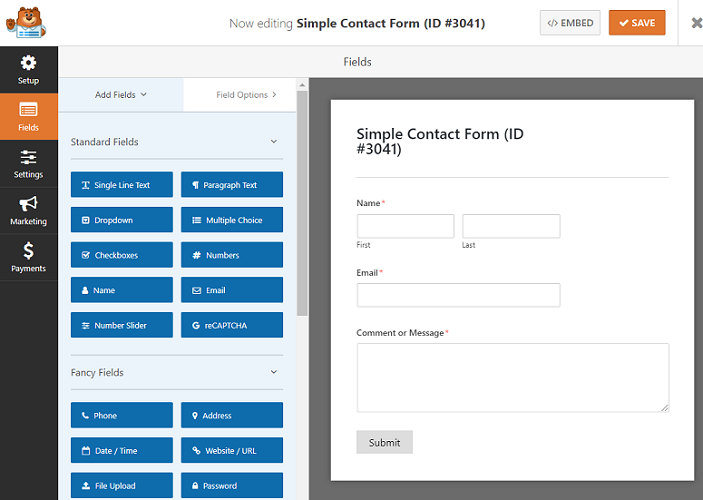 You can simply drag the fields from your left and drop them in the form builder on your right. Unlike Google Forms, you'll also get an option to connect your form to an email marketing service and payment services as well. Here's a step-by-step guide on creating a simple contact form with WPForms.
Step 4: Converting a Contact Form Into a Form Page
Once your form has been successfully created, it's time to convert it to a form page. For that, you need to go to Settings » General » Form Pages.
Here you'll find an option called Enable Form Page Mode. Just select the checkbox next to it.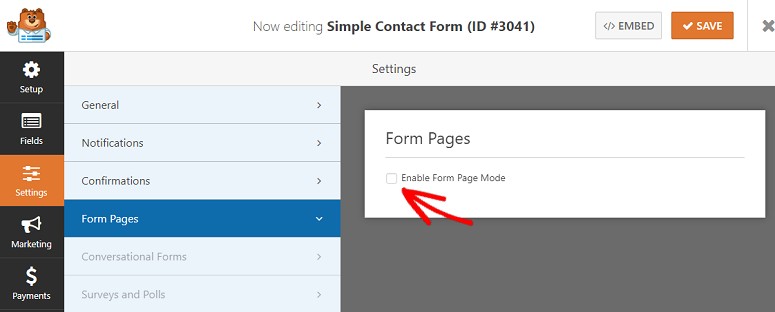 This will expand your options and you'll see various fields being added. Most of these fields are self-explanatory, so you can fill them out according to your requirements.
In the first 2 fields, you can add a form page title and a message that you want to convey to your users.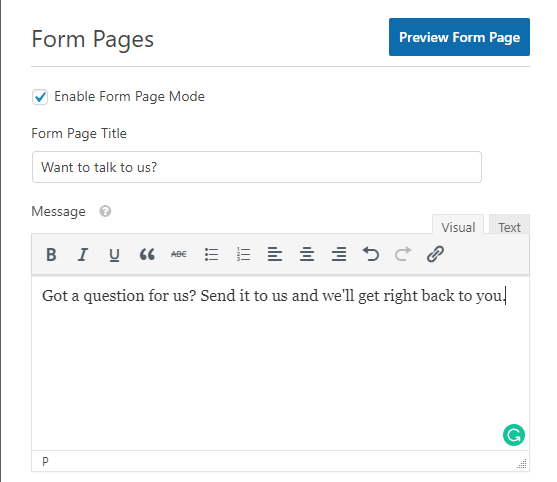 In the next 3 fields, you'll find a permalink option (this is automatically created by WPForms, so you don't have to do anything here), a header logo option where you can upload your business logo, and a color scheme option.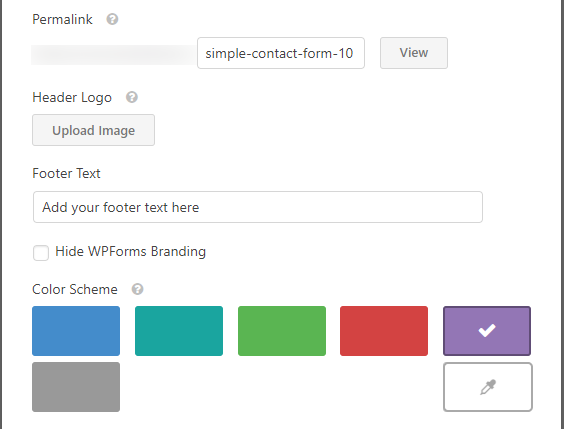 Finally, you'll get two layout styles to choose from.
Modern: This one displays a wider form with rounded corners. The lower portion of your page's background will be darker than the color you choose for your color scheme.
Classic: This option displays a narrower form with square corners. The lower portion of your page's background will be lighter than your color scheme.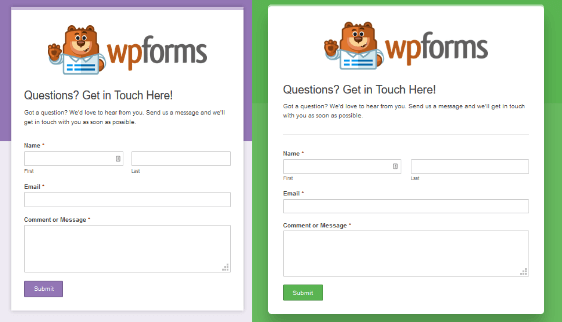 Select the one you like best. Once done, hit the Save button on the top right corner of your screen. You can also use the Preview Form Page button on the top right corner to preview your changes. And here's how it looks like.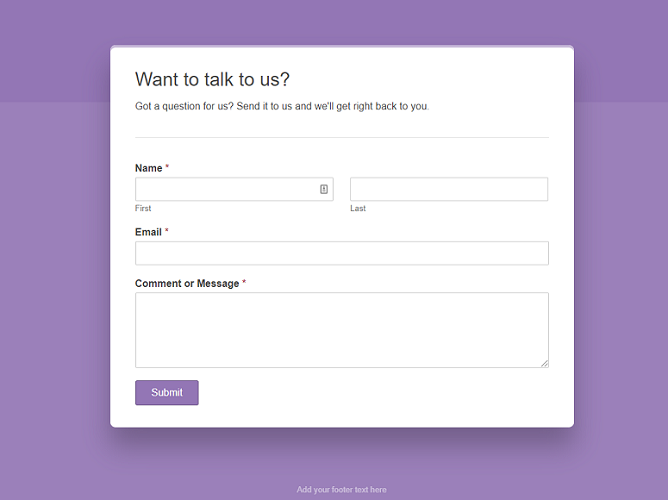 Step 5: Publishing Your Form Landing Page
Once your form landing page is ready, it's time to publish your form. For that, you can go to any page or post in which you want to display your form. Now click on the + button and find the WPForms option.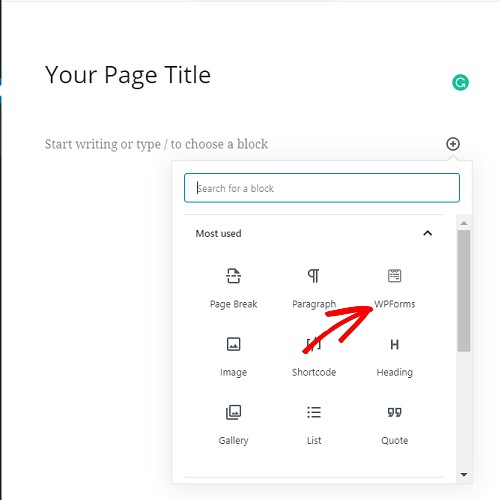 Now click on it. From the drop-down arrow next to it, choose the form that you've just created.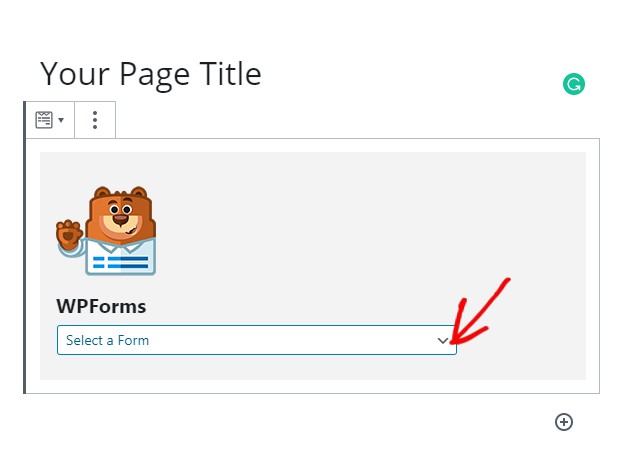 Now hit the Publish button on the right for the form to go live.
And that's how easy it is to create a Google Form styled form for your WordPress website. We hope you found this article helpful. If you did, you might also want to check out how to create a survey form with WPForms.
Also, you can check our guide on how to save form progress in WordPress. This will help you allow your users to save and resume their form submissions at a later time.