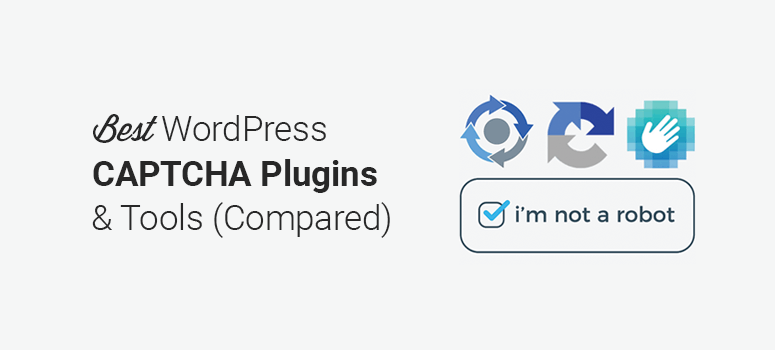 Are you looking for the best WordPress captcha plugins?
If you have a form or comments section on your website, you need a WordPress captcha plugin. It will help block bots from spamming your comments section. But more importantly, it will prevent bots from submitting malicious form entries that can harm your website and users.
In this list, we'll share the best WordPress captcha plugins and tools that you can use to block spam and bad bots.
What is CAPTCHA?
Anyone who has used the internet has likely come across captcha challenges. You probably already know what captcha is but to cover all bases, let's take a quick look at what you need to know before you install a captcha tool on your site.
Captcha is a test for humans to prove that they are real people and not bots. The word 'CAPTCHA' is an acronym that stands for "Completely Automated Public Turing test to tell Computers and Humans Apart."
This is a challenge-response test that can help find out if the response is generated by a human being and not a computer.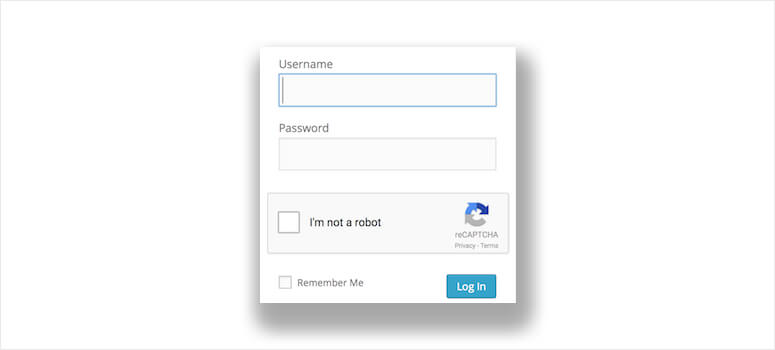 Now there are over 10 types of captcha available on the market, and you can add them to your website to block spammers.
Some of the popular captcha types include text captcha, image captcha, audio captcha, puzzle captcha, math captcha, word problem captcha, and so on.
But why does this matter? We tell you that next.
Do I Need CAPTCHA on My WordPress Site?
Yes, every website should ideally have captcha enabled. Here's why:
Prevent Malicious Attacks: Hackers use bad bots combined with all sorts of methods to try to break into your site. A few of these attacks include SQL injections, Cross-site Scripting, and Brute Force attacks. They target input fields on your site like the comments section, login area, password form, and any other forms.
Prevent Spam: There are tons of reasons why people may want to spam your website. They may want to promote their own website or a competitor may want to disrupt your business.
Captcha is important for blogs, community sites, and forums. If you're running an online store or a membership website, you should add a captcha to any login form and registration form to avoid bot attacks and fake registrations.
Malicious threats and bot attacks are increasing each day. If you come under attack, this can put a load on your servers and make your website slow.
Not only can these attacks affect your website speed, but it also disturbs your search engine rankings. A captcha plugin can protect your website from such unwanted problems. You won't need to deal with bots, and you can focus on real people that visit your site or place orders from your eCommerce store.
Keep in mind that adding Captcha to your site can be complicated. You need to create an API, and add a secret key and site key. But don't you worry, we have an easy step by step tutorial you can follow: How to Add Google reCAPTCHA to Your Contact Form.
This tutorial uses the best captcha solution for your WordPress forms – WPForms.
Now that you fully understand what captcha is, let's look at the best WordPress captcha plugins and tools.
Best WordPress Captcha Plugins and Tools
Below, you'll find paid and free WordPress captcha plugins. Each plugin offers different features and captcha types, so you can select the best captcha plugin or tool that best suits your needs.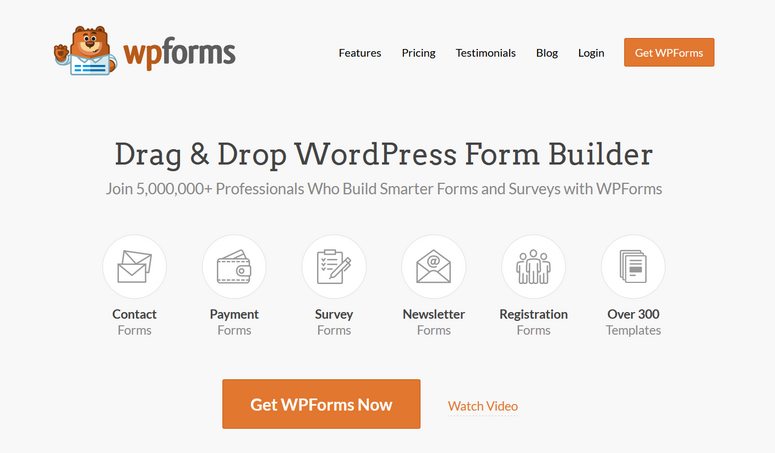 WPForms is the best way to add captcha to your WordPress site. This tool is a visual WordPress form builder, and it's the best one out there.
It lets you create any kind of form you need for your site including contact, login, and registration forms. You can even create surveys and polls right from your WordPress dashboard.
Now WPForms is #1 on this list for 2 main reasons:
Every form you create comes with built-in spam protection. It automatically detects bots and blocks them from submitting the form.
You can enable captcha in a few clicks. That's it! You don't need to touch any coding or WordPress files.
WPForms supports Google reCAPTCHA and hCaptcha. We recommend using reCAPTCHA. It's a free anti-spam service from Google which helps protect your website from spam and abuse while letting real people pass through with ease.
Many site owners avoid adding captcha to their site because they feel it would ruin the user experience. But with WPForms, you can even add an invisible captcha that will run in the background to check if the user is a real person. So your form can use captcha and still be user-friendly at the same time.
Next, WPForms has a fail-safe no-conflict mode. This option can be used to forcefully remove other captcha occurrences in order to prevent conflicts from other plugins. You don't need to enable this option unless your site is having compatibility issues or the support staff tells you to enable it.
The plugin is easy to use so it's great for beginners. You can build and customize your forms with templates, custom submit buttons, form notifications, and smart conditional logic.
You'll also find plenty of plugin settings, integrations, and addons to sync your email service, payment gateway, and other marketing tools.
Price: WPForms has a free version with basic features. The pro version starts at $39.50 per year.
Ready to add captcha to your site in the best way possible? Sign up with WPForms now »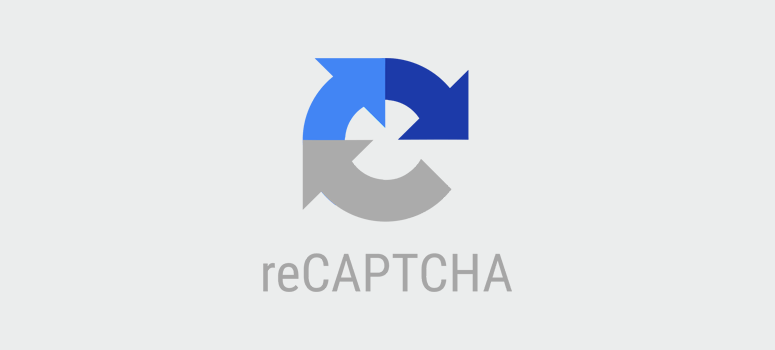 Google reCAPTCHA is an excellent captcha tool that protects your website from bots, fraud, and abuse. Built by Google, it uses advanced technology to keep malicious threats away and makes sure that legitimate users can easily pass security checks.
It blocks fake and bot users to sign up on your site while letting valid users log in and make purchases. Google reCAPTCHA has an adaptive technology that learns from human and bot interactions on your website.
Google captcha has 3 versions (all supported within WPForms):
v2 Checkbox reCAPTCHA: Prompts users to check a box to prove they're human.
v2 Invisible reCAPTCHA: Uses advanced technology to detect real users without requiring any input.
v3 reCAPTCHA: Uses a behind-the-scenes scoring system to detect abusive traffic, and lets you decide the minimum passing score. Recommended for advanced use only (or if using Google AMP).
We recommend using Google reCAPTCHA along with WPForms to get the best protection for your WordPress site.
Price: It has 3 versions. reCAPTCHA v2, reCAPTCHA v3, and reCAPTCHA Enterprise. You can use the free versions (v2 and v3) to validate basic interactions. The enterprise plan is a paid option and comes with powerful features. You need to connect with their sales team to get a quote. Prices are subject to your needs.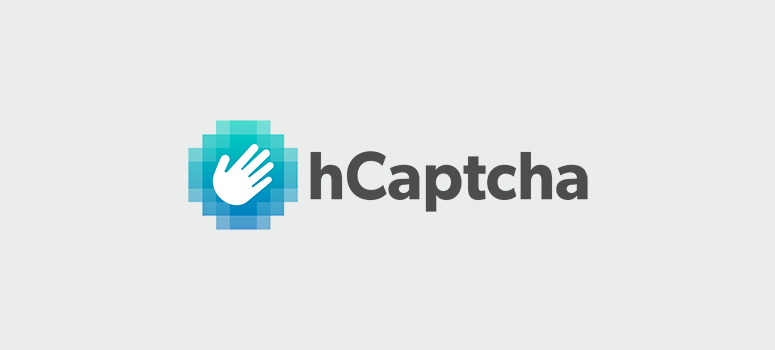 hCaptcha is a premium captcha tool to keep bots and malicious attacks away from your site. It protects user privacy and provides a secure environment to keep your site running smoothly.
It has a simple and reliable bot detection method and offers easy captcha for humans to solve and pass security checks. With machine learning technology, it determines genuine human interactions to make captcha simple and save time.
Price: It has a free plan with limited features. hCaptcha Enterprise plan gives you complete control of challenge types, challenge content, difficulty levels, custom challenge creation, time-based scheduling, multi-user dashboards, and advanced reports. You need to contact the hCaptcha sales team to get a quote for the Enterprise plan.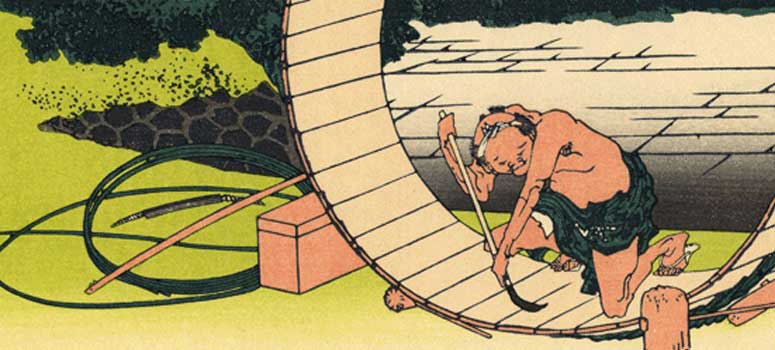 Really Simple CAPTCHA is a simple WordPress captcha plugin. It's dependent on other plugins and doesn't function alone, so you need to use it with your WordPress contact form plugins.
It offers an easy captcha solution. When a user enters the answer in the captcha, it verifies the answer from the response image file. And if the answer is correct, it lets the user submit the form.
Price: Free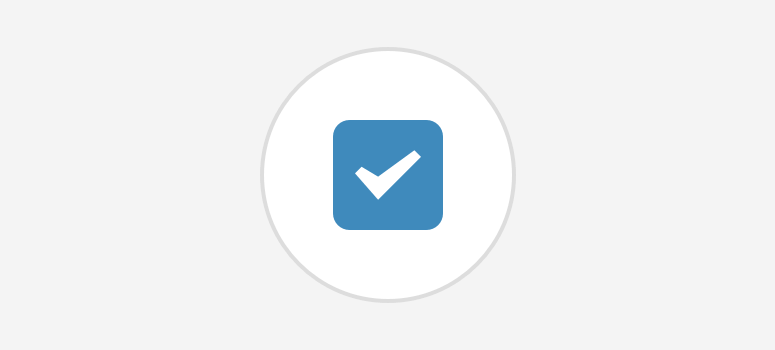 reCaptcha by BestWebSoft is a free WordPress captcha plugin. It protects your website from spam comments and spam form entries. It lets real people pass through security checks easily.
You can use this plugin on your WordPress login, user registration, password recovery, comments, contact forms, and other pages. It'll ask users to confirm that they aren't robots before submitting a form on your website.
One really neat feature is that you can hide reCaptcha for the allowlisted IP addresses. It's also multilingual and RTL ready.
The reCaptcha plugin is compatible with WooCommerce, bbPress, BuddyPress, and most form plugins including WPForms and Ninja Forms.
Price: Free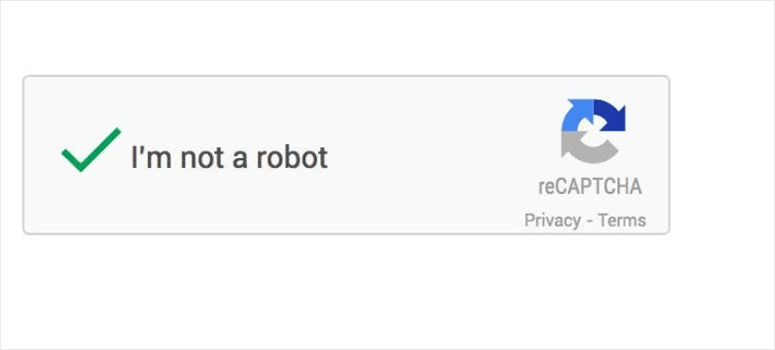 Advanced noCaptcha & Invisible Captcha is a free plugin to display captcha in your comment form, login page, user registration page, password reset page, and so on.
You can also add it to your custom WordPress forms. It allows multiple captchas on the same page.
It also lets you create a conditional login captcha to display after a few failed login attempts. For better user experience, you get control over whether you show or hide captcha to logged-in users on your WordPress website.
Price: Free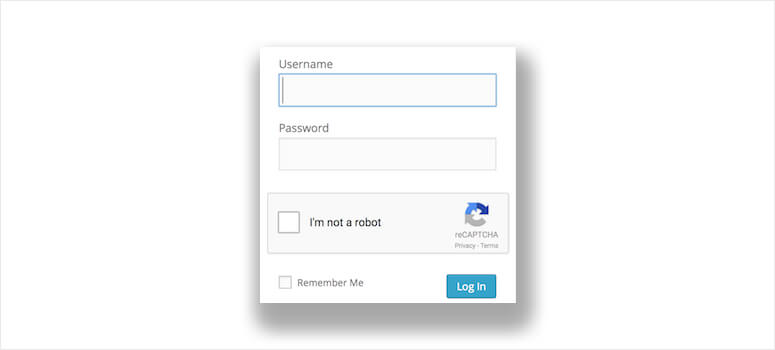 Login No Captcha reCAPTCHA is a free WordPress captcha software. It adds a Google No Captcha checkbox to your WordPress and WooCommerce login page, forget password page, and user registration page.
It blocks access to automated scripts and allows humans to log in by checking a box. The plugin requires no settings and works automatically after the activation.
Price: Free
That's our list of the best captcha plugins for WordPress. While every plugin on this list has something to offer, our #1 pick is WPForms. It's the easiest and best way to add captcha to your site. You can get started for free and then upgrade as you grow.
That's all for now. We hope this article has helped you find the best WordPress captcha plugins and tools to protect your website from scams and malicious threats.
You may also want to check out our tutorials:
The first tutorial will help you put a stop to spam bots. The security plugins and tips will further help improve your security and completely avoid spam entries on your WordPress forms.