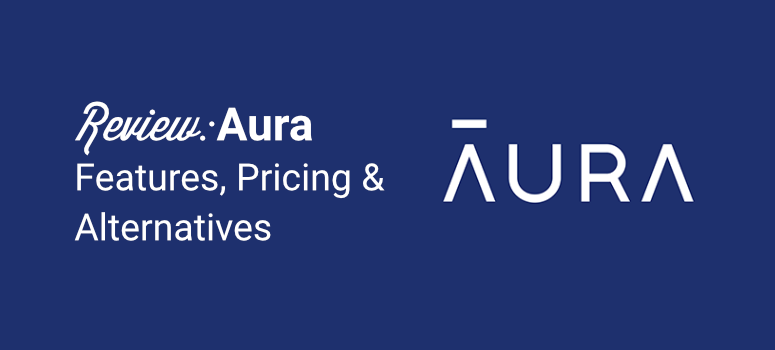 Looking for the best identity and financial protection service? Want to know if Aura is actually the best identity theft protection service on the market?
Aura is a powerful identity theft protection and security platform that helps you keep your personal information safe on the internet. It comes with a complete set of features such as identity verification, personal & SSN monitoring, credit monitoring, antivirus, VPN, and other solutions.
In this Aura review, we are going to discuss all the features, pricing, and other factors to find out if it is the right identity theft protection service for you.
Since this is a detailed review of Aura, we've added a table of contents below so you can easily navigate to any section of your choice.
What is Identity Theft?
Identity theft is when someone steals your personal or financial information to perform fraudulent activities. These identity thieves can use your identity to create new accounts, apply for credit and even commit crimes that you can be held responsible for.
In most cases, people end up paying for the damage done and lose a huge amount of money. The founder and CEO of Aura, Hari Ravichandran, himself became a victim of identity theft in 2014.
When his credit information was compromised, he found out that there are no identity theft protection and digital security tools available.
With the ambition of providing the best comprehensive security solution for everyone, he created Aura.
Aura is packaged as a collection of identity monitoring, financial fraud protection, device, and network security features. 
Next, we are going to learn about each of these features and the benefits of using Aura.
Aura Overview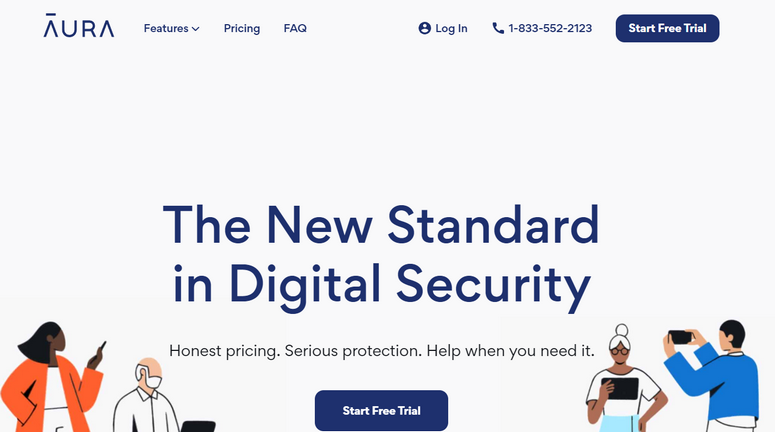 Aura is an all-in-one identity theft and fraud protection service that also offers digital security tools. It comes with an easy-to-navigate web-based interface so all types of users can get started without any trouble.
To protect your identity, Aura offers extensive monitoring services like identity verification, personal information & social security number monitoring, criminal records monitoring, and more.
It constantly scans the internet, public records, and the dark web to find any suspicious activity under your name. If it finds that your personal information has been compromised then it notifies you immediately.
Aura also has a powerful credit monitoring feature that notifies you as soon as there are any changes in your credit file. It checks across the major credit bureaus like Experian and shows you a monthly credit score as well.
What's more, it monitors your bank accounts, credit & debit cards, and other financial accounts. This keeps you safe from any illegal transactions that can put you at risk.
With Aura, you also get access to lost wallet protection and identity theft insurance worth $1 million. This helps you get back to your feet if you suffer any loss from frauds and scams.
The best thing about Aura is its digital protection services that safeguard your online transactions and devices. The platform provides services like password protection, antivirus, and VPN.
Aura is perfect for all types of users from individuals to families. It offers 3 affordable pricing plans: Basic, Total, and Ultimate where the cheapest plan starts at $10 per month.
At a glance, Aura offers the best financial fraud protection and digital security services on the market. In the next sections, we'll talk about all the Aura features and tools in detail.
So, let's get started!
Aura Features
Aura is more than just an identity theft protection service. It boasts a set of identity verification and financial monitoring features along with security and device protection tools. You can access certain features depending on which pricing plan you purchase.
We'll take a look at each of the features one by one so you can find out which ones you need to keep your information secure.
1. Identity Monitoring
There are so many things a hacker or a cybercriminal can do with your personal information on the internet. They can create fake social media profiles and even sell your data to brokers.
Aura scans every source of information on the web and finds out if your name is used for any unauthorized transactions. These are the main sources that it monitors: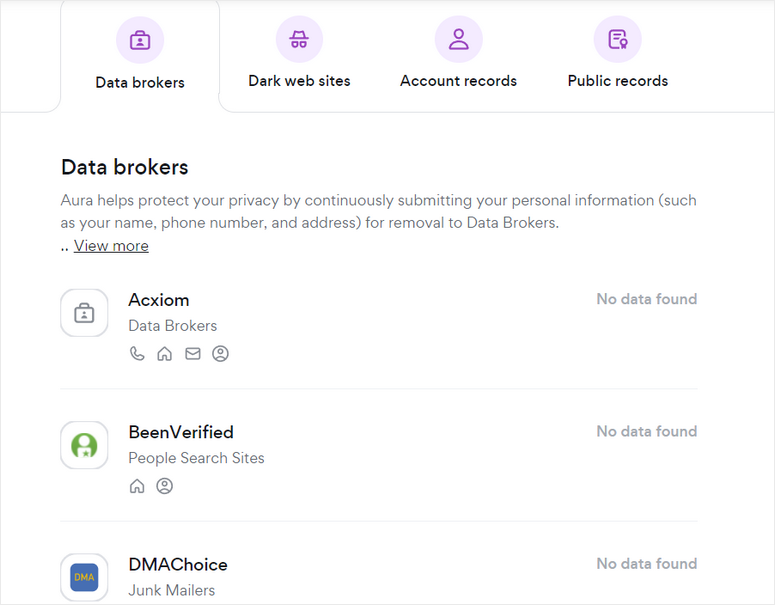 Data Broker Lists: Data brokers sell profiles of millions of people to advertisers, search sites, and more. This is how you get unwanted ads and robocalls. Aura requests these brokers to remove your data from these lists.
Dark Web: It is a part of the web where users stay anonymous to misuse your data and commit serious crimes. Aura searches the dark web for any traces of your identity and finds out if your information is used in such activities.
Public Records: Aura even monitors the internet for criminal reports, court records, and home title deed changes. So if your name is registered in such public records, you'll be notified.
Account Records: Whenever an identity thief tries to open a new account using your personal information, Aura sends you alerts.
2. Identity Theft Protection
Aura offers identity monitoring services to prevent any malicious activities associated with you. Some of them are:
Identity Monitoring: Checks if your ID number, email address, or other information is being used by an unknown person.
Social Security Number (SSN) Monitoring: Monitors the internet and alerts you when somebody else makes fake transactions using your social security number.
Home Title Monitoring: Aura protects you from identity thieves who try to transfer your property without your approval.
Address Monitoring: If anyone tries to change your mailing address, you'll get notified right away.
Criminal and Court Records Monitoring: Many criminals take up other people's names when committing illegal activities. Aura quickly alerts you if it finds your name on these criminal and court reports.
To verify your identity, Aura lets you add a list of personal information such as your name, birthdate, email address, phone number, and other data.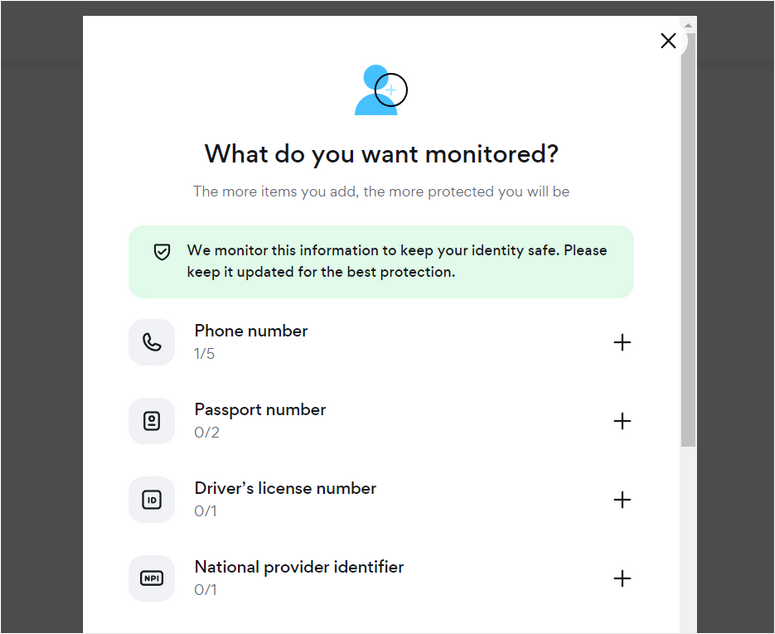 You can create a custom watchlist to track this data and get notified if it is used without your knowledge.
3. Real-time Data Breach Alerts
Identity fraud can happen to anyone. Doesn't matter how careful you are with your personal information. There is always a chance that your identity can be stolen. And the worst part is, you may not even know about it.
This is why Aura searches for any activities and transactions on your name across the web and notifies you as soon as possible.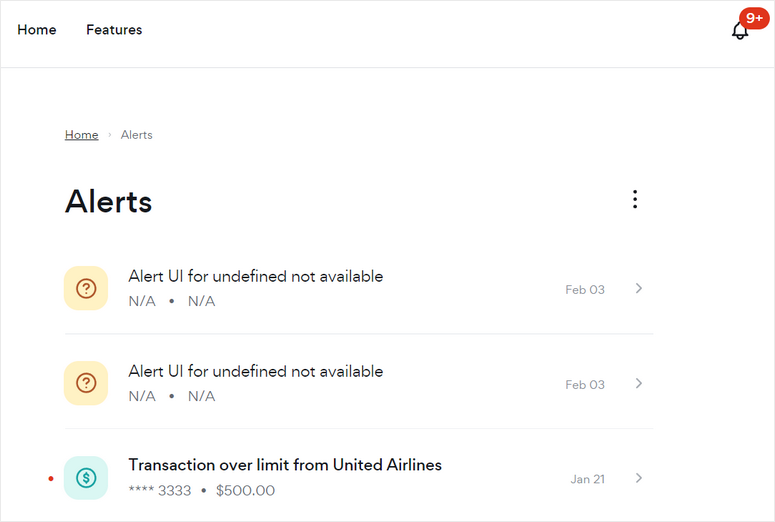 It constantly checks the internet, the dark web, and public records to find out if your identity has been compromised. You also get alerted when there are financial and credit changes without your permission.
4. Financial Fraud Protection
Aura doesn't only protect your personal information but also helps you prevent any financial fraud under your name. It oversees all your important transactions and financial accounts. So, you get services like:
Bank Account Monitoring: You can enter your bank account details such as account number, address, email, etc. Then, Aura will inform you if anyone tries to add a new account holder and take over your account.
Credit and Debit Card Monitoring: Aura lets you add multiple card details. So, you get instant alerts when it detects any usual activity related to your debit or credit cards.
Financial Transaction Monitoring: If your financial information is used to perform high-risk transactions, Aura alerts you to check if you are aware. These can be anything like new account openings, tax refunds, wire transfers, and more.
401K & Investment Account Monitoring: Many people invest in retirement plans and programs. If you also have an investment account, you can set up monitoring options for it.
If you have online accounts and tend to shop online like on Amazon and other eCommerce sites, Aura is definitely a good safety net to have.
5. Credit Monitoring
Besides identity and financial monitoring options, Aura keeps track of your credit file with the three major credit bureaus: TransUnion, Experian, and Equifax.
It gives you accurate and reliable data by checking with these three credit bureaus. This way, you can easily detect any changes in your credit data and prevent fraudulent activities before it's too late.
In the credit monitoring section, you can request your annual credit report. Aura will retrieve the credit reports from all 3 credit bureaus.
You get a monthly credit score that is based on the VantageScore 3.0. The score ranges from 300 to 850 where a score closer to 850 is considered good.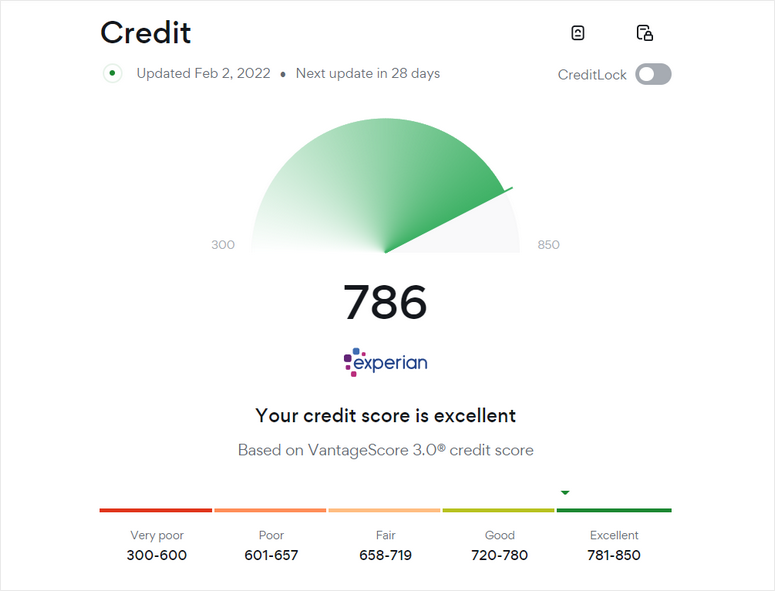 The VantageScore was developed by these major credit bureaus TransUnion, Experian, and Equifax.
It is used by lenders to find out the eligibility of a credit applicant. These scores are calculated with various factors like credit balance, payment history, and behavior in mind.
Credit Lock and Freeze
Apart from this, Aura offers a remarkable feature that other identity theft protection services rarely offer. It allows you to lock and freeze your credit reports.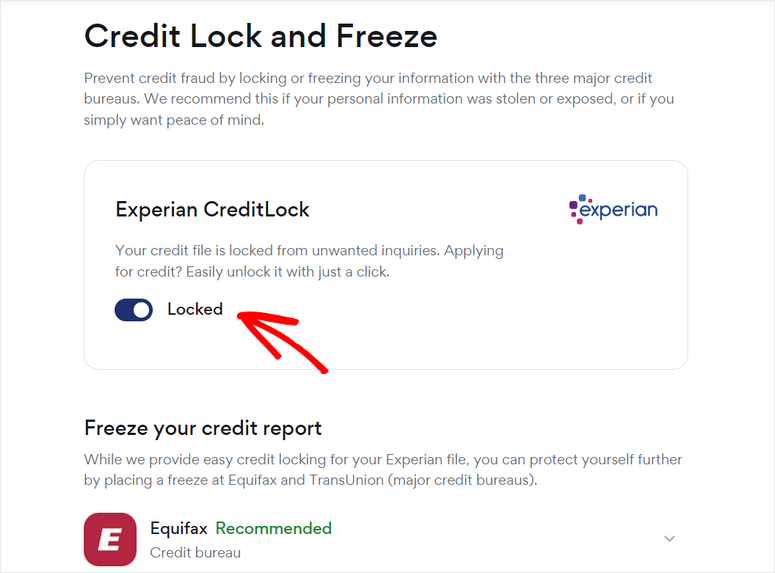 While you can use other services to freeze your credit file for free, many charge a fee to lock it. But, Aura lets you do both without any extra costs.
Locking your Experian credit file will help you prevent any unwanted activities and fraud. Additionally, you can freeze credit reports from other bureaus to get more protection.
6. Online and Device Security
One of the reasons to choose Aura is its digital and online security tools. These tools help you protect sensitive information such as passwords and other private data from hackers.
The following services are available for all Aura pricing plans. The only difference is the number of devices you can use them on.
Wi-Fi Security VPN: Aura offers a powerful device and Wi-Fi network protection software. It uses a VPN (Virtual private network) to secure your internet connection with military-grade encryption. So wherever you go, you can safely browse the internet and make secure transactions.
Antivirus: The Aura app also comes with a built-in antivirus service that automatically blocks malware, ransomware, trojans, and other viruses on your device. This helps you stay away from phishing and scam attacks.
Password Manager: All premium users also get a password manager. It lets you store multiple passwords and login credentials securely in one place. This means you don't have to remember all your passwords.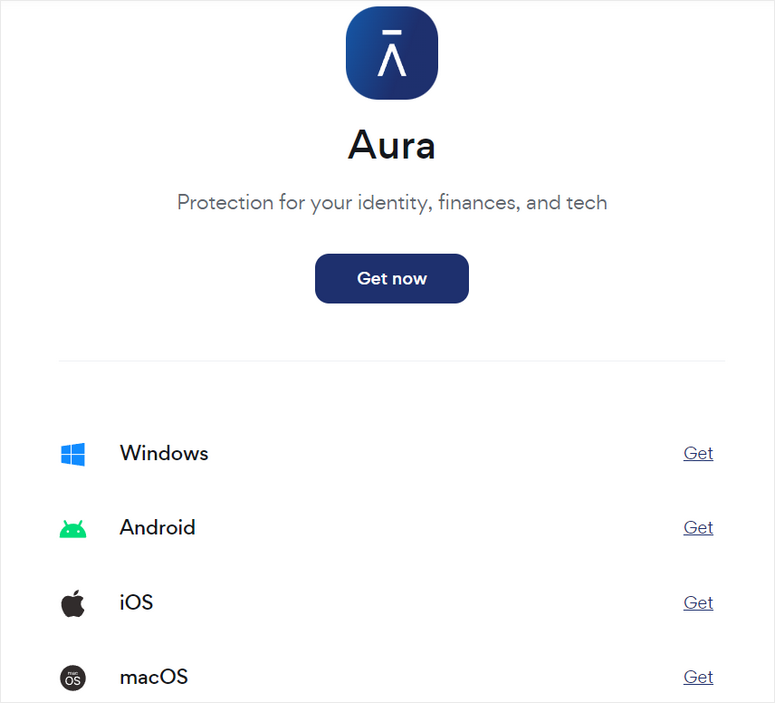 The mobile app is available for all Android and iOS users. You can install it on your windows and macOS devices as well.
Why Choose Aura Over Other Identity Theft Services?
There are many solutions online that will help protect your identity and financial information. However, only a few of these services come close to Aura in terms of features and additional benefits. 
These are some of the advantages that Aura offers:
1. Ease of Use
Compared to other identity protection services, Aura offers a simpler and beginner-friendly interface. The web admin dashboard is easy to use so anyone can set up their watchlists and start monitoring the web for identity frauds.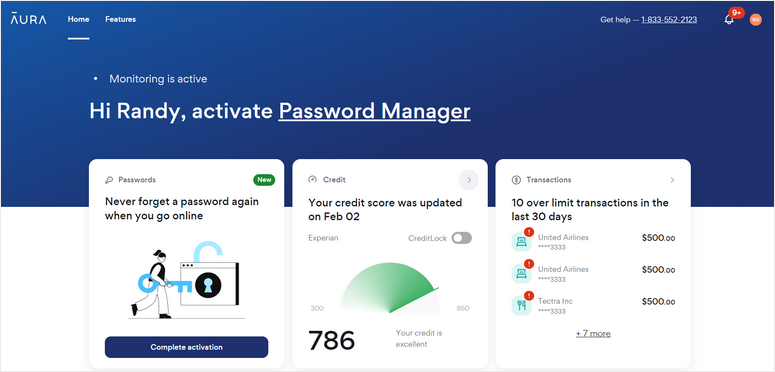 The dashboard shows previews for each functionality. One can easily click on the section they want and view detailed reports. Or, click on the top menu bar to find the features like identity protection, credit management, and more.
So, you can navigate around and find what you need without any issues.
2. $1 Million Insurance Coverage
Another great feature of Aura is the identity theft insurance worth $1 million. This is the industry standard but many identity protection services don't offer this for all the plans.
Whereas with Aura, all users get access to the $1 million insurance irrespective of the plan they are subscribed to. This covers legal fees, lost wages, and other costs that you would normally face in the event of identity theft.
If you ever fall victim to identity fraud and suffer a great loss, then this insurance will help you get back on track.
3. Lost Wallet Remediation
To save you from financial losses, Aura offers the lost wallet protection feature. This allows you to cancel your debit or credit cards if your wallet gets stolen. You can also connect with the support team to recover your accounts.
There is no service out there that can completely stop identity fraud. However, you can make quick decisions to avert these crises.
4. Free Trial
Another benefit Aura offers is the 2 weeks free trial for all its plans. This allows you to safely check out the platform before you actually pay for it.
Additionally, you get a 60-day money-back guarantee. So, you can cancel your subscription anytime within 60 days of your purchase.
5. White-Glove Fraud Resolution
Along with the $1 million insurance, Aura provides the best white glove resolution service to help you recover faster.
If you upgrade to the Ultimate plan, you can get a dedicated case manager who will help you resolve issues across credit bureaus, financial institutions, and the government.
6. Privacy and Security
Aura collects personal information like account details, billing info, and other data from its users. While it does that, it makes sure that all this data doesn't get into the wrong hands such as hackers and data brokers.
This identity theft protection service uses 256-bit AES encryption which is the highest level of encryption that is available. This is used by major banks and even the military.
Aura Customer Support
Aura has one of the best customer support teams that respond to your queries at lightning speed. It offers 24/7 support via phone and email for all the customers.
Also, the website has an FAQ section that consists of insights on each topic and feature. So users can learn about identity theft risks and how to protect their data with ease.
Aura Pricing
Aura has 3 different pricing plans for both individuals and families. So you can choose a plan for yourself or your family. For family plans, you can add up to 10 family members. 
And the best thing is, you get cheaper pricing when you pay the upfront cost annually.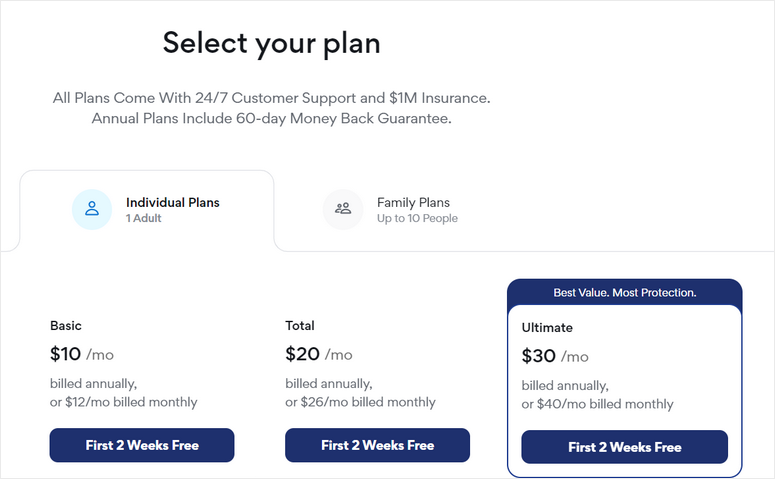 The Basic plan starts at $10 per month for an individual and $17 per month for a family. With this, you get all the identity fraud protection features along with social security monitoring, password manager, lost wallet protection, and more.
If you choose the Total plan, the pricing ranges from $20 per month for an individual and $29 per month for a family. You get all the features from the basic plan and additional features like credit monitoring and bank account monitoring.
For the Ultimate plan, pricing ranges from $30 per month for an individual and $39 per month for a family. You can upgrade to this plan to get advanced features such as investment monitoring, home title & criminal record monitoring, annual credit report, and more.
Best Aura Alternatives
With Aura, you get everything from personal & financial monitoring to device security features. It is the most powerful identity fraud protection service out there. 
However, there are many other solutions on the market that offer similar features.
Here are some of the competitors and alternatives of Aura: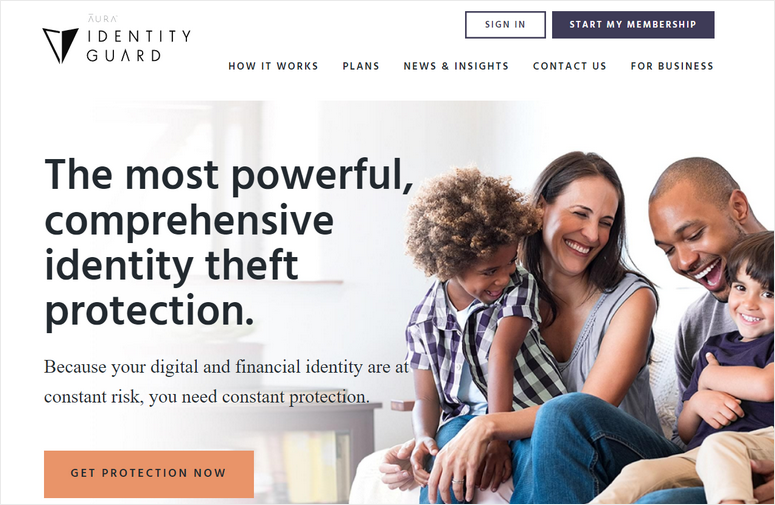 Identity Guard is a comprehensive identity theft protection solution that helps you protect your identity and financial accounts. It offers a set of monitoring services such as identity monitoring, credit monitoring, criminal & sex offense monitoring, and more. 
What's great about Identity Guard is it uses IBM Watson artificial intelligence to constantly protect you from fraud and financial scams. It scans the dark web and other public records and gives you data breach alerts around the clock.
Just like Aura, all Identity Guard users get the benefit of $1 million in insurance coverage. They also provide a US dedicated case manager to assist identity theft victims to recover their accounts.
Plus, it gives you access to other powerful tools like safe browsing extensions, lost wallet recovery, and password protection.
Highlights:
Dark web monitoring (powered by IBM AI)
Bank account monitoring
Risk management store
Credit and debit cards monitoring
Monthly credit score from 3 major bureaus
Social media monitoring
Pricing:
The pricing starts at $8.99 per month for the Value plans and $29.99 per month for the Ultra plans. There are individual plans as well as family plans.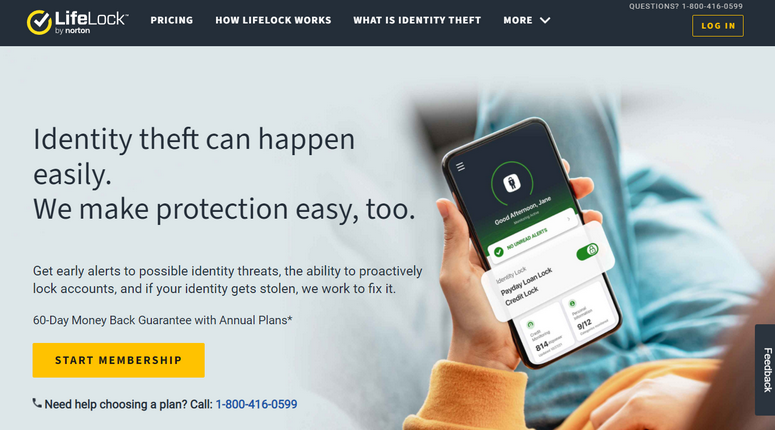 Another great Aura alternative is LifeLock by Norton. It was acquired by Norton, one of the best internet security companies in 2017. They combined their functionalities to provide a complete digital security solution for all types of users. 
LifeLock comes with a range of identity protection features such as identity theft notifications, dark web monitoring, credit monitoring, SSN and credit monitoring, and other tools.
For users who become victims of insurance theft and face financial losses, it offers $25,000 to $1 million in insurance. This differs based on the pricing plan you choose.
Highlights:
Identity monitoring and alerts
Credit monitoring across 3 credit bureaus
Privacy monitoring tool
Lost wallet protection
USPS address monitoring
White-glove resolution service
Pricing:
Pricing ranges from $9.99 per month for Standard to $29.99 per month for Ultimate Plus.
Along with this, IdentityForce, IdentityIQ, and ID Watchdog are some of the trending Aura alternatives that you can check out.
Final Verdict: Does Aura Actually Work?
We've reviewed each feature that Aura brings to the table. We also talked about all the benefits it gives you compared to other identity theft protection solutions out there. 
To recap, Aura offers remarkable features such as:
Personal information and SSN monitoring
Dark web monitoring
Criminal and court records monitoring
Home title monitoring
Financial fraud protection
Annual credit report from 3 credit bureaus
Credit lock and freeze option
Wi-Fi Security/VPN and antivirus
Password manager tool
Easy to use mobile app
$1 million identity theft insurance
Experts recovery and assistance service
The bottom line is, you won't find this level of personal data protection and device security features anywhere else. So, it is quite obvious that Aura is the #1 identity theft protection service right now.
Considering the different requirements of users, it comes with flexible and budget-friendly pricing plans for individuals and families. The prices start at $10 per month for an individual when billed annually.
That's all we have for you! We hope this Aura review helped you determine if it is the best identity protection and digital security solution for you.
If you want to increase your website security, you can check these resources out:
These posts will help you add different security layers to protect your site from spam and hackers. The last one will help you find a strong password for your WordPress site.