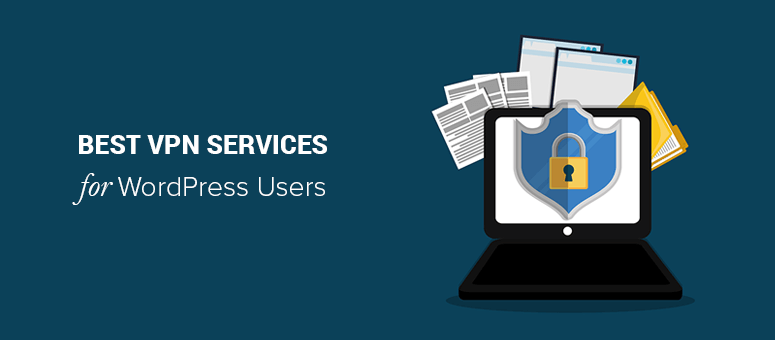 Are you looking for the best VPN services?
VPNs (Virtual Private Networks) are popular among users because of data privacy concerns and common security issues. A VPN protects users' privacy and personal information.
In this article, we'll share our handpicked best VPN services for WordPress users.
What is VPN?
Virtual Private Networks (VPNs) help users safeguard their browsing information by creating a layer between public and private networks. It protects your identity and makes you anonymous on the internet.
But, why do you need VPN?
When you browse internet from public places and use a general WiFi, there's a chance for hackers to access your passwords, browsing information, personal data, credit cards details, email accounts, etc. This information can be misused and you'll enter into a world of problems.
Other than that, hackers can install malware on your WordPress blog, access your social channels, and more, which can be very distressing for a common user. Not only public WiFi, but any internet connection, can give you nightmares.
VPN encrypts your information and allows you to access the internet from multiple IP addresses. It also helps you in accessing the country-specific restricted content on your favorite entertainment websites like Netflix.
A VPN can protect your WordPress website and keep it under thick layers of security. That way you don't fall into the traps set by hackers. We also recommend SSL for your WordPress site. A combination of SSL and VPN can be a good investment for your WordPress website security.
How to Get Started with a VPN
A VPN creates a private network for its users. It adds multiple layers to encrypt data that you send and receive on the internet. These layers work like a protecting force between the sender and the respondent.
Generally, when you browse a URL, a request is sent to the server and then server responds back with the required content. If you're using a VPN, then the request generated from the browser will be first sent to the VPN server which encrypts the user information, and then sends it to the original server. Similarly, when the server responds back to the request, the response goes to the VPN server and then reaches the browser.
VPN hides your identity and secures your personal information from hackers. Not only hackers, but government spies, your internet service provider (ISP), and anyone else who wants to access your personal data wouldn't find anything.
Choosing the Best VPN Service
You'll find many VPN companies offering a variety of services. The purpose to use a VPN is to secure your information and maintain privacy. On top of it, you need a service that is easy to use and flexible in terms of features.
Here are the key points that you'll need to look for in the VPN service you choose:
Flexibility and Set up: First thing you'll need to look for in any VPN service is flexibility, ease of use, and set up process. You'll need a VPN service that works great on desktop and mobile devices. It should also change servers, switch IPs, and connect instantly.
Performance and Bandwidth: You'll need to make sure that the VPN service you'll be using won't effect the performance of your device. Choose a service provider that offers a powerful infrastructure and unlimited bandwidth to connect quickly. The faster the connection, the better it'll perform. Also, the preference should go for the VPN service that switches your connection automatically from slow to fast servers.
Destinations and Servers: VPN providers have servers in many countries to offer multiple IPs to their users. You should choose a service that has more servers and locations in the world.
Data Privacy: The most important thing to consider when selecting a VPN service is your data privacy and security. We recommend using a VPN service that doesn't store your activity logs and creates multiple layers of encryption to secure your information.
That said, let's take a look at the best VPN services in the world, and select the one that suits you.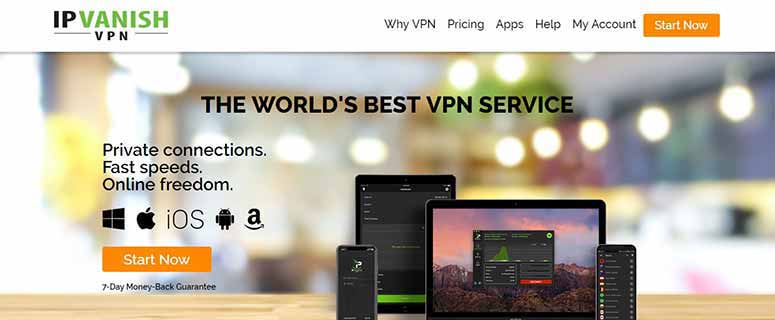 IPVanish is one of the top VPN companies in the world. It's an easy-to-use VPN service and works well with all popular devices, operating systems, and browsers. They have amazing features for both beginners and advanced users.
IPVanish has apps for all mobile platforms including iOS, Android, and Windows. They offer an easy-to-connect facility on their desktop and mobile software.
The interface is very simple and offers great functionality to all users. It allows you to access a single account on up to 5 devices at the same time.
IPVanish has a big network of servers around the world. With their 1000+ VPN servers and 40,000+ shared IPs in over 60 countries, you get the fastest VPN service from any region or country. They also add suggestions for you to select the servers with the fastest performance.
For most users, the biggest concern is speed. IPVanish satisfies customers with their powerful network, great bandwith hold, and amazing server infrastructure to give fastest speed on VPN service.
They follow the top standard for encryption on all connections with 256-bit AES technology. IPVanish offers unlimited P2P (peer-to-peer) connections with no bandwith restrictions for torrent users. They have a zero-log policy, so your data is never stored with them.
Price: Their value plan starts from $6.49 per month, which is billed annually. For IsItWP users, they offer an exclusive IPVanish coupon that gives you a 20% discount.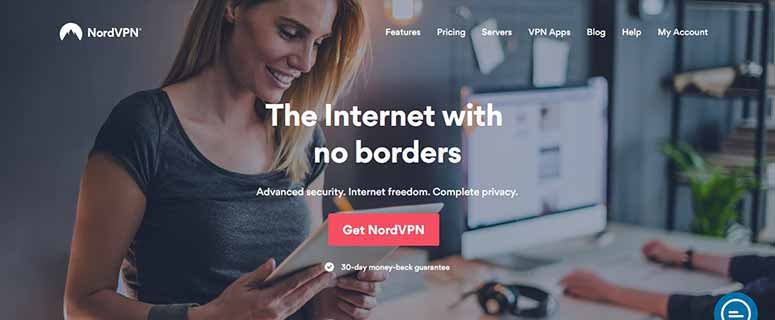 NordVPN is an advanced VPN service with 4800 servers in over 62 countries, and they are available in all continents of the world.
They offer apps and desktop software for almost all your devices, which means you can connect to VPN service from anywhere using NordVPN. At 1 time, you can use your account on up to 6 devices, and use different servers and locations for all connections.
NordVPN follows the best standard of encryption using a double layer technology. They're more secure on public WiFi locations with their powerful layer-based encryption.
You can enjoy P2P connections with no bandwith or download limit, so feel the freedom when using torrents. Also, the zero-log policy assures full privacy on your internet usage. NordVPN features a kill switch that stops the VPN service when your connection turns down, so your data remains secure.
Price: Their popular plan starts from $6.99 per month, which is billed annually.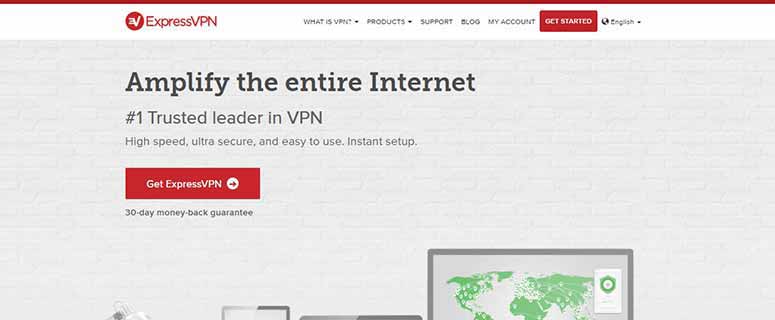 ExpressVPN is another top VPN service available in over 148 cities of 94 countries. They follow the top standards of the VPN industry to encrypt your data transfers and provide amazing security infrastructure.
For ease of use, they offer apps that work great on all your desktop, mobile, and other devices. ExpressVPN allows instant 1-click server switching and a change IPs option.
It offers up to 3 users on single VPN account. However, the other VPN services mentioned in this guide may offer more connections on one account.
The other features include file sharing services, P2P connections with unlimited bandwidth and great speed, zero-logging policy for your internet activities, and more.
Price: Their most popular plan starts from $8.32 per month, which is billed annually.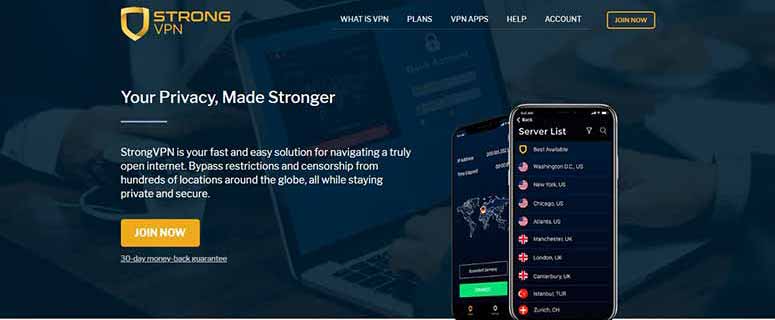 StrongVPN is a popular VPN service with over 650 servers in 46 cities and 26 countries. They have more than 12000 happy customers with reviews on multiple social platforms.
Their services include top level encryption that matches the industry standards and unlimited bandwidth for all users. They also support a StrongDNS service to provide an additional security layer. StrongVPN allows you to use both StrongDNS and their encryption service together. However, you can also use StrongDNS only, and it'll add privacy and security on your data.
It's an easy-to-use VPN service with quick installation. StrongVPN supports almost all popular operating systems, browsers, and devices. With 1 account, you can connect to as many devices as you want. They don't add limit on bandwidth or number of connections.
Price: Their popular plan is $5.83/month, which is billed annually.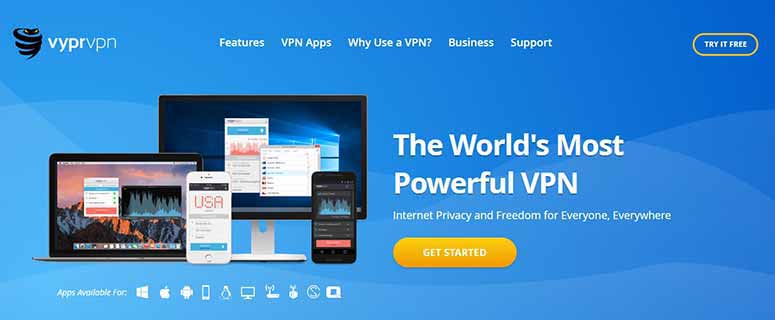 VyprVPN is a robust VPN service provider on the market. They use the industry's best AES-256 encryption which brings them to the list of top VPN services.
With over 70 locations, more than 700 servers, and 200,000 IPs, VyprVPN has a wide range of service for users to bypass censorship. Some of their major services include cross-platform client, Chameleon technology, VyprDNS (a powerful DNS service), zero-log for user activity, 24/7 support, and 1-click connection.
Similar to other VPN services, they have P2P connections with no bandwidth caps. You can connect up to 3 devices on a single VyprVPN account. VyprVPN gives you a 3-day free trial to test the service before purchasing it.
Price: Their value plan starts from $5 / month, and it'll billed annually.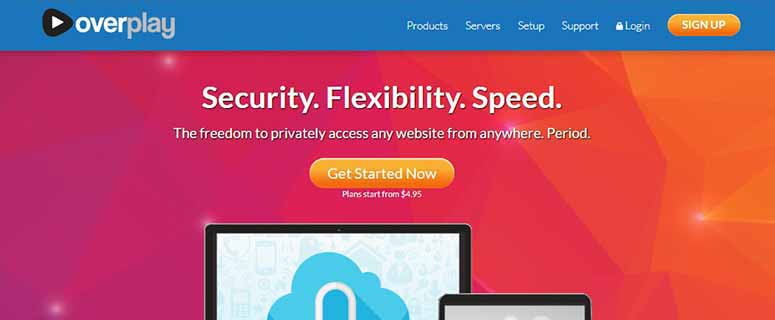 OverPlay is an excellent VPN service to secure your personal information and internet browsing. Like many other VPN providers, they come with top standard encryption and a zero-log policy to make the internet secure for you.
They're located in 70+ locations in over 50 countries. Their wide network has expanded to more than 650 servers in the world. OverPlay offers instant and unlimited server switching, which means you can switch from slower speeds to fastest servers easily. They also suggest the fastest-performing servers to connect quickly.
OverPlay offers 2 services. Either you can choose their SmartDNS service that works without encryption, or select SmartDNS with VPN service. Although, the SmartDNS (without encryption) is enough to bypass censorship, their VPN service has additional features to give you a great and secure experience.
They come with P2P connections for torrent users with no limit on bandwidth or downloads. OverPlay performs great on all devices, operating systems, and browsers.
Price: Their value plan starts from $8.33 / month. It'll include SmartDNS and VPN service, and is billed annually.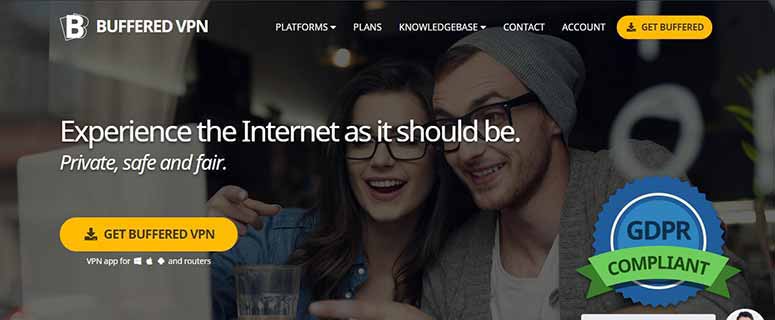 Buffered VPN is another popular VPN service available in over 45 countries. They come with a 30-day money back guarantee which means you can try the service for a month to get comfortable with features before purchase.
They offer apps for Windows, Mac, Linux, and other popular operating systems. The features include DNS leak protection, standard 256-bit encryption, P2P for torrent users with no download or bandwidth caps, and a zero-logs policy for safe browsing.
They support a Port Discover Mode that connects you to any public WiFi without a password. A single Buffered VPN account can be used on up to 5 devices.
Price: Their special plan starts from $7.62 / month and comes with a 1-month free trial. The amount is billed annually.
That's all. We hope this article helped you find the best VPN services so you can try to safeguard your internet usage. You may also want to see our expert pick of the best WordPress security plugins.