Like the title says, upgrading WordPress isn't as difficult as you might think. As long as you don't have a lot of "core upgrades" i.e. direct edits to WordPress core files, it shouldn't take you more than a few minutes. In this tutorial I'll show you how in 3-4 simple steps.
Take a full backup first
Get the latest version of WordPress
Overwrite core files
Run the database upgrade script (if necessary)
This tutorial will be going over everything manually. You can use things like Fantastico and those "automatic upgrade" scripts at your own risk. It may be a good idea to read this guide on installing WordPress first, but not necessary.
Take a full backup first
One of the most important things you can do before doing any upgrade on your site is to take a full backup. This means files plus your database as well. I've written a previous guide on backing up your WordPress sites in my The Importance of Backing Up Your WordPress Site article. It goes over several methods of backing up your WordPress sites so I suggest you check it out before proceeding with the upgrade.
Get the latest version of WordPress
Always get WordPress from the official WordPress download page, and nowhere else. When you download here, you know you're getting your files from the source – no funny business.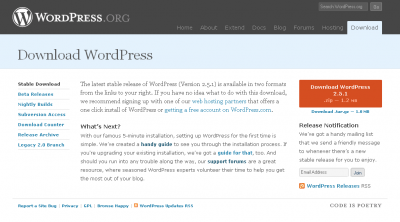 You may also want to consider subscribing to their mailing list, which will send you updates whenever a new stable version is released.
Overwrite core files
When I say upgrade core files, I mean everything included in the WordPress folder except the /wp-content/ folder. This is where your themes, plugins, uploads, and other content is stored – which shouldn't be deleted or overwritten.
Unzip and Upload
Unzip the file and open up your FTP client of choice. Some good ones include FileZilla, SmartFTP, and FireFTP. I'll be using FileZilla in this example. Connect to your site, and start overwriting everything except the /wp-content folder.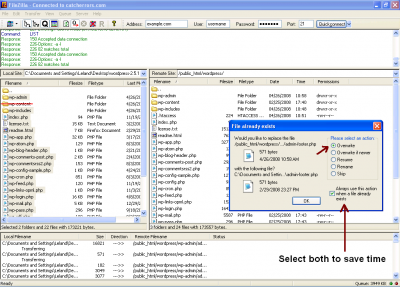 To save time, when prompted, select "overwrite" and Always use this action when a file already exists.
Run the database upgrade script
This sounds a lot scarier than it actually is. It is actually a very quick process. Simply navigate to your WordPress admin panel, you should see a screen like this.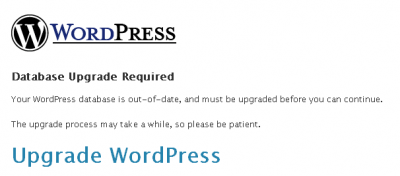 Don't listen to the The upgrade process may take a while, so please be patient bit. About 2 seconds later, you'll see that your database upgrade was successful. This may or may not be necessary depending which versions you're updating between.
Conclusion
Hopefully you now know how to upgrade your WordPress blogs with ease and get rid of what's in this image – until the next update is released at least.

It's always a good practice to take backups frequently, even when an upgrade isn't necessary. If you have a lot of plugins, you may want to crosscheck them on this WordPress 2.5 plugin compatibility list, or whichever list corresponds with the latest WordPress version is. Same goes for themes, although you shouldn't have much trouble with those. If you're a techy type – you may want to look into upgrading WordPress with subversion.
Feel free to comment and share if you liked this guide. Looking forward to hearing your thoughts. Subscribe to the feed for more updates on theme releases and new tutorials.