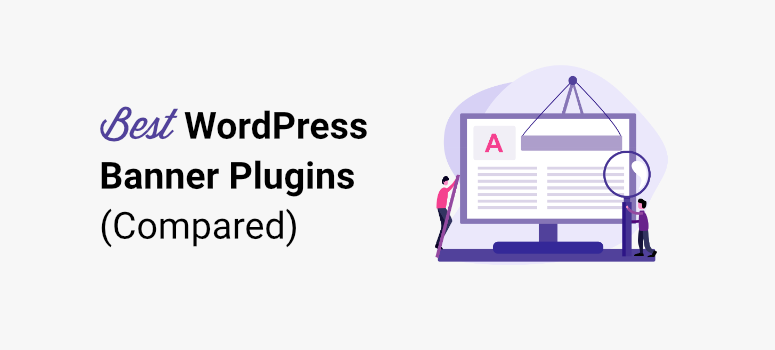 Are you looking for the best WordPress banner plugin to boost conversions, sales, and engagement on your site?
With a WordPress banner plugin, you can easily display ads, promote products, and add announcement messages to your website. These plugins create eye-catching non-intrusive bars to help you to achieve your goals without disrupting user experience.
In this post, we've handpicked the best WordPress banner plugins that'll let you create attractive banner ads.
What to Look For in a WordPress Banner Plugin?
WordPress has plenty of banner plugins to choose from making it hard to decide which one is the right one. Instead of trial and error, here's what we recommend you look for:
Quick creation: Create and display beautiful banners sitewide or on selected pages and posts
Audience targeting: Set a target audience to control who sees your offers and announcements
Easy customization: Add eye-catching images and custom call-to-action (CTA) links to match your theme and brand voice
Track performance: Make data-driven decisions and improve campaign strategies with analytics and insights.
With these features, your banners will drive traffic, increase user engagement, and generate leads on your site.
Now that you know what makes a good banner plugin, let's go to our list of the best WordPress banner plugins.
Best WordPress Banner Plugins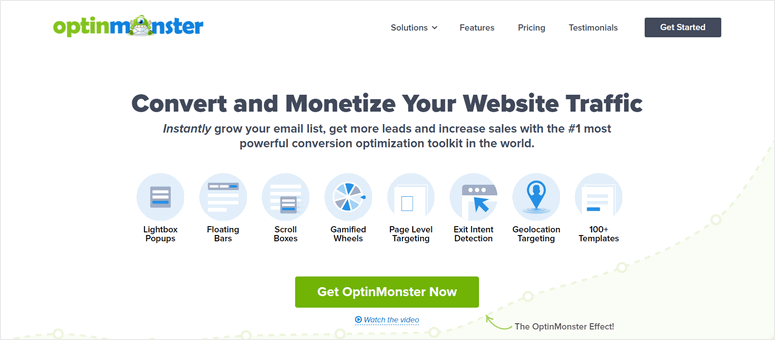 OptinMonster is undoubtedly the best lead generation plugin in the market. It has powerful features to create and add amazing banner bars to your site in a matter of minutes.
OptinMonster comes with a built-in library of 50+ premade templates so you don't need to design banners from scratch. It takes just 5 minutes to create stunning banners that are designed to optimize conversions.
Every template is 100% customizable. You can add, delete, and edit elements easily with the drag and drop editor.
You'll find blocks to add video, background image, text, countdown timers, and more to make your banners attractive and maximize conversions.
Not to forget, this WordPress banner plugin offers powerful targeting rules for your banner ads like geolocation, scroll depth, time trigger, and exit intent. You can even schedule your banner to appear and disappear by date and time. This is great for when you want to run periodic flash sales or news alerts.
Keep in mind that OptinMonster is more than just a banner plugin. You'll also get access to popups, floating bars, countdown timers, inline forms, and more to target visitors at the right time and place. You can use it on any website including eCommerce sites.
Moreover, OptinMonster lets you connect with your email services such as Constant Contact, ActiveCampaign, Mailchimp. So you can send marketing emails automatically to your subscribers and build long-term relationships with them.
Features:
Fully responsive and mobile-friendly
Conversions analytics and A/B testing options to improve your ad strategies
Precision targeting help you attract more customers
Retargeting options to follow up and re-engage with customers
Works with any platform including WooCommerce, Shopify, and BigCommerce
Developer friendly with options for custom CSS and JavaScript
Pricing: Starts at $9 per month (billed annually).
Get started with OptinMonster today!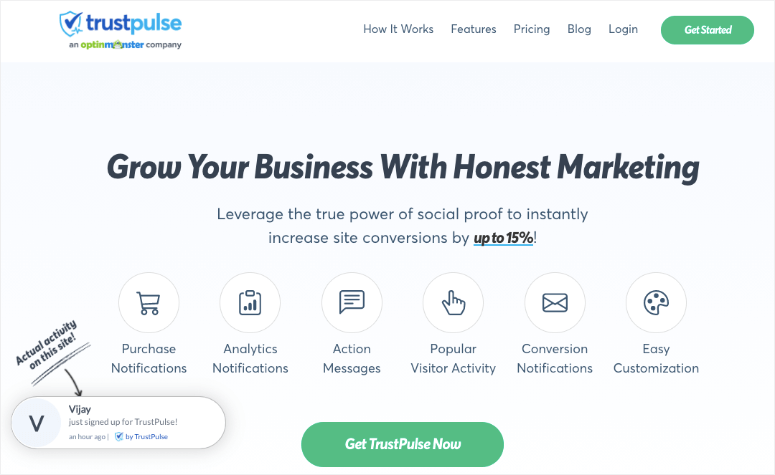 TrustPulse is the best social proof notification WordPress plugin. While it doesn't create a full-width banner, you can use TrustPulse to display custom messages in a non-intrusive way.
At its core, the plugin automatically captures activity on your site such as recent sales and signups. Then it displays these actions in non-intrusive banner popups for others to see. This helps you gain the trust of your visitors and encourage them to take action.
TrustPulse also lets you create action messages where you can enter your own text and image. You can control where the popup banners appear and for how long so that you get maximum visibility without annoying users.
TrustPulse offers a user-friendly interface and you can set it up on your site in less than 5 minutes without any coding knowledge.
This plugin features on our list because it's really powerful and has been proven to instantly lift conversions by up to 15%. You can use it to drive traffic, increase user engagement, and generate leads on your site.
Features:
Real-time activity tracking features
Beginner-friendly interface
Showcase recent purchases and gain visitors' trust
Easy customization options and flexible design
Monitor your campaigns with analytics and insights
Smart targeting displays the popups to the target audience
Pricing: Starts at $5 per month.
Get started with TrustPulse today!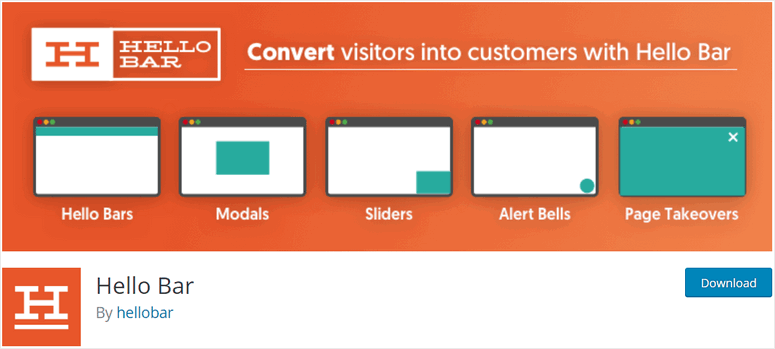 Hello Bar is a popular WordPress banner plugin that helps you convert your visitors into paying customers.
It's designed to be a powerful lead generation tool that is very easy to use making it a good choice for beginners, too.
To set up the plugin on your site, you first need to create an account on the official website.
Then inside the dashboard, Hello Bar lets you create and customize bars, modal popups, sliders, alert bells, and fullscreen mats.
It even lets you add discount codes and deals and make them appear at the right time and place when visitors are more likely to convert.
With this plugin, you can schedule your banner campaigns in advance so you can plan ahead for marketing holidays and sales. Also, it lets you test your banners and analyze the performance of your campaigns.
Features:
Easy to use features
A/B testing and targeting options
Follows Google best practices
Built-in exit-intent technology
Connect with marketing experts
Pricing: The plugin is free to download. The Pro version starts at $29 per month.
Get started with Hello Bar today!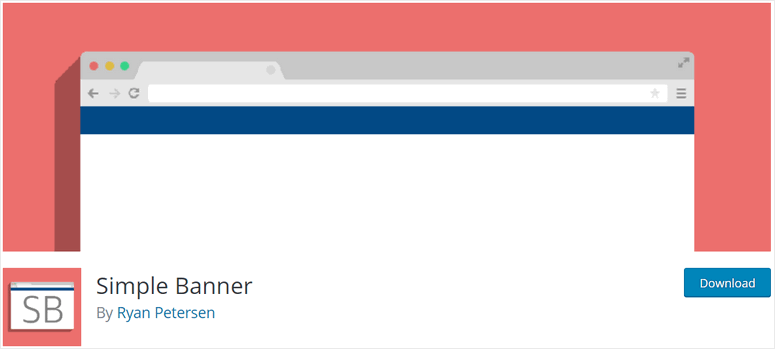 Simple Banner lets you add announcement bars and banners to your site with ease. It's a free plugin that gives you the basic features you need to create simple banners on your site.
You'll get banners that sit at the top of your webpage where you can add announcements, updates, alerts, and more.
The downside to Simple Banner is that it lacks advanced features you need like targeting rules to maximize conversions. You'll also need to use CSS if you want to customize the new banner to your liking.
While it's a free plugin for anyone to use, it isn't a beginner-friendly option.
Features:
Simple design
Access from WordPress dashboard
Limited customization options
Hide banner with one click
Pricing: Free.
Get started with Simple Banner today!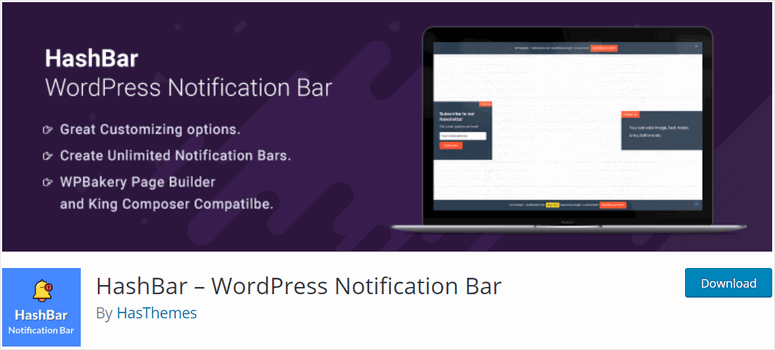 HashBar is an easy-to-use bar plugin that lets you set up and customize banner bars according to your requirements. You can create unlimited notification bars to grab your visitors' attention.
This WordPress banner plugin lets you add and customize email subscription forms, custom text, backgrounds, and CTA buttons. You'll also find premade color schemes to match campaigns to your WordPress theme.
Plus, it offers a built-in sharing feature that helps you improve your social media following and drive more traffic
Features:
Fully responsive and mobile-friendly
Support page builders like Elementor and WPBakery
Customizable background, color, and text
Compatible with Gutenberg editor
Pricing: There is a free version. Pro plans start at $59.
Get started with HashBar today!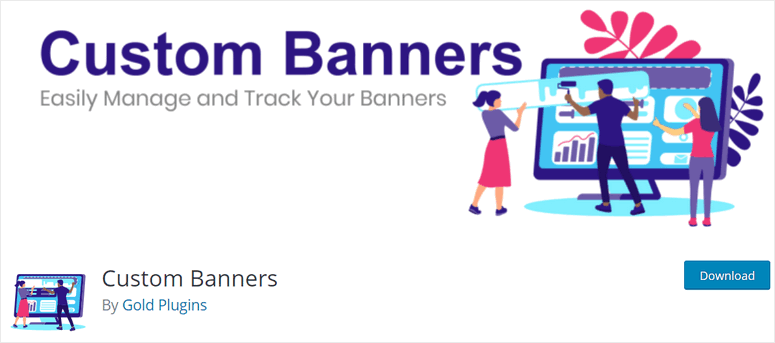 Custom Banners is a free WordPress banner plugin. It's a beginner-friendly tool and lets you reuse these banners as many times on your site.
You can insert custom captions and CTA buttons to your banners to optimize them for conversions. You can even make the banners clickable to redirect traffic to your sales pages.
You'll also get an option to group your banners and rotate them. This lets you display multiple messages, random banners, and updates as the visitor is browsing your site.
Custom Banners lets you schedule the banner publishing time so it appears at specific dates and times you've set.
Keep in mind that this plugin uses shortcodes and you'll need to manually embed the banners on your site.
Features:
User-friendly interface
Rotating banners
Customizable captions and CTA buttons
Reuse banners throughout your site
Schedule time for publishing banners
Pricing: Free. Pro plan is available at $99 per year.
Get started with Custom Banners today!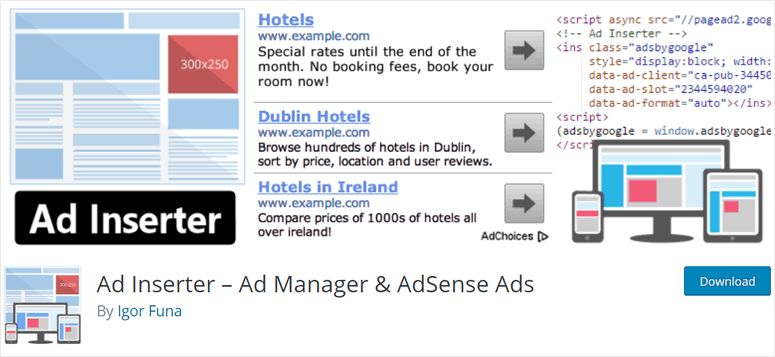 Ad Inserter is a popular WordPress banner plugin that lets you display banners ads. It's an advanced ad management plugin allowing you to insert options such as opt-in forms, header scripts, JavaScript, CSS, HTML, PHP, and more.
Using this plugin, you can easily monetize your site with Google AdSense ads, Google Ad Manager, and more. It has a built-in code generator that creates banners for your ads.
You'll need to insert a code on any page of your site to display the banners. You can even rotate your banners to display them one at a time.
Features:
Display ads anywhere on a web page using code
Show ads at the scheduled time
Supports custom code
Customizable features
Pricing: Free.
Get started with Ad Inserter today!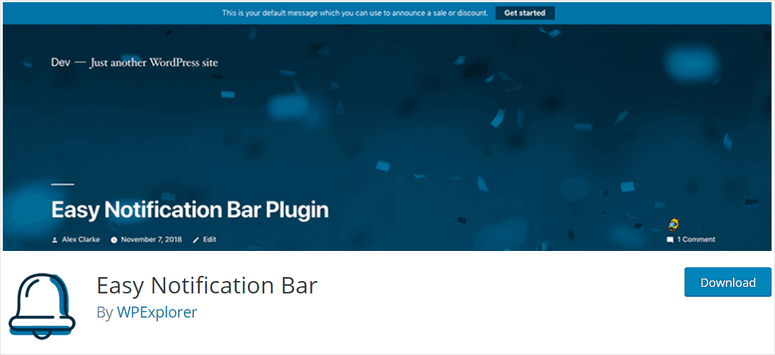 Easy Notification Bar lets you create simple notification banners for your site. You can use this plugin to notify visitors of sales, offers, warnings, and any other important message.
There are quite a few options to customize the text, buttons, and other aspects of your banner. Plus, you can enable an X button so users can close the banner if they prefer that.
The plugin is compatible with any well-coded WordPress theme and shouldn't cause any conflicts.
Easy Notification Bar is a free plugin but the banners are plain which means they could easily get lost in the background and fail to grab a visitor's attention.
Features:
Fully responsive
Mobile-friendly
Easy to use interface
Customizable banner bars
Static and sticky bars
Pricing: Free.
Get started with Easy Notification Bar today!
Which is the Best WordPress Banner Plugin?
After comparing all the options available in the market, we can confidently say that our top 3 picks are:
OptinMonster
TrustPulse
Hello Bar
OptinMonster is the #1 banner plugin out there. It offers the most powerful tools to create any type of banner for your WordPress site.
OptinMonster makes it easy for anyone to create attractive banners in just a few minutes. Plus, you'll get access to powerful campaign triggers, email integrations, scheduling, audience targeting, and more.
In a nutshell, it has all the features and functionality you need to get the most out of your banner campaigns.
For more on why OptinMonster is #1, check out our OptinMonster review.
Another great plugin on this list is TrustPulse. It's a perfect fit if you want to add popup bars to instantly boost engagement, conversions, and sales.
That's all for today! We hope this article helped you find the right banner plugin for your WordPress site.
Follow this tutorial to get started: How to Easily Make a Banner in WordPress.
Next, you may want to check out these resources to improve your conversions:
These posts will help you increase your conversion rates and drive more traffic to your site.