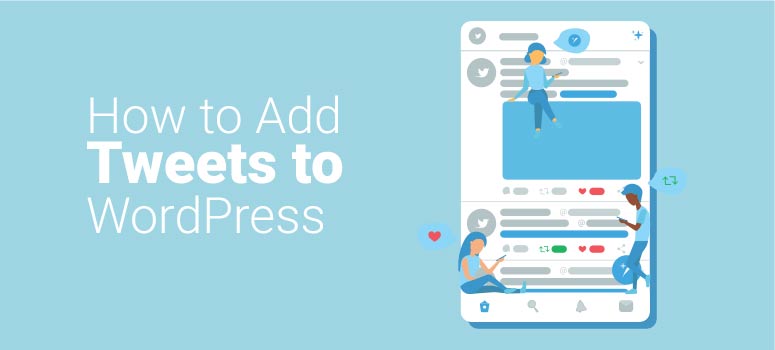 Do you want to increase engagement by adding tweets to your WordPress site?
Displaying your latest tweets is a great way to engage with your audience and grow your following from your site. While you can easily embed a tweet using the default option in WordPress, you'll need a plugin to create a Twitter feed of your latest tweets.
In this article, we'll show you the best way to add tweets in WordPress to improve your user experience and grow your followers.
Embedded Tweet vs. Latest Tweets: Which Is Better?
As you may know, you can easily add a tweet to your WordPress posts, pages, and sidebar. WordPress has a default Twitter widget that you can use to embed a tweet by pasting its URL in the content block: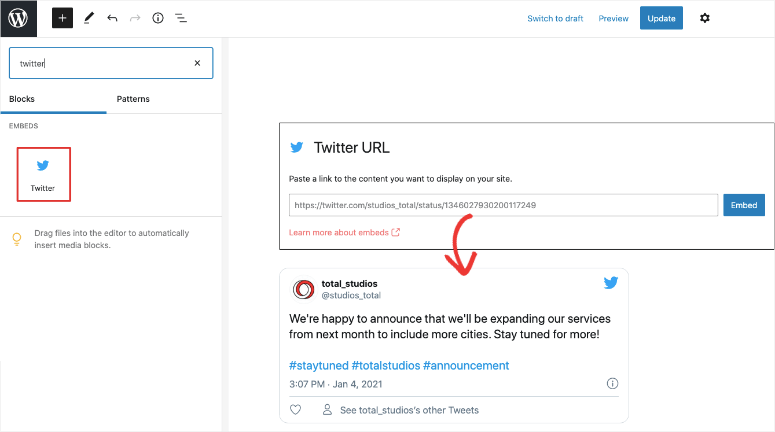 The problem is that if you want to display all of your latest tweets, you wouldn't want to spend time embedding each tweet manually.
To save time and effort, it would be better to create a Twitter feed that will automatically fetch your latest tweets and display them on your site.
This means as you post to Twitter, the tweets will automatically be posted to your website without any manual intervention. This way, your site's content will be refreshed regularly with new tweets.
Plus, you can display social buttons to let users follow, retweet, like, and comment directly to your tweets from on your site. This means visitors won't have to leave your website to interact with your Twitter channel.
Creating an automated Twitter feed might sound complicated, but it's actually really easy to set up. In fact, anyone can automate their Twitter feed on WordPress in under 5 minutes, even if they don't have any technical skills.
Now, let's look at how you can do it, too.
Adding Tweets in WordPress
The easiest and quickest way to add a Twitter feed in WordPress is by using the Smash Balloon.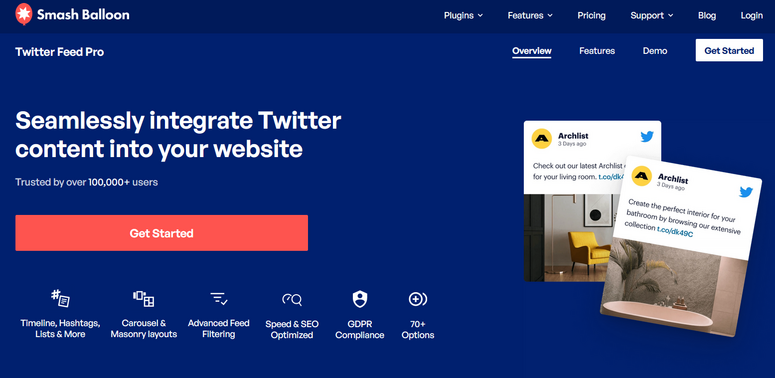 Smash Balloon is by far the best Twitter feed plugin for WordPress. It lets you seamlessly integrate Twitter content onto your website without any technical knowledge needed. A few highlights of this plugin include:
It's easy to set up and create an automated Twitter feed which means every time you tweet, it will automatically show up on your WordPress site.
The Twitter feeds are highly customizable so you can match them to your website's theme and design.
You can filter and display tweets by hashtags.
The Twitter feed is responsive which means it will show beautifully on any device such as your laptop, desktop, and mobile.
It loads quickly and will not slow down your site.
It lets you display social buttons such as like, retweet, and follow so your visitors can engage with your Twitter timeline while they are on your site.
These features make Custom Twitter Feeds a really powerful plugin for anyone who wants to add tweets to their WordPress site.
Before going on with this tutorial, make sure to sign up for your risk-free Smash Balloon account today!
Now, we'll show you how to use Smash Ballon to connect your site to Twitter and create a customized and fully-automated Twitter feed in WordPress.
Step 1: Connect Your Twitter Account
To get started, install and activate Smash Balloon's Custom Twitter Feed plugin on your WordPress site. Once it's activated, select Twitter Feeds from your WordPress dashboard menu.
This will open up the plugin's configuration and settings page.
Go to the License tab and enter your license key to activate the plugin.

You can find this information in the Downloads section in your account on the Smash Balloon website.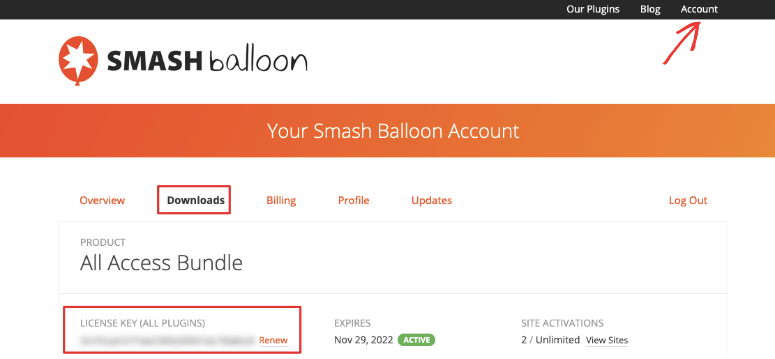 Once your license is active, switch to the Configure tab and you'll see a big blue button that says 'Log in to Twitter and get my Access Token and Secret'.

Simply click on this button and the plugin will direct you to a page where you can enter your Twitter credentials. After you log in, you'll need to grant permission to the Smash Balloon app to view your tweets and account information.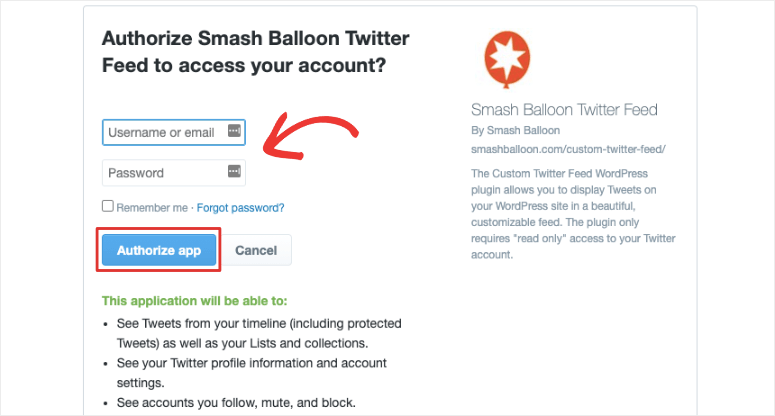 Once you authorize the app, it will redirect you back to your WordPress dashboard where you'll see that it has auto-filled your Access Token and Secret information.

Save your changes and your Twitter account is now successfully connected to your website.
Step 2: Set Up Your Twitter Feed
Now that your Twitter account is connected, you can set up your Twitter feed. On the same page, under the Configure tab, scroll to the 'Feed Settings' section.
First, you need to select your 'Feed Type' which will determine what tweets are taken from your account.
You can choose to fetch tweets from a timeline, hashtag, search, lists, or mixed feed. For this tutorial, we'll create a simple Twitter feed from a timeline. To do this, select 'User Timeline' and enter your Twitter handle.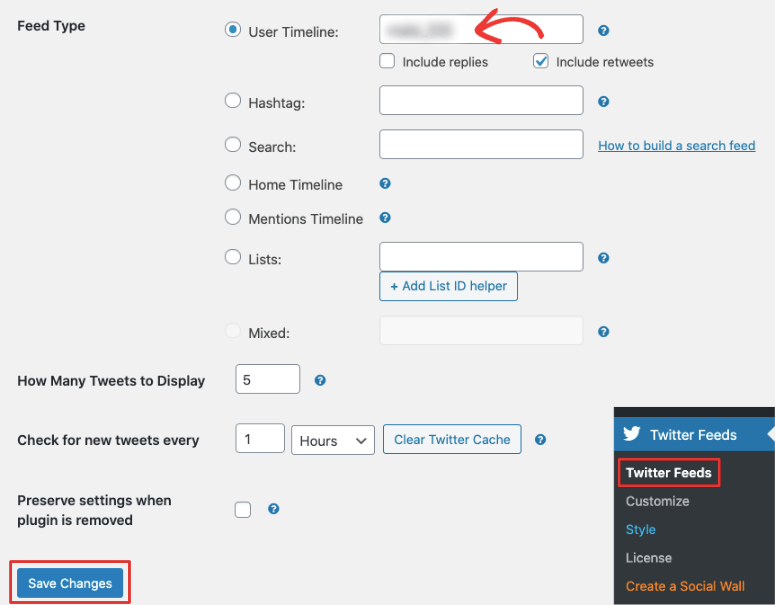 Next, you'll see that by default 5 of the latest tweets are displayed on your site. You can change this number to display the number of tweets you want.
After this, you can tell Custom Twitter Feeds how often you want it to check for new tweets. By default, it checks for new tweets every hour, but you can increase or decrease this according to your needs.
Finally, hit the 'Save Changes' button to store your settings. Now, your Twitter feed is ready to be customized.
Step 3: Customize Your Twitter Feed
Now that your Twitter feed is set up, you can customize it to suit your website's theme and branding.
Switch over to the 'Customize' tab, and you'll see a long list of customization options that give you full control over the look and details of your Twitter feed.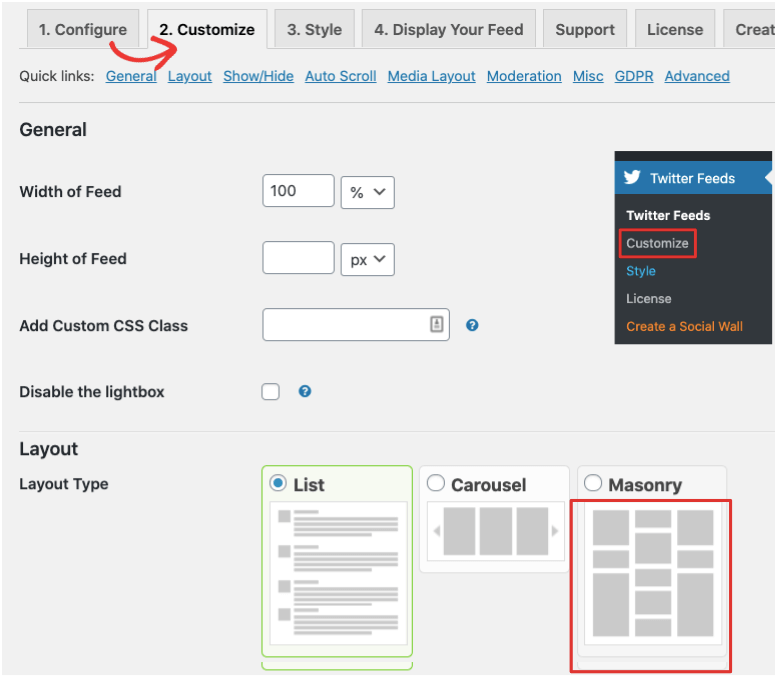 You can adjust the height and width, and select a layout for your feed. There are three layout options which include a masonry grid, carousel, or list to display your tweets in a way that fits your website's design.
Next, you can show or hide details of the tweet like the image, name, logo, date, link, and so on.
Once you're happy with your customizations, switch over the to 'Style tab' where you get more options to change the color of the background, tweets, header, and 'load more' button. You can also change the timezone, customize the date, author, and tweet format.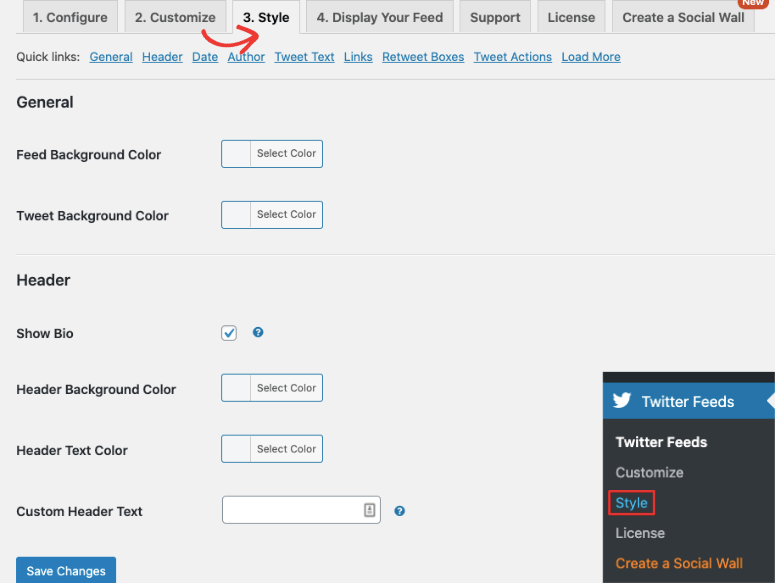 After you've styled your Twitter feed, you're ready to add it to your website.
Step 4: Embed Tweets in WordPress
Custom Twitter Feeds comes with a built-in widget that makes it easy to add the feed to WordPress pages, posts, and sidebar.
We'll show you how to add latest tweets to all three areas of your site.
1. Add the Twitter Feed to WordPress Posts and Pages
Displaying your Twitter feed on specific pages or posts on your site can drastically improve engagement and give your visitors an option to explore more of your content without leaving the page.
To add the Twitter feed, the first thing you need to do is create a new page or post in WordPress, or you can edit an existing one. To keep things simple, we'll show you how to add the tweets feed to a new page on your site.
Head over to your WordPress dashboard and navigate to Pages » Add New to open a new page.
Now, in the page edit screen, add a block and use the search bar to find and select the Twitter Feed widget. After selecting the widget, a preview of your feed will automatically appear in the page editor.

Next, save or publish your page and then preview it to see your custom Twitter feed in action.
If you're still using the classic editor, you can use the shortcode [custom-twitter-feeds] to embed the Twitter feed on any page or post.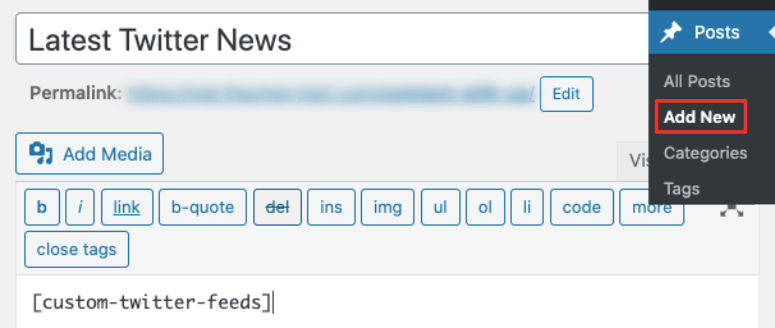 Make sure you save and publish your page or post to make the Twitter feed live.
2. Add the Twitter Feed to WordPress Sidebar
If you want to get more visibility for your Twitter feed, a great place to start is your website's sidebar.
To add latest tweets to a sidebar, first, visit Appearance » Widgets page. Here, you can find the Custom Twitter Feeds widget under 'Available Widgets'. Simply add the widget to your sidebar by using the drop-down menu or drag and drop it to the sidebar tab in the righthand menu.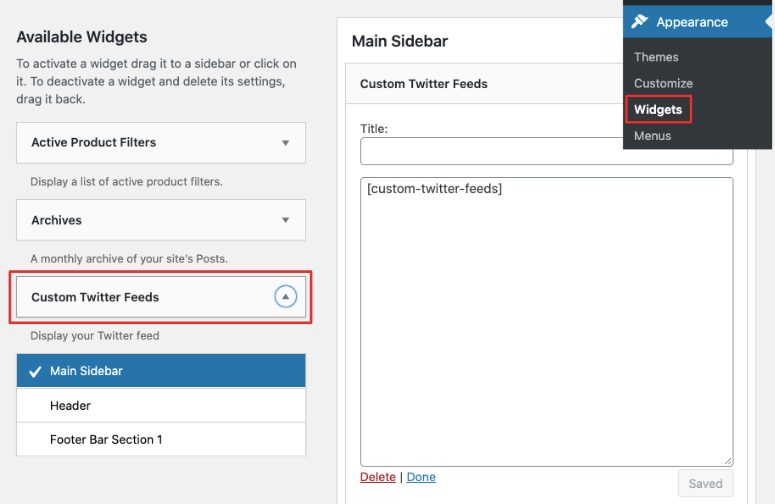 Now visit any page on your website that has a sidebar enabled and you'll see the custom Twitter feed live on your site.
Combining Multiple Twitter Timelines Into A Single Feed
If you want to combine different Twitter feeds and display them on your site, there's an easy way to do this.
From your WordPress dashboard, head to Twitter Feeds and open the 'Display Your Feed' tab. Here, you'll see a list of shortcode examples that you can use.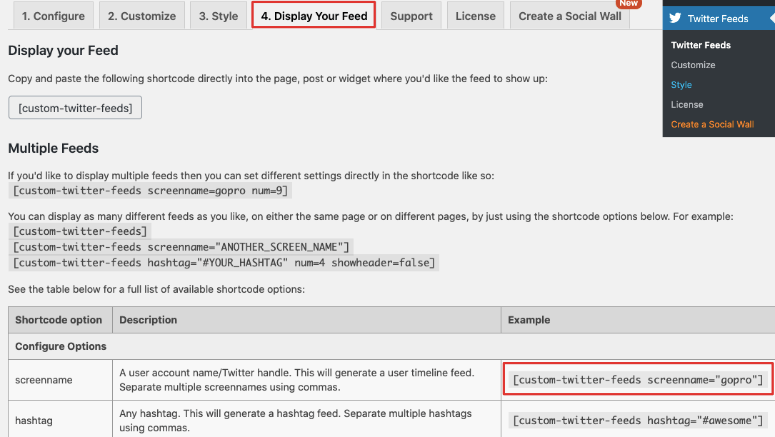 If you want to display multiple feeds, you'll need to use the screenname shortcode. Copy this shortcode and paste it into any text editor on your computer.
Now, replace "gopro" with your own Twitter handles separated by commas in the shortcode, like so:
[custom-twitter-feeds screenname= mytwitterfeed1, mytwitterfeed2, mytwitterfeed3 num=5]
This shortcode will make the feed display 5 recent tweets from three different timelines.
To use the shortcode in any page or post, you need to select the Custom Twitter Feeds block which will open up the block settings on the right.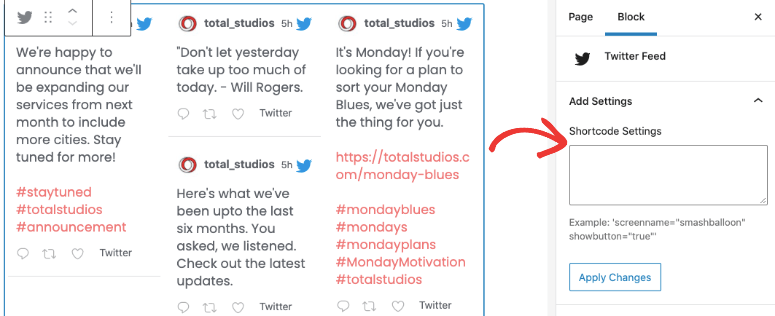 Here, you can paste the shortcode that you created like the one above. Save your post or page and then preview it and you'll see tweets from multiple feeds being displayed in your feed.
To add the shortcode to a sidebar, go to Appearance » Widgets and open the Custom Twitter Feeds widget.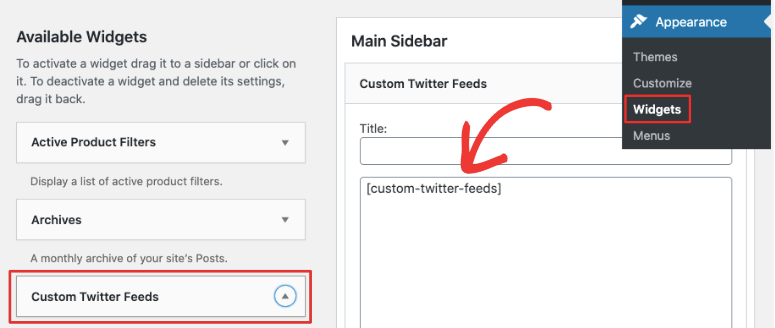 When you select the widget, a post edit screen will open up where you can paste the shortcode to add latest tweets to your site. Now, when you visit your site, you'll see that the tweets appear from multiple Twitter timelines.
With a Twitter feed live on your site, visitors can interact with your Twitter timeline without ever leaving the site.
Combining Social Media Feeds to Create a Social Wall
Are you looking for more ways to harness the power of social media on your site? We recommend using Smash Balloon's Social Wall that lets you combine feeds from Facebook, Twitter, Instagram, and YouTube to create a powerful social wall.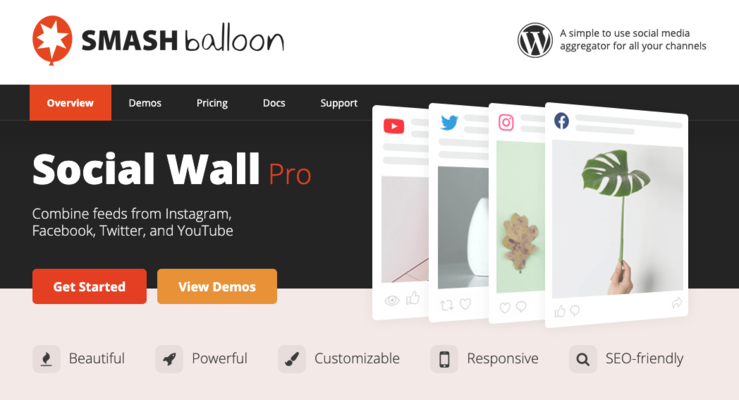 Now, visitors can view and interact with your content from all four platforms in a single feed. This way, you can increase engagement and followers across your social media presence.
SmashBalloon really is the only social media plugin you need.
We hope this article helped you add tweets on your WordPress site to grow your followers and increase conversions. If you liked this post, then you might also be interested in learning more about:
These posts will have everything you need to learn more about how to increase engagement with your audience on social media, improve your site's performance, and grow even more leads for your business.