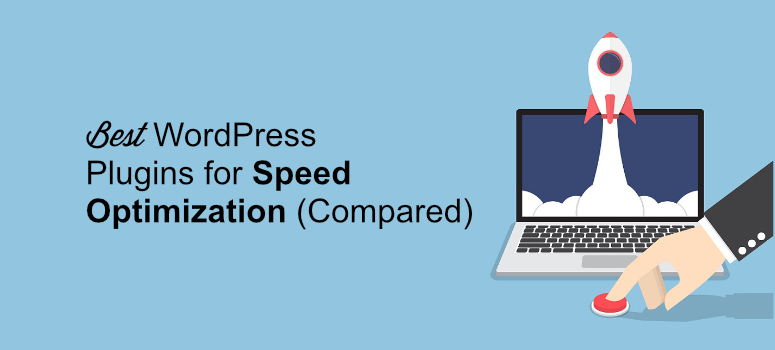 Are you looking for a speed optimization plugin for your WordPress website?
The performance of your website can have a huge impact on its success. Therefore, it's important that you always keep your website optimized for speed. The best way to work on your website performance is to choose a powerful web hosting service that offers fast load times.
By doing that, you can rest assured that your web hosting will take care of your website's performance in the back end. But that's not enough. You also need to ensure that the front-end is optimized for speed too.
That's where speed optimization plugins come in.
In this article, we'll tell you about the best speed optimization plugins that will improve the performance of your website.
But first, let's look at why you would want to have a speed optimization plugin in the first place.
Why You Need a Speed Optimization Plugin
To offer a good user experience (UX), you may want to install various plugins and addons on your website. This is especially true as your site grows, and it has more content and traffic.
While this is a good sign of your site's growth, it may have a negative impact on your site's performance. Your business can be severely affected if you don't work on your website performance now, particularly in terms of speed.
That's because slow page loads are a surefire way to increase bounce rates and lose customers. But with the right speed optimization plugin, you can make sure your site runs fast and gives users a great experience.
Not sure how your website performs? Take the Free Website Speed Test Here »
Now that you know why you need a speed optimization plugin, let's dive into our top 10 recommendations.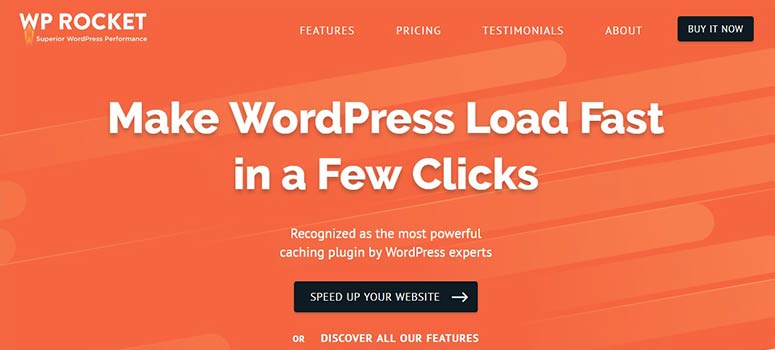 WP Rocket is a robust speed optimization plugin that can improve your website performance, increase your traffic and boost your conversions. When you install this plugin on your site, it automatically applies 80% of recommended speed boosting measures. You won't need to do a thing.
It works by reducing the weight of your HTML, JavaScript, and CSS files through minification. This decreases load speeds and instantly helps you improve your site performance.
With WP Rocket, you can even load your images only when your visitor scrolls down the page. This is a great technique for enhancing your site performance.
It's a powerful tool and our #1 pick for optimizing your site's speed.
Get started with WP Engine today!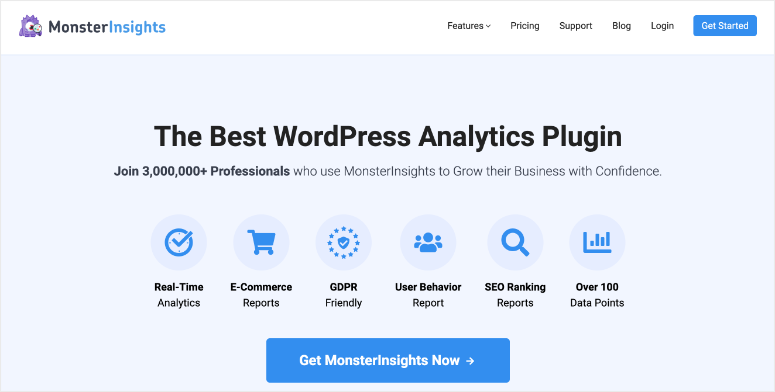 MonsterInsights is a powerful Google Analytics plugin that gives you all the insights you need about your site right inside your WordPress admin panel.
The reason it's on this list is because it comes with a readymade site speed report. You can see how your site is performing in different aspects that include:
Server Response Time
First Contentful Paint
Total Blocking Time
Time to Interactive
Take a look at the dashboard here: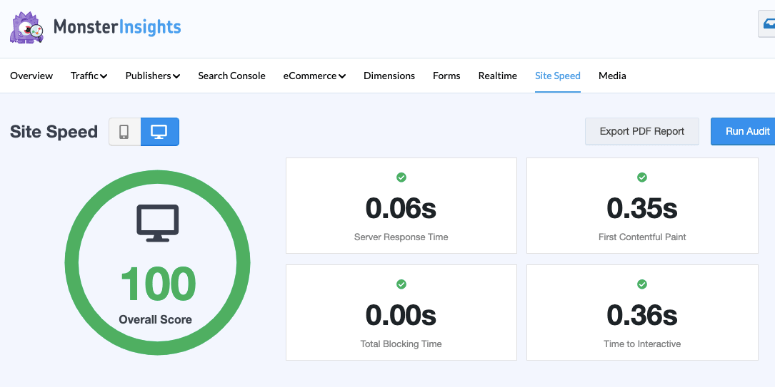 Below this, MonsterInsights also tells you how you can improve your page speed: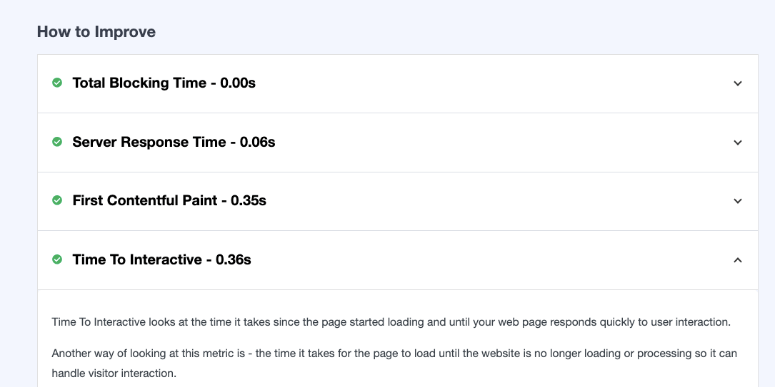 So you get stats plus advice on how to improve your site speed or fix any issues you're facing.

SG Optimizer is a powerful plugin that can instantly speed up your website. However, this plugin will only work if you choose SiteGround as your web hosting service provider. You can learn more about SiteGround in this review.
Although SiteGround's web hosting in itself is optimized for speed, you can use this plugin to work on optimizing the front-end of your website too. SG Optimize lets you enable or disable the minification of your HTML, JavaScript, and CSS resources. You can also remove the emoji support and query strings from your static resources. Plus, you have the option of optimizing your newly uploaded images and bulk optimize the old ones.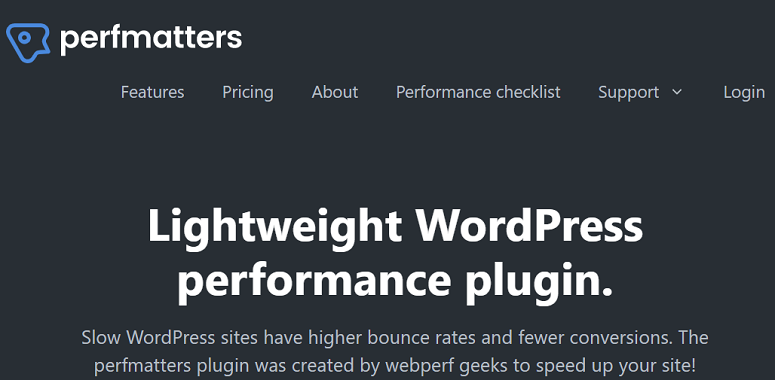 Perfmatters is another amazing speed optimization plugin that lets you improve the loading speed of your website. Using this plugin is super easy. All you need to do is toggle the enable button to select the performance option that you want to use on your website, and the plugin will take care of the rest.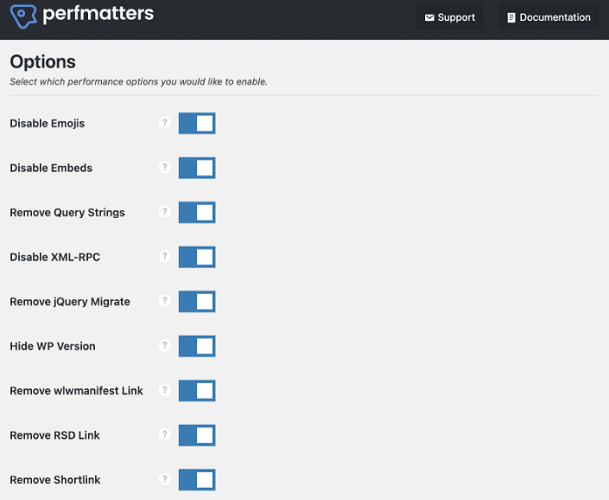 It offers several options to ensure that your site offers good loading speeds. For example, you can use it to disable emojis and embeds, remove query strings, Google fonts, and more. By keeping some of these features disabled, you can quickly increase your site speed and let your users have a better experience.

Sucuri is a powerful WordPress plugin that not only optimizes your website for speed, but it will also keep it secured at all times. The Sucuri CDN (Content Delivery Network) caches your website content automatically from time-to-time to give you the best load speeds possible.
It also checks the core WordPress files like PHP, JavaScript, CSS, and other files that come with your original WordPress version to ensure that everything is working fine. You can use the plugin to schedule scans, whitelist or blacklist files, enable email alerts, and do a lot more for improved security and speed of your site.

W3 Total Cache is a free yet powerful plugin that can help you keep your website optimized for speed. It works by minifying your site's CSS, Javascript, posts & pages, and even your RSS feed.
It also reduces your page load times by leveraging powerful features like CDN integration. This helps in decreasing the distance between the user's location and the hosting server, thus improving the loading speed of your site.

WP Super Minify is a free speed optimization plugin that can speed up your site without any manual intervention. It does so by minifying and caching the inline JavaScript and CSS files that are known for decreasing your page speed.
When you activate this plugin on your website, it will automatically compress your HTML, inline JavaScript and CSS on your website. It also offers an easy way to check whether the plugin has compressed your files or not. For that, you simply need to press Ctrl + U, and it'll display the following message on your screen: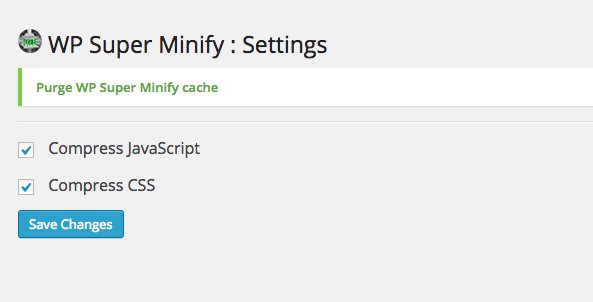 This lets you easily know whether the plugin is working properly on your site or not.

With WP Smush you'll never have to worry about slow page speeds. It's an all-in-one plugin that will do everything it needs to in order to make your website load faster. From optimizing your images, enabling lazy loads, resizing, compressing, and improving your Google page speed, it works on every aspect of your website.
WP Smush will automatically work on every file of your site for optimized results.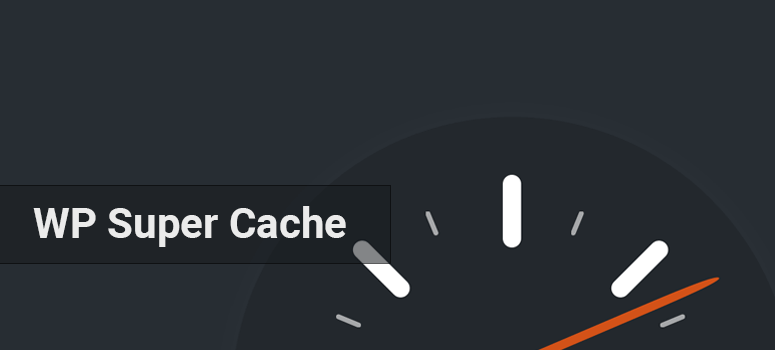 With more than 2 million active downloads, WP Super Cache is an amazing plugin that will speed up your website for a better user experience. It works by generating static HTML files from your website, which will then be used by your web server rather than serving the heavier WordPress PHP files.
This will have a positive impact on the performance of your website. It's a very good way of retaining visitors and increasing your website conversions.

WP Fastest Cache is another free WordPress plugin that will speed up your website. Just like any other caching plugin, it creates static HTML files from your dynamic WordPress site.
To reduce the size of files, the plugin minifies HTML and CSS files. It also allows you to disable emojis on your site. It effectively implements browser caching to reduce page load times for repeat visitors and combines many CSS files into one to reduce the number of HTTP round-trips.
These are some of the best WordPress speed optimization plugins that you can try out. We hope this post helps you find a plugin to improve your website performance.
Also, you can check out our guide for the best content optimization tools to improve your website for better SEO rankings.
And if you think installing a plugin isn't helping, you can try clearing your WordPress cache to speed up your site.