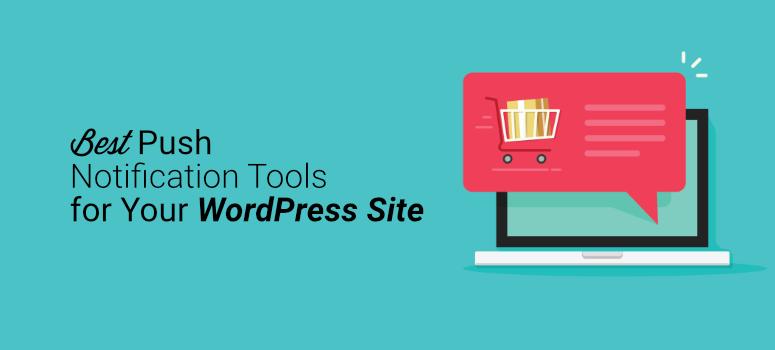 If you're searching for the best push notification tools for your WordPress site, you're in the right place.
When you create a website, it's important to grab the attention of your audience, share your content, and encourage active engagement. It's easier to reach your marketing goals and build your brand when you gain a loyal following that's eager for your business updates.
The easiest way to go about this is to use push notifications.
That's why, today, we're going to teach you about the best push notification plugins for WordPress. But first, let's get clear on what push notifications are in the first place.
What Are Push Notifications? (& Why You Need Them)
Similar to mobile push notifications, web push notifications pop up on users' desktop screens even if they aren't on your website. Users need to agree to receive these notifications before they're activated.
Web notifications appear at the top right-hand corner of the screen like this: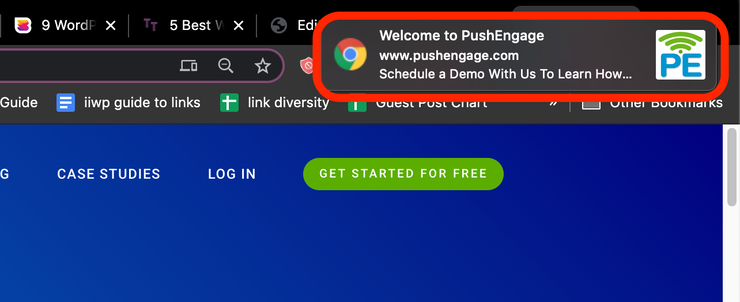 But now you may be wondering, "why should I add push notifications to my WordPress site?"
When you use them correctly, adding push notifications to your WordPress site can do wonders for your business and its conversion rates. There are several benefits to sending notifications to your leads.
1. Drive Traffic to Your Site
Web push notifications are great at driving traffic to your site because they grab users' attention regardless of what they're currently doing. Once the popup appears, it's difficult to ignore, and users immediately begin to engage. If the notification is relevant, they're likely to click through and browse your website.
2. Send Relevant Updates
When people opt into your notifications, you can collect their data to learn more about them and send them relevant information. The more your notification resonates with a user, the more likely they are to engage with it. It also shows your audience that you know what they want, and that you understand what they need from you.
3. Build Your Audience
It's easier to get users to opt into push notifications because they don't require an exchange of information. Users don't have to worry about your business cluttering their inbox and can instead engage with simple notifications in the corner of their browser. This makes it easier to build an audience just from your notifications so you can turn them into paying customers.
4. Convert Leads into Customers
With targeted, relevant messages, you can use notifications to improve your conversion rate and turn leads into customers. With abandoned cart reminders and discounted offers, for example, you can convince a user to come back to your site and follow through with a purchase.
Now that we know what push notifications are and why they're so useful, let's dive into 6 push notification tools you'll need for your WordPress website.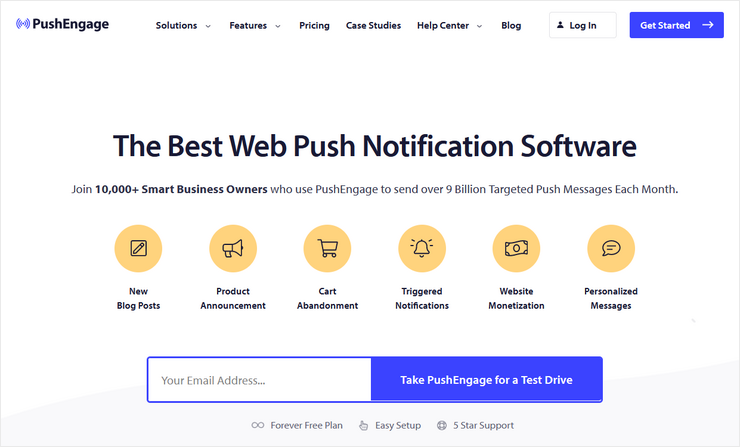 PushEngage is one of the best options to add push notifications to your WordPress site. It easily integrates with WordPress to work seamlessly with your website and attract visitors.
PushEngage works well for eCommerce businesses with its cart abandonment and price drop features. You can update subscribers about their pending carts and notify them about offers and lower prices so they can snag the best deals (and so you can make more sales).
You can also use PushEngage to notify users about new WordPress posts.
Installation is a breeze for this plugin which only takes a few minutes to set up. It comes with powerful features including automatic responders, segmentation, geotargeting, and more. Segment your visitors so you can send them relevant notifications that they're more likely to click on. Use automation to send notifications based on a customer's actions so they'll move through the conversion funnel.
Also, check out our full PushEngage Review.
Get started with PushEngage today.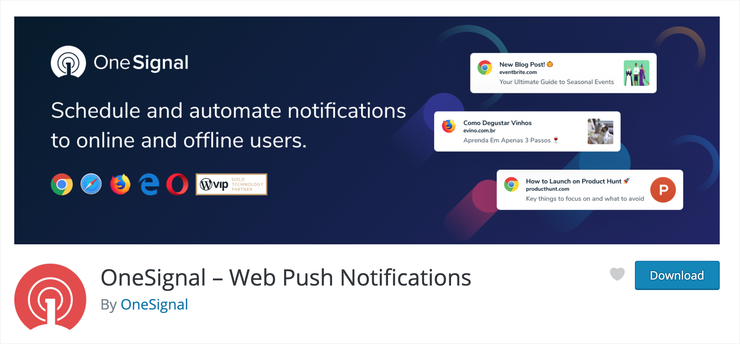 OneSignal is another popular option to add push notifications to your website. It's user-friendly and easy to set up even for those who aren't tech savvy.
With OneSignal, you can create custom subscription option popups, which allow you to personalize, automate, and A/B test notifications for the best outcome. You can schedule your notifications for a future date to reach your customers at the best possible time.
OneSignal lets you view real-time analytics to see how users respond to your notifications as you send them. The software also auto-targets users based on their behaviors and previously viewed content so you send them what they're interested in.
Get started with OneSignal today.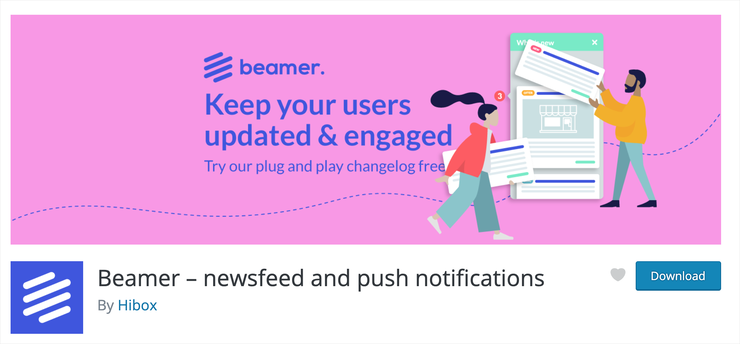 Beamer is a WordPress plugin that shows up as a regular notification or a sidebar popup on the screen when users visit your website. This allows you to add videos, images, and GIFs to your notifications and engage your visitors.
With Beamer, you can still send notifications to users who aren't currently browsing your site. You can segment users by location, profile, behavior, language, product, and much more to send them relevant notifications they'll click on.
Beamer lets you show users a custom optin prompt that displays your brand logo and design so users know who they're dealing with right away. The best part is that it takes less than 5 minutes to fully install and begin using the plugin for optimum use.
Get started with Beamer today.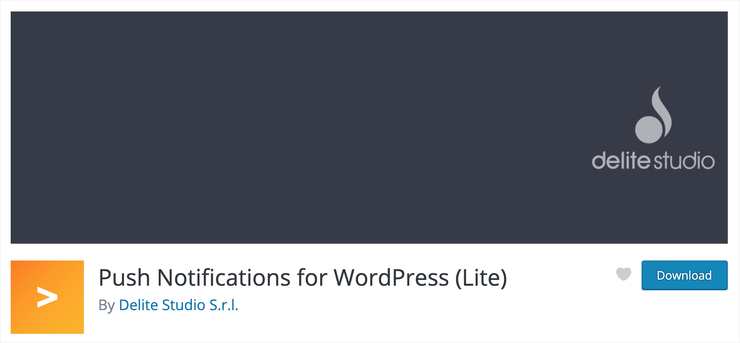 Push Notifications for WordPress is a free option for those who want a cost-effective way to notify their audience. This plugin comes in handy by taking content from your website and turning it into notifications perfectly suited for your customers.
This plugin displays analytics straight from your WordPress dashboard so it's easy to keep an eye on your conversions. You can also create user groups to segment your subscriber list and send only the most relevant content.
Push Notifications for WordPress also gives users the option to choose what type of notifications they want to receive so they're less likely to opt out in the future. Giving your visitors more control over the content you send brings them closer to your brand and makes them more likely to take action.
Get started with Push Notifications for WordPress today.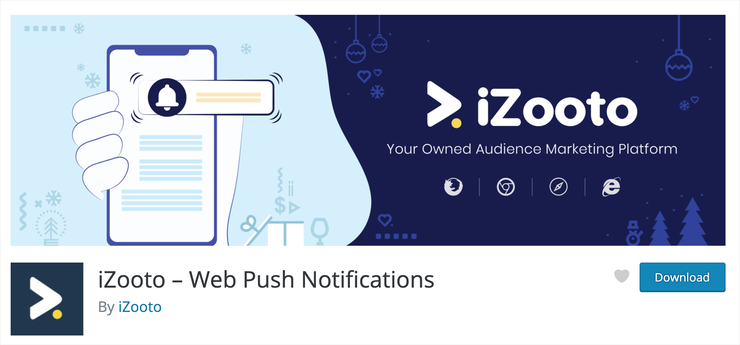 While iZooto has options for different types of businesses, it primarily helps bloggers and content creators build their audience.
This plugin allows you to create and send notifications straight from the post editor, so it's easy to keep your audience up to date with your brand. It also uses geotargeting to send relevant content to users no matter where they're located.
iZooto comes with custom prompts so your notifications stand out from its competitors. Add CTAs, icons, badges, banner images, and emojis to grab your customers' attention and urge them to take action. Send personalized notifications based on recent activity and behavior to ensure the best results.
Get started with iZooto today.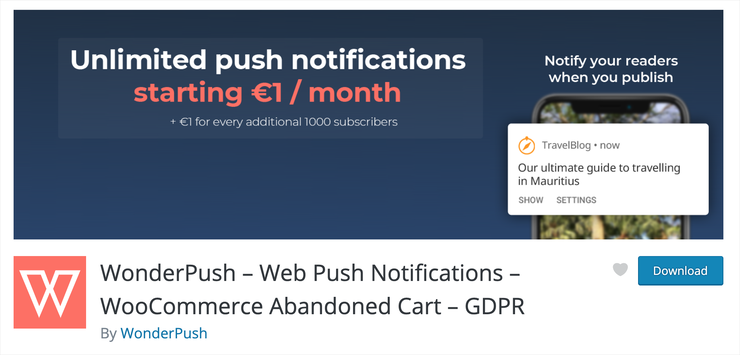 WonderPush offers unlimited push notifications for its users with an average 15 minute setup time. When integrated with WordPress, it offers useful features like automation, segmentation, and real-time analytics.
It's easy to monitor your notifications and their effectiveness when you can see the results in your WordPress dashboard. WonderPush's real-time analytics come in handy to help you make the necessary changes you need to see improvement in your conversions.
Use WonderPush to recover abandoned carts and send relevant offers that urge users to click back to your site. It comes with A/B testing, geotargeting, notification scheduling, and more so you can send and set up notifications the way you want to.
Get started with WonderPush today.
And that's it! These are the best web push notification tools for your WordPress website. Follow this tutorial to get started right away: How to Add Push Notifications to WordPress to Drive Traffic.
You may also want to check out TrustPulse. It tracks and highlights real purchases, signups, user activity, and more in small non-intrusive popups on your site. With its advanced rules and timing control, you can display social proof notifications to the right audience at the right time.
You might also want to read more of our resources:
These posts will help you connect with your subscribers through different platforms.