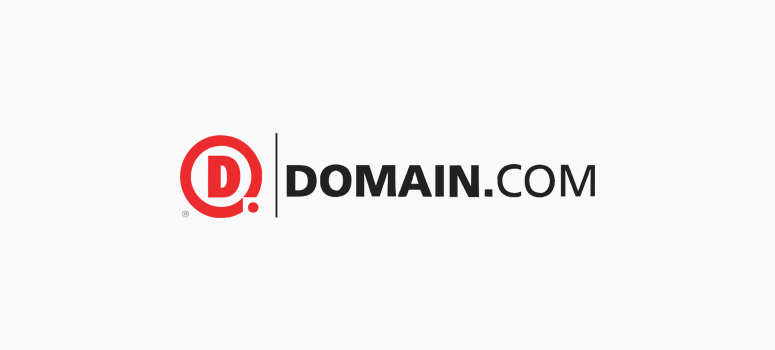 Are you looking to build your own website? Do you want to know if Domain.com is any good?
We checked out everything Domain.com has to offer and used it for ourselves to find out if it's worth it.
In this post, we'll review Domain.com's features and pricing, and see how it fares against the competition.
What is Domain.com?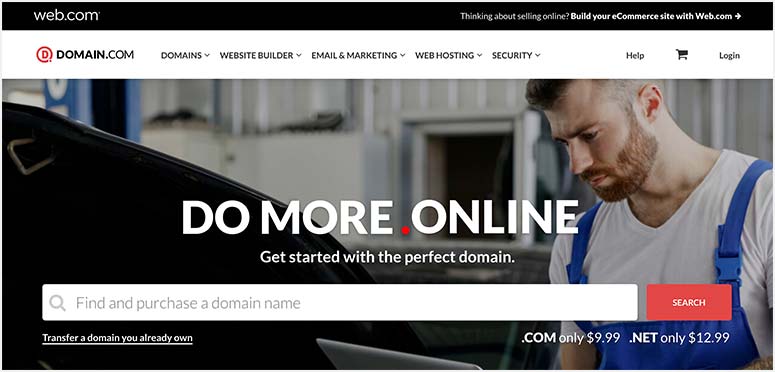 Launched in 1998, Domain.com is one of the most popular domain registrars but offers a lot more than that.
First, they allow you to register all top-level domain name extensions (TLDs) and even dozens of country code top-level domains (ccTLDs).
They are also one of the best web hosting solutions for individuals and small to medium-sized businesses around the world.
Domain.com offers all the domain management tools that you would expect from a top domain registrar. This includes private and bulk registration, free WHOIS lookup, privacy protection, easy transfers, and DNS management.
They are a reliable domain and web hosting solution to get your business online quickly and easily.
What Should You Look For In Any Web Hosting Solution?
To get your own website on the internet, you'll need the following:
Domain name – Buying a domain is like buying online real estate. It gives your website an address such as 'isitwp.com'. Users can type this URL in the address bar to visit your site.
Hosting plan – This gives you access to a server where your website's files and the database will be stored. In simpler terms, all of your website's data and the content will live on this server.
Website Builder – Once you've laid the foundation for your website, you'll need to build it. Most site owners choose web builders like WordPress or Wix.
SSL Certificate – Your website will send and receive data between browsers and servers. If it's sent in plain text, hackers can intercept this data and misuse it. An SSL certificate will encrypt this data while it's in transit so that hackers can't do anything with it.
Security – Much like the real world, your website faces threats and risks on the internet. Hackers are always on the prowl looking for sites they can break into and damage. You need to put up walls and lock the front door to keep them out. This is exactly what site security measures like firewalls and strong passwords do.
Business Email – Email is the most used form of communication in business. So it's important to have a business account to send and receive emails. It makes you look more professional and you can connect your team members and clients easily.
Now in many cases, people buy all these elements from different providers. This may be because they get a better price or the hosting provider does have the other features.
But it becomes difficult to manage and keep track of because you need to maintain so many accounts.
Added to that, many site owners don't know they need to take certain measures to protect their site.
Keeping these factors in mind, we've reviewed all that Domain.com has to offer. We also take a look at how easy or hard it is to buy, build, and run a website on their platform.
And lastly, we also checked out how much it all costs because at the end of the day, it needs to be worth the investment.
Having said that, let's take a dive right into what you get with Domain.com
What Does Domain.com Offer?
Domain.com is an all-in-one solution to build and run a website so it has a lot of features and services.
Here's a list of what we'll be covering with quick links so you can jump ahead if you want.
1. Buy a Domain Name
Many times when you have the best domain name in mind, you'll find that it's already taken!
Domain.com offers a domain search engine to check the availability of domain names. And if the desired name is taken, it gives you name suggestions that are close to the one you chose.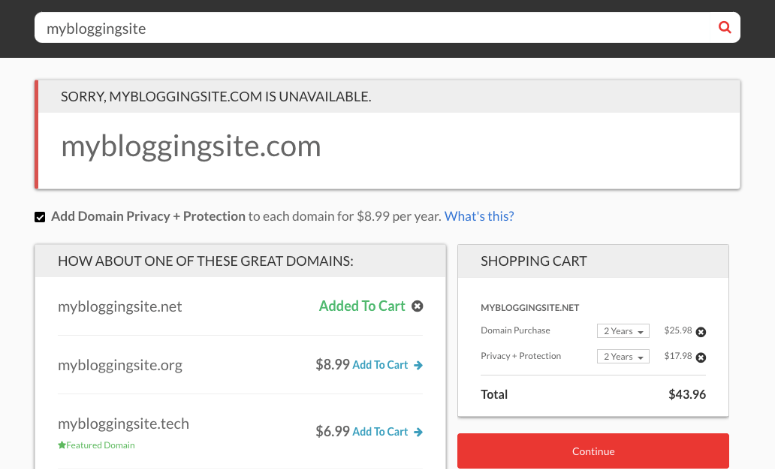 Once you've picked your domain name, you simply need to add it to your cart and checkout.
You can get a .com domain starting at $9.99 and a .net domain starting at $12.99.
If you're having a tough time coming up with a name for your site, use our free Domain Name Generator. It will help you search for new company name ideas and get the domain name instantly.
Coming back to Domain.com, here are a few more cool features they offer:
Transfer Your Domain – If you already bought a domain with another provider and want to transfer it to Domain.com, there's a quick and painless migration process.
 
And if you're new to this and need help, Domain.com has a friendly support team that will assist you with the domain transfer.

The process can take up to 5-7 days, but Domain.com's transfer process is automated, so your site won't face any downtime while you migrate over.

Premium Domains – Getting your hands on short, memorable, and unique domain names is quite difficult because many of the names are already taken.
 
Domain.com helps you identify premium domain names that are easy to remember and have stronger branding potential.

These domains can attract more site traffic and have higher chances of being more visible and successful.

New Domain Extensions – With fewer choices of domain names with .com and .net extensions, ICANN (the international governing body for domain names) decided to add new domain extensions. So you can find more creative ways to get the domain name you want.
 


Domain.com offers over 300 new TLDs with a range of new extensions that you can use.

WHOIS Lookup – Sometimes people buy and park domains to sell it for a profit. So if you have you're eye on the perfect domain name and want to buy it, you can check who owns the domain.
 


You can find their contact information and also see if the domain is set to expire soon. If they don't renew the domain, it will go back on the market, so you can buy it then.
2. Buy a Hosting Plan
Domain.com has the most affordable pricing plans for web hosting. This lets anyone build a website without making a huge investment.
One thing to keep in mind is that Domain.com offers shared hosting. This means it's low-cost but you'll share your server with other websites and companies. And each user will get an allotment of bandwidth, memory, and power to run their site.
That said, Domain.com has 99.9% uptime on all hosting plans. This means it's very rare that your site won't be unavailable or inaccessible to visitors due to an issue with your web host.
It's one of the most stable and secure platforms to host your website.
Web Hosting Plans

There are three hosting plans you can choose from.
Basic – Starts at $3.75 per month and lets you host 1 website. You can create 10 databases and add 5 FTP logins (that will grant users access to the backend of your website).
Deluxe – Starts at $6.75 per month and lets you host unlimited websites. You can create 25 databases and add 25 FTP logins.
Ultra – Starts at $13.75 per month and lets you host unlimited websites. You can create unlimited databases and add unlimited FTP logins.
All plans come with unlimited storage and scalable bandwidth to manage your site as you grow. It also includes a free SSL certificate, and you can create an unlimited number of subdomains.
WordPress Hosting

Domain.com also has special plans for WordPress sites. They come with curated themes, pre-installed plugins to optimize your site, and a customized control panel.
WP Starter – Starts at $3.75 per month with unlimited storage and bandwidth.
WP Essential – Starts at $6.95 per month and also includes professional site security, malware removal, and 24/7 support.
You also get a free domain name for one year with every WordPress hosting plan. You'll need to use the coupon code DOMFREE at checkout to get this offer.
WP Live Hosting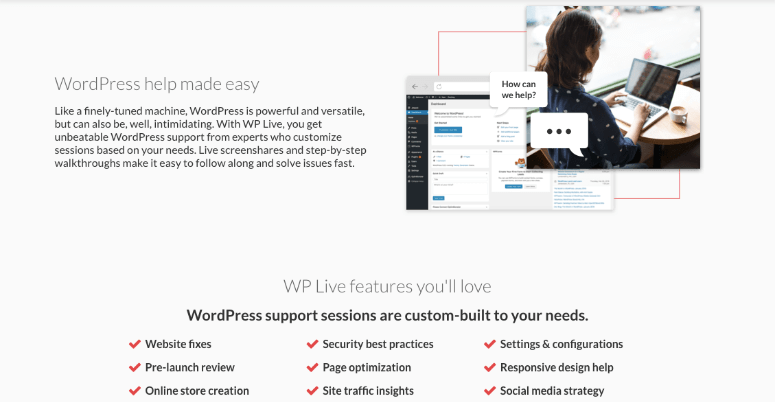 WP Live gives you access to WordPress experts to help you build your site. These plans are great for those who want to hand over website design and creation to a trusted developer.
It's also a good option if you're new to WordPress and need a lot of guidance.
You'll get 1-on-1 support sessions, design guidance, and access to the support team via email, chat, and phone.
They also help solve any roadblocks, give you site traffic insights, and create your social media marketing strategy.
WP Live Lite – Starts at $29 per month and gives you design guidance, on-demand ticket support, and website backup assistance.
WP Live – Starts at $49 per month and includes on-demand chat support.
WP Live Pro – Starts at $149 per month and gives you assistance in landing page, mobile, and content optimization. You also get on-demand phone support.
With these plans, Domain.com will help you create, launch, and grow a great website!
3. Build a Website
Domain.com has a really cool website builder that you'll want to try. It starts at just $1.99 per month.
How it works is you need to answer a few quick questions and its AI technology will find the right layout, images, and initial content for your site.

This makes it so easy to get started instead of trying and testing hundreds of templates and themes.
It's easy to edit your website, and it has built-in design protection. This means your site looks great on all devices.
Here's what really stands out about Domain.com's website builder:
Customizable layouts so you can create a unique site
Free access to the image library
Built-in SEO measures to get your site to rank on search engines
Easy to create all sorts of sites, from a simple blog to a full-fledged eCommerce store
Easily add social media icons
Create beautiful forms to capture leads and email subscribers
Manage all your contacts from a single database
Integrate your existing Facebook store
24/7 friendly and helpful support team to resolve doubts and issues
What really surprised us was the features Domain.com offers for online stores. It costs $12.99 per month and has pretty much everything you need to set up a neat, optimized, and fully-functional eCommerce site.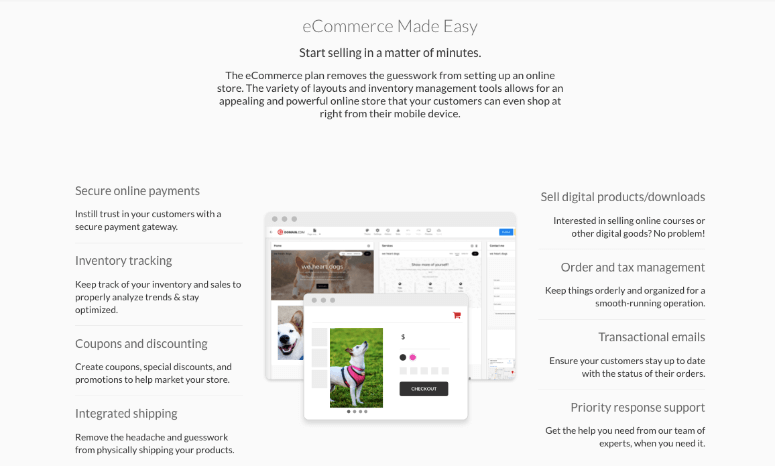 They have secure online payment options, integrated shipping, order and tax management, and inventory tracking.
You can sell digital products and downloads and add coupons and discounts to boost sales and revenue.
What's more? You can send out transactional emails to visitors for order confirmation and status updates.
To top that, Domain.com offers web design and marketing services. Their experts will build a beautiful site tailored to what you need, along with a strategic marketing plan.
4. Set Up Business Email
If you want your business to look professional, you'll need emails that match your domain name. A business email looks like john@isitwp.com.
Domain.com lets you set up your business email with Microsoft 365 or Google Workspace.
They offer seamless integrations between your website and your email account. And you get access to all the tools, including such as docs, sheets, forms, chat, and calendars.
Microsoft 365 starts at $2.99 per month, while Google Workspace starts at $3.99 per month.
5. Secure Your Site
Site security doesn't get as much importance as it should. It comes as an afterthought but in reality, it should be top priority. So we were happy to see Domain.com taking site security seriously.

What you need to know is that hackers aren't biased toward big and popular sites. They prey on brand new and small sites because they lack security measures. And there are hundreds of ways they can damage and misuse your site.
So right from the start, you need to protect your site. And Domain.com does that for you. Here's what they offer:
SSL certificates – SSL secures your site's data and keeps it safe from hackers.

It improves customer confidence and trusts in your site. Added to that, Google requires every website to have an SSL certificate; otherwise, your site won't rank.

You can tell if a site is secure by the padlock in the address bar.

Now, there are different kinds of SSL certificates. Domain.com offers simple SSL for free on all plans.

If you want premium SSL certificates to protect eCommerce payments and multiple subdomains, you can buy them at affordable rates starting as low as $3 per month.

Domain Privacy and Protection – When you register a domain, you need to provide your personal information like a home address and contact number. And ICANN requires these details to be publicly available in the 'WHOIS' database.

Domain.com provides domain privacy by hiding your information and displaying your own instead.

This prevents domain-related junk and spam emails or phone calls. It also ensures that no one gains unauthorized access to your website and domain.

SiteLock Security – Domain.com lets you enable security measures powered by SiteLock. It scans your site and database for malware and vulnerabilities.
 
It puts up a web application firewall to block any bad bots from attacking your site. And in case your site gets infected, it will automatically detect and remove any malware.

You'll also get instant notifications in your control panel and email to alert you of suspicious activity or anything that doesn't look right.

Now, in case your site is infected, when search engines like Google detect it, they blacklist your site. SiteLock will prevent this from happening and monitor if your site has been blacklisted.

With SiteLock security, you can rest assured your site is protected.
Customer Support and Documentation
We can't stress enough how important customer support is. When you're buying a domain, or creating or managing a site, more often than not, you will run into obstacles.
There are human errors, server errors, and hackers that you need to consider. In times like these, you need a reliable support team that will help you solve your problem quickly.
And Domain.com has one of the best support teams, and they're really friendly and helpful.
You can access customer support through a ticket system, phone, chat, and email. This will depend on the plan or service you've selected.
The support team is available 24/7 to help you resolve queries quickly at any time of the day in any part of the world.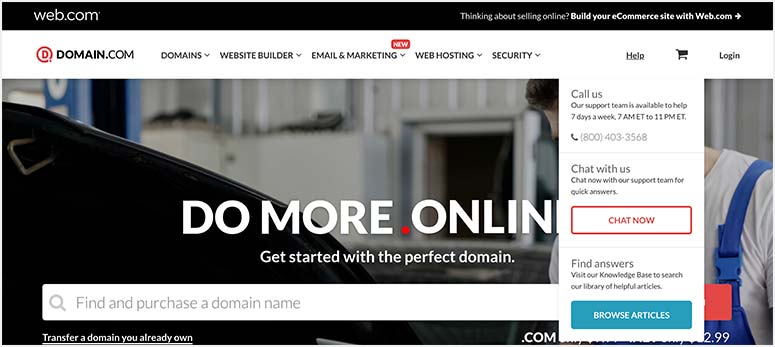 Domain.com also has a helpful blog and a YouTube channel that's packed with resources to learn more about website building.
Aside from that, the entire website is filled with information and tips to help you understand what everything means and does.
And if you're a self-learner, they also have a knowledge base so you can learn more about websites on your own.
How Does Domain.com Stack Up Against the Competition?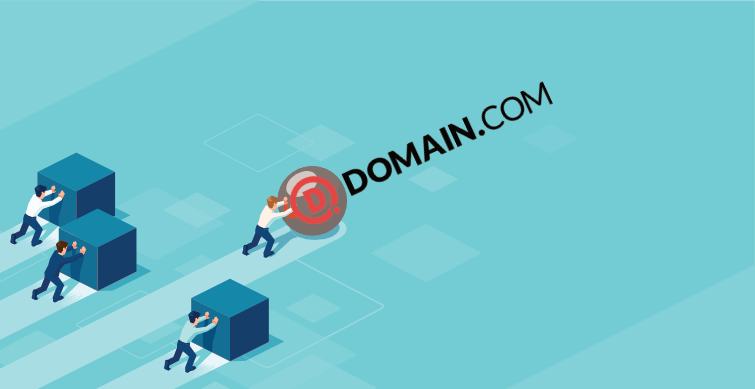 To really determine if Domain.com is a good option for your site, we needed to see how it fares against other domain registrars and web hosting solutions.
Here's where Domain.com really excels.
Beginner-friendly and User-friendly – Domain.com is by far the easiest platform for beginners to set up a website. It takes out all the technical stuff and makes it as easy as clicking a few buttons. Anyone can create a stunning, professional-looking site in no time. Its built-in AI technology makes it easy to get started. And with tons of customization options, you don't have to worry about ending up with a stock website. You can make it unique to match your brand and business.
All in One Solution – Domain.com has everything you need to set up and run a website. You can buy a domain, hosting plan, website builder, SSL certificate, and site security all on a single platform. This makes website management easier to manage and streamlined.
Pays Attention to What Matters – One of the things we love about Domain.com is that they pay attention to what you really need for your site. And they don't try to sell you unnecessary products and addons that you simply don't need. You can build, protect, and market your site with the right tools.
High Performance and Speed – We tested the website we created with Domain.com, and it performed really well in page load time and uptime as well. It's very rare that this platform sees downtime issues. We also checked out what other users had to say about Domain.com, and we found good reviews about its speed. So you can trust that your site will load fast for visitors.
Affordable – Usually, setting up a site with email and security can require a sizeable investment. But Domain.com makes website building budget-friendly. The good thing is that there are individual plans as well as packaged deals. You can opt for a bundled deal if you want everything to be taken care of, or you can selectively choose what you want according to your budget.
Customer Support – Domain.com has a world-class support team that's ever ready to help. They not only help resolve problems but also provide guidance on anything you need.
Domain.com Pricing: Is It Worth It?
Domain.com has separate pricing plans for the different services it offers. You can choose a single service, create your own package, or opt for a bundled deal.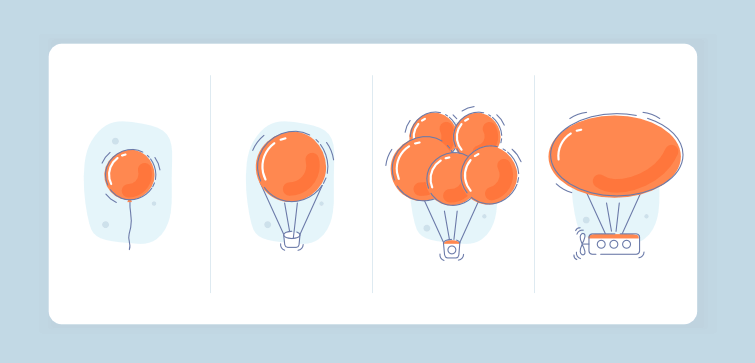 We'll take you through a breakdown of the basic cost of each service individually to help you determine just how much it would actually cost.
Domain name – You can find a decent domain name for as low as $8.99 on Domain.com. You'll also see domain names as low as $2.99, but they may require extra work to get visibility on search engines.
Privacy and Protection – For domain privacy and protection for 1 year, it costs $8.99. Plus, you'll get a free SSL certificate.
Hosting – Plans start at $3.75 per month, so you'll need to invest $45 for the year.
Website builder – To start building your website with Domain.com's website builder, it costs $1.99 for a month.
So to create a beautiful website that's secured and protected with a decent domain name takes an investment of only $65.
When compared to other website solutions, this is really low cost and affordable, making it perfect for small businesses and startups.
Bear in mind this is if you buy all the services individually. Domain.com also offers bundled deals and packages which have everything you need for a much lower cost.
And you can even use coupons and discounts to get a good deal!
For everything it offers, it's definitely worth it!
Domain.com Discounts and Coupons
At IsItWP, we work hard at negotiating deals for our users, so you get the best price on WordPress products and services.
You can use our Domain.com coupon to get 25% off on your purchase.
Our Verdict: Is Domain.com the Best Domain Registrar and Web Host?
After analyzing and testing everything that Domain.com has to offer, we can confidently say that it's the best web hosting solution for small and medium businesses.
You get absolutely everything you need to set up an awesome website and even a high-performing online store. And it's great for beginners as well as seasoned website creators.
It's also scalable, so you can grow your site and upgrade your hosting plan and web services.
Get started with Domain.com today!
We hope you found this review helpful. You may also want to see:
Once your site is set up, these posts will help you grow and market your brand.