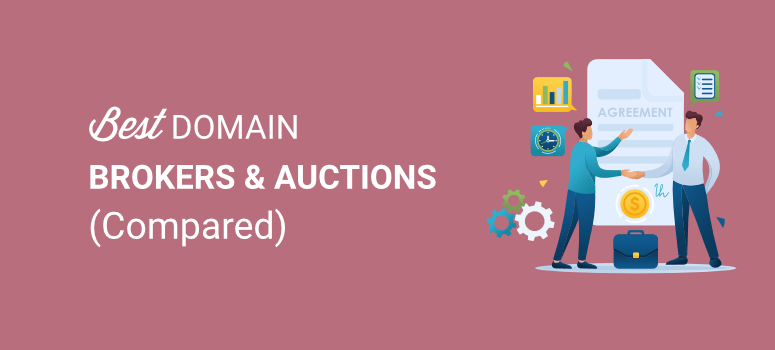 Wondering how to buy and sell domain names at a fair price?
There are two popular ways of purchasing or selling your domain names.
Auction sites: An auction site is a great place to find domain names that are listed by owners for sale. Buyers can place a bid for the domains they like and wait for the bidding to end. Like all auction sites, the sale goes to the highest bidder. You can use this platform to either buy a domain or to list your domain for sale.
Brokerage firm: Domain name brokers are agents who reach out to the seller of a domain name and negotiate a fair price on your behalf. If and when they successfully reach an agreement, brokers receive a commission from the sale.
Both options are equally good when it comes to dealing with the sale and purchase of domain names. If you're an experienced dealer, then auction sites could be the better option for you.
However, if you're new to buying and selling domain names, you might prefer brokerage firms for a few reasons. More on that in a few moments.
In this post, we'll tell you about some of the most popular auction sites on the market and how real brokerage firms can help you get the domain you want for your company.
First, though, let's talk about why broker firms may be your best bet if you're just starting out.
Choosing a Domain Name Broker Firm
Using a broker for buying or selling domain names can have many benefits, especially if you're going after a highly-valuable domain name.
If the domain is short and brandable, has a solid SEO history, and is in high demand, you're best chances are with a broker.
Whether you're a buyer or a seller, it's a win-win situation for everyone. Here are some of the advantages of using a broker.
You'll never have to worry about negotiations. They'll take care of everything with their expert negotiating skills.
You can get exclusive access and the best deal on premium domain names.
If you're a seller, brokers are more likely to know potential buyers and have a clear understanding of what you can expect.
Most reputable domain brokers will have good relationships with several quality domain owners. So as a buyer, you can have instant access to a robust mailing list without any cold calling.
They can help you protect your anonymity as a client.
They'll take care of the domain transfers and paperwork for you.
And these are just a few of the advantages. The bottom line is that they'll do all the heavy lifting for you so you can focus on the core aspects of your business.
When you choose a domain broker, you'll want to check their track record of buying and selling domains. Look for years of experience, the number of domain name sales, and whether they have brokered valuable domains. This will give you an idea of how good they are at negotiating domain deals and getting you the best price.
Now let's look at some of the top domain brokers that you can choose from.
Domain Name Brokerage Sites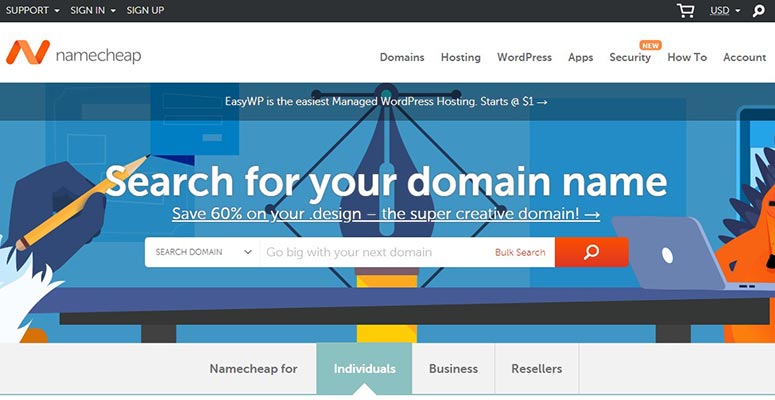 Namecheap is one of the best domain brokers that lets you sell and buy domains for your business. Namecheap offers a reasonable price for domain registration and renewals as well.
It also lets its customers list their domain names for sale at a fixed price. For this, no additional cost is charged. If your listed domain is sold, you will have to pay 10% of the price to Namecheap as commission. This is low compared to what many other domain name brokers charge from their users.

GoDaddy Brokerage is a great option to get your favorite domain if it's already listed under someone else's name.
They are a leading domain broker and have brokered 100+ domains including some highly-sought after ones.
All you have to do is sign up for their service and pay an initial fee to start the process. Then you'll be assigned a dedicated broker to negotiate deals on your behalf. The good thing about GoDaddy is that it allows you to broker deals of any size. Many domain brokers set a minimum limit like $5,000 or $25,000 per domain.
The domain broker service at GoDaddy will do all it can to contact the current domain name registrant and try to negotiate its purchase. The agents get a maximum of 30 days to finalize the deal for you.
If the deal is successful, there's a 20% buyer brokerage fee added to the domain purchase price.
Now, if you're looking for a domain broker to sell your domain, then you'll need to use GoDaddy's auction service.

Sedo is another popular domain name broker that lets you buy, sell, or park your domain names with tons of additional services like free transfer, free parking, and so on. You can list your names for sale without any registration fee.
However, like all other domain brokers, they too will charge you a commission on every sale you make. In Sedo, the commission you pay will depend on the type of listing and the top-level domain (TLD) you sell. Ideally, this can range anywhere between 10% to 20%.
Sedo is popular for its stealth acquisitions where they keep your identity completely confidential. So your name or business remains private during any domain transactions. They use their expertise to get you the best deal on the digital real estate you have your eyes set on.


Uniregistry Market is a retail domain registrar and service provider for professionals where you can buy, sell, and park your domain names. There are no extra charges for you to join the program. You can simply sign up and start buying/selling immediately.
They have a Uni Market where buyers and sellers can connect and make deals. You can negotiate a deal with the current owner of any domain you want. Once you agree on the price, you can move forward with the secure sale, followed by the transfer of your new domain.
Uniregistry supports various payment options like PayPal, Wire, and others. They also make the process of transferring money and domains safe. This works similarly to Escrow.
They'll hold the money and facilitate the domain exchange between seller and buyer instantly. Once complete, they'll release the payment to the seller. This all takes just a few minutes, you won't have to wait hours or days.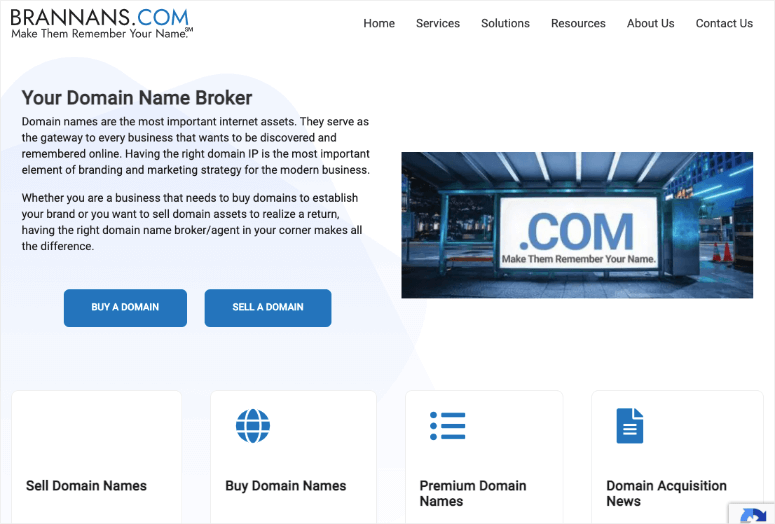 Brannans lets you sell single domain URLs as well as a whole portfolio of domain names. Over decades, they've gained the trust of individuals as well as Fortune 500 companies when it comes to domain acquisitions.
Brannans has an exclusive domain name newsletter that is sent to a network of professional buyers around the world. They may feature you in this newsletter but only if your domain is worth at least $5,000 and up.
Other than that, they broker sales for .com domains with a minimum value of $25,000.
There are no upfront costs and they won't charge you for the initial consultation. They charge a commission of 15% of the actual sales price minus any fees for Escrow services.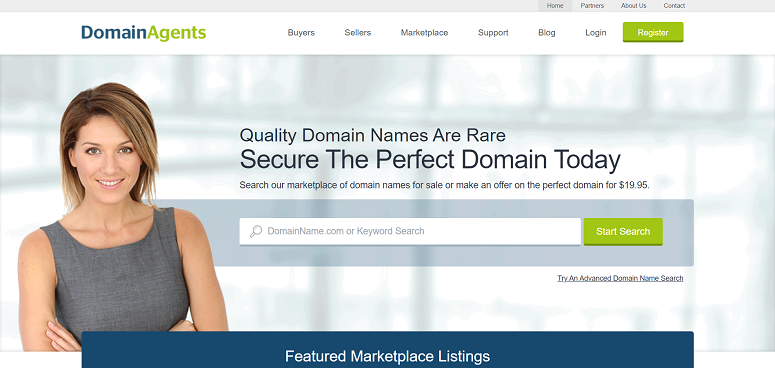 Just like the name suggests Domain Agents specializes in buying and selling domain names. It offers a reliable platform for sellers and buyers to sell or purchase domain names in a way that is fair to both parties.
With Doman Agents, you can buy a domain in two different ways: either by making an offer or directly purchasing a Buy It Now name from the marketplace.
When a potential buyer is interested in making a purchase, they can buy Domain Agents credit and identify the domain name they are interested in acquiring.
Domain Agents will then contact the owner of the domain to make an offer on behalf of the buyer. The owner will be notified about the offer, and negotiations can begin.

Domain Holdings makes it easy for you to buy, sell, and evaluate domain names. If you're interested in buying a domain name, you can hire an industry expert to find one for you.
On the other hand, if you want to sell a domain, then you can get in touch with Domain Holdings by filling out their contact form. It also displays a list of the highest domain sales of all time. You can check them out for inspiration.
That's our pick of the best domain brokerage services. If you need more options, you might also want to check out VPN.com, MediaOptions, and Grit Brokerage.
Up next, we'll discuss auction sites where you can bid on all types of domains to get the perfect domain name.
Domain Name Auction Sites
Auction sites can be used by just about anyone including startups, entrepreneurs, small businesses, and even those who are looking to flip domains as a business.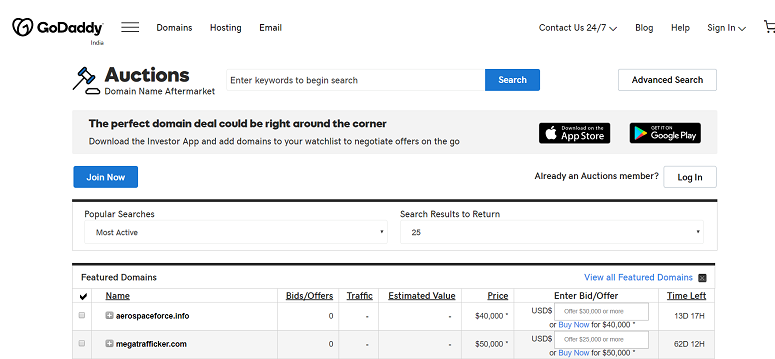 GoDaddy Auction is a popular choice when it comes to buying and selling domain names for your business. You can join this marketplace by paying a small registration fee of $4.99 per year. Once you're a member, you can bid on and purchase a domain name or list your domain names for sale without any extra charges.
When you list your domain for sale you can:
Set a 'Buy It Now' price
Hold an auction and make it public for 1 week
Accept or reject offers from buyers or make a counteroffer
If your domain sells at a price below $5,000, then GoDaddy will charge a commission of 15% to 20%. But if you can sell it at a higher cost of $5,001 – $25,000, the commission will be $1,000 plus 15% on the amount over $5,000.
The good news is that if you're buying a domain from them, you don't have to worry about any of these commission fees.
If you're not sure what you should price your domain at, GoDaddy has a free domain valuation tool. You simply need to enter your domain name and it will tell you how much its market value is.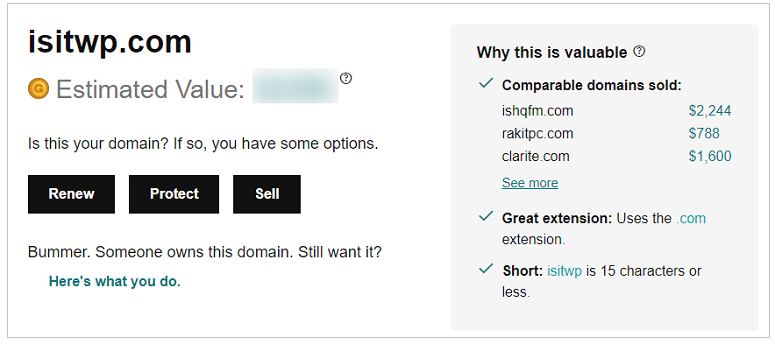 You might also want to see How Much Does a Domain Name Really Cost?

Flippa is one of the leading marketplaces for buying and selling various web properties like domain names, websites, and apps for small and big enterprises.
If you're buying a domain name, you can filter your search based on price, age, and the extension of the domain to get the best results. The domain names are listed under a wide range of prices. These names are available for auction or for direct sale.
Some of them can cost you as low as $1.
You can watch domains you're interested in, follow auctions, or enter an auction by bidding on domain names. If your bid is accepted, then you can follow Flippa's payment guidelines to make complete the domain transaction.
Listing your domain names for sale on Flippa is easy. You can start selling your domain right after creating an account with Flippa.

EBay is one of the most famous online auction sites on the planet. It should be no surprise, then, that eBay has a specific section for domain name listings from which you can purchase or sell your domains.
To buy a domain name, you'll first have to register for a free account. You don't have to pay any additional prices for buying a domain.
That's our list of the best domain name brokers and auction sites that you can check out if you're interested in buying or selling domain names.
If you have your heart set on a specific domain, connecting with a broker gives you the best chance of getting it.
If you've decided to skip brokers and auctions and find other domain options, we show you some alternatives next.
Alternatives to Domain Brokers and Auctions
If you want to find the right domain name that is available, you'll find our Free Domain Name Generator helpful. It's powered by Nameboy, the first domain name generator in the world.

All you have to do is enter a few keywords, and the tool will find the best available domain name options that you can register right away.
And to make things even better, when you use our domain name generator, you'll get access to an exclusive deal from Bluehost.
Simply select the domain you want and you'll be redirected to the Bluehost site. There you can get a web hosting plan at just $2.75 per month, your domain name will be included for free!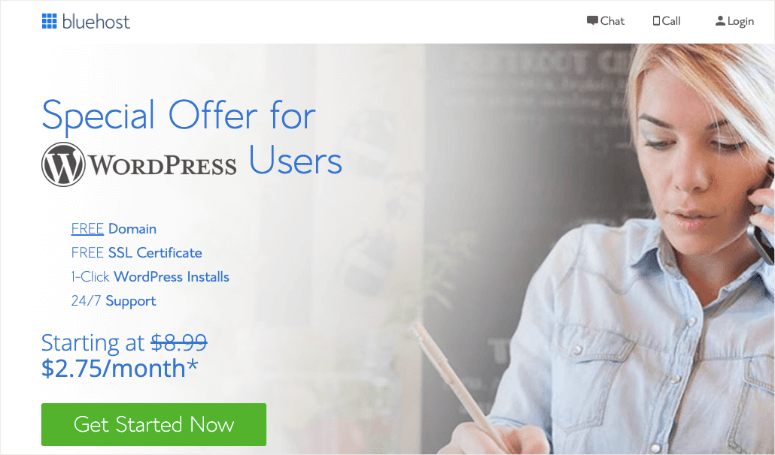 Learn more here: How to register a domain name for free.
Another great option to register your domain name is Domain.com.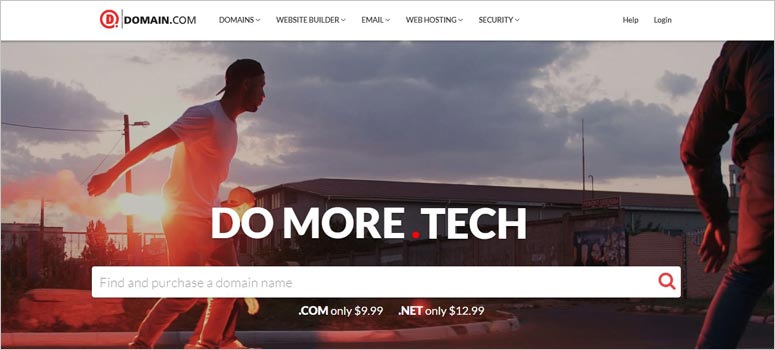 Domain.com is a great platform to find the right domain name. Here you can easily search for your domains, find new domain extensions, protect your domain, and more.
Besides the popular extensions like .net, .org, and .com domain names, you'll find the not-so-popular ones that make it easy to get the name you want.
It also offers free Let's Encrypt SSL, which protects your domain by locking it from unauthorized transfers. It also lets you retain total control over the DNS for the entirety of your domain name registration.
Next, if you're buying a domain to build your new site, check out this helpful resource that will teach you how to create a website.
You'll also find these guides helpful:
We hope this article helped you find the best domain brokers in the domain industry. Do you have any useful tips for buying or selling domain names that we didn't cover in this article? Let us know in the comments section below. We'd love to hear your thoughts!