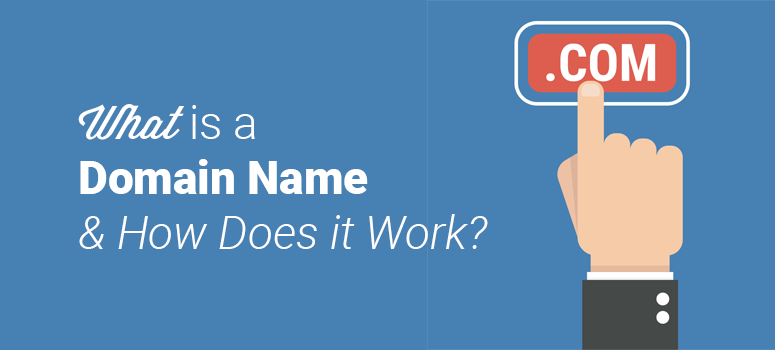 Are you still wondering what is a domain name and how does it work? Building a website can be confusing, especially for beginners. Often, beginners have trouble knowing the difference between a domain name, website hosting, and your website itself. With so many different parts, it can be difficult to understand which part does what and what it all means.
But don't worry, we're here to break it down for you. In this post, we'll explain what is a domain name and how does it work so that it's easy to understand. Let's get started.
What is a Domain Name?
So, what is a domain name? The simplest way to put it is: If your website is a house, a domain name is your address. A domain name is the address people type into the browser URL bar to get to your website.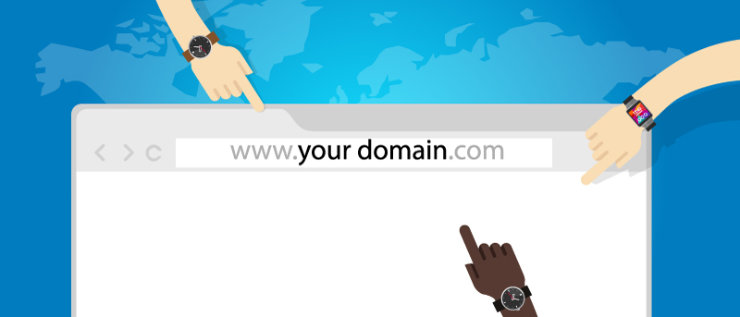 Some examples of domain names include:
Google.com
Facebook.com
Wikipedia.org
Yahoo.com
Whitehouse.gov
For a more technical explanation of what a domain name is: The internet is a giant network of computers that are connected through a network of cables. Every computer is assigned a unique IP address that allows the computers to communicate with each other. The IP address is a series of numbers that is used to identify each particular computer. A typical IP address looks like this:
192.168.1.1
An IP address is difficult to remember, so domain names were invented to solve that problem. Instead of having to type in a string of random numbers that's difficult to remember, users only have to type in a domain name, like PizzaDelivery.com, in order to visit a website.
Now that you know what a domain name is, let's talk about how domain names work.
When a user types a domain name into the URL bar of an internet browser, it sends a request to the Domain Name System (DNS), which is a global network of servers. When these servers receive your request, they search for the name servers that are associated with the domain name and forward the request to those name servers.
Your website hosting company manages your name servers. So, if your website is hosted on Bluehost, Bluehost will then forward the request to the computer where your website files are stored. This computer is called the web server. The web server then gathers the requested website and sends it back to the browser so the user can view it.
Ready to register a domain name for free? Head over to 2 REAL Ways to Get a Free Domain Name (+ What to Avoid).
The Different Parts of a Domain Name
There are 3 different parts to a domain name, they are as follows:
1. Subdomain
The first part of a domain name (from left to right) is the www part that comes before the dot.
Example: www.IsItWP.com
This is a standard part for every domain name, called the machine name or subdomain. This is optional though, because you don't need to enter www before a domain name in a browser in order to visit that domain. You domain name can just be IsItWP.com.
2. Second Level Domain
The second part is the second level domain, which is the part you're most familiar with, between the dots.
Example: www.IsItWP.com
This is your domain name itself that you register for and it's the most customizable part.
3. Top Level Domain
At the very end of the domain name, after the dot, is the top level domain also known as the domain extension.
Example: www.IsItWP.com
The domain extension can be .com, .biz, .net, .org, .gov, as well as many other variations. But .com is the most popular and well known.
Why Do You Need a Domain Name?
Are you still wondering why you need a domain name? Well, if you want to make your own website, you'll need a domain name so that other people can visit your website from their computers.
People want to start websites for a number of different reasons, which is why there are millions of register domain names. It's becoming more common today for people to have personal websites, for personal or promotional reasons, so many people register their name as a domain name. For instance, if your name is Catherine Smith, you might want to register the domain name CatherineSmith.com. That way when someone searches your name online, you'll be easily found.
The popularity of blogging has also led to more people registering domain names for a hobby or to make money.
Plus, if you want to start a business, you need a website with its own unique domain name. Having a website for your business today is as necessary as having a phone number or FAX number in the past. You need a website so that your customers can get in touch with you online and browse your products and services from the comfort of their own homes. Your website needs a memorable domain name, typically that matches your business name, so people can easily find you online. Furthermore, you'll want to register a domain name for your business to protect your name from being taken by your competitors.
What is the Difference Between a Domain Name and URL?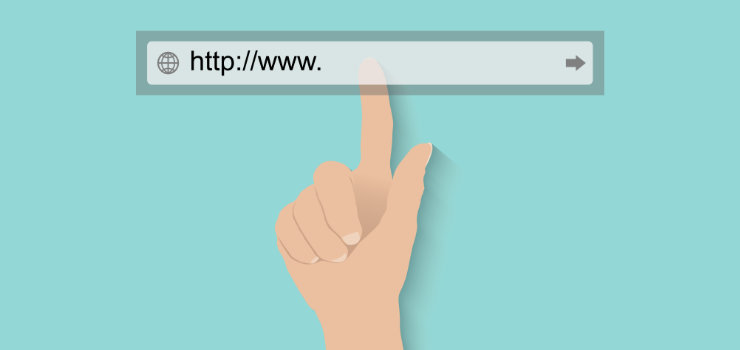 Though they might look almost the same, a domain name and URL are 2 different things. The domain name is the actual name of the website like IsItWP.com, whereas a URL is the entire path of a website that leads you to a particular page like https://www.isitwp.com/blog/. Basically, the URL is the complete internet address used to locate a specific page and it includes the domain name.
The URL (Uniform Resource Locator) instructs your browser exactly where to go using a specific protocol which is most commonly the http or https part of a URL. Then the last part of the URL directs your browser on which page of a website to go to, like the blog page.
What is the Difference Between a Domain Name and Website Hosting?
Just because you register a domain name doesn't mean you automatically get a website. The domain name is the address of your website and your website hosting is the home where your website lives. If you don't have a home for your website, your address leads to nowhere. So, you need a domain name and web hosting to create a functioning website.
The home where your website lives is the actual computer where your website files are stored. These servers are offered as a service by website hosting companies. When you purchase website hosting you'll get access to these servers to store your website. Once you have built a website on a web host and registered a domain name, your site will be able to be seen by people on the web.
Many website hosting companies allow you to register and purchase a domain name too, like Bluehost for instance, so you can easily manage your domain name and your entire website from the same account.
Check out our other post on the difference between a domain name and web hosting for a more in-depth explanation.
How to Choose a Good Domain Name
Choosing the right domain name for your website is important. It's not a decision you should make hastily, you need to really think about it and come up with a domain name that's unique, memorable, and one that works for your website.
There are a number of tips you should remember when choosing a domain name including:
Keep it Short – Don't make your domain too long, it will be harder for people to remember and more difficult to spell. Spelling errors can cause your website a loss of traffic.
Stick with .com – The domain extension .com is the most popular and trusted, so stick with it.
Use Keywords – Keywords will help search engines determine what your website is all about and make it easier for users to find you online. So if you're a photography website, use the keyword "photography" in your domain name.
Avoid Numbers and Hyphens – Numbers can lead to misspellings of your domain name, like "five" instead of "5". And hyphens are often used by spam sites, which you don't want to be associated with.
If you want to learn more about how to choose a domain name for your website, check out our post on How to Pick the Best Domain Name.
How to Get a Domain Name
Getting your own domain name isn't difficult. You can register and purchase a domain name from many different companies. Typically a domain name costs around $14.99/year from popular companies like GoDaddy.com and Namecheap.com.
But just because you purchase a domain name doesn't mean you get a website, you need website hosting for that. That's why we recommend getting a domain name from Bluehost.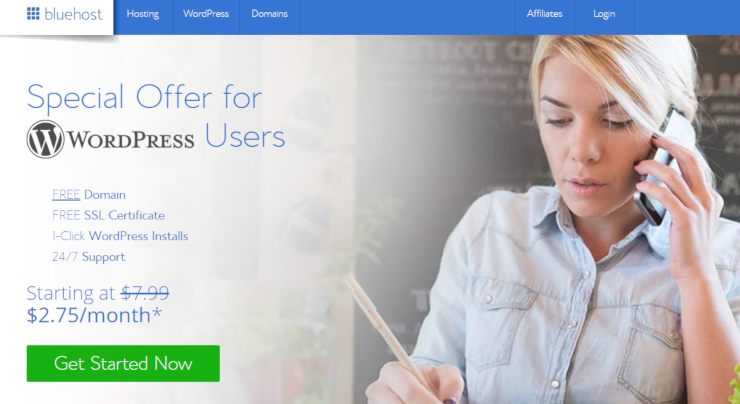 With Bluehost, you can register a domain name and get website hosting all in the same account, making it easier to manage. Plus, Bluehost is offering IsItWP readers an awesome deal. You can get a FREE domain name, SSL certificate, and a 60% discount on hosting. You can get started on building your website for only $2.75/month.
Click Here to Claim This Exclusive Bluehost Offer »
Check out our Bluehost review.
Related: Best free website name generator tool (Absolutely free)
We hope this post helped you understand what a domain name is and how it works so that you feel more confident when starting to make your own website. If you enjoyed this article and want to learn more about creating a website, check out our post on What is a Blog? Blog vs. Website & How Do They Work?. And also get hands on the list of best domain name registrars.