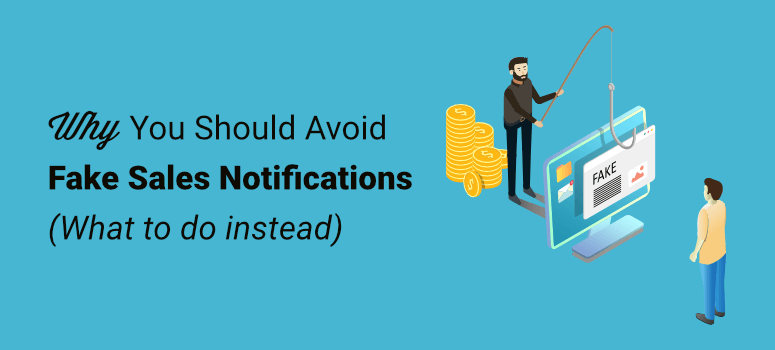 Do you want to know if fake sales notifications can help boost sales and conversions?
If you're just starting out and don't have sales volume, you may be tempted to show fake notifications to make your site look trustworthy and active.
Many new businesses face this problem and fake notifications seem like the easiest way to solve it. However, in the long run, this can seriously damage your brand and ruin your business.
In this article, we're going to take a look at fake sales notifications and why you should avoid them. We'll also show you how to use your website's statistics to build credibility, trust, and a loyal customer base.
Let's get started.
Real Sales Notifications vs. Fake Sales Notifications?
Sales notifications are small non-intrusive popups that show when a customer has purchased a product on your site.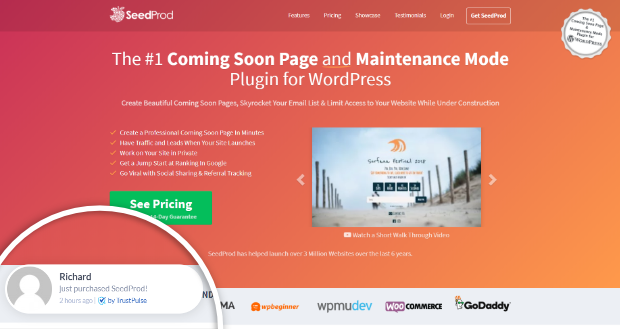 It's used as a form of social proof to build trust and credibility with visitors. It works because consumers have a tendency to trust something is good when they see others buying it.
This creates a sense of popularity and sends a signal to visitors that people both like and trust your brand.
In this way, sales notifications can have a number of positive effects:
It creates the FOMO (fear of missing out) effect. This means when consumers see others are doing something, they want to do the same.
It encourages hesitating customers to go ahead with their purchases.
It prompts visitors to check out your products creating cross-sell and upsell opportunities.
It builds long-lasting trust and credibility.
But, in some cases, these sales notifications aren't as genuine as they appear.
That's because fake sales notifications are created by site owners to make it seem like there are sales taking place on their site when there actually aren't any.
Right from the start, this is an unethical tactic as it tricks customers into believing your site has active buyers.
And sadly, it's become a popular strategy because building a real following takes time, while fake notifications can give faster results.
Plus, WordPress is home to over 50,000 plugins, so it's easy to find a fake sales notification plugin that lets you enter your own data and create fake notifications instantly.

It seems harmless because it's just a few fake notifications until you build a customer base, right?
Wrong.
There are so many problems that arise when you decide to take this path. Let's take a look at the real problem with fake social proof.
The Real Problem With Fake Sales Notifications
Shortcuts, life hacks, and overnight successes are things we look out for, but the truth is, none of them exist in the business world.
It takes time and effort to create a business that's built to last.
The biggest harm from fake social proof is that there's an overall loss of trust in online sales. Fake sales notifications may be tempting to use, but there are a few serious things you should consider.
Real-Life Examples of Fake Sales Notifications Gone Wrong
Before we get to the boring legal stuff, let's look at a few real-life examples where fake social proof went wrong.
Back in 2019, Ophir Harpaz, a security researcher, was booking a flight using a site called OneTravel. She got an alert that said '38 people are looking at this flight.' It's a number that certainly puts pressure on a buyer to book the flight fast before it gets sold out: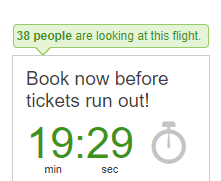 She felt the number 38 was suspicious and went about checking how they got this number. A simple search using a right-click and 'Inspect element' option showed her that this was a random variable selected between the numbers 28 and 45.
Harpaz took to Twitter to share what she found and her tweets saw thousands of likes, retweets, and comments: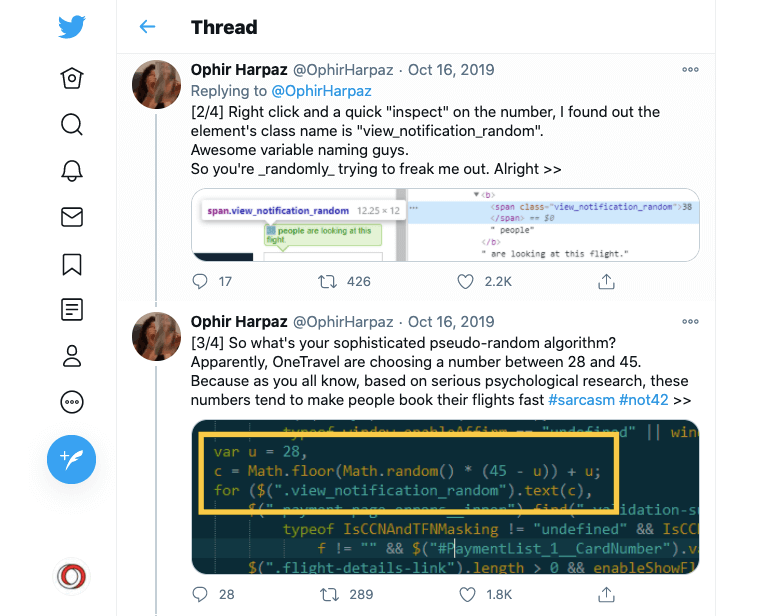 Even though OneTravel claimed that the code was a beta test and was never meant to be seen by the public, the trust had already been broken.
And what's worse? We're still mentioning it as a case study which means this kind of damage never really goes away.
In a similar case, a graduate student Arunesh Mathur found that a company called PureVPN was using random variables to display notifications of the last time someone bought a package.
The company sells virtual private network (VPN) software for secure web browsing. So it's safe to say that trust is a huge factor when it comes to buying this product.
When contacted by BBC Worklife, the PureVPN spokesperson said that the code was being removed immediately though random number generators were quite a common practice.
Such incidents can permanently change how customers perceive your brand and your product.
Sadly, many business owners don't realize how much they're risking their brand's image and their success when they use such methods.
But you may be wondering whether these examples are exceptions to the rule. Let's look at that in more detail.
Are Consumers Aware of Fake Social Proof?
One of the most common questions we get is, "Yeah, but are online consumers really aware when they're seeing fake social proof?"
The simple answer is YES!
Like fake sales notifications, there are other black hat strategies businesses use such as fake reviews, fake followers and likes, and imaginary influencers.
But like we said, none of these strategies last long. People are becoming more aware of false advertisement claims, fake reviews, and other deceptive strategies.
You'll find customers active on forums and review sites bringing fake reviews to notice so that others are aware of it. Here's one we found on a forum where two reviews on a product were identical"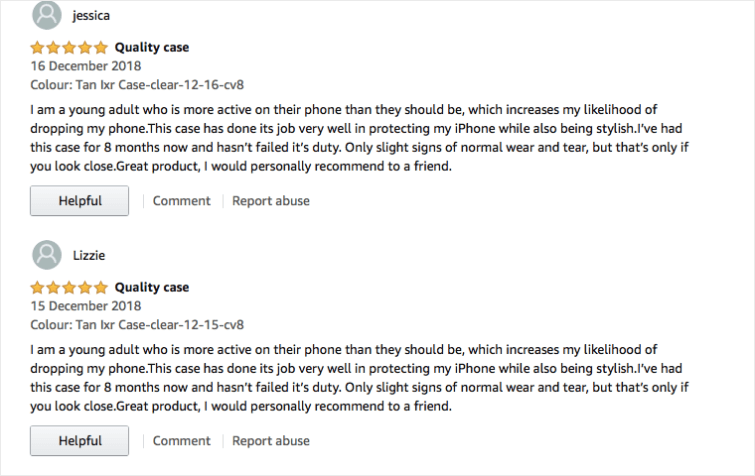 This didn't sit well with visitors and not only did they not buy from the seller, but they also told everyone about it.
These practices have led to a growing voice for regulations over these unethical practices.
There is even a term for it now – 'dark patterns' – which is when online retailers use web design and verbal nudges to guide customers to make a decision or click on something.
Consumer groups have been studying 'dark patterns' and have published reports on it recommending companies to be as transparent as possible. They have also been watching hotel booking sites, travel sites, and eCommerce sites for misleading practices.
With all this information and awareness, it's easy for consumers to spot fake social proof. When they do, you can be sure they won't ever return to your site. And if it hits social media, it can blow up into a big scandal with irreparable damage.
It's safe to say that this isn't good for business.
Are Fake Sales Notifications Illegal?
The law is crystal clear that deceptive practices are illegal, and this where things get serious.
The Federal Trade Commission has made it very clear that advertising on the internet follows the same laws that apply to other forms of electronic advertising. This means they have the authority to penalize those "using unfair or deceptive acts or practices in or affecting commerce" (under 15 U.S. Code § 45):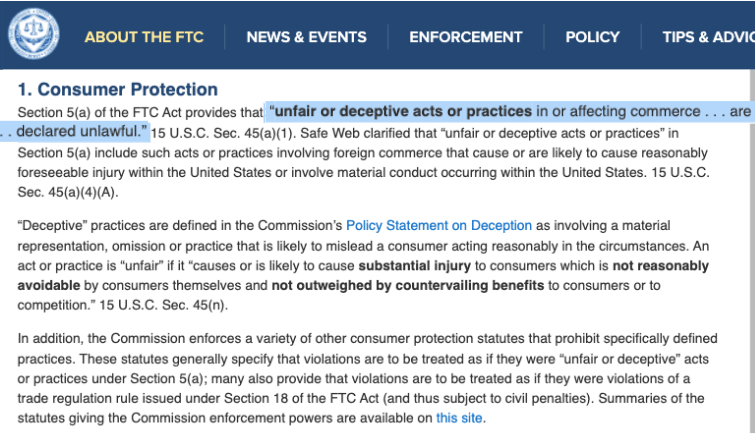 When it finds that you've been using deceptive practices, the FTC can file actions in federal district court for immediate and permanent orders to stop scams, prevent you from running scams in the future, freeze your assets, and make you compensate victims.
There's also been a crackdown by all the big techs like Google, Facebook, Twitter, and Shopify on false advertising, fraudulent claims, and deceptive tactics in businesses. So you could see your business being banned from platforms if you use deceptive practices.
Plus, if you plan on becoming an affiliate partner, many affiliate platforms do not tolerate fraudulent and dishonest practices. They strictly do not pay commissions to anyone found using misleading reviews and notifications and can ban you from their platform.
And now you may be thinking, "But everyone's doing it, including big companies… so why can't I?"
Just because many businesses do something, doesn't make it right or legal. And when big companies get caught, they may be able to bear the losses, but small businesses collapse and never recover.
We hope this steers you clear of fake sales notifications. That said, we do understand that when you're just starting out, it's hard because you don't have any statistics to show.
So what do you do? How do you go about creating real sales notifications to boost sales?
We've got you covered. First, you need to embrace the fact that you never need fake social proof!
You've built a great product or brand and with a little time, the right tools, and the right strategy, you can build a solid foundation for your online business.
And soon, you'll be flooded with real reviews, real testimonials, and real sales!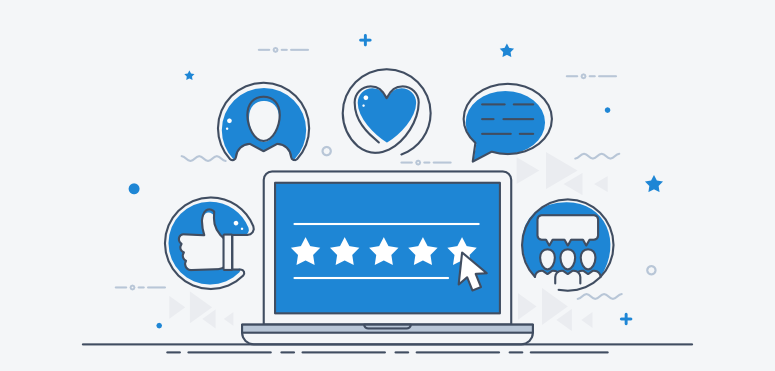 Are you ready to create real social proof? We'll show you how to create real notifications to build trust and credibility.
Let's dive in.
Adding Real Social Proof Notifications
When you're just starting out, you may not have many sales to display, but that's okay for social proof. You don't have to rely only on sales. You can also display views, downloads, form submissions, and email signups.
And with the right tools, you can even use social proof from outside your website like reviews on Google and Yelp.
We're going to show you how to do this using TrustPulse.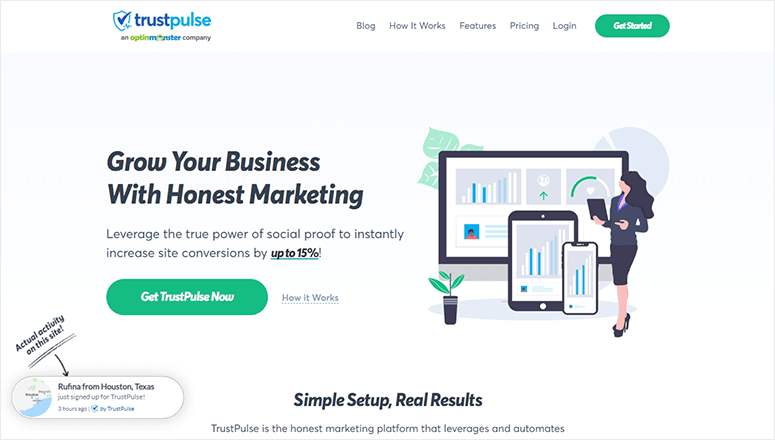 TrustPulse is the most powerful marketing platform to leverage social proof. But it's also among the few honest social proof platforms out there.
Here's why we love working with TrustPulse:
It can help increase conversions by over 15% instantly, no fake sales notifications needed! It uses real proof to instantly build trust and improve conversions and sales.
With TrustPulse, you can capture all sorts of activity from your visitors and display them as popups on your site. You can capture when a user clicks on a specific button or a link or when they fill out a form.
You can also connect with Zapier to capture activity from outside your website using various 3rd-party apps that you may choose to integrate on your site.
You can track your campaigns to see what's working and optimize to get better results
And you can sign up for a 100% risk-free TrustPulse account so you have nothing to lose and everything to gain.
So you see, you don't have to rely on sales alone. You can use all sorts of activities to get your business going the right way.
That said, let's get started with creating real sales notifications and other social proof popups.
Step 1: Create a TrustPulse Account
To get started, you'll need to install and activate the TrustPulse plugin on your website.
If you need help with this, check out our guide on how to download and install plugins.
Next, from your WordPress dashboard menu, visit TrustPulse, and click on the 'Get started for free' button to continue.

This will take you to the TrustPulse website where you can sign up for a free account. With the free plan, you get up to 500 sessions per month. If you would like to increase that number, consider signing up for a premium version.
Step 2: Create Your First Real Social Proof Campaign
Once you've signed up, you can create your first social proof popup. On the TrustPulse dashboard, click on 'Create Campaign' to open up a campaign editor.

Under the Campaign Type tab, you can name your campaign and select the site you've registered with your TrustPulse account.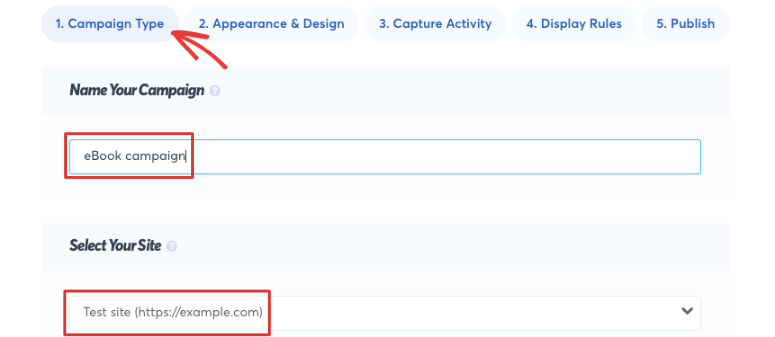 After this, you get to choose between two campaign types. You can select Recent Activity or On-Fire.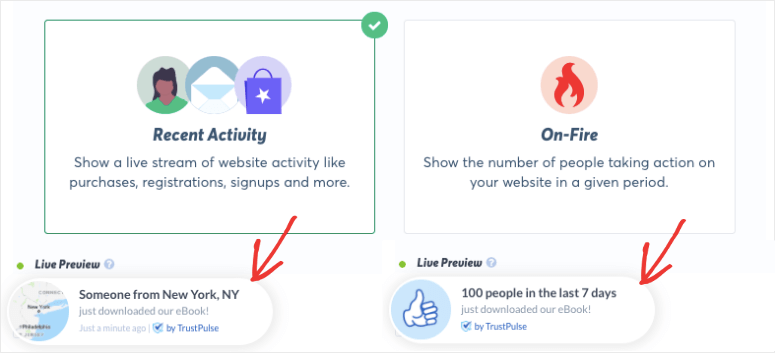 You'll see that Recent Activity displays how individual customers are interacting with your site in real-time. This can include registrations, signups, purchases, and more.
This is great if you're just starting out as it will show popups for a wide range of activities. It will use real activity to make your site appear busy with visitors to build trust.
The other option is On-Fire campaigns which show group activity within a given period. If you feel bigger numbers will have more impact then this is a better option for you.
You can display notifications such as '100 people signed up for our newsletter in the last 7 days!'
This option is great to showcase how many people have already signed up for events, webinars, and demos. You can also use it to show how many people have donated to your cause or pre-ordered your product.
With this option, you don't have to worry about constant activity on your site since these notifications will collect data over a period of time.
Once you've selected the type of campaign that's best for your site, you can move on to the next step.
Step 3: Customize Your Social Proof Popup
On the next page, TrustPulse gives you options to change the language and appearance of the popup notifications.
By default, TrustPulse will use the visitor's name. But, if it can't determine a name, you can set a preferred title here like 'someone just bought shoes' or 'an awesome person just signed up'.
Next, you need to change the message text such as 'just downloaded or eBook!' and then add a link to where your visitors will be taken when they click on the notification.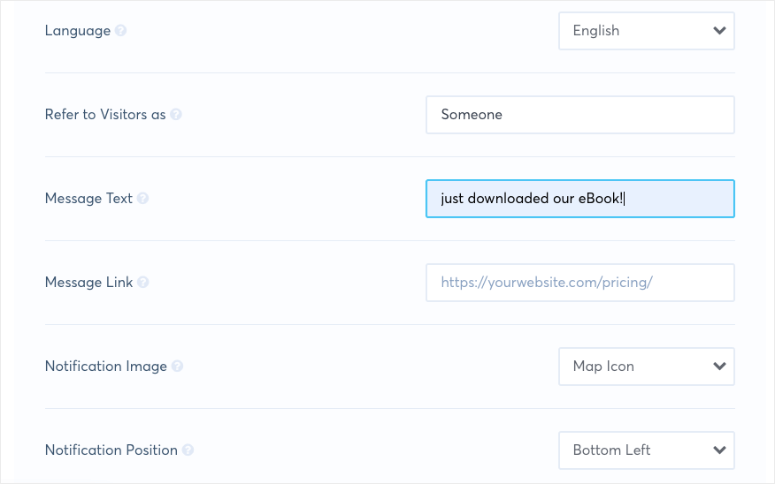 Further down on the same page, you'll also see options to customize the look of the popup including the image, position, style, and size.
You can also expand an advanced settings menu that has more options to customize the popup to match your website's theme.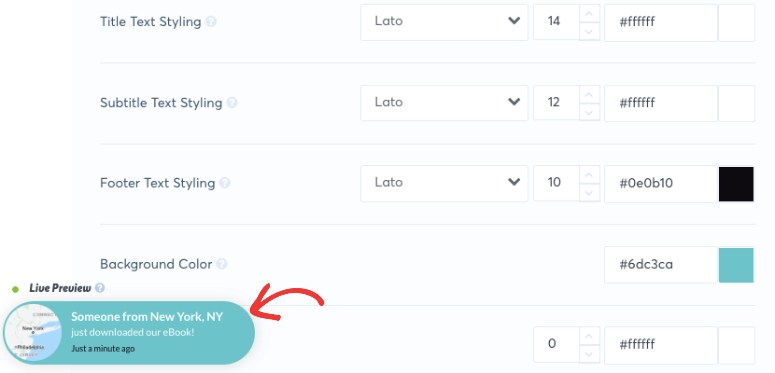 Now that you've designed your campaign, you can move to the next step where things get more interesting.
Step 4: Choose What User Activity to Capture
TrustPulse gives you two options to capture activity on your site: AutoMagic and Zapier.
With AutoMagic, you can set conditions to capture form activity or user clicks.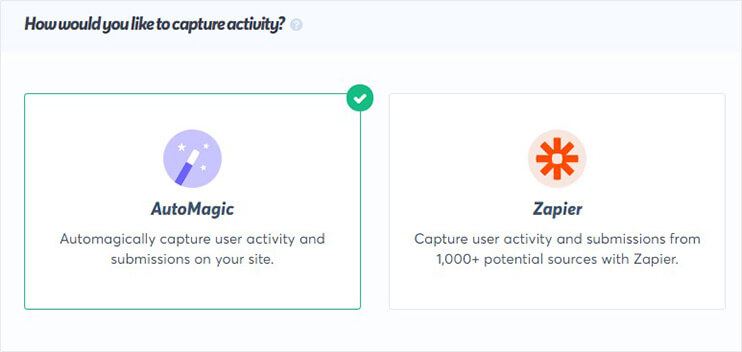 For example, you can get notifications when someone clicks on a 'sign up' button or fills out a contact form.
With Zapier, you can capture activity from 2,000+ third-party apps like Facebook and Google My Business.
For this tutorial, we'll choose AutoMagic, but,if you want to use Zapier, check out this article on how to connect Zapier with TrustPulse.
By default, AutoMagic will capture activity from forms on your website such as contact and checkout forms. However, you can also change this to a button click if you prefer that.
Now that TrustPulse knows what activity to capture, you can decide when and where your popups will appear.
Step 5: Decide When and Where The Popup Appears
Your popup notifications can be displayed on specific pages or on all pages on your site.


This lets you strategize and target your popup campaigns. For example, you can display sign-up popups on blog pages where your users may be more interested in your content and may want to receive your newsletters.
And you can display sales notifications on product pages where a visitor is more interested in buying a product.
Your real social proof popups are almost ready. On the same page, you'll see options to set the duration of the popup and the delay time between popups. You can even choose to play them on loop.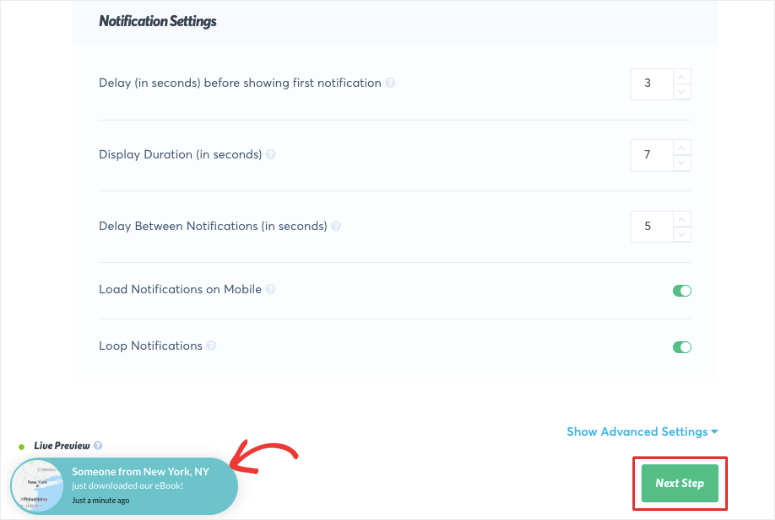 Now, you're ready to launch your first REAL social proof notification. When you click on the 'Next Step' button, you'll be taken to the publishing page.
Step 6: Publish Your Real Social Proof Notifications
On the publishing page, you'll see a small preview of your campaign. When you're happy with your popup, click on the Launch Your TrustPulse Campaign button to make your popups live: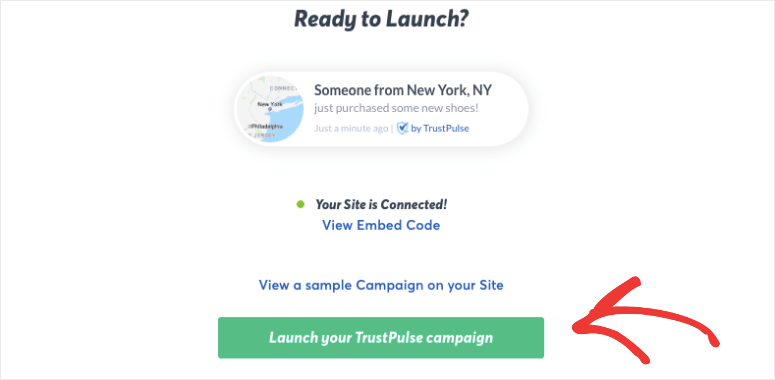 That's it! When you visit your site, you'll see real social proof notifications that will help build trust and improve sales and conversions.
With that, you have everything you need to create real social proof notifications to your website.
We hope this article has helped you build trust and credibility for your business the right way – using real social proof notifications!
Want to see it in action for yourself? Get your 100% risk-free account with TrustPulse now!
If you liked this post, then you may also be interested in the following resources:
These articles will help you increase engagement, grow your subscriber list, and improve sales.
That should allow you to create the genuine social proof you need to grow your business.