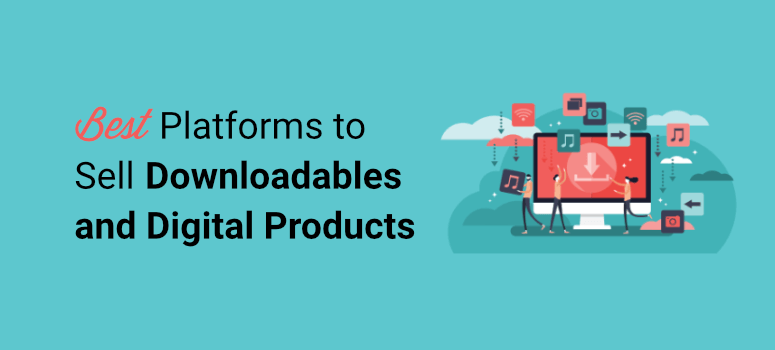 Are you looking for a perfect platform to sell your digital products?
If you create digital products and would like to venture into the world of online sales, you'll definitely need a platform to expand your horizons, find new clients and go international.
Today in this article, we'll share the best platform to sell digital products like eBooks, online courses, plugins, apps, podcasts, and many more.
Before that, let's take a look at why you need a platform to sell downloadables and digital products online.
Why Do You Need a Platform to Sell Digital Products?
There are basically three different options for selling digital products: a dedicated online store, a shop integrated into your existing website, and third-party platforms.
If you have a website with an online store function then you can of course sell your digital products from your own website.
But, using a dedicated platform automates many tasks for you which saves you from lots of hassle. You can also simply set up your own online shop from the scratch for your digital products without any programming knowledge.
With these platforms, you'll get all of the features required to start an online business, including:
Advanced payment options
Detailed tax and invoices
Search engine optimized layout
Email marketing features
User-generated reviews section
Security features
However, the functions and features differ depending on the platform you choose.
That being said, let's take a look at some of the best platforms to sell downloadable and digital products online.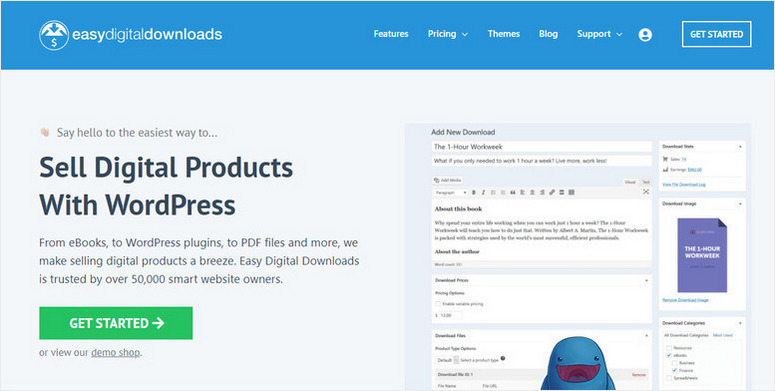 Easy Digital Downloads is a plugin that makes it easy for you to sell digital downloadables and products through a WordPress website, in a simple and easy-to-use format.
For those who are already familiar with WordPress, this allows you to set up an online digital store in minutes. Easy Digital Downloads is pretty much good to go as soon as you hit 'install'.
This WordPress plugin was created specifically so that you can sell digital products through your online store. This means you can sell any type of software, WordPress plugins, eBooks, guides, videos, printables, and more.
Also, you'll get lots of advanced features that support digital goods. You won't be stuck with a bloated plugin and features for selling physical goods that you'll never use.
Now added to all that, receiving payments is a breeze. Easy Digital Downloads supports most common payment gateways such as PayPal, Stripe, and WorldPay. In terms of fees, you will have to pay for the payment gateway addons and you get the option to pay for additional features like manual billing and payments.
Also, this plugin offers discount codes so you can entice customers to complete their orders. You can even set the file upload limit and add a link expiration so users will need to download their purchase within a set time frame.
Easy Digital Downloads has a reporting feature that lets you track download activity so you can see your store's performance, review downloads, and purchase history. And if you ever run into any problems, the platform is well documented and has great customer service.
Learn more about this plugin in our Easy Digital Downloads review.
Pricing:
There's a free version of this plugin. The premium version starts at $99 as a flat rate per year.
Get started with Easy Digital Downloads today!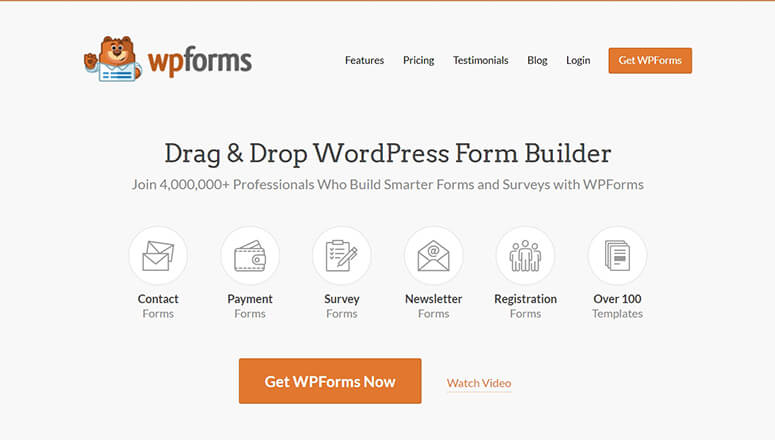 WPForms is the best form builder plugin for WordPress. It is packed with features that let you create any type of form for your website.
You'll find a library of form templates including a download form template so you don't need to create one from scratch. You simply need to edit a few basic fields and add your download link and you're ready to sell your products on your WordPress site. Learn how to do that here: Sell Digital Downloads.
WPForms comes with a simple drag and drop form builder that lets you add and remove the required form fields to your download form. It also lets you connect with a payment processor like PayPal, Stripe, and more to accept payments.
So you get a simple yet effective platform to sell your digital products straight from your website.
What's more, you can send automated emails to confirm their order and deliver the product. WPForms lets you set up different notification templates for admins and customers, and you can even send custom emails based on which product the customer bought.
With WPForms, you don't need to worry about hackers and spam on your download form. It comes with built-in spam protection and you can use the Google reCAPTCHA integration to protect your site from malicious attacks.
If you want an easy and reliable tool to sell products online, then WPForms is the best option you have.
Learn more about this plugin in our complete WPForms Review.
Pricing:
There's a free/lite version available. The pro plans start at $39.50 per year.
Get started with WPForms today!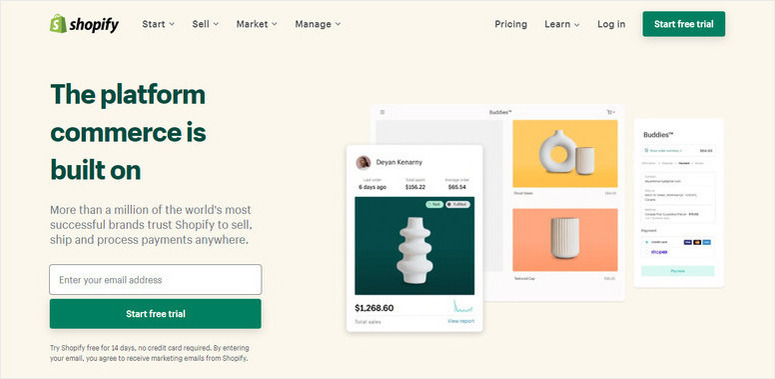 Shopify is one of the best-known eCommerce systems for physical goods, but how does it hold up when it comes to digital?
Shopify doesn't have all the features you need to sell digital products. But you can use third-party apps like FetchApp to expand functionality. It's free and allows you to start selling physical and digital products through the same interface.
The benefit of integrating Shopify with FetchApp is that there is no hidden commission cost, no bandwidth limit, and there is no limit on the number of e-books, music downloads, videos, or photos you can upload. This can be an excellent choice for those looking to create a large and varied portfolio of digital stock.
Its main feature is that it has the option to "sell in-person" which makes your mobile device or tablet work as a point of sale.
The only downside to Shopify is that if at any point you decide to change the way you sell your digital products, you cannot download your data. That means you lose all your information or you would have to do it manually to save your data.
Some of the cool features of Shopify are:
Sell unlimited product
Create discount codes and gift cards
Cloud server
Seamless integration with existing Shopify stores
Unlimited number of bandwidth and upload
An extensive list of features
Read more about this platform in our complete Shopify Review.
Pricing:
Starts at $9 per month. There's a 14 day free trial before purchasing any plans.
Get started with Shopify today!
4. Wix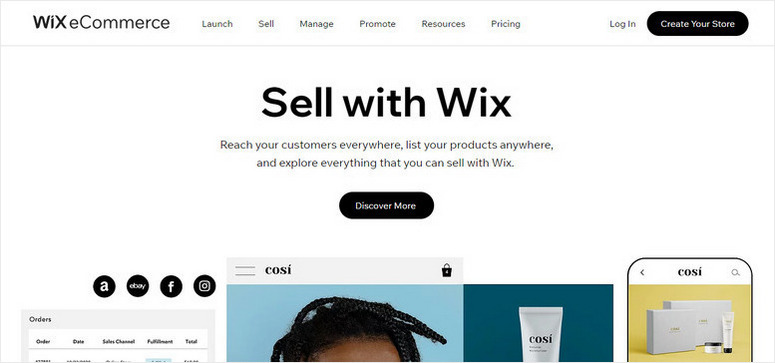 Wix is a popular website builder as it's super easy to use, which means anyone can build and launch a website. The platform also comes with built-in eCommerce functions that make it possible to set up and online store and sell digital products.
With Wix, you do not need any programming knowledge to create a full-fledged online shop. You can even have Wix ADI (Artificial Intelligence Design) automatically create a website that's complete with text and images.
If you do not like the templates or results of how your online store looks then you can always make changes using the editor. You can easily add products, images, colors, and more.
Then you can set up your preferred payment gateway with a few clicks. Added to that, Wix also lets you add a membership system so users can sign up for an account and become long-term customers.
As soon as your customer purchases a digital product, a download link is automatically created that is valid for 30 days.
Here are some of the highlights of Wix:
Animated grid
Include live chat
Massive templates collection
Multiple payment method
Unlimited vector images
Connect to eBay and Amazon
Automatic sales tax and VAT calculations
For more on this platform, see our Wix review.
Pricing:
Wix eCommerce starts at $23 per month for their Business Basic plan
Get started with Wix today!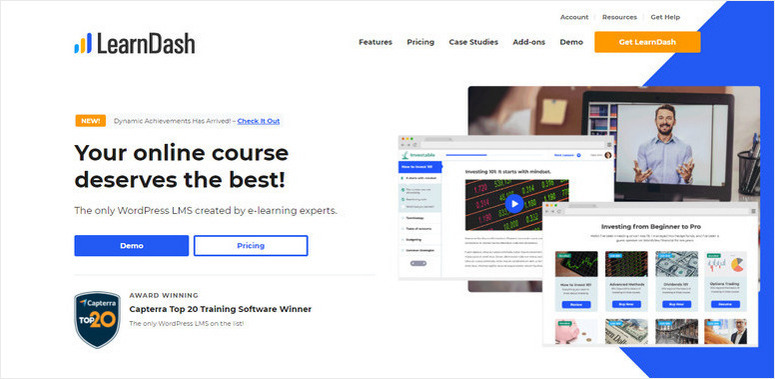 LearnDash is actually a plugin that allows you to sell online courses through your WordPress site. This platform offers many amenities if you want to use the medium as a source of income.
You can create a subscription model or one-time payments to sell online courses or grant access to content from different sections of your website.
Not only that, this platform lets you create courses, award certificates, assessments, and quizzes with ease. Then you can deliver them to your learners right on your WordPress site. Using its drag-and-drop course builder, LearnDash lets you create courses with:
Video content
Separate lessons and topics
Lesson timers
Prerequisites
Drip-fed content
Discussion forums
This plugin really is a superb platform in terms of functionality.
Along with that, LearnDash allows you to set up educational materials which might be a useful feature for both students and employees. You can provide training, certification and track your employee's progress too.
Pricing:
Starts at $159 per year for unlimited users and unlimited courses.
Get started with LearnDash today!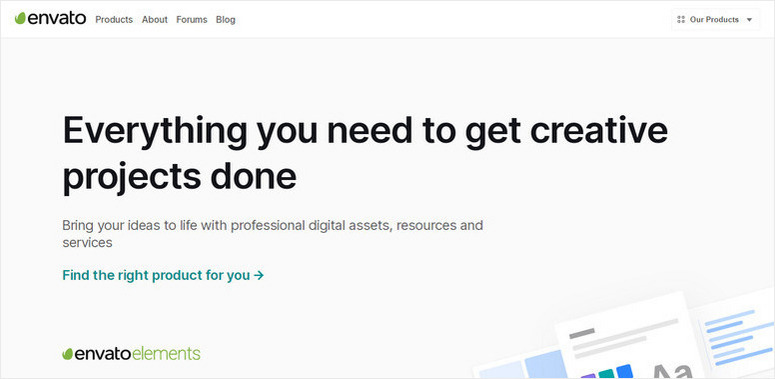 Envato is one of the largest online marketplaces which sells a variety of different services and products.
You can sell online courses, tutorial services, and if you are a developer or designer, you can sell your code or themes through Envato.
Being one of the largest digital products providers, there are altogether 7 popular marketplaces associated with Envato:
ThemeForest – themes, and templates for websites
CodeCanyon – plugins, scripts, and code for WordPress
VideoHive – royalty-free video footage and motion graphics
AudioJungle – royalty-free audio
GraphicRiver – fonts, logos, and icons
PhotoDune – royalty-free images
3DOcean – 3D print files
To begin with, you just have to create an account with Envato and choose the marketplace that is suitable for your product. Suppose you specialize in photos, then simply choose PhotoDune. After filling in some information about you and your product, you are good to go.
With Envato, you can also track your earnings and get valuable insights and reports.
However, there are not many options for payment integration. Envato Market has only three payment options that are PayPal, Skrill, and credit cards.
Pricing:
Charges between 10% to 50% based on the pricing of the item.
Get started with Envato today!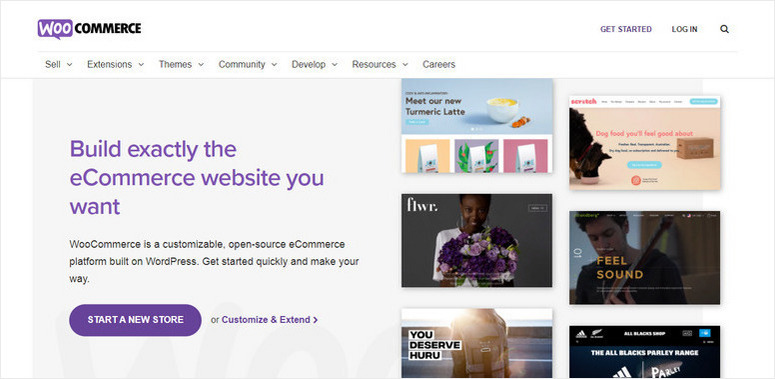 WooCommerce is the online sales platform that is most commonly associated with the sale of physical goods, through a powerful interface that works in sync with WordPress. Being one of the largest eCommerce systems out there, undoubtedly it can also be used as a platform to sell digital products such as eBooks, audio files, and software.
If you already have WooCommerce set up, the only difference between setting up a physical and digital product is that you select 'virtual' or 'downloadable' (or both) in the product data meta box, which quickly eliminates shipping.
The benefit of using a more established eCommerce platform like WooCommerce is that it is backed by a strong support team and is highly customizable. This means you can choose how your product looks, how it sells, and the journey your customer goes through to get it.
Plugins and extensions such as WooCommerce are perfect to turn your website into an online shop. Overall, it gives you tools with which you can deliver your digital products, accept payments, and track accounts.
A few highlights of this eCommerce platform include:
Product highlights
Featured product
Secure payments
Built-in shipping service
Addon for marketing features
You may find that this platform is quite similar to Shopify. Find out which one is better for you in our comparison: Shopify vs WooCommerce.
Pricing:
WooCommerce is free. Additional costs for addons and extensions.
Get started with WooCommerce today!

Sellfy is one of the best platforms to sell products online. You can easily create an online store and sell digital products, subscriptions, and even physical goods.
You will have a functional store in no time as its interface is very easy to use. If you want to connect your website or social media to Sellfy then you can integrate that as well with a simple link.
One of the advantages of using Sellfy is that discount codes and email software is included in the package, which helps you in making more sales.
The downside to this platform is that you can sell absolutely everything, videos, music, ebooks, etc, but, you cannot sell online courses like in LearnDash.
Besides all that, Sellfy is certainly an all-in-one solution and also aesthetic compared to other platforms.
Here's what you'll love about Sellfy:
Translation based on location
Online shopping cart
Responsive design
Customers can pay in 25 different currencies
Discount codes for regular customers
Secured product storage
Pricing:
Plans start from $ 19 per month.
Get started with Sellfy today!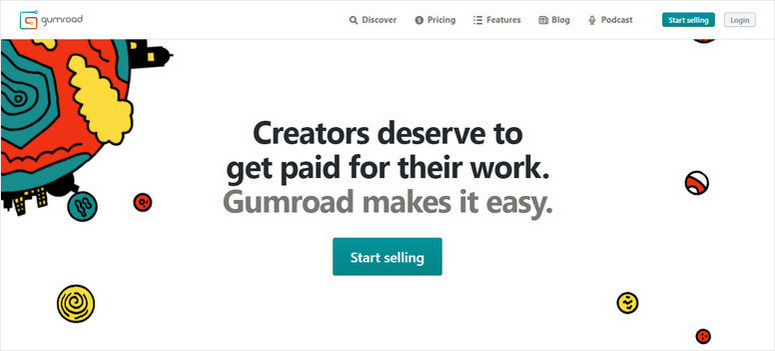 Gumroad is an easy way to sell both digital and physical products. You can use this platform to sell audio clips, ebooks, and videos with just one click.
When it comes to payment, Gumroad has a slightly different offering. While it has Paypal integration, it also allows you to receive credit card payments, with an option to receive the money directly through a bank deposit.
There are 6 types of credit card payment options:
Visa
MasterCard
American Express
Discover
Diners Club
JCB
Gumroad also manages the payment process from start to finish, so they have full control and ask for minimal information – an email address to send the download and credit card information to make the payment.
The good thing about Gumroad is that, like WooCommerce, you don't pay for the service until you sell something. You don't have to pay a monthly fee during the setup of your website.
The Gumroad market is perfect for authors, audiovisual producers, and musicians who prefer simple interfaces.
Pricing:
You only pay for the items that you sell with no monthly charges, gateway, or batch fees for the number of products that you put out.
Get started with Gumroad today!
There you have it. These are the best platforms to sell downloadables and digital products. We hope this post has helped you find the right digital download platform that suits your niche from the above list.
If you're still in a dilemma, we suggest using Shopify. It's the perfect solution that lets you sell both physical and digital products. With Shopify, you'll be able to add and manage your products without any hassle.
Up next, you'll want to read more on:
These posts will help you make your online venture a success.