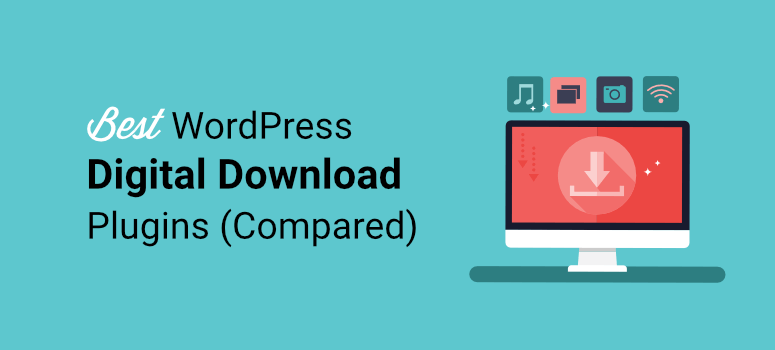 Do you want to use the best digital download plugin for your WordPress site but aren't quite sure which one to choose?
Digital download plugins simplify the process of selling digital goods on your website like music, courses, eBooks, art, and other content. These plugins help you organize, manage, and sell your digital products online so you don't have to touch a line of code or hire a developer.
In this article, we're going to compare the best digital download tool for WordPress to help you choose the one that's right for you.
But first, is a digital download plugin the right choice for you?
Why Use a Digital Download Plugin on Your WordPress Site?
If you're looking for ways to monetize the content you create or take your hobby business online, then a digital download plugin is a great fit. You can sell just about anything you can deliver in the digital realm like eBooks, images, videos, courses, PDFs, and so much more.
But there's a lot that goes into setting up an online store, payment gateways, and promoting your products.
Instead of struggling to get everything right on your own, a digital download plugin is designed to give you everything you need to set up shop and start selling right away. Here are a few reasons why a digital download plugin may be right for you:
1. Sell as many products: These plugins make any piece of content available for purchase or download, giving your customers easy access. Once you add the plugin to your website, you can sell one or multiple products, and never run out of downloads.
2. Easy to manage: Keeps products, orders, and customer details organized. This helps you streamline your conversion strategy so you can increase sales.
3. Boost digital sales: Once you set up your store, customers can purchase your digital products at any time which means you can make money online while you sleep. The longer your information stays relevant, the longer you can make passive income.
Now that we know the benefits of having a digital download plugin on your website, let's look at the top choices currently on the market.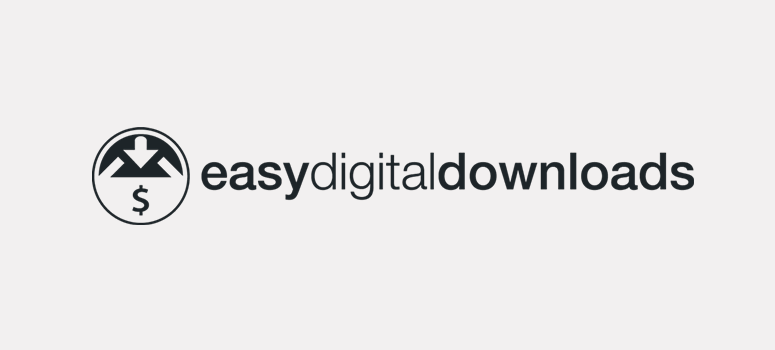 Easy Digital Downloads is a full eCommerce solution that allows you to sell software, documents, photos, eBooks, songs, graphics, videos, and other media files on your site.
Easy Digital Downloads comes with many powerful features that simplify the process of selling online goods. Its front-end shopping cart lets customers browse your products, add items to the cart, and checkout with ease.
You'll find that it accepts popular payment gateways like Stripe, PayPal, Google Pay, and Apple Pay. The plugin also integrates with Mailchimp, AWeber, Dropbox, Amazon S3, Zapier, and other popular marketing platforms.
Plus, it's incredibly easy to manage and view reports like:
Customer information records
Purchase history
Sales and conversions
eCommerce reports
This makes it easy to monitor orders, revenue, sales, refunds, and more.
Easy Digital Downloads works with any WordPress theme so it's easy to keep your original branding without messing up your site. Added to that, you can protect product files, prevent unauthorized access, offer coupons and discount codes, and more.
Read more about this plugin in our complete Easy Digital Downloads Review.
Cost: The plans are available in the form of passes that start at $99 per year.
Get started with Easy Digital Downloads today.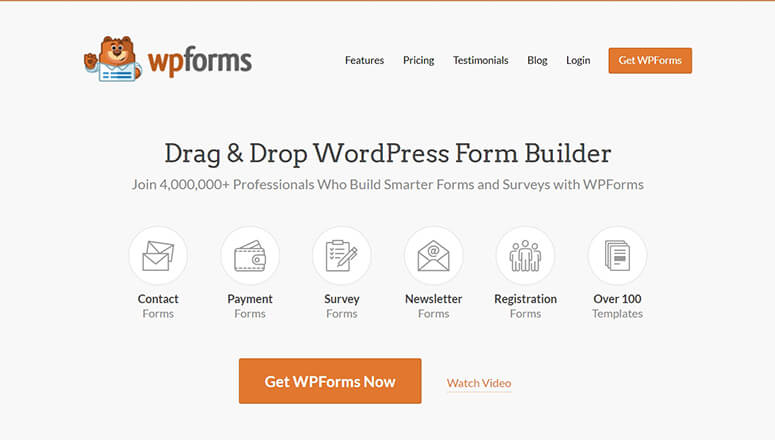 WPForms is the best form builder for WordPress. It lets you create any form you need for your website including a digital download form.
In fact, there's a premade download form template that has all the fields you need already added inside. This means you won't have to start from scratch. All you need to do is connect to a payment option and add a link to the file download and you're all set to sell digital downloads on your site.
WPForms comes with a Stripe and PayPal addon so it's easy for customers to make the payment instantly and buy your digital product.
This download form also comes with a GDPR form field so that subscribers can consent to receive your marketing messages that won't count as spam.
With WPForms, you'll also get a drag-and-drop builder that makes it easy to customize, add, or remove each form element as you'd like to get the exact user information you need.
Also, you could add a website or URL form field to allow visitors to share their websites when submitting their form. This gives you the information you need to see what kind of content they're into so you can create relevant upcoming campaigns.
WPForms has some really cool automation features too so you can set your digital downloads on autopilot. You can configure your form to:
Send an email to yourself to update you when an order is placed
Send an email to the customer to confirm their order and welcome them to your brand
Add their contact information to your email marketing list
Display a customized confirmation on your website to confirm the customer's download
Redirect them to another page as soon as they download the product
In a nutshell, WPForms has everything you need to market and sell downloadable products on your website.
If you want to know more about this plugin, see our in-depth review: WPForms: Is It Worth the Hype?
Cost: There's a lite version that's free. The premium version starts at $49.50 per year.
Want to create your digital download form right away? Then sign up for WPForms below:
Get started with WPForms today.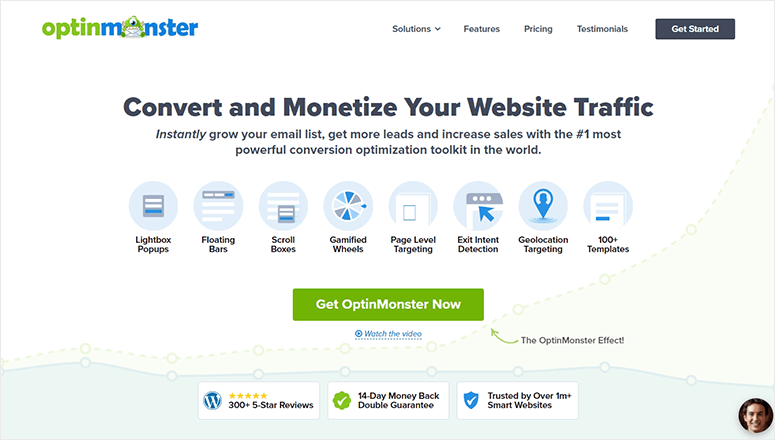 OptinMonster is hands down the best lead generation tool to offer digital products like eBooks and PDFs as lead magnets. You can create stunning campaigns in minutes and then watch your email list grow.
OptinMonster doesn't have payment integrations so you won't be able to sell products directly from the campaigns. You'll need to connect to another plugin like WPForms to add a payment option.
However, you can integrate with your email marketing service and set up automated emails to deliver any digital good you promise.
OptinMonster lets you create popups, slideins, floating bars, and coupon wheels. So you'll have lots of opportunities to offer digital products to visitors.
The best part about OptinMonster is its targeting rules. It lets you show campaigns based on a visitor's interest, location, device, previous interaction, and much more.
You get full control over who sees what. You can target your audience with campaigns that they'll be more likely to respond to. There's even an option to display popups right before a visitor leaves your site. This lets you recover abandoning users and convert them into subscribers before they're gone forever.
Here's what you'll love about OptinMonster:
50+ templates and a visual drag and drop campaign builder
Eye-catching CTA buttons and links
Integrates with all popular email services like Constant Contact
Powerful campaign triggers and targeting rules
Backed by a reliable support team
Cost: Starts at $9 per month.
Get started with OptinMonster today!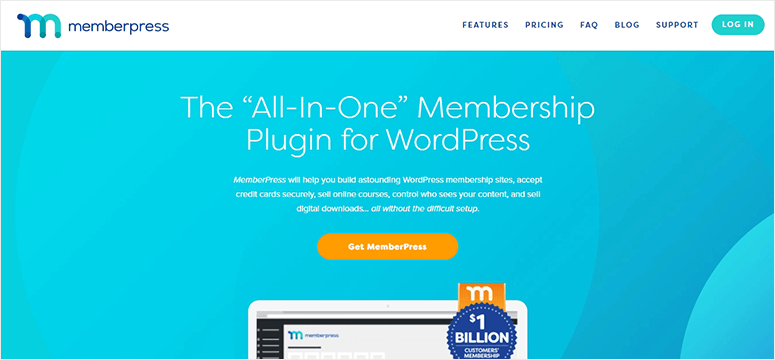 MemberPress is the best membership plugin for WordPress. It makes it easy to sell digital goods on your website, lock content, and sell subscriptions.
To access advanced options, you'll want to use the MemberPress downloads addon. This gives you more control over your online downloads, including zip files, PDFs, and images.
You can upload multiple files, tag or categorize them, and list files with a single shortcode. You can also protect your files with MemberPress Rules just like you would any other content on your site. Added to that, there are options to filter and lock individual files, files with specific categories, or files with specific tags.
The MemberPress downloads addon also comes with shortcodes you can use to display download links to your files. It's easy to copy and add them where you'd like.
MemberPress integrates with popular email marketing services and software including ActiveCampaign, Zapier, Elementor, MonsterInsights, AWeber, Constant Contact, and more. So you can easily sync your digital downloads and email marketing campaigns.
Here are some of the highlights of MemberPress:
Lock content and create chargeable access
Tons of integrations with email, marketing, and payment platforms
Powerful access and revoke rules
Auto renew memberships
Add coupons and eligibility rules
Password protected community forums
For more on this platform, see our MemberPress review.
Cost: Starts at $179 per year for unlimited members and unlimited courses.
Get started with MemberPress today.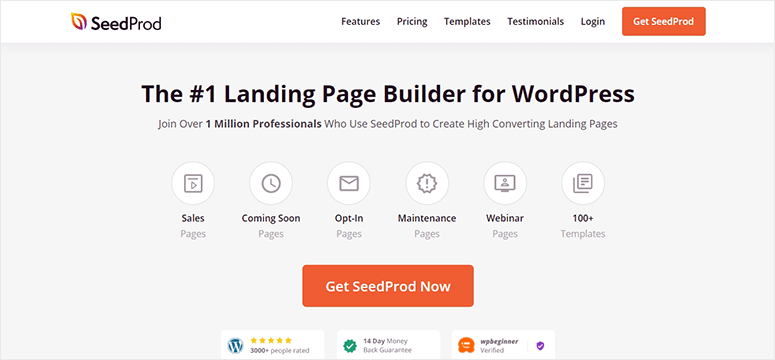 SeedProd is the best landing page builder that lets you sell products directly from any landing page you create.
It integrates seamlessly with WooCommerce so you can add 'buy now' and 'add to cart' buttons on your page. This lets customers checkout directly from your WordPress landing page.
You can use this landing page as a central place to direct traffic from social media and online ads. This will give them easy access to buy your digital product no matter which referral source they come from.
Added to that, inside this tool, you'll find lots of templates to create sales, splash, optin, and other landing pages.
A few highlights of this tool include:
Countdown timers to add a sense of urgency
Templates and a visual builder that's easy to use
Mobile ready designs
Email and WooCommerce integrations
Built in coming soon and maintenance mode
Cost: Starts at $39.50 per year.
Get started with SeedProd today!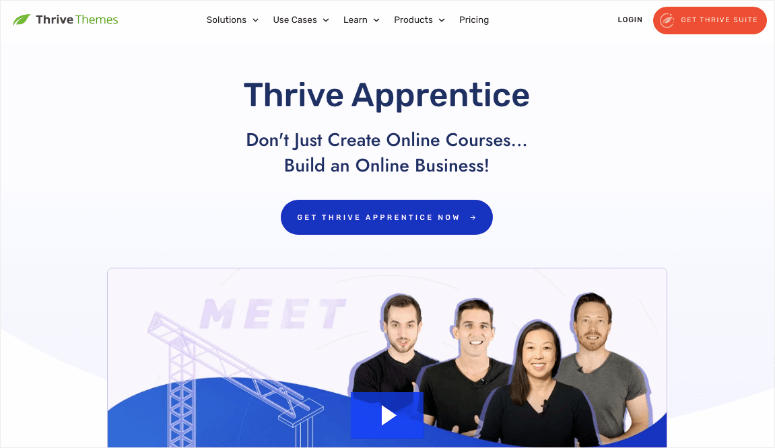 Thrive Apprentice is a membership and course builder that's beginner-friendly so it's easy for anyone to set up and use.
There's a drag and drop course builder so you can customize your lessons and modules the way you want. You can add text, videos, and audio, and even mix and match media formats.
Thrive also lets you add downloadable resources such as PDF documents or URL links that take them to the download page.
A few highlights of this tool include:
Visual editor
Predesigned lessons and modules templates
WooCommerce integration
Marketing and email integrations
Reports for enrolment and completion
Cost: Starts at $149 per year.
Get started with Thrive Apprentice today!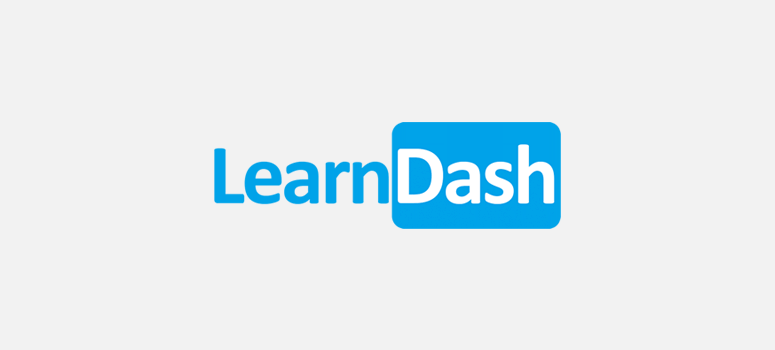 LearnDash is a popular learning management system for WordPress created by e-learning experts that lets you sell digital courses on your site. It has a drag-and-drop course builder that makes it easy to create courses, exams, and award official certificates.
To test a learner, you can even add advanced quizzes with time limits and randomized questions. There are 8 question types you can add to your exam or quiz:
Single choice questions
Multiple choice answers
Free text
Sorting
Surveys
Fill-in-the-blanks
Essays
You'll even be able to insert multimedia files to make the course and exam more engaging.
This platform even lets you create discussion forums and question banks that are organized into categories so your students can easily access the information they need.
Coming to course automation, LearnDash integrates with popular services like Mailchimp, ConvertKit, Zapier, Stripe, PayPal, and many more.
So you can trigger emails based on course enrolment, completion, and learner's actions. You can even set your course renewal reminders, review requests, and engagement campaigns on autopilot.
You may find that this platform is quite similar to MemberPress. Find out which one is better for you in our comparison: LearnDash vs MemberPress.
Cost: Starts at $159 per year. There's a 30-day money back guarantee.
Get started with LearnDash today.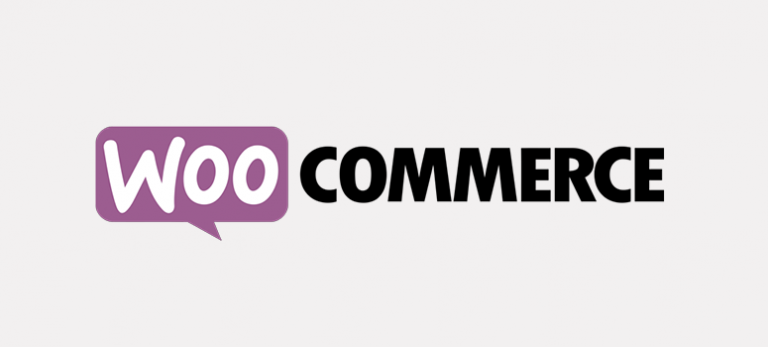 WooCommerce is the most popular open-source eCommerce solution for WordPress that allows you to sell physical and digital goods on your site. It's flexible, free, and you retain full ownership of your store's content and data forever.
You can create a beautiful storefront with a product catalog to display your digital downloads.
You'll also get plenty of payment options to securely accept cards, mobile wallets, bank transfers through 100+ different gateways including PayPal, Stripe, and Square.
WooCommerce is a good option if you want better control over product variations, custom configurations, and affiliate items.
The good thing about this platform is it lets you combine physical and digital products if you want to sell both hand in hand. For example, you could sell an eBook and a paperback book together and use a variety of shipping methods including UPS, FedEx, ShipStation, and more.
WooCommerce is an extensive platform and has a lot of features and extensions. You can check out our WooCommerce Review to see what more it has to offer.
Cost: WooCommerce is free. You'll pay only when you start selling products.
Get started with WooCommerce today.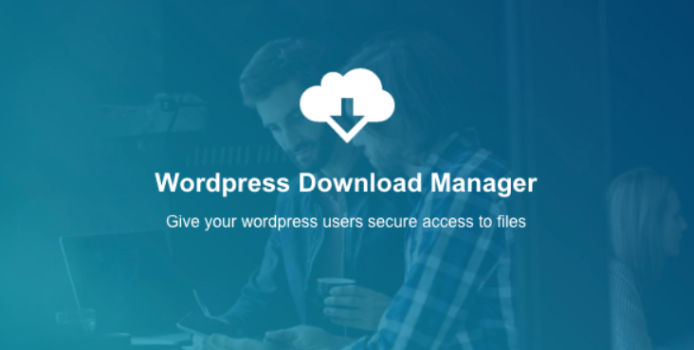 WordPress Download Manager is a file management plugin that allows you to manage, track, and control file downloads on your WordPress website.
The free version of this plugin lets you password-protect files and create user roles to control file access. This way only authorized users can download the file.
You can even ask visitors to agree with your terms and conditions prior to download.
This plugin simplifies file management and protection as well. You'll be able to:
Manage downloads by speed or count limit
Connect to Google Drive, OneDrive, and DropBox
Use CAPTCHA to block spam and bots
If you want more features, you can upgrade to the paid subscription plan and gain access to powerful addons.
Some of these include PayPal integrations, single-click activation, sales tax, invoice generation, and guest checkout.
You'll also get access to coupon management, license level pricing, and more.
Cost: There's a free version available. Pro plans start at $90 per year.
Get started with WordPress Download Manager today.
And there you have it! These are the best digital download plugins you can use for your WordPress website.
Once you set up your digital downloads, you'll want to promote and market them in the right way. Here are 4 powerful tools that will help you drive traffic and skyrocket sales and conversions:
We hope we've helped you find the right digital download plugin for your WordPress site. Now that you have the right tools to sell digital products, you'll want to see these resources:
These posts are packed with tools and strategies to make your digital store a smashing success.