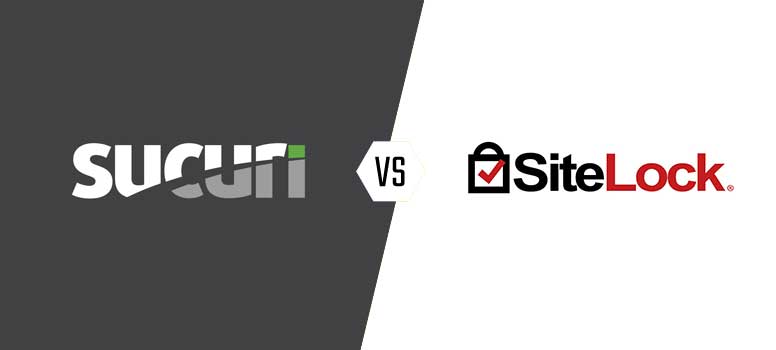 Is there anything worse than your website being maliciously attacked and infected by spammers or viruses?
To keep your website secure at all times, we highly recommend that all of our readers use a security service on their site. By using these services, you can protect your site from distributed denial of service attacks (DDoS), hacking attempts, and malware injection.
If your site is built with WordPress, you can take different measures to keep your site secured. Some of them can be to password-protect your admin directory, limit login attempts, add two-factor authentication, and more.
But the bad news is that even after using these methods, your site is open to other types of attacks. That's where security services like Sucuri, SiteLock, and Cloudflare come in.
So, in this post, we're going to review these 3 security services to help you find the right one to protect your site.
Let's dive into the review.
Sucuri vs. SiteLock vs. Cloudflare – Which Is the Best
Each of these services offers a website application firewall (WAF) that creates a shield between the internet and your website. This lets you monitor, filter, and block unwanted elements on your site. But which one of these 3 companies is the best option for your site?
To help you out, we're comparing Sucuri, SiteLock, and Cloudflare by looking at 4 aspects of each company:
Getting Started – Is it Easy?
Features
Security and Malware Removal
Pricing
Let's begin.
1. Getting Started – Is it Easy
The first thing that we want to compare among the 3 options is how easy they are to get started. Let's look at Sucuri first.

Getting started with Sucuri is super easy. It offers various monitoring options for your website. So once you login to your Sucuri account, you simply need to add the website that you want to be monitored.
After that, just select which monitoring types you want for your site. It also has the option to let you add the monitoring frequency. So based on that, Sucuri will make sure to scan your site for any unwanted elements.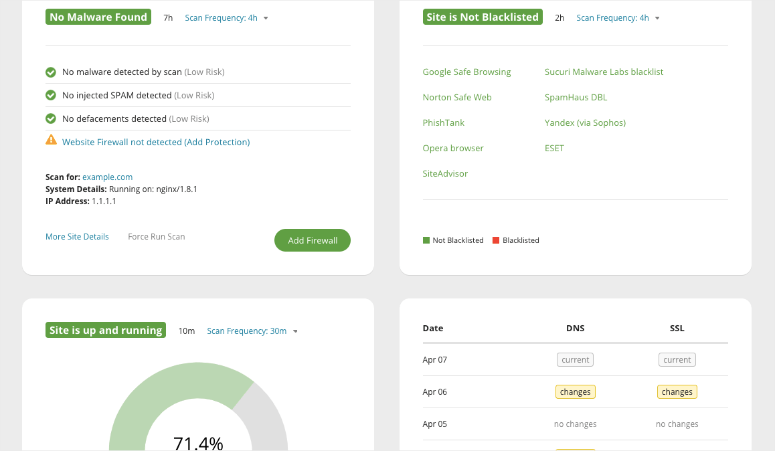 It also sends timely alerts to your registered email address every time anything suspicious is detected. This helps you make the right action at the right time so you can save your site from any harmful threats. Plus, it's also easy to activate its firewall protection, whitelist firewall IP, upload SSL, and activate/restore backups.

Getting started with SiteLock is equally simple. Once you purchase the SiteLock plan you want, you can start using its services right away. Then when you're in your SiteLock dashboard, you'll see all the options listed on the left side of your screen.
If you click on the Dashboard option, you can check the status of your domains and website security products, including your website scanner and firewall results.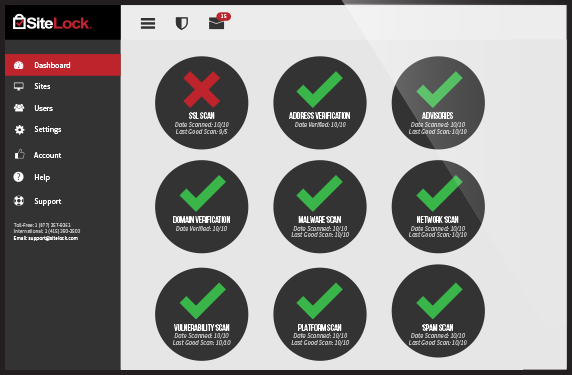 You can learn your site's status by simply looking at all these icons. A green tick shows that everything is alright. But if you see a yellow or a red tick, then you would know that there's something to worry about.
For more details on this security tool, you can check out our full SiteLock Review.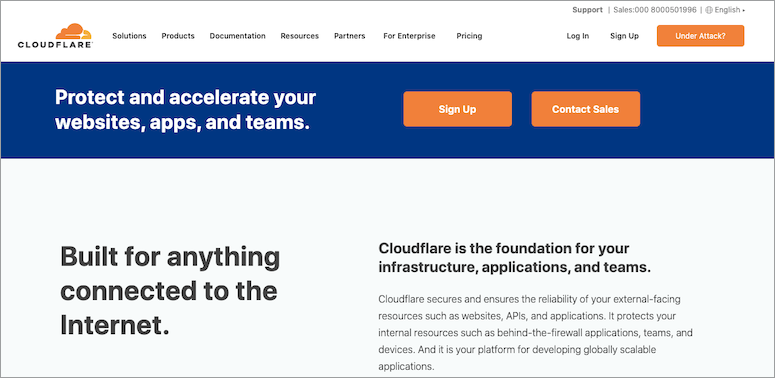 Just like the above two options, Cloudflare also has a very easy and simple way to get started. Just go to the official website and create an account by choosing a plan. You can then add your website and click on the Begin Scan option.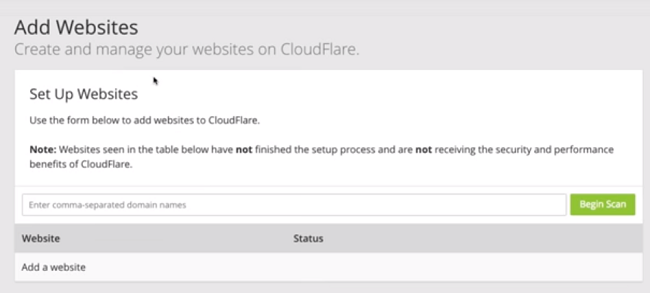 It'll start scanning your existing DNS record. When it's finished, you'll see a Continue Setup option. Click on that. Then you'll see all the existing DNS records being listed.
In the next few steps, you can choose a plan and then update your nameservers.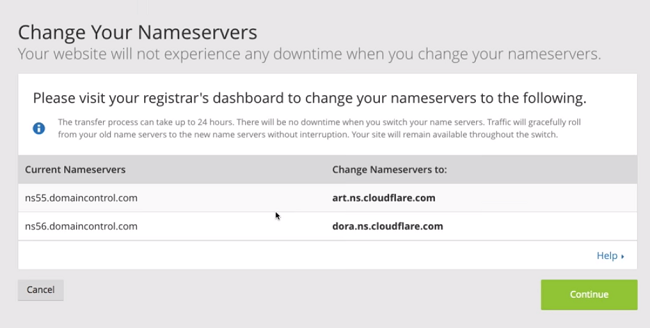 And that's it. Cloudflare starts managing your site security as soon as your nameservers are updated. This generally takes some time, so don't be alarmed if you see a pending sign on your site.
Which Is the Winner?
Looking at all the 3 options, we feel that all of them are equally easy to get started. This is true for advanced users as well as for beginners. So in terms of getting started, you can't go wrong with any of the options.
Features
The next important thing to know when you're using these services is whether it offers all the features you want for your site. Let's find out.
Sucuri is one of the leading names when it comes to offering security and monitoring services. It comes loaded with features that are enough to protect your site from any malicious attack.
With Sucuri, you can have comprehensive services for website monitoring, scanning for malware, DDoS protection, and malware removal. Apart from that, it also offers CloudProxy, a website firewall, and a load balancing service. To secure your site even more, it blocks DDoS attacks, code injection, bad bots, and more.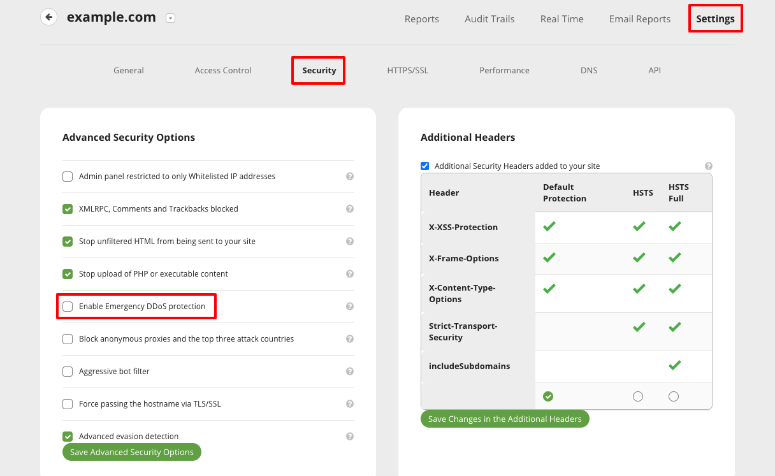 If it detects any suspicious elements or actions on your site, it works by instantly cleaning it up without any additional charges. And the best thing is that it also cleans off hacked sites.
SiteLock also offers great cybersecurity products and services. It'll constantly keep an eye on your site and scan it for any suspicious elements. On finding any suspicious threats, it instantly notifies you so that you can take action right away. Plus, SiteLock automatically detects and removes malware before it can cause any damage to your site.
It will also block cybercriminals, bad bots, and cut your load time by 50% to offer a good user experience. SiteLock takes responsibility for vulnerability patching to keep your CMS secured.
Cloudflare made its mark in the market for its free CDN services. It does a wonderful job of mitigating DDOS attacks using their WAF product. It also stops all suspicious traffic from reaching your site and blocks comment and registration spamming.
Even if your site is under attack or under very heavy traffic when your server isn't responding, your users can easily have access to it. But a downside of Cloudflare is that it doesn't offer a server scanning service to detect malware. They also don't guarantee the option of getting your malware removed if your site gets hacked on their watch.
Which Is the Winner?
Sucuri comes out ahead of the other two options due to its amazing and powerful features.
3. Security and Malware Removal
Next up, it's important that we look at how good these services are when it comes to security and malware removal.
Sucuri does a great job of protecting your website against malware and other attacks. Its website application firewall acts as a shield to protect your site against DDOS, SQL injections, XSS JavaScript injections, comment and contact form spam.
SiteLock also offers to scan and remove malware from your site. But for that, you have to choose one of the 3 different plans to activate the scanning service. It'll then continuously scan and remove any sort of infection from your site. It also alerts you about any impending danger that's coming your way.
In doing so, it won't in any way affect the user experience or server bandwidth. As soon as any harmful element is found, it will automatically work on removing it based on the plan you choose.
The website security firewall for Cloudflare comes with their paid plan. It includes CloudFlare's ready to use custom rules set. These rules protect your site from common code injection hacks, XSS JavaScript exploits, and form submissions.
But the protection offered by Cloudflare is limited. It doesn't offer file change detection, malware scanning, blacklist monitoring, and other services that can help you further strengthen your security options. You can add third-party apps for malware scanning, but these services will cost you additional fees.
Which Is the Winner?
Based on the security and malware removing options offered by the 3 services, it's clear that Sucuri is the best option. It costs no additional charges to get your malware removed, unlike the other two options.
Pricing
The final comparison point is pricing. If you've just started your business and it's still a small enterprise, then pricing can be a major factor in deciding whether you want to use a product or not. So let's check what these services cost you.
Sucuri comes under 3 different pricing plans.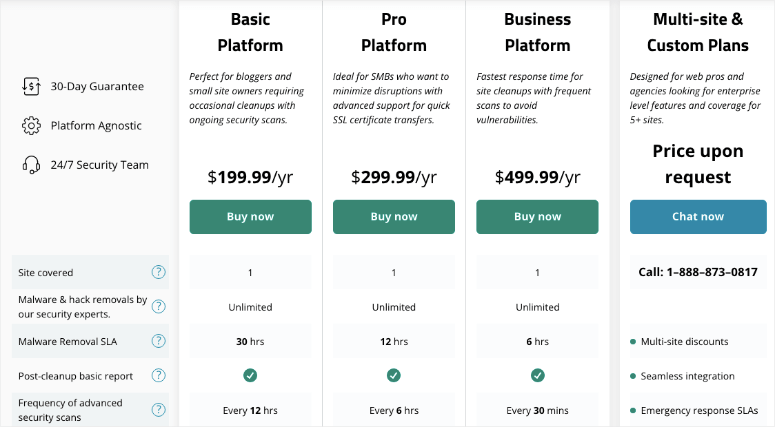 Basic: $199.99/year
Pro: $299.99/year
Business: $499.99/year
In the basic plan, your malware and scan frequency is every 12 hours, and it doesn't offer the option of malware removal or SLA and SSL certificate options. As you upgrade your plan, the scan frequency increases to 6 hours and 30 minutes. The business plan also offers the malware removal SLA option which happens automatically every 6 hours.
All these options come with virtual patching, brand reputation and blacklist monitoring, advanced DDoS mitigation, CDN performance, and a lot more.
SiteLock too comes under 3 different pricing plans and they are a bit more expensive than the prices offered by Sucuri.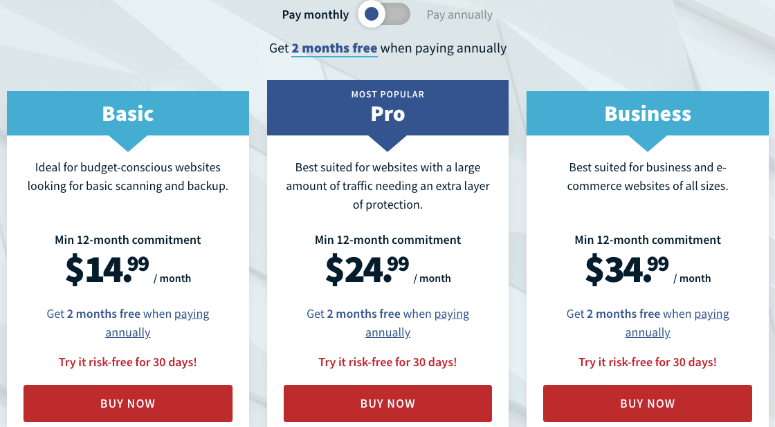 The basic plan costs $14.99 per month and comes with a smart scanner that is constantly in action to detect and remove malware from your site. It also blocks bad bots used to hack websites, increases your site speed, supports SSL, and offers a pro-WAF.
The pro plan offers emergency hack repair and blacklist and suspension solutions apart from the ones offered by the above plan. Apart from that, it also lets you customize your filtering options for your traffic.
The business plan offers a continuous detection of website database infections, unlimited hack repair, and a premium WAF.
Cloudflare comes under several pricing plans, one of which is free. In this plan, you will only have their CDN service, and it doesn't offer a website application firewall. Here are the paid plans.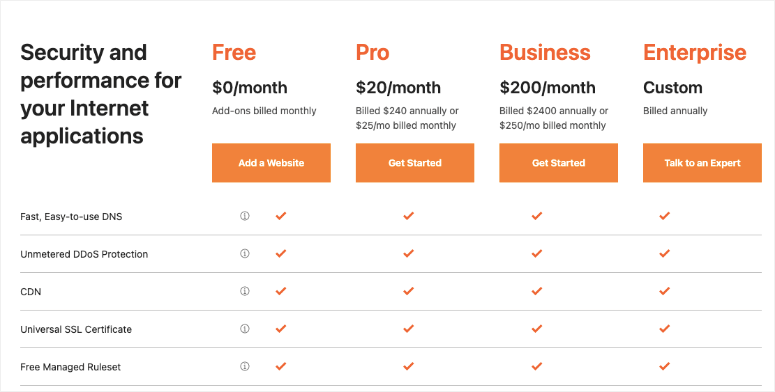 Pro: $20/month
Business: $200/month
Enterprise: Request a quote for the price
The pro option comes with a web application firewall that enhances your site security. It also offers enhanced performance with mobile and image optimization. The business plan offers a 100% uptime guarantee, custom SSL certificates, CNAME setup, custom WAF rules, and more.
The business plan offers more features, but it doesn't have the advanced DDoS mitigation and custom SSL features. For those options, you need the enterprise plan that'll cost you more than $200 a month.
Which Is the Winner?
Considering the pricing plans of all the 3 options and the features available under these plans, we feel that Succuri deserves to be the winner.
Which Option is the Best – Our Verdict
After comparing all the options, it's clear that Sucuri is the best option. Not only does it offer the easiest way to get started, but it also offers great features to protect your site under a range of amazing prices.
And that's it! We hope you found this article helpful.
If you're planning to try out Sucuri, you can also check out our detailed Sucuri review on their services and find out a little more about it before making the purchase.