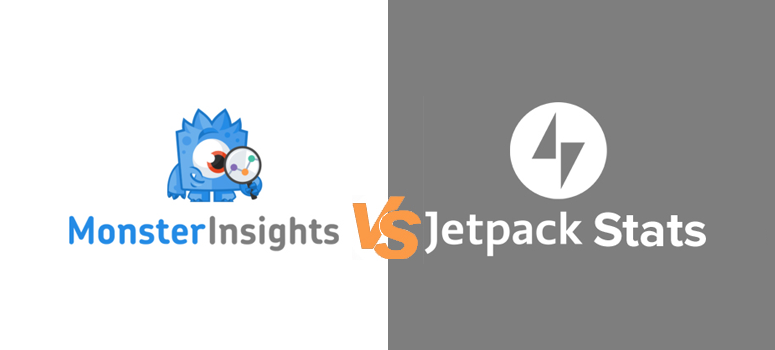 MonsterInsights vs Jetpack Stats: who would win? If you're asking that, then you're probably looking for the best plugin to track your website visitors and discover stats about their interactions on your website.
WordPress offers several analytics plugins to perform those functions, but MonsterInsights and Jetpack Stats are by far the most popular; and for good reason. But which one is truly the best for YOUR needs?
In this article, we'll compare MonsterInsights vs Jetpack stats, in-depth, so you can make your final decision.
General Overview: MonsterInsights vs Jetpack Stats
What's MonsterInsights?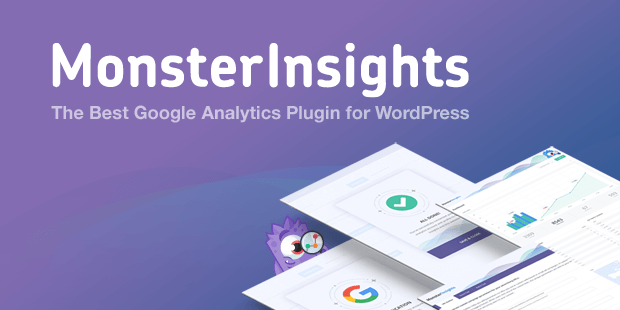 The MonsterInsights plugin works on your WordPress site or blog to make integration with Google Analytics effortless. As the most powerful, and most popular, website analytics tool available, harnessing the power of Google Analytics on your website can provide you with detailed information and stats about your website's visitors and how they interact with your content.
While Google Analytics can be tricky to set up on its own, MonsterInsights makes it all-too-simple, even for absolute beginners. The setup process becomes a hassle-free experience, taking mere minutes out of your day rather than hours; zero coding skills required.
Plus, not only see all of the default stats that Google Analytics has to offer, but sophisticated metrics as well. Events, eCommerce stats, and so much more will be at your fingertips and ready for viewing.
Far superior to using Google Analytics on its own, MonsterInsights puts user experience as its top priority. Beginner-friendly and easy-to-use, MonsterInsights is a rising star that won't stop climbing.
What's Jetpack Stats?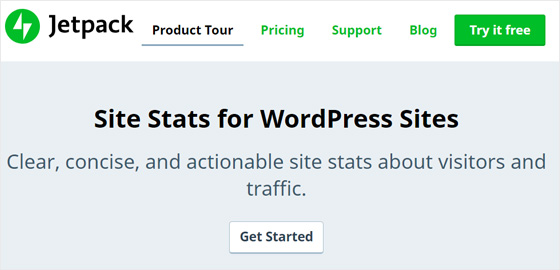 Jetpack is a composite plugin that includes a number of features you might find handy for your website; including security, spam protection, and site backups. Jetpack Stats is one of the modules you can add to the Jetpack plugin as an additional feature.
When you activate Jetpack Stats, after installing and activating the Jetpack plugin, you can use it to view reports on your website visitors and how they interact with your WordPress website.
So far so good? At this point in the analysis, MonsterInsights vs Jetpack Stats seem almost the same, right? Well, all that's about to change in the next section…
How It Works: MonsterInsights vs Jetpack Stats
MonsterInsights
MonsterInsights is first and foremost a Google Analytics integration plugin. All you need to do for it to work is connect your Google Analytics account with MonsterInsights. Provided you've been using Google Analytics to track your website data for a while, you'll get results pretty much instantly. Your dashboard will look something like this: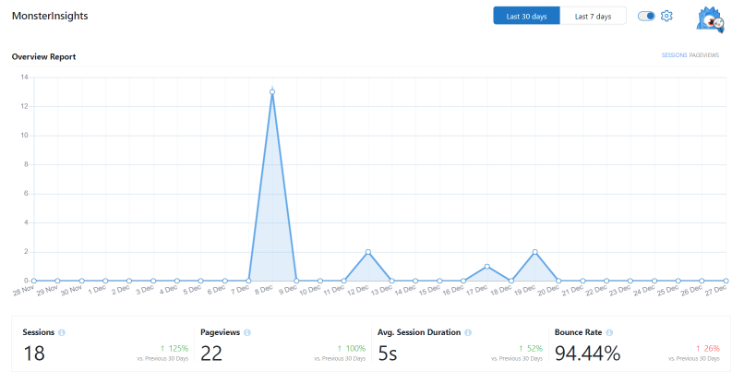 If you're new to Google Analytics, it can take up to 48 hours for results to show up on your MonsterInsights dashboard.
If you were to use Google Analytics (GA) without MonsterInsights, you'd have to manually insert GA's code into your theme files. This is an especially daunting task for beginners or anyone without coding skills and comes with numerous risks. The slightest coding error can skew your Analytics data or, worse, break your website.
With MonsterInsights, you can set up even the most advanced Google Analytics tracking with just a few clicks of your mouse. It's incredibly easy to set up and is conveniently located on your WordPress website. There's no need to go off your site to a third-party platform to view your reports.
MonsterInsights seamlessly integrates with Universal Analytics (GA3) and Google Analytics 4 (GA4) so you can connect to whichever version you're running. Plus, MonsterInsights is the only plugin of its kind that lets you connect to both versions at the same time with its dual tracking feature.
Best of all, you'll be utilizing the power of Google Analytics – the strongest, most accurate website analytics tool available today.
Jetpack
Jetpack Stats is a part of the Jetpack plugin. Meaning, Jetpack Stats is just a footnote on a long list of other features included with the overall Jetpack plugin. Whereas MonsterInsights was built solely with analytics in mind, Jetpack Stats' analytics features are just side thought.
To enable Jetpack on your website or personal blog, you'll need to create a WordPress.com account and connect your site to that account. Since Jetpack uses its own brand of analytics tool, rather than integrating with Google Analytics, it can take a while for information to start showing up. Your dashboard will look something like this: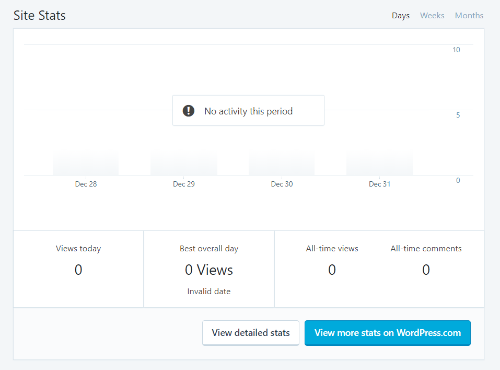 Unfortunately, only a small fraction of your website's stats are available on your WordPress dashboard. To view your "full" analytics, you'll have to login and hop over to your WordPress.com account. Even then, the reports won't be as complete or comprehensive as they would be had you used Google Analytics or MonsterInsights.
Tracking Features: MonsterInsights vs Jetpack Stats
MonsterInsights
With MonsterInsights, you'll have access to every type of advanced tracking feature you can imagine. The menu bar, conveniently located in your WordPress website, looks like this:

From that menu bar, you can access:
Download tracking
eCommerce tracking
Custom dimensions
Ads tracking
Referral tracking
Real-time stats
Forms tracking
And a whole lot more…
Since MonsterInsights was built with analytics in mind, tracking is its one function; and it does it with excellence.
Jetpack Stats
The menu bar for Jetpack Stats pretty much tells you everything you need to know about its features:

Since Jetpack Stats is just a small piece of the overall Jetpack plugin, it only provides the most basic tracking reports. You can view your total visits, total comments, and a few other basic statistics; however, no advanced tracking features are available.
Bloat: MonsterInsights vs Jetpack Stats
MonsterInsights
MonsterInsights comes with all the essential features you'll want to get the website analytics you need. It has one purpose: to get you the data you need, in a way that's convenient for you.
It's lightweight and free from bloat. And although you can implement additional features by installing addons, you can rest-assured that those features all work together towards one common goal. Even with every addon installed, MonsterInsights' sole focus is on gathering data and relaying it to you in an easy-to-comprehend manner.
Jetpack Stats
Since Jetpack Stats is just a side feature of the main Jetpack plugin, there's no way for you to access Jetpack Stats without installing Jetpack, and all its features.
Jetpack comes loaded with 100+ themes, security features, backup options, image hosting, and a plethora of other features. All of which are decent, for what they are; but, if you're looking for an analytics tracking tool exclusively, you're going to be disappointed.
Jetpack can feel extremely bloated, especially if the only feature you're interested in is Jetpack Stats.
Pricing
Both MonsterInsights and Jetpack have their basic versions available for free in the WordPress plugin repository.
For additional features, you can purchase MonsterInsights starting at $99.50 per year. Or, you can get Jetpack starting at $39.00 per year.
Customer Support
For the free versions of the plugins, both MonsterInsights and Jetpack offer support via the WordPress forums.
For any paid version of MonsterInsights, you'll be given priority support and professional setup options. It doesn't matter if you buy the least expensive option or the most, you'll be given the same attention and care.
With Jetpack, only those who fork over the most money get the most support. Lower tier customers are regulated to solely email support, while the highest-paying customers receive email support, priority support, and setup services.
Conclusion
When it comes to ease of use, accuracy, and features; MonsterInsights is the clear winner in the battle between MonsterInsights vs Jetpack Stats.
You can download MonsterInsights and start using it immediately by visiting their website.
Don't miss this article on Grammarly vs Hemingway vs Jetpack.
We hope this article helped you choose between MonsterInsights vs Jetpack Stats. If you liked this post, you might also enjoy our in-depth review of the MonsterInsights plugin.