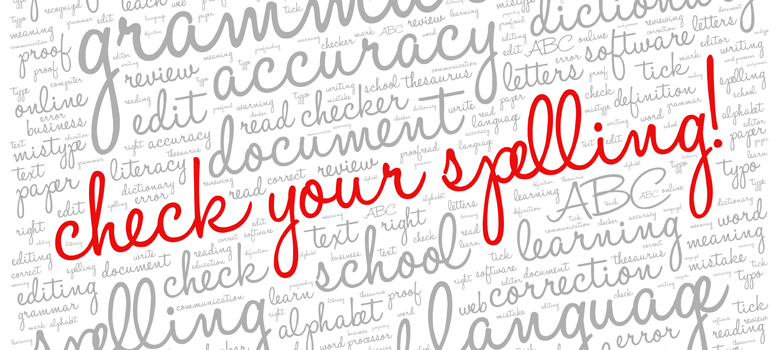 Are you looking for the best grammar checker software? Whether you're writing blog posts or writing copy for your small business website, it's important to have perfect grammar and punctuation. Poor grammar and punctuation will make your website look unprofessional. Not everyone is a strong speller but that's okay. Even the most experienced writers make mistakes. Luckily, there are a number of free spell checker tools to help you out.
In this article, we'll go over the pros and cons of some of the best grammar checker software and see which tool comes out on top in the battle of Grammarly vs. Hemingway vs. Jetpack.
Let's get started.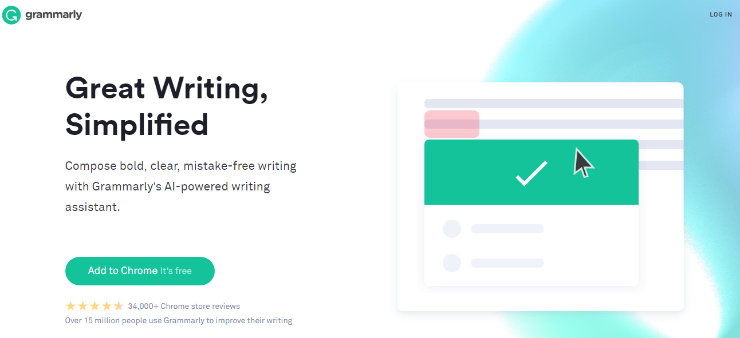 Grammarly is the most popular spell checker and grammar checker tool available online. Grammarly's AI-powered writing assistant finds writing mistakes as you're typing and suggests ways to fix them.
This grammar checker tool clearly underlines your mistakes in red. You can then hover over the word to get suggestions to fix your error and with 1 click the tool will fix your mistake.
You can also correct the mistakes in your document using their assistant. This allows you to get a detailed summary of all the spelling and grammar errors in your writing and provides more detailed explanations and solutions for your mistakes.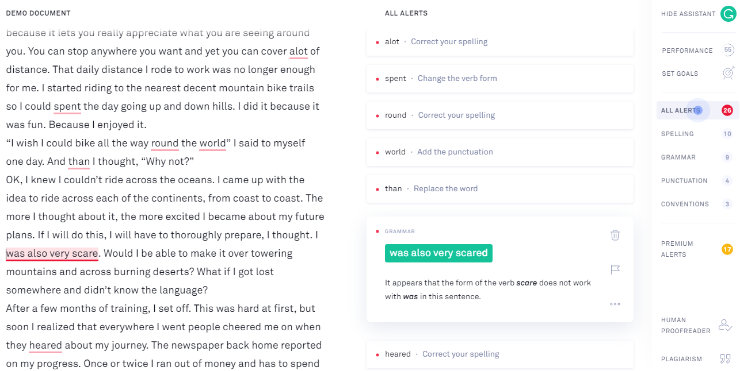 Upon signing up with Grammarly, you can also personalize the tool for your exact needs. You can choose what most of your writing is for whether it's for work, school, or other projects. You can also select your writing skill level from beginner, intermediate, or advanced.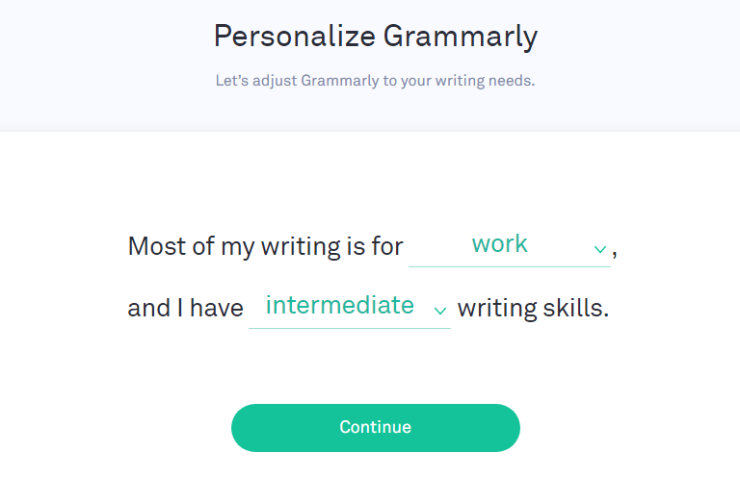 This personalization ensures you're getting the exact writing help that you need.
Features
Not only does Grammarly fix your spelling and grammar errors as you write, instantly finding and correcting over 150 types of grammar mistakes but they offer a number of other cool features in their standard version and advanced version as well, including:
Standard Features:
Access to your documents across multiple devices
Catch contextual spelling and grammar mistakes
See explanations of grammar rules
Add words to your personal dictionary
See definitions and synonyms by double-clicking
Get performance stats via email
Advanced Features:
Over 100 additional advanced checks for punctuation, grammar, context, and sentence structure
Genre-specific writing style checks
Vocabulary enhancements suggestions
Plagiarism detector that checks more than 16 billion websites
Integrations
One of the biggest perks of using Grammarly is the ability to integrate it with nearly any app or platform you can imagine. This means that no matter where you're writing online, Grammarly's grammar checker software will be there to find your writing mistakes for you.

Grammarly seamlessly integrates with apps and platforms such as:
Gmail
Outlook
Facebook Messenger
Yahoo
Slack
Microsoft Word
Google Docs
Social media platforms like LinkedIn and Twitter
And many more
If you have a blog or website on WordPress, Grammarly's integration with WordPress is great. As your creating a blog post inside WordPress Post Editor or writing copy for your website pages, Grammarly will catch your spelling and grammar errors for you. You won't have to worry about publishing a blog post with any writing mistakes again.
This can create problems if you're writing a long article because you would have to scroll all the way back to the top to use any tools in the toolbar.
Pricing
You can install Grammarly's browser extension for Google Chrome, Firefox and Microsoft Edge for free, which include all the features in the Standard plan.
If you want access to their advanced features, you can sign up for their Premium account. You can choose the payment frequency for a Premium account.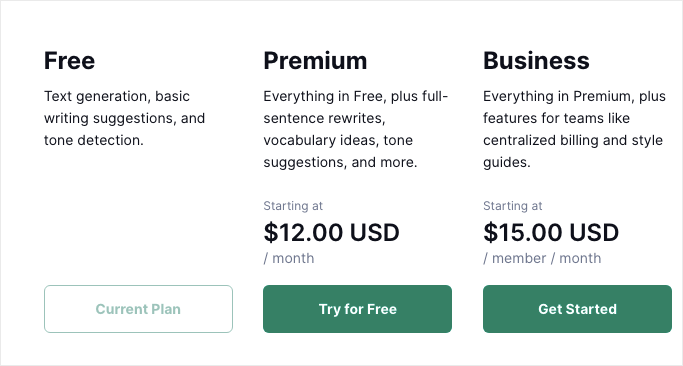 Pricing starts at $12 per month.
Get Started with Grammarly Today »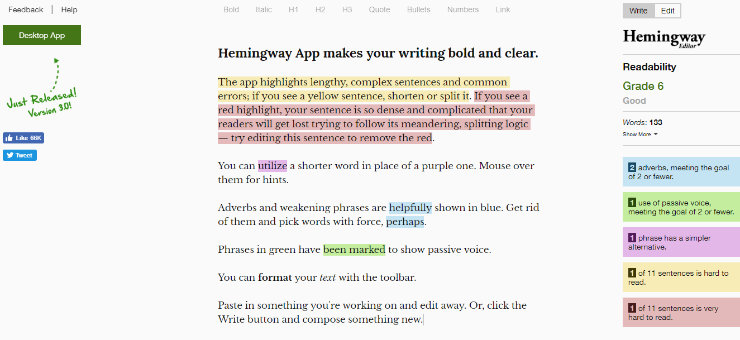 Hemingway is another well-known online spell checker tool. This grammar checker tool is web-based though, so you can't use it within WordPress or any other app. So, unfortunately, if you want to start a blog, you can't proofread and edit your posts from your WordPress dashboard with this spell checker tool.
To use Hemingway, simply copy and paste your text into their app and the tool will check your writing for spelling and grammar errors.
The tool's distraction-free interface allows you to quickly find errors, so you can publish your polished content as fast as possible.
Features
Hemingway not only checks your writing for spelling and grammar errors but it's also a style checker too. This tool uses an eye-catching, color-coded system to point out wordy sentences, complex words, passive voice, and adverbs.
For instance, Hemingway suggests you remove adverbs to make your writing stronger and will highlight adverbs in blue.

Hemingway will also help you improve the readability of your writing by giving you a readability score and provide suggestions for improvement.
It's important for your content to be easy to read, otherwise, no one will want to read it. So, this grammar checking tool is great for helping you write content for your blog or website that's easily understandable for your readers.
Pricing
You can use the web-based Hemingway app to check your writing for errors for free — it won't cost you anything to use the online grammar checker software.
But, you can also purchase a desktop version for Windows and Mac for only $19.99.

Purchasing the desktop version of Hemingway will allow you to post directly to WordPress, use the tool without an internet connection, and import and export easily from other programs like Microsoft Word.
Get Started with Hemingway Today »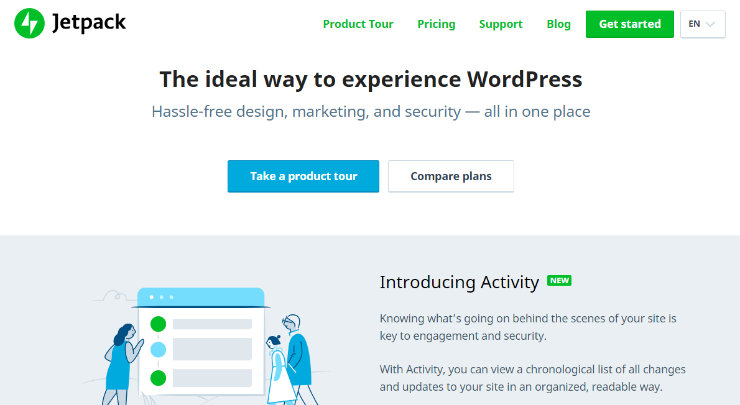 Jetpack is one of the most popular WordPress plugins of all time. It's an all-in-one plugin for design, marketing, and security. But did you know that it's also one of the best grammar checker software too?
Jetpack calls their grammar checker software After the Deadline and it's available right inside the Jetpack plugin.
Simply download the free Jetpack plugin. Once it's installed and activated, head to Settings. In the Writing section, turn on the Check spelling, style, and grammar button. Once you turn it on, you can also choose additional options for what you want the tool to check for.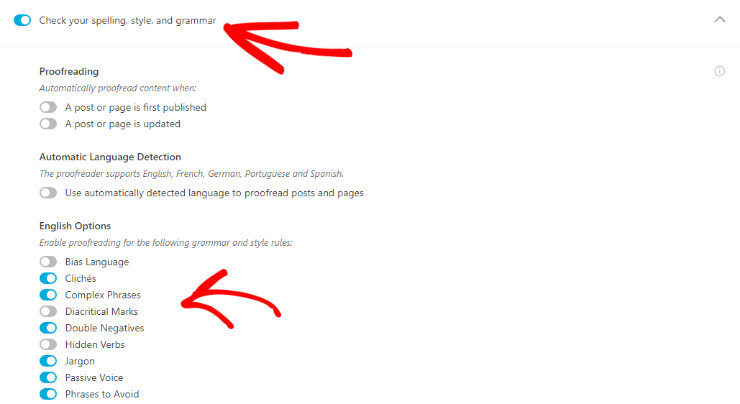 After you've turned on the spell checker setting and set your preferences, you'll then see a check mark button added to the WordPress editor toolbar. Simply click the button to check for spelling and grammar errors in the blog post or page.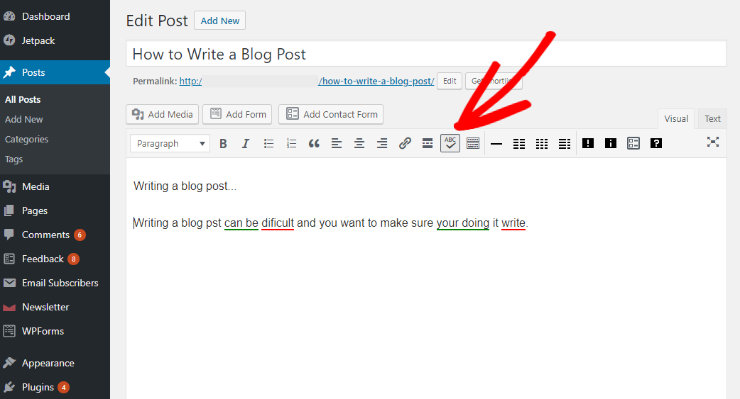 You can then click on each color-coded, underlined error the tool finds to see suggestions to fix the spelling or grammar mistake.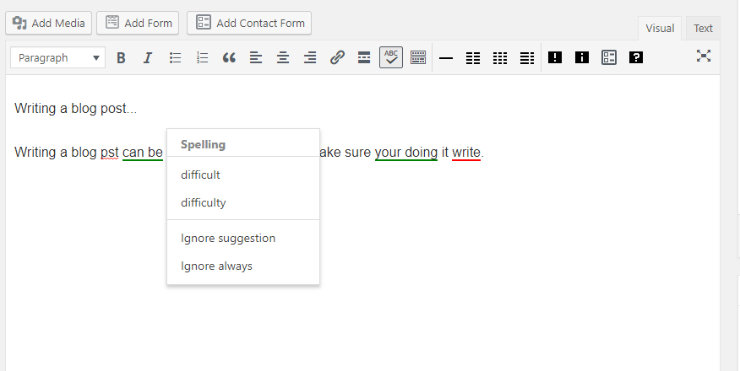 The only downside to Jetpack's grammar checker software is that it doesn't currently work with the new Gutenberg WordPress editor. With the Gutenberg editor, there's no spelling check mark symbol on your screen anymore like in the classic editor and the Jetpack plugin doesn't pick up errors as you're typing.
So, if you want to use Jetpack to find errors in your blog posts and WordPress website, you'll have to disable Gutenberg and go back to the classic editor in WordPress.
For step by step instructions for how to do that, check out this guide on how to disable Gutenberg and keep the classic editor in WordPress.
Related: Jetpack Alternatives
Features
Jetpack's grammar checker software is pretty basic in its feature set, mainly because the grammar checker software is not the main focus of this plugin.
But even though the feature set is basic, the plugin still has a number of features that will make checking your blog posts for errors easier, including:
Color-coding to easily recognize spelling, misused words, grammar, and style errors.
Option to run the proofreader automatically before publishing or updating a post.
The ability to ignore errors 1 time or always.
Available in English, French, German, Portuguese, and Spanish.
Advanced grammar checking options such as biased language, cliches, double negatives, passive voice, phrases to avoid, and more.
Pricing
Jetpack is a free WordPress plugin. So, you can use it to check your grammar and spelling for no cost to you at all.
They do, however, offer a number of paid plans that give you access to a number of advanced features. These plans start at $3.95 per month.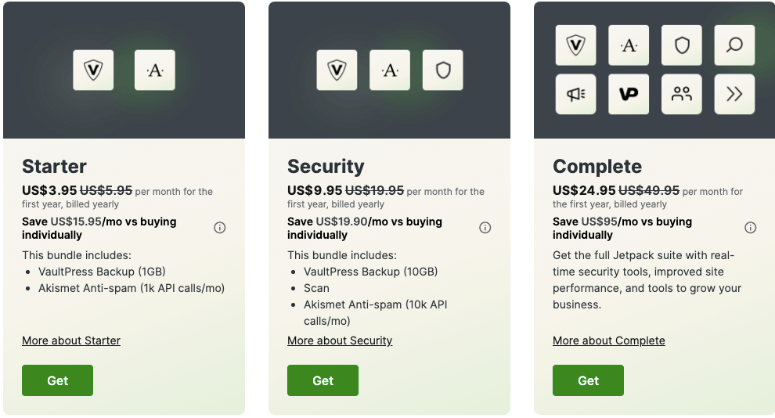 Upgrading to a paid plan with Jetpack will not get you advanced grammar checking features though. The paid plans are for increasing performance, security, traffic and revenue, site activity, and support features.
For a more detailed look at this plugin, check out our full Jetpack review.
Get Started with Jetpack Today »
Grammarly vs. Hemingway vs. Jetpack: Which is the Best Grammar Checker Software?
After our comparison, we believe Grammarly is the best grammar checker software overall.
While Hemingway and Jetpack are both great grammar checking software, they both have certain limitations that Grammarly doesn't.
The ability to easily integrate Grammarly with so many different platforms and apps is one of the clear benefits that puts this grammar checker tool above the rest. No matter if you're writing a blog post in WordPress or updating your LinkedIn profile, Grammarly will be there to catch any writing mistake.
We hope this article helped you choose the best grammar checker software for your needs. Now writing for your website and writing blog posts will be a breeze. If you liked this post, check out our other article on the best content marketing tools and plugins for WordPress.