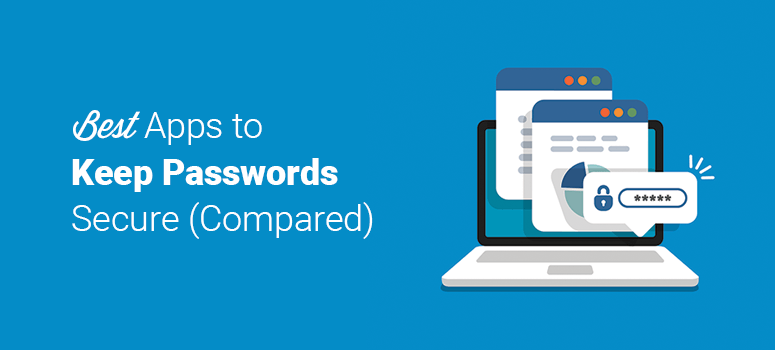 Are you looking for the best apps to keep track of passwords?
Passwords are the keys to access your personal accounts, websites, online stores, payment gateways, and more. That's why you should create strong passwords for all your accounts.
Sharing a password on messages, emails, and other communication apps can be risky because they can be hacked.
Though it's recommended not to share passwords online, there are some situations where you have no choice but to give access to others to your online accounts.
For example, sharing admin access for your website with developers, adding users for marketing tools, sharing Netflix passwords with family members, business social media accounts, and so on.
When you have multiple passwords, it's also difficult to remember each one. That's why most people keep the same password for all accounts (email, online banking, payments, etc.), which isn't safe. Plus, most platforms make you set a new password at regular intervals making it much harder to manage.
If you share your login information for one account, you're giving access to all your accounts. That's a really bad idea.
This means your life would be easier with an app or tool to manage your passwords. Using the right app, you can create different passwords for your accounts and share passwords securely with anyone.
Most tools encrypt your passwords and offer the auto-fill option to save you from entering the password manually, every time. Plus, you can also store passwords and manage them in a single app.
In this article, we'll share some of the best apps and tools for keeping track of your passwords.
Best Apps to Keep Track of Passwords?
Below, you'll find the top paid and free password managers. Each app comes with different features and options to create strong passwords, manage passwords, share passwords, and more.
Let's get started.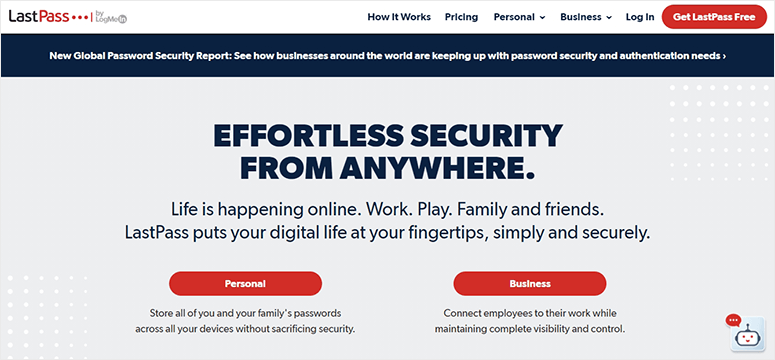 LastPass is the most popular and free app to keep track of your passwords. It comes with automatic password saving, a password generator, a digital records keeper, safe password sharing, and more.
It also sends alerts in case your password or other information is at risk. This way, you can change the master password to keep your accounts secure.
In the free version, you can store unlimited passwords, access on a single device type, save and auto-fill passwords, create secure notes, and more. LastPass Premium lets you access your digital vault from any device, share passwords with multiple people, and use emergency access.
LastPass is one of the safest apps that can protect your site from data breaches. The software is supported on the Windows, Mac, Linux, and mobile devices that include apps for Apple iOS and Android. Plus, there are web browser extensions for
Google Chrome
Mozilla Firefox
Microsoft Edge
Safari
Opera
Get started with LastPass today!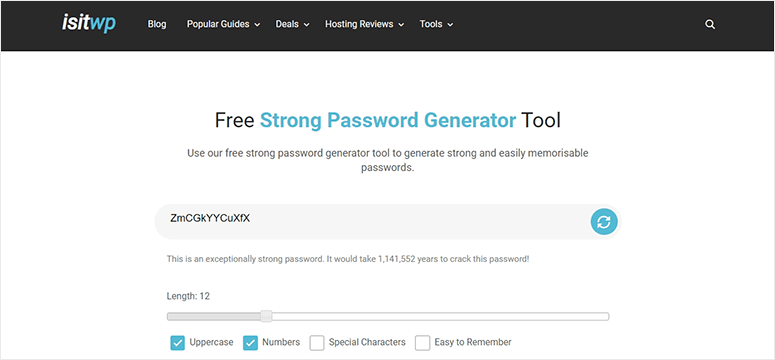 IsItWP Password Generator is a free online tool to generate secure and strong passwords. It gives you multiple filters to create good passwords, including password length, uppercase, numbers, special characters, and so on.
The password generator uses a smart algorithm to automatically provide a strong password in 1-click. With a default password length, you'll always get an unbreakable password. However, if you want a small password, you can reset the settings and make your own.
It lets you create passwords up to 50 characters long. With each password, the tool shows the time it would take for anyone to hack it. This ensures the safety of your passwords and helps keep your websites secure.
This tool is 100% free. You'll never be charged subscriptions or hidden fees.
Get started with IsItWP Password Generator today!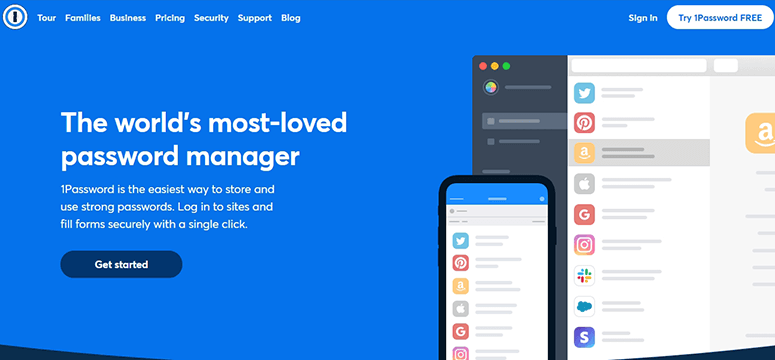 1Password is a secure and powerful app for keeping a track of your passwords. It allows you to log in to your websites and fill forms automatically with a single click.
It provides a safe space to share logins, passwords, credit cards, and other information with anyone you want. Keep all your social profiles and personal login details in one single app.
With two-factor authentication, it adds another layer of protection to your main account. 1Password also offers a password generator to create strong passwords for your website admin, online store, social networks, and more.
Get started with 1Password today!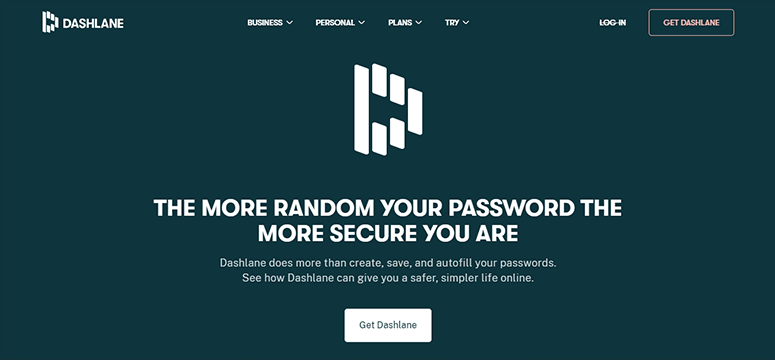 Dashlane is an ultimate app to keep track of your passwords. It saves passwords and login details as you browse your sites. With auto-sync, you can access your Dashlane account from any of your device and access passwords.
It stores usernames with passwords to make sure all details are safe in a single dashboard. Other than that, it also saves your addresses and other important information to auto-fill forms in 1-click.
The app also offers the option to save your credit card details. This helps fill the payment forms at the checkout page without manually entering the card number every time.
Get started with Dashlane today!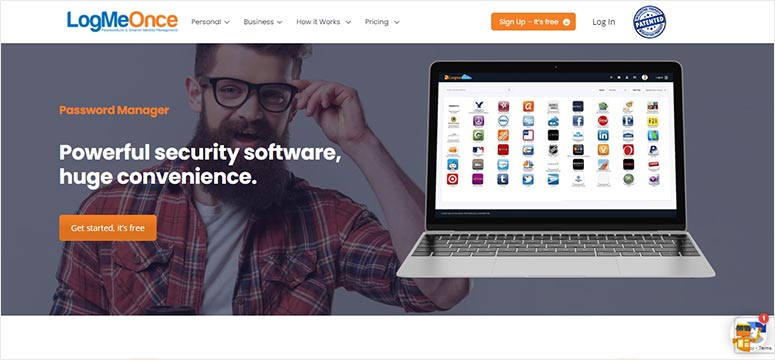 LogMeOnce is one of the best apps to keep track of passwords. It has tons of features, including password encryption, file storage, anti-theft, password generator, unlimited auto-fill, secure password sharing, and a secure wallet.
Unlike other apps, it doesn't rely on the master password. This means you'll get multiple login options to access your password manager. With an additional selfie two-factor authentication, the app will require your face to log in.
Moreover, it provides password recovery options, a centralized desktop dashboard, automatic password changer, scheduled login, security summary, fingerprint biometrics, dark web monitoring, account freeze, and so on.
Your login credentials will be stored in the most secure way.
Get started with LogMeOnce today!
That's all for today! We hope this article has helped you find the best password managers to keep track of passwords and manage them.
Keep in mind, you want to use strong and unique passwords. Avoid using common passwords like qwerty, your name, your pet's name, and so on. Hackers have their ways of guessing these passwords easily. You also need to be cautious of phishing scams. Never share passwords, OTPs, and login credentials with anyone.
Next, you may also want to check out our guide on the best WordPress security authentication plugins.
These plugins will keep your WordPress website secure and authenticate logins to protect it from hackers and malicious attacks.
We also recommend using a VPN Service for better online security.
Additionally, you can check our guide on how to create a password protected page in WordPress. This post will help you easily restrict your WordPress pages with a password.