Are you looking for the best affiliate marketing tool to boost your sales? Do you want to know if AffiliateWP is the right affiliate program plugin for you?
AffiliateWP is a popular affiliate marketing plugin that lets you create referral programs on your WordPress site with ease. It offers tons of powerful features for affiliate registration, tracking, and management.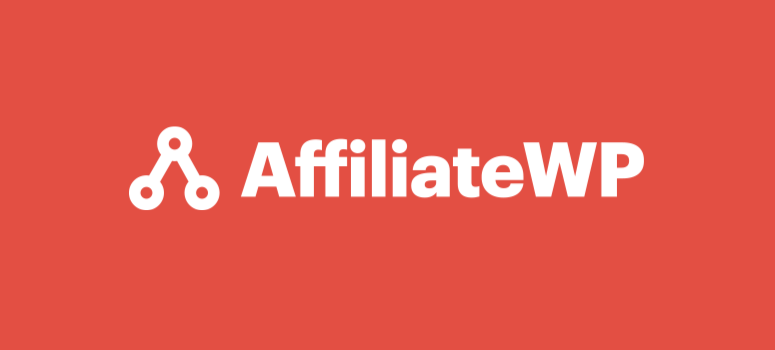 In this AffiliateWP review, we'll check out everything this plugin has to offer along with how much it's going to cost you. And to give you a complete picture, we'll also see how this tool stacks up against its competitors.
Here's what we'll be covering today:
Feel free to use the quick links to skip ahead to the section that interests you the most.
Now before we dive into the review, let's quickly look at what affiliate marketing means and how it actually works so that we can understand the AffiliateWP plugin better.
How Does an Affiliate Program Work?
Affiliate marketing is one of the most popular ways to make money online. You can think of an affiliate as a third-party store that will showcase your product in exchange for a commission.
It creates a win-win situation for the 2 parties involved; the business owners and the affiliates.
In simple steps, this is how an affiliate program works:
As a business owner, you start an affiliate program and allow people to sign up as affiliate members.
When an affiliate joins your program, they get an affiliate link with a unique tracking code. They can use this link to promote your products and services on their own blog or website.
When visitors on an affiliate's site click on the affiliate link, they will be redirected to your website where they can buy the product/service.
As a reward for bringing customers to your business, you pay the affiliates a certain amount of commission depending on the number of sales they make.
With an affiliate program, you can boost sales and conversions products through your affiliate referrals. It's one of the best ways to promote your products online and reach out to potential customers.
AffiliateWP Overview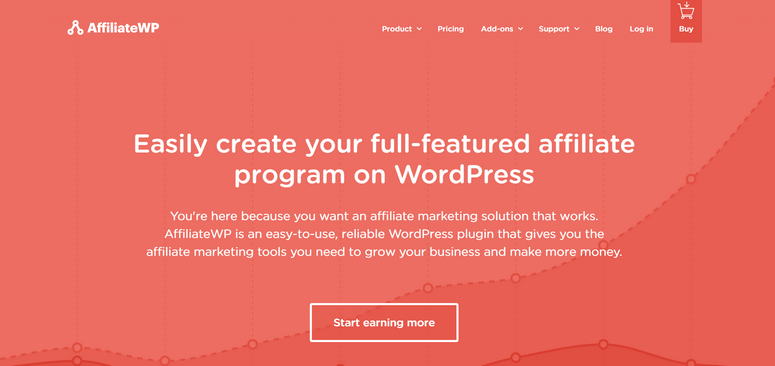 AffiliateWP is the #1 affiliate management plugin for WordPress sites that helps businesses grow and make more money.
With AffiliateWP, you can create a full-fledged affiliate marketing campaign for your business. It lets you easily manage all your affiliates and referrals right inside your WordPress admin panel.
AffiliateWP is designed to look and feel just like your WordPress dashboard. So there's no learning curve to this plugin. If you know WordPress, you'll know how to navigate the AffiliateWP dashboard.
You can track your affiliates to see how much revenue they're bringing in. And the best part is the built-in payment management system. This lets you make payments to your affiliates without leaving your site.
Other than this, you get several integration options with major WordPress plugins like Easy Digital Downloads, WooCommerce, and more.
And that's just a brief look at AffiliateWP. The plugin has a lot to offer so let's dive into the features, pricing, and support offered by the plugin.
AffiliateWP Features: What Does AffiliateWP Offer
AffiliateWP offers powerful features to help you register, manage, track and even pay your affiliates. We'll go over each of these features one by one.
1. Affiliate Tracking and Management
AffiliateWP is packed with tools and features that help you manage all your affiliates and referrals in one place.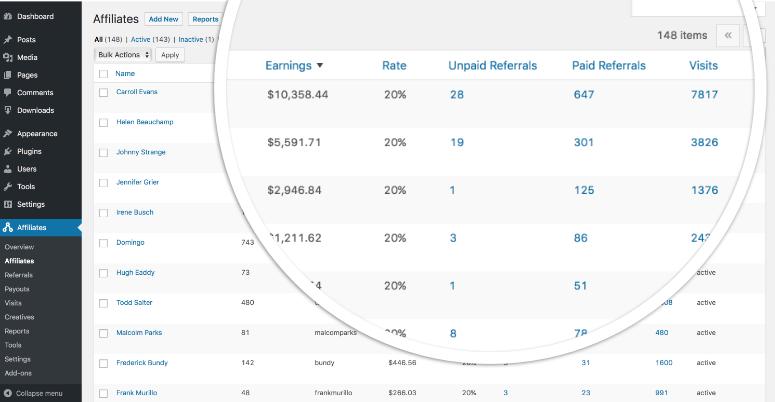 The interface is simple and the reports give you all the information you need about affiliate earnings, paid referrals, and traffic they drive to your site.
You can also add new affiliates and edit their details on the same page.
AffiliateWP lets you create as many affiliates as you want to market your products and website better.
Aside from affiliate management, you get advanced affiliate registration and tracking features to make your entire affiliate marketing process effortless. These features include:
Easy affiliate registration: AffiliateWP comes with a default registration form that you can display on your site so affiliates can sign up for your program.
Automatic affiliate creation: When someone registers as an affiliate, a new user account will be created instantly without any admin approval.
Manual affiliate approval: Moderate your affiliate registrations manually to check if they meet your requirements and choose who joins your program.
Referral link generator: Allow your affiliates to generate their own referral links from the built-in referral generator. It is included in the Affiliate Area page that is created when you install the plugin.
Affiliate coupon tracking: Use coupon codes instead of affiliate links to track referrals. You can connect coupon codes to a specific affiliate account and give rewards and commission rates based on the sales.
Set cookie expiration: Set the number of days to track the referral tracking cookie for your affiliates.
2. Real-Time Reporting
AffiliateWP comes with a real-time reporting system with accurate and reliable data. This keeps you updated about all your affiliates, new referrals, and total earnings.
In the Overview tab of the AffiliateWP plugin, you can view all the important stats and tracking data on one simple dashboard.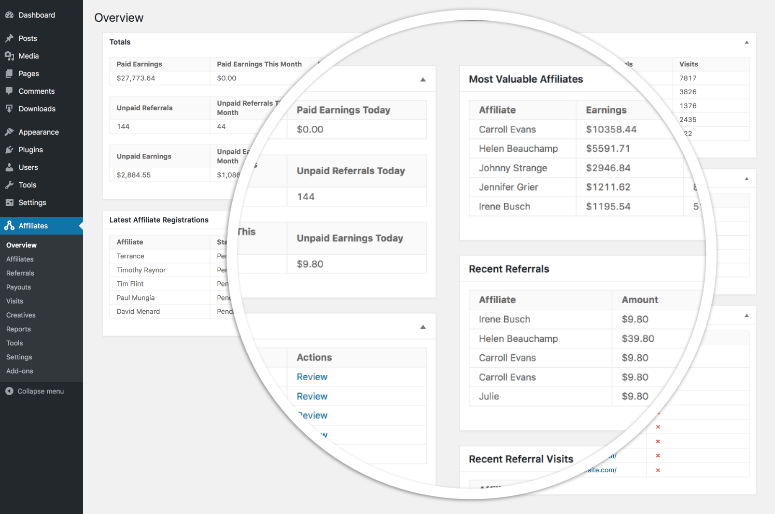 You can also access the Reports tab to view more detailed insights about your affiliate members and how the program is performing.
3. User-friendly Affiliate Area
One of the most powerful features that sets AffiliateWP apart from the other plugins is its built-in Affiliate Area.
When you install AffiliateWP, it creates a dedicated Affiliate Area page on your WordPress site by default. Users can register and log in to their affiliate accounts here.

Every affiliate gets a dedicated front-end dashboard to track their performance, view their earnings, and conversion rates. They can also generate their referral URLs here.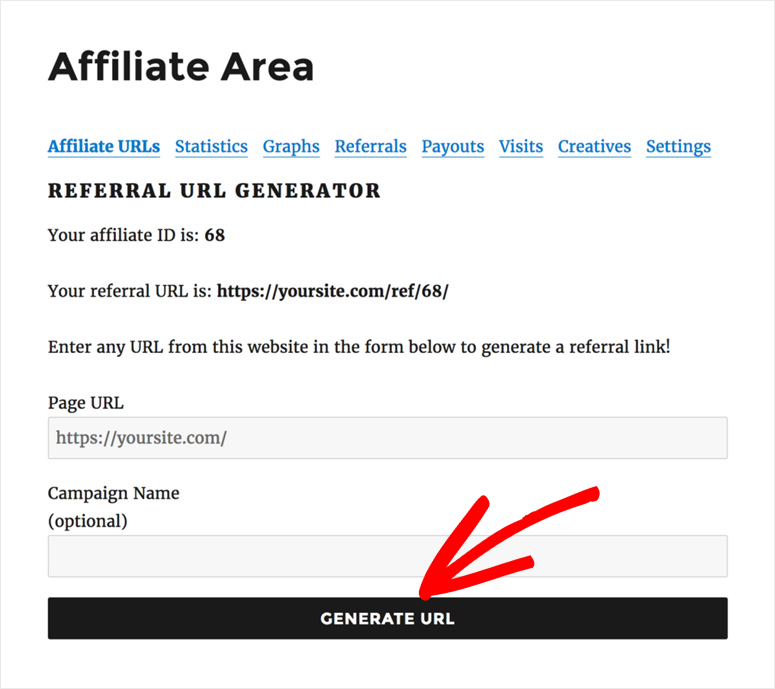 The features and tracking options are neatly categorized in tabs, making it easy for the affiliates to keep track of their earnings.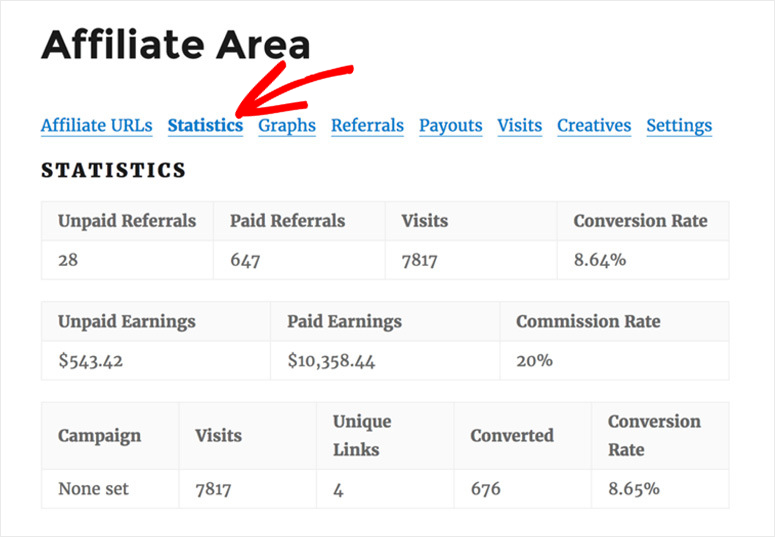 These are the tabs that you'll find in the Affiliate Area page dashboard:
Affiliate URLs: Lets affiliates generate their own custom affiliate links to promote your products
Statistics: Affiliates can view all the data about their paid and unpaid earnings, number of referrals, commission percentages, and more
Graphs: Displays the reports of the affiliates' performance in graphical diagrams
Referrals: Contains a list of the referrals made by the affiliate which includes data like amount earned, status (paid or unpaid), and date
Visits: Shows the number of visits along with the pages generated by the affiliates URLs
Creatives: Allows affiliates to use brand assets such as banners, text links, and other graphics to promote your products on their site
Settings: Includes options for affiliates to change their payment email addresses for accepting the commissions
4. Affiliate Payments
The only factor that drives affiliates to promote our business is commission. So if you want your program to be successful, your payments process needs to be top notch.
AffiliateWP makes it incredibly easy to manage your payments. In fact, you can pay your affiliates their commissions straight from your WordPress site. There's no need to open up multiple tabs and payment processor pages.
AffiliateWP offers an integrated Payouts Service that lets you make payments to your affiliates in a few clicks.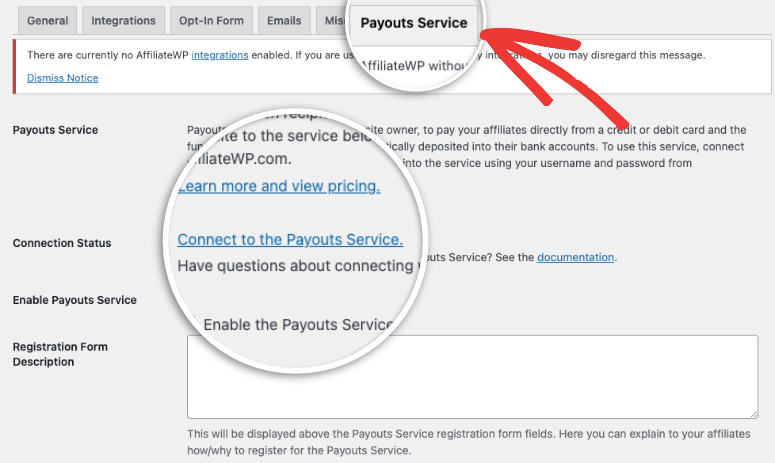 It lets you choose whether you want to pay affiliates directly from your bank account, debit card, or PayPal.
You can track and pay individual affiliates but what's really neat is that you can set global amounts, flat rates, and referral rates.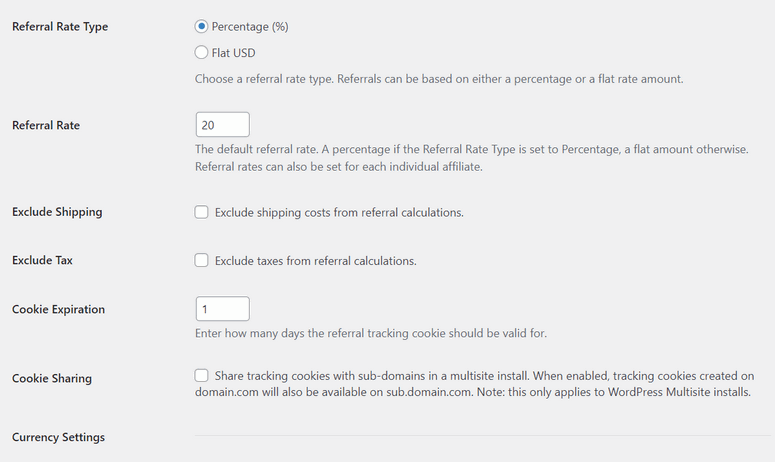 This will allow you to select multiple affiliates and disburse their payments in one go.
5. Customizable Email Notifications
AffiliateWP allows you to send custom email notifications to yourself and your affiliates. You can create custom admin emails that notify you about new referrals, affiliate registrations, earnings reports, and more.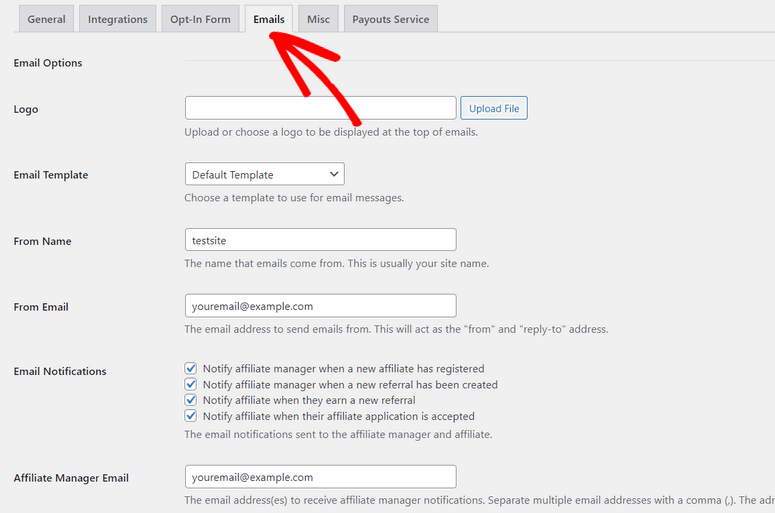 Coming to affiliate notifications, you can send emails to update them about important information or milestones. So for instance, you can email them when their application is accepted or if they've made a new sale from their referral links.
6. Integrations with Popular Plugins and Services
With AffiliateWP, you can connect with a long list of WordPress plugins and third-party services. These integrations will help you add more features to your affiliate marketing program.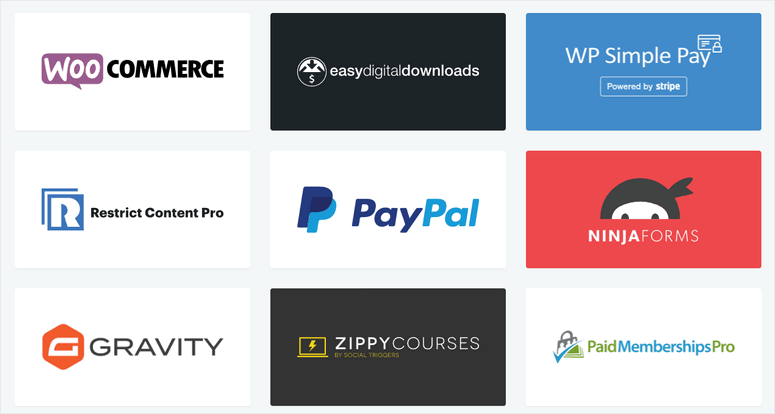 The popular integrations include WooCommerce, WPForms, Easy Digital Downloads, Give, MemberPress, Gravity Forms, and WP Simple Pay, to name just a few.
You can connect with these integrations and access services like eCommerce, contact forms, paid subscription plans, file downloads, and more.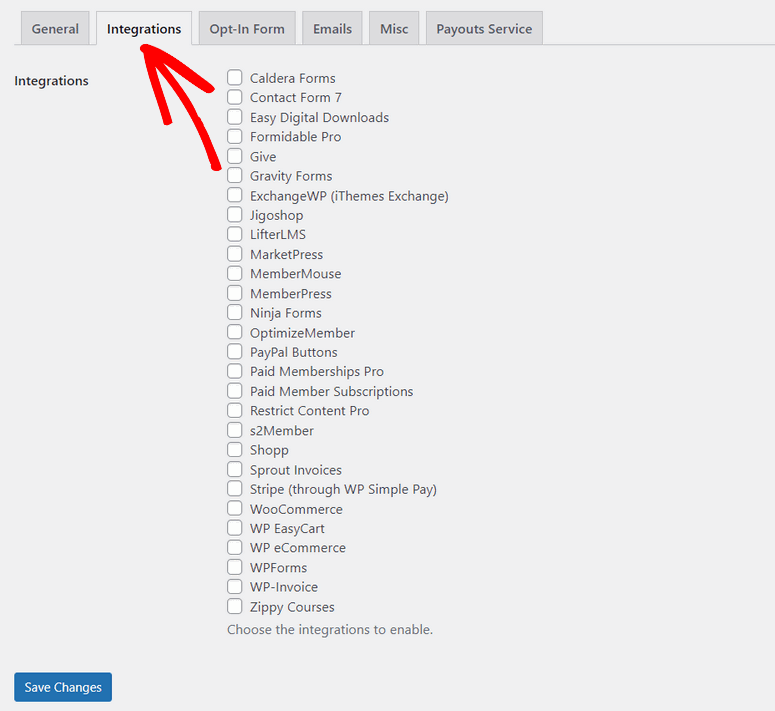 All of these integrations help you to improve the engagement and user experience on your site.
7. Export/Import Affiliate Data
AffiliateWP lets you export your affiliates and referral data on a CSV file. This makes it possible to share your reports with team members offline, upload them to other software, or save them for accounting and bookkeeping purposes.

At the same time, AffiliateWP allows you to import affiliate reports and data from other plugins. So you don't need to manually add affiliate information which saves so much time.
8. Free and Pro Addons
AffiliateWP has all the features to start your affiliate marketing program in no time. And what's more? There's a wide range of addons to extend the functionality of the plugin.
With your AffiliateWP installation, you'll find both free and paid add-ons.
Official Free Addons: The free AffiliateWP addons are available as soon as you install the plugin on your site. As of now, AffiliateWP offers 18 official free addons including Affiliate QR Codes, Blocks, Allowed Products, LeaderBoard, and more.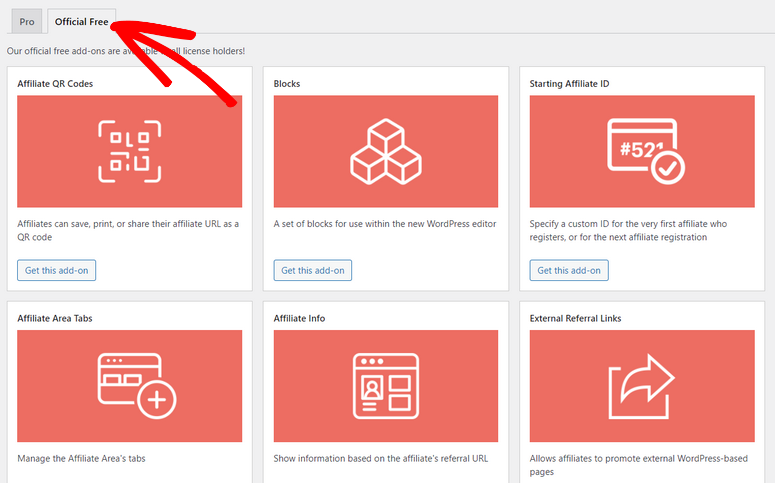 Pro Addons : These addons come with the higher end plan of AffiliateWP. So if you're on the Professional plan, you'll automatically get access to all 15 pro addons. The good thing is you can upgrade to the Professional plan anytime you want to upscale your affiliate program.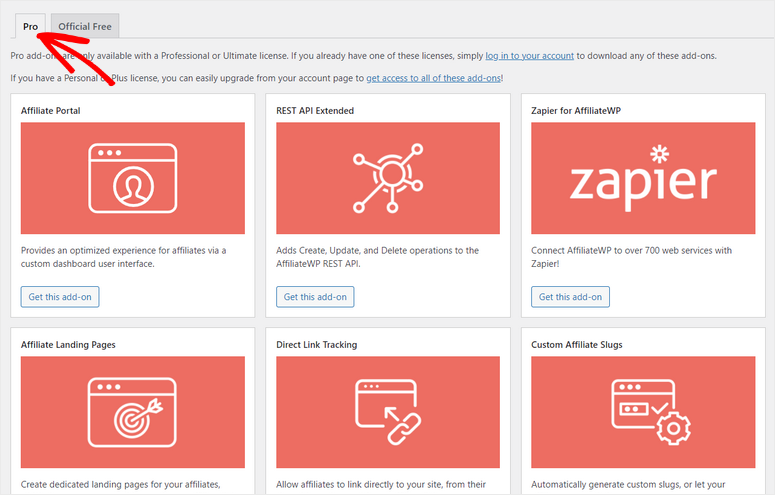 Some of the AffiliateWP pro addons are:
REST API Extended
Affiliate Landing Pages
Custom Affiliate Slugs
Lifetime Commissions
PayPal Payouts
And more
Furthermore, you'll find many third-party add-ons on the WordPress repository. These are not offered by the plugin itself but rather by other developers. This means if you need support for these addons, you'll need to contact the original developers.
How Does AffiliateWP Beat the Competition?
There are many affiliate management tools in the market. However, the unique features that AffiliateWP offers are unmatched by any other affiliate tools out there.
In this section, we'll go over what sets AffiliateWP apart from the competition.
1. Easy to Set Up and Use
With AffiliateWP, you can set up a professional affiliate program with all the bells and whistles in a matter of minutes.
All you have to do is download and install the WordPress affiliate plugin on your WordPress site. If you need help installing it, you can check out our guide on how to install a WordPress plugin.
Then all it takes is just a few clicks to configure the settings to match your needs. The plugin is designed to be DIY so you can handle it all without the help of a professional developer and you'll never need to touch a line of code.
2. Built for WordPress Users
AffiliateWP is designed to be similar to the WordPress interface. All of its features are carefully designed to adapt with WordPress and to give you a familiar experience.
This means you won't need to learn how to use a new dashboard to figure out where everything is. The AffiliateWP dashboard is simple yet well-organized so you can find what you're looking for without any hassle.
3. Site Speed and Performance
AffiliateWP is a powerful tool that lets you manage all your affiliates and track reports on your WordPress site. However, you don't need to worry about it affecting your site speed.
It is built with the best practices and speed in mind so no matter how big your affiliate network is, it doesn't slow down your site. Also, the plugin ensures the best performance as it is updated regularly.
4. Does More Than Just Tracking Affiliates
AffiliateWP is packed with features to make it easy for you to run an affiliate program. At the same time, it's designed to provide an optimal experience for your affiliate members as well.
Here are a few such features that are worth noting:
Pretty Affiliate URLs: Referral links usually bear tracking codes and this can make the URL look long and messy. With this feature, your affiliate links will be masked with shorter links that are neat and presentable.
Spam Protection: Let's you enable reCAPTCHA to prevent bots and hackers from registering on your affiliate site.
Supports shortcodes: Get WordPress-friendly shortcodes to embed affiliate login form and registration form anywhere on your site.
Sharing brand assets: Provide creative solutions to your affiliates such as banners, text links, and graphics to promote sales on their own website.
Translation ready: Set up your affiliate site in any language you want. It can be fully internationalized and translated into any language.
5. Developer Friendly
AffiliateWP is great for developers as it gives them full control over the user interface and custom coding. So if you're code-savvy and want to add your own custom codes, you can easily do that with AffiliateWP.
It is a flexible plugin with tons of customization options and WP-CLI integration.
6. Suitable for All Types of Business
Whether you run an eCommerce website or sell your own products online, AffiliateWP helps you market your products so you get better conversions.
The affiliate system is designed to be scalable so it can be used by both small and large businesses.
Added to that, there are tiered pricing plans, so you'll easily find a plan that matches your budget. You can get started on the lower end and upgrade as you grow.
AffiliateWP Pricing
AffiliateWP offers 3 premium plans that are carefully designed to match the needs of different types of WordPress websites.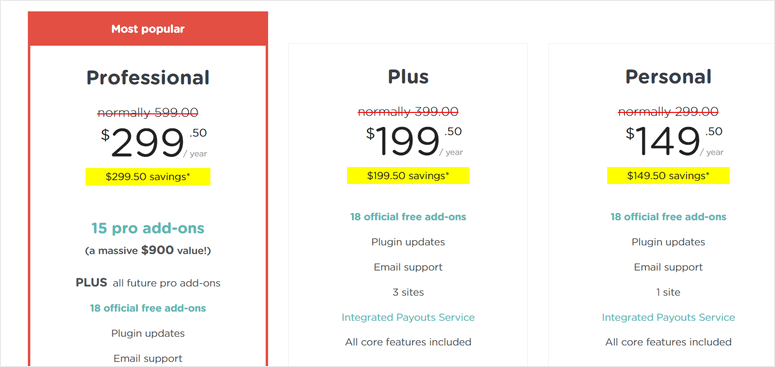 The Personal plan starts at $149.50 per year and it can be used for 1 site. This includes all the core features and the integrated Payouts Service. Along with this, you get access to the 18 official free addons.
For 3 sites, you need to get the Plus plan which starts at $199.50 per year. You get all the features and addons available in the personal plan.
With the Professional plan which starts at $299.50 per year, you get access to the additional pro addons such as Affiliate Portal, Zapier for AffiliateWP, Direct Link Tracking, and more. And you can use this for up to 10 sites.
AffiliateWP Support and Documentation
Customer Support is one of the most important factors to consider when choosing any WordPress plugin for your site. More often than not, you will need help from the developers or support team to overcome any hurdles or get more information on how to use the plugin.
AffiliateWP offers the best support team that you can reach out to anytime you have an issue. They offer only email support and you can contact the support team through the website contact form.
Additionally, AffiliateWP is fully documented so anyone can go through their tutorials and guides. You'll find a complete list of documentation for each feature and functionality of the plugin.
AffiliateWP Alternatives
AffiliateWP is our top choice if you want to start your own affiliate programs. However, if you're looking for alternative options, then we recommend Easy Affiliate.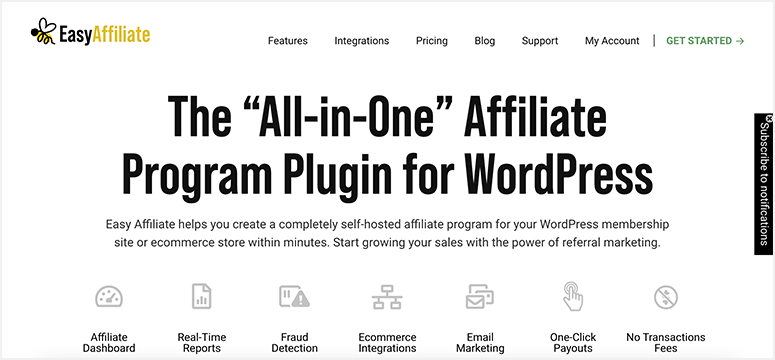 .
Easy Affiliate lets you set up a self-hosted affiliate program. And you'll get features like the affiliate dashboard, real-time reporting, 1-click payouts, and no transaction fees. The highlight here is that it's a bit cheaper than AffiliateWP. Plans start at just $99.50 a year.
Interested to know more about this plugin? Read our complete Easy Affiliate Review.
Our Verdict: Is AffiliateWP the Best Affiliate Management Plugin?
Running an affiliate program on your site needs proper organization and management. It would be like recruiting a large pool of salespeople to go out and sell your product.
For the program to be successful, you'll really need to stay on top of things to make sure everything goes smoothly, payments are made on time, and affiliates are happy.
So does AffiliateWP match up to our high expectations?
After reviewing everything there is to know about this plugin, we can say with confidence that AffiliateWP is hands down the best affiliate plugin for WordPress.
The plugin was created just for WordPress which makes it a very special product. Its ease of use alone makes this plugin really stand out.
Plus, you'll get all the features you need to recruit, manage, and track your affiliate members.
Added to that, you'll get actionable insights into their performance so you can make data-driven decisions about your affiliate program.
To recap, some of the highlights of the AffiliateWP plugin are:
Beginner-friendly and easy to setup
Accurate and real-time reporting system
Dedicated Affiliates Area for members
Automatic and manual affiliate creation
Coupon codes for affiliate accounts
Popular integrations such as WooCommerce, MemberPress, PayPal, and more
Custom emails notifications for admins and affiliates
Integrated Payouts Service to manage payments inside WordPress
If you're looking to start an affiliate marketing program to generate more sales and manage it all with ease, then AffiliateWP is the right plugin for you.
Even if you are a complete beginner, you can set up and run your affiliate program without the need for coding skills and expensive developers.
AffiliateWP is a great tool you can use to boost your sales, improve SEO, and grow your business.
We hope you liked our AffiliateWP review, and if so, you may also want to check out our other guides:
We give AffiliateWP a 5/5 star rating. Here's the breakdown of our review score:
Get AffiliateWP Now »