Are you looking for a WordPress affiliate program plugin? Do you want to know if Easy Affiliate is the right choice for your website?
Easy Affiliate is an all-in-one affiliate marketing solution to create and run your self-hosted affiliate program. It's ideally built for membership sites and eCommerce stores but works well for other websites too.

In this Easy Affiliate review, we'll go over the features, pricing, and other factors to determine whether Easy Affiliate offers everything you need to create and manage your custom affiliate program in WordPress.
We'll be reviewing the Easy Affiliate service in-depth, so we've created a table of contents for you to make it easier to navigate this post. Feel free to skip to the section that interests you the most.
Without further delay, let's get started.
Easy Affiliate Overview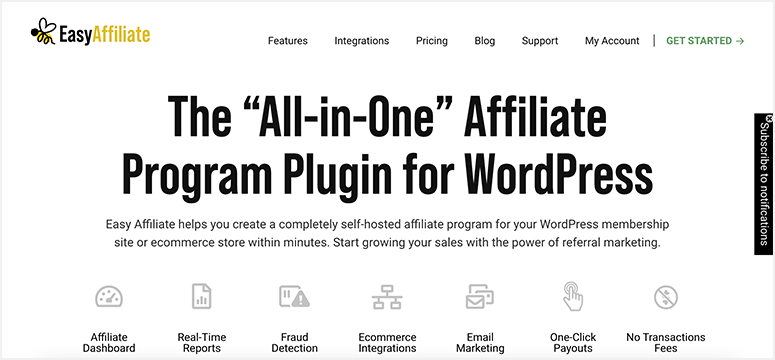 Easy Affiliate is a popular affiliate management plugin for WordPress. It's a complete solution that allows you to add an affiliate program to your website.
This helps monitor and manage your clicks, sales, payments, and more. Easy Affiliate is a user-friendly plugin and takes a few minutes to set up without editing any code.
It has an intuitive and user-friendly dashboard so it's easy for anyone, including beginners, to create an affiliate program for their business.
Some of the Easy Affiliate highlights include:
Real-time reports
One-click payouts
No transaction fees
Top affiliates list
On-point affiliate creatives
Detects affiliate fraud before payouts
Easy Affiliate integrates with third-party popular WordPress plugins, including PayPal, WooCommerce, MemberPress, WPForms, MonsterInsights, and more. It manages referral commissions and delivers payments seamlessly.
When it comes to pricing, the Easy Affiliate plugin offers plans for single and multiple WordPress websites starting from $99.50 per year.
The top-tier plan works for up to five WordPress sites and has over 2,000 integrations with Zapier. It also includes developer tools to fully customize your affiliate program.
That's Easy Affiliate in brief. Now let's dive into what features Easy Affiliate has to offer.
Easy Affiliate Features
Easy Affiliate provides useful features that you need to build an affiliate program for your WordPress site. It's the ultimate affiliate manager for small businesses, personal blogs, online stores, and other types of websites selling their products/services online.
Let's explore Easy Affiliate features to see if it's the right fit for your business.
1. Affiliate Dashboard
Easy Affiliate provides a custom and personalized affiliate dashboard to all your affiliates. The dashboard comes built-in, and you don't need to write any code to set it up.
By default, the dashboard allows affiliate managers to see the following:
Complete affiliate stats
Account information
Download links and creatives
Payment history
You can manage the dashboard styling and welcome message for users. Visit the Easy Affiliate » Settings page and scroll down to the Dashboard section.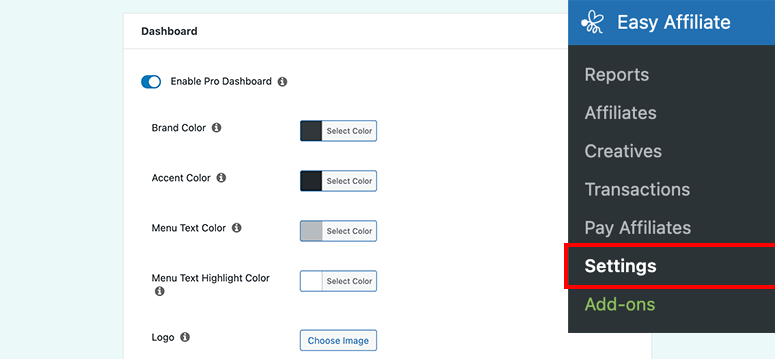 It lets you add brand color for the header and sidebar, accent color for the background of the highlighted menu, menu text color, menu text highlight color, and choose a logo.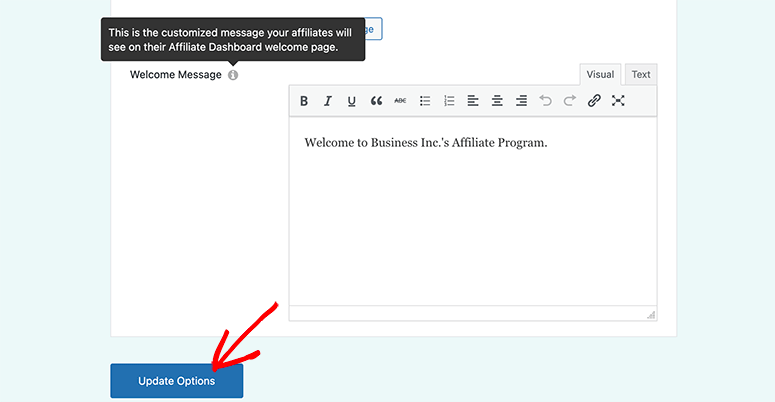 You can add a custom message for your affiliates that appears on the affiliate dashboard. This way you can display new messages depending on what you want your users to read on the welcome screen.
Click on the Update Options button to store the message.
2. Admin Panel
This will be your admin panel in the WordPress dashboard to manage and run the affiliate program.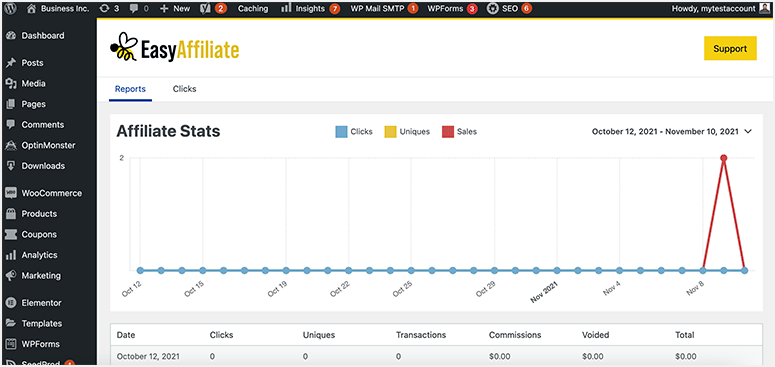 From here, you can monitor your affiliate partners' activity, view different reports, look into the top affiliates, and so on.
It also showcases stats on total clicks coming to your site, transactions, and payment you owe to your partners.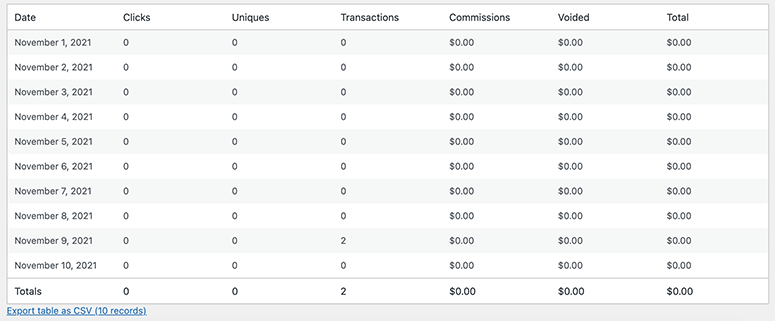 You can visit Easy Affiliate » Creatives to upload links and banners for your affiliate partners.
These banners are downloadable on the affiliates dashboard, and your users can use them to add your link to their website.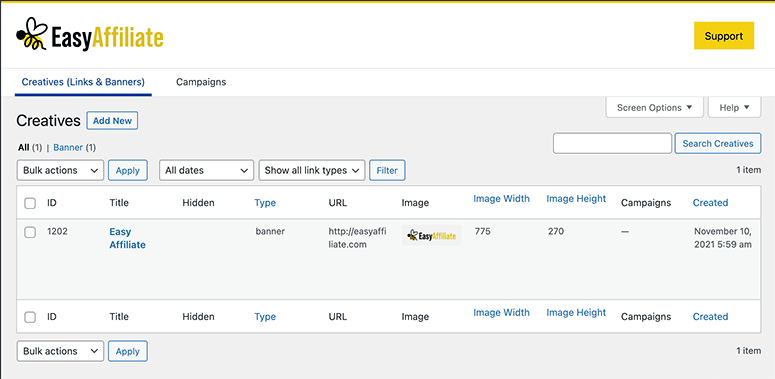 Within the admin panel, you can set up referral commission levels, define payment methods, add cookie expiration, notifications text, and more.
Everything is simple to manage from a beginner-friendly admin portal that you can use in WordPress without switching your screen or visiting any site.
3. Payment Integration
Easy Affiliate seamlessly integrates with WordPress plugins like MemberPress, PayPal, WooCommerce, and Easy Digital Downloads.
It helps track initial and recurring payments coming from these plugins. Easy Affiliate can also let you track affiliate commissions from hundreds of other shopping carts and payment gateways.
It comes with complete integration options and instructions to ensure easy setup.
Some of the plugins require no configuration at all. If the Easy Affiliate plugin runs on the same site as your WordPress plugins, you can track and manage affiliate commissions right away.
For developers, it allows custom integrations to track newsletter signups, lead conversions, email responses, and more.
4. Affiliate Applications
Upon activating the plugin, you'll get to choose how you want your affiliates to join the program. It comes with three built-in options:
Application (Recommended) –  In this case, affiliates have to apply using a form. You can accept or reject the request from your Easy Affiliate management dashboard.
Public – If you select this option, anyone can join your affiliate program without waiting for approval.
Private – This is a restricted option, and only you can add affiliates to your program.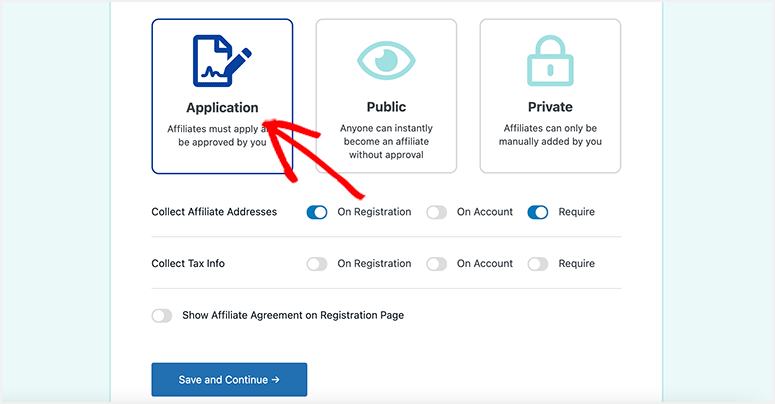 The affiliate application form will be set up automatically on selecting the Application option. Potential affiliates can sign up by adding their personal and website information.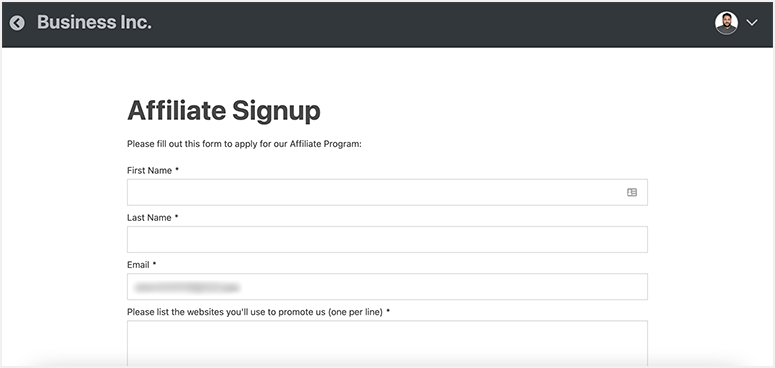 You'll receive notifications on new affiliate signups at your provided email address. All applications will be available on the Easy Affiliate » Affiliates » Applications page.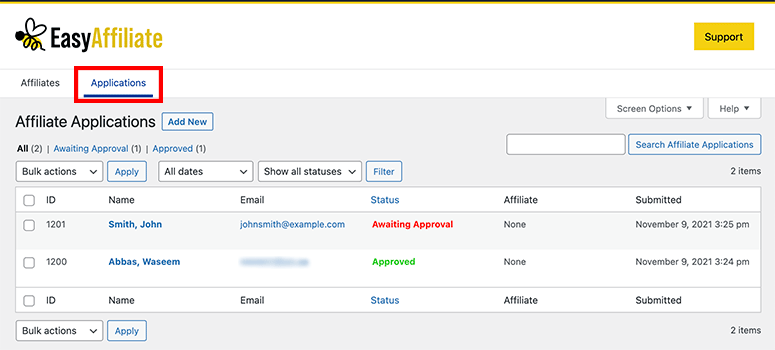 You can see the application status on this page and approve an affiliate request at your discretion. The affiliate manager will get a notification, and then they can start promoting your products/services with referral links.
5. Commission Setup
Earning commissions is one of the key factors for affiliates to join your program. Easy Affiliate has a flexible commission system for affiliates.
You can set up custom affiliate commissions for users based on your contract or business terms with them.
It also allows you to set up multiple commission levels and gives you complete control over adding a commission percentage or fixed amount for affiliates. You can define affiliate commission rules while setting up the Easy Affiliate plugin.
It includes the following:
Commission type
Commission (percentage/amount)
Subscription commissions
Payout method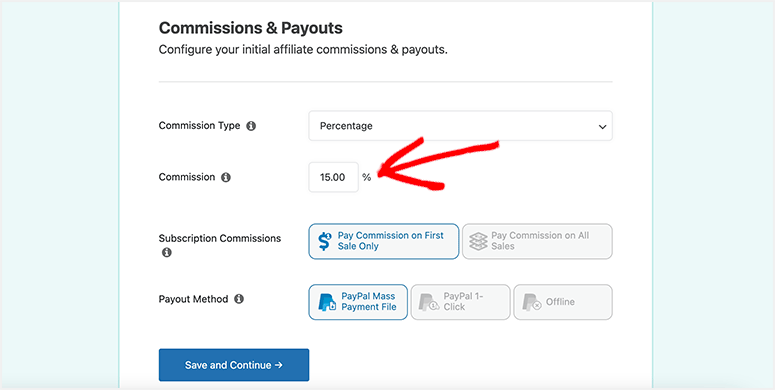 The Easy Affiliate plugin lets you customize or override rules for each Affiliate separately. You can change the commission percentage/amount for affiliates anytime, depending on the sales and payouts.
6. Advanced Security
When payments and commissions are involved, it's mandatory to ensure complete security for your affiliate program. Fortunately, Easy Affiliate provides advanced security and claims to be the most secure affiliate plugin on the market.
It tracks your affiliate commissions with accuracy and prevents any malicious threat or attack. However, we still recommend checking out our complete WordPress security plugins.
The best practice is to install a security plugin like Sucuri. It helps filter the traffic on your site and keep your affiliates and site users safe against hacking attempts and malware.
7. Affiliates Payouts
Paying affiliates is a recurring task as it motivates them to promote your brand even more. Easy Affiliate makes it super easy to send payouts in just a few clicks.
It comes with three payment options:
PayPal Mass Payment File
One-click Payments via PayPal
Offline Payments

You can log in to your Easy Affiliate account and monitor the affiliates' activity and commissions. From there, you need to click on the Pay button, and it sends payments using your selected method.
Easy Affiliate Pricing and Plans
One of the biggest factors in choosing an affiliate plugin is whether it fits in your budget? So is Easy Affiliate affordable?
Easy Affiliate offers three subscription plans.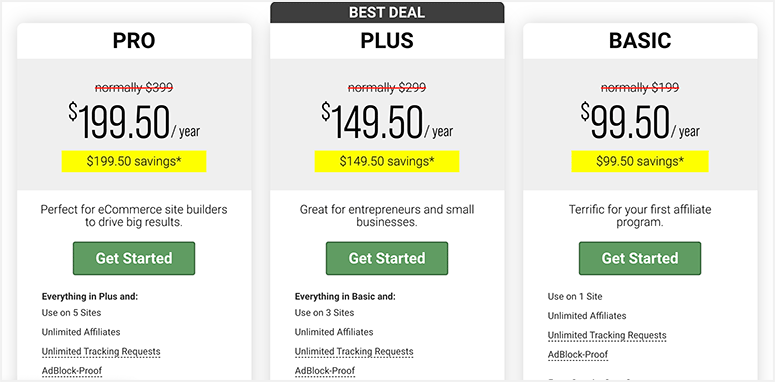 Basic: This plan is for small businesses ready to launch their affiliate program. It costs $99.50 per year and works for a single website.
Pro: The pro plan is designed for upscale businesses with multiple sites. It costs $149.50 per year and supports up to three websites. It's the most recommended plan with powerful features and premium integrations.
Plus: The Easy Affiliate top-tier plan costs $199.50 per year. It's built for large-scale businesses and eCommerce stores to run a robust affiliate program to promote your business activities.
All plans allow you to add unlimited affiliates and tracking requests. It's a self-hosted affiliate program, and therefore, AdBlock won't be able to block your ads.
Easy Affiliate Support and Updates
Easy Affiliate offers one year of premium support and updates. This includes email and ticket support from their experts.
The support and updates come side-by-side with the Easy Affiliate yearly plan. When you renew your plan next year, it automatically renews your yearly premium support access.
There's an extensive knowledge base covering all topics related to setup, affiliate tracking, commissions, troubleshooting, security, and more. It helps get quick knowledge about the self-hosted affiliate program.
Easy Affiliate also provides members-only training. This is basic training to learn and understand the affiliate marketing program.
Verdict:
Is Easy Affiliate the Best WordPress Affiliate Plugin?
Easy Affiliate has the tools and resources you need to add an affiliate program in WordPress successfully.
With this plugin, it's easy for beginners and experts alike to set up the affiliate manager, build brand awareness, generate leads, and increase your sales.
Here's a quick highlight on Easy Affiliate features:
Affiliates personalized dashboard
Powerful admin panel
Affiliates commission tracking and payouts
Fraud detection and advanced security
Custom graphics and links
Premium customer support
Easy Affiliate offers a pricing plan for everyone. If you're starting with affiliates, you can go with their basic plan, which is budget-friendly and allows unlimited affiliates.
For high-end businesses and eCommerce stores, it provides the Plus and Pro plans. These plans work for multiple websites and offer powerful integrations to add more features like email marketing to your affiliate program.
That's all we have for you. We hope this Easy Affiliate review helped you decide if it's the right affiliate program plugin for your WordPress website.
Once you have the right WordPress affiliate plugin, you'll want to see our following guides:
These articles will help improve your affiliate program and track affiliates to explore more opportunities that help further promote your business.
Get Easy Affiliate Now! »