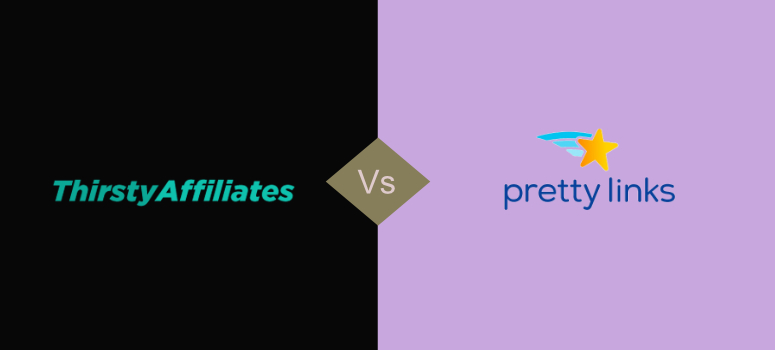 Are you wondering which affiliate plugin is the best choice to run an affiliate website?
The WordPress market is flooded with tons of affiliate plugins that let you cloak your affiliate links, manage cloaked URLs and protect your commissions from theft.
Among them, two plugins that set themselves apart from the rest are ThirstyAffiliates and Pretty Links.
ThirstyAffiliates vs. Pretty Links: Comparison
In this article, we'll do a head-to-head comparison between these 2 plugins and help you decide which one is the best choice for your website.
For the convenience of our readers, we've divided the post into 7 different sections.
Overview
Link Management
URL Shortnening
Location and Reporting
Import/Export Options
Support
Pricing
So let's begin.
1. ThirstyAffiliates Vs. Pretty Links – Overview
ThirstyAffiliates is an affiliate management plugin that lets you add, cloak and manage affiliate links to your website easily. It lets you cloak your ugly affiliate URLs so that they appear safe for your users to click on. It also comes loaded with several other great features like link scheduling, auto health check for your links, etc.
Pretty Links is also a similar link management plugin that lets you cloak your affiliate links to make them appear clean and simple for your users. You can also use it to create shorter links that originate from your own domain name. It's a complete link management tool that comes with tons of other advanced features such as auto-create pretty links, auto-link keywords, link tracking and a lot more.
2. Link Management
With ThirstyAffiliates, managing your links is super easy and can be done from a central location. For example, if the company you promote alters their links, you can replace all of their links on your site with the new one right from your ThirstyAffiliates panel. You don't have to dig deeper into your archives to manually fix all the links. Changing it in your panel will automatically update all the links that you have published so far.
With ThirstyAffiliates, you can also schedule your links. This means that you can add your affiliate links and then choose the time when you want the link to become active. It also lets you receive notifications as an admin whenever your links achieve a milestone. For example, you can let it notify you when it achieves a certain number of clicks. Further, you can conduct an audit on your links from time-to-time by activating the auto health checker option.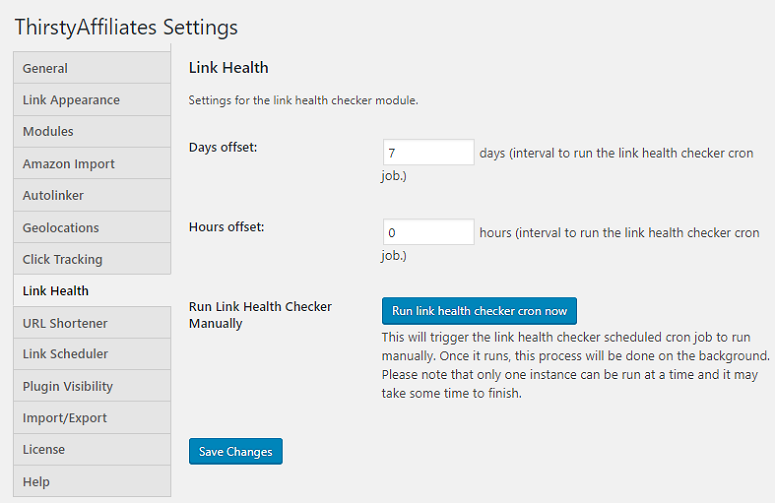 Pretty Links also offers easy link management options. But if you compare it with its counterpart, the features are really limited here.
Pretty Links lets you add redirections, no-follow tags, and categories to your affiliate links. You also have the option of opening the links in a new window.
But unlike ThirstyAffiliates, Pretty Links doesn't offer an option for scheduling your links or automating a link health checker for auditing your affiliate links to see if they're working fine. You also have no option for receiving notifications even if your links achieve a milestone.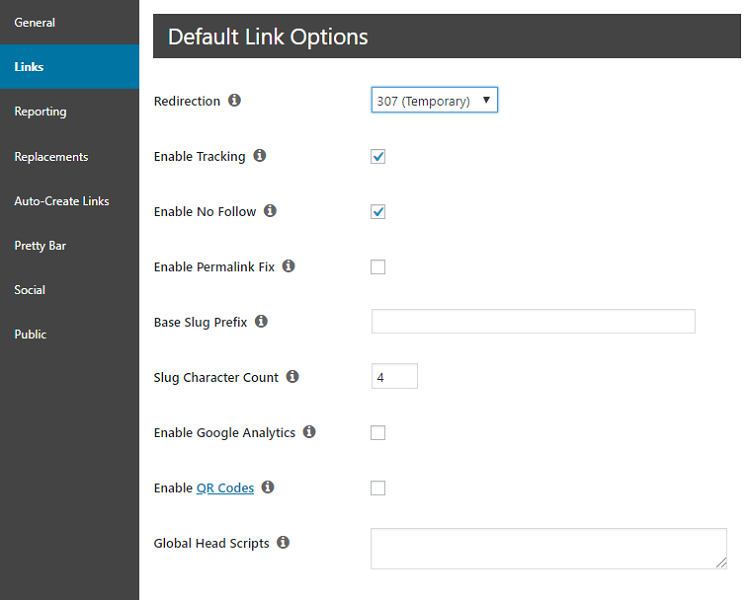 Winner
ThirstyAffiliates
3. URL Shortnening
The main reason behind using an affiliate link management plugin is to cloak your long and bad looking links to make them shorter and easy to remember. Let's look at what options these plugins offer for that.
ThirstyAffiliates lets you shorten your links using various third-party services like:
Bit.ly
Goo.gl
Firebase Dynamic Links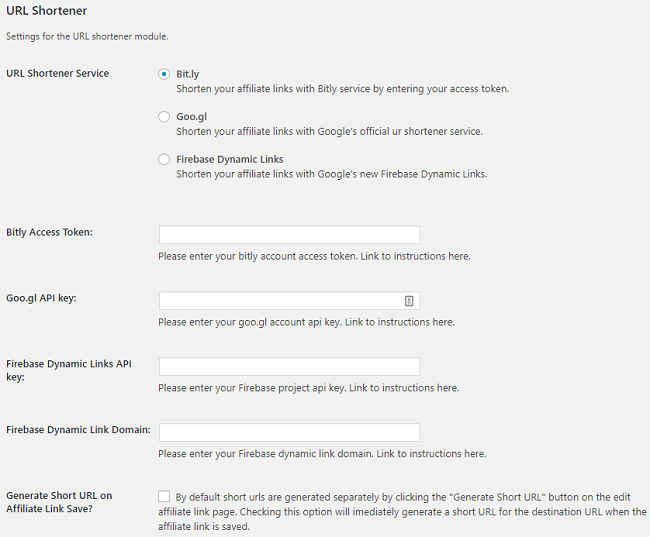 To use any of these services you'll have to set up an account with these services first and then proceed to connect it with the plugin. This looks like a long and complicated process, especially if you're a beginner.
Pretty Links, on the other hand, have an easier option for shortening your URLs.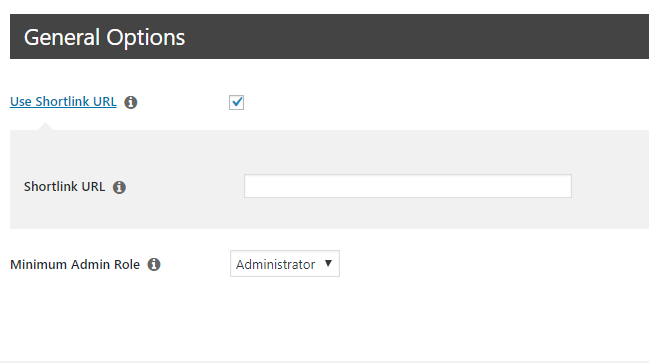 All you have to do is check off the Use short link URL option and then enter the link in the blank field right below it.
Winner
If you compare ThirstyAffiliates Vs. Pretty Links in terms of its link-shortening feature, we think Pretty Link is way better than ThirstyAffiliates because of how simple the entire process is.
Check out our full review of Pretty Links to have a better idea.
4. Location and Reporting
ThirstyAffiliates lets you add geolocations to your links using the MaxMind Country DB plans. You can also track all your link clicks with this plugin. But for using this service, you'll have to first connect your site to Google Analytics.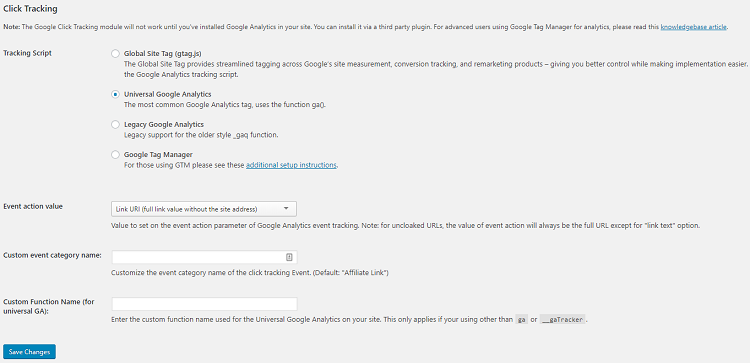 Pretty Links doesn't let you add geolocations to your URLs but has options to enable tracking of your affiliate links easily. It has 3 different options for that.
Normal Tracking
Extended Tracking (more stats / slower performance)
Simple Click Count Tracking (fewer stats / faster performance)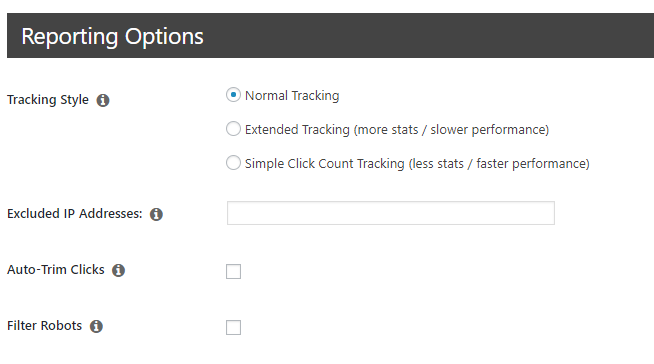 You can use these options to see how your links are performing and which ones are getting more clicks.
Winner: In terms of link tracking, both are equally good. But since ThirstyAffiliates lets you add the geolocation option, we'll have to declare it as the winner in this case.
5. Import/Export Options
With ThirstyAffiliates it's so much easier to import/export your plugin settings to or from another destination. Just go to the Import/Export tab and use the blank field to paste your settings strings. And then hit the Import Settings button to complete the process.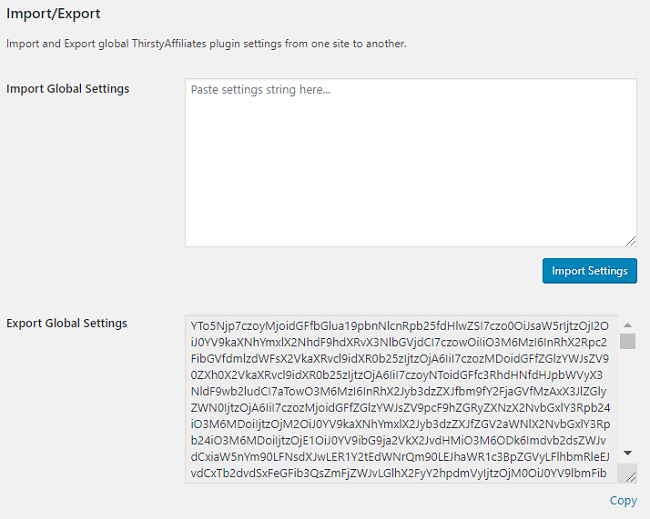 For exporting your settings you can simply use the code that's provided by the plugin and paste it in the settings options of the destination where you want to export them.
If you are an Amazon Associate member, you might also want to import your settings from another destination. ThirstyAffiliates offers the easiest way to let you do that.
Exporting and Importing your settings using Pretty Links is also super easy and quick. For exporting your settings just hit the Export button and download the settings. You can then upload it to the destination you want. Similarly to import settings from another destination, hit the Import button to download and then upload the settings that you've previously downloaded.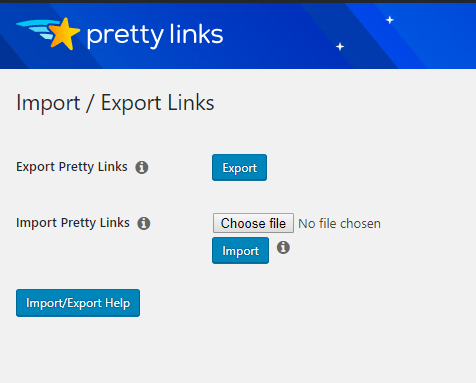 However, Pretty Links don't have a direct option for importing your Amazon Associate settings.
Winner
Both the plugins are pretty good with their import and export options. But because of its direct option for adding Amazon Associates settings, ThirstyAffiliates is a clear winner.
6. Support
We believe that offering quality customer support is an important aspect that attributes to the success of a product. After all, it is the support forum you will resort to if you ever have issues solving a problem.
So we visited the official support portals of ThirstyAffiliates and Pretty Links.
And in this regard too, ThirstyAffiliates is seen to be leading the competition. Considering it's latest activity, we saw that it resolved 18 on 18 issues in the last 2 months. On the contrary, Pretty Links managed to resolve just 4 out of 8 issues in the last 2 months.
Winner
Again, ThirstyAffiliates stands ahead of the competition in terms of support.
7. Pricing
ThirstyAffiliates comes under 3 different pricing plans.
One Site License :$49/year
Five Site License :$79/year
Unlimited Site License :$149/year
Pretty Links too, has 3 different pricing plans.
Beginner Plan :$59/year – that can be used on 1 site
Marketer Plan: $99/year – that can be used on upto 5 sites
Super Affiliate Plan: $199/year – that can be use on upto 10 sites
Winner
In terms of the pricing too, ThirstyAffiliates stacks up against the competition. Their pricing is pocket-friendly for beginners and also offers unlimited site licenses in just $149/year. Pretty Links doesn't have an option for unlimited license.
ThirstyAffiliates vs. Pretty Links – Which one is Best? (Our Verdict)
After comparing both the plugins, we realize that ThirstyAffiliates is way ahead of Pretty Links when it comes to its link management features. Features like link scheduling and automatic health checker can be really helpful and save a lot of your time. You don't have to go through every link individually to check if they are working fine.
Check out our complete ThirstyAffiliates review.